The best red lipstick for every skin tone, in every finish
The best red lipsticks of all time—finally find your signature red!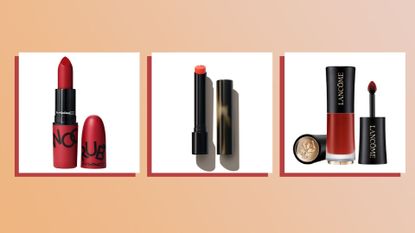 (Image credit: Future)
Finding the best red lipstick that flatters your face and feels great to wear is like finding the key to the most versatile and timeless piece of makeup you may ever own.
Yet despite being continuously touted as a supremely easy makeup look and jostling for space alongside the best mascara in many women's desert island beauty bags, the red lipstick club can feel a bit exclusionary.
We hear about women whose makeup with red lipstick look involves simply swiping on their signature red and the job's a good'un. If that's you, more power to you. As for the rest of us, who feel we've never quite got it right, even the best red lipstick can make us feel self-conscious, as if our mouths are screaming for attention, not to mention the paranoia over smears on our teeth and smudges on our chins (how do they get there?)
So we're here to help. Because truly, there is a red lipstick for everyone. It's also true that once you've found your red it is the easiest route to looking glam...
The best red lipstick, as chosen by our beauty experts
Why you can trust Woman & Home Our expert reviewers spend hours testing and comparing products and services so you can choose the best for you. Find out more about how we test.
Ready for a hard truth now? To find the best red lipstick you have to open your mind and also be prepared for it to feel a bit weird at first.
Consider non-traditional textures you may have overlooked, red glossy lips are still red lips, as are those painted in liquid long lasting lipsticks or even lip balms if they have a sneaky red tint. Think seasonally with shades run from summer sheer cherry to damson berry for fall makeup looks. After that, it's down to you to grit your teeth and persevere. They say it takes three wears to feel completely at home in a red lip, so take this advice, pick a lipstick from our lineup of all-time greats, and remember to fake it till you make it. Every signature red starts somewhere.
1. MAC Cosmetics Ruby Woo
The best red lipstick overall
Specifications
RRP: $19/£18
Shade: Blue-red
Finish : Available in classic matte, soft matte and liquid
Reasons to buy
+
Iconic true red shade
+
Suits almost everyone
+
Good value
Reasons to avoid
-
May be too bold for some
Name a more iconic red lipstick than MAC Ruby Woo... We'll wait. There is a reason this classic product is MAC's bestselling red lipstick. The timeless true red shade suits almost everyone and its blue undertones makes your teeth and eyes appear brighter. While it may not be the cheapest buy on our list, it's far from the priciest. Plus, one application will see you through the night so it's a pretty price-savvy buy too.
The original Retro Matte finish has a fairly traditional, grown-up lippie texture. It makes a statement and while you can feel it on the lips, it isn't overly drying or draggy. More recently, MAC has also cleverly released three other textures to pick from, a creamier Powder Kiss lipstick, plus two liquid lipsticks if you prefer—one as matte as they come, one more hydrating and weightless. Truly there is something for everyone in the Ruby Woo cannon.
2. NYX Professional Shout Loud Satin Lipstick The Best
Best budget red lipstick
Specifications
RRP: $8.50/£8
Shade: True blue-red
Finish: Satin
Reasons to buy
+
Bargain price
+
Classic flattering shade
+
Highly moisturising
While we have picked this shade out as the best red lipstick for those on a budget, this is really a shout-out for the entire NYX Professional Shout Loud lipstick range. These creamy and quenching lippies are unusually impressive at their price and punch well above their weight for comfort and pigment payoff. One of the reasons this brand produces one of the best beauty advent calendars every single year.
This particular shade is a timeless blue-toned scarlet, so much like Ruby Woo is universally flattering, but unlike its Mac rival, it has a lightly glossy satin finish. This makes it a bit less intimidating for red lipstick novices, although does mean you'll need to keep an eye out for top-ups. That's pretty standard stuff for any sheeny lippie, so really there's little not to recommend here. This is a comfortable, glamorous, bargain buy that really lives up to its name.
3. Dior Rouge Dior 999
Best luxury red lipstick
Specifications
RRP: $38/£32
Shade: Crimson
Finish: Available in satin, velvet, matte and metal
Reasons to buy
+
Ultra glamorous
+
Several finishes available
+
Skincare ingredients
Rouge Dior is the French house's classic red lippie, so it won't surprise you to read that the shade is timeless, the packaging luxurious and the finished look sophisticated and grown-up. What you may not have realized is that this particular crimson shade, 999, is available in not one but four finishes. There is sheeny Satin, creamier Velvet, subtly reflective Metal and self-explanatory Matte. Offering their suits-all red lipstick in this pick and mix of finishes is such a canny move by Dior you wonder why more brands don't do it.
That aside, this is on the luxury end of the price spectrum, but the quality does reflect that, with plant extracts of red peony and pomegranate flower offering softening lip care and pigment that sits beautifully on the lips for hours. Extra eco-friendly bonus points to Dior for offering refillable packaging too.
4. Clarins Joli Rouge 741 Red Orange
Best red lipstick for moisture
Specifications
RRP: $31/£22
Shade: Warm red
Finish: Sheeny cream
Reasons to buy
+
Very comfortable
+
Modern shade
+
East to apply and wear
If you tend to dislike the heavy, powdery feel of traditional matte lippies, this could well be the red lipstick for you. It's absolutely packed with hydrating ingredients including mango seed oil, glycerin and conditioning plant extract, salicornia herbacea. The slippery and soft textured bullet glides on and gives lips a flattering sheen.
The shade we've picked is worth shouting about too - a hip, hot red that would particularly suit dark or olive skin tones, although it would look striking on any face. Style it with minimal makeup elsewhere and a casual navy jumper for a modern look. As with any sheenier lippie this will need a few re-applications through the day or night, especially after eating and drinking, but it's so comfy and easy to apply you're unlikely to mind doing it all that much.
5. Charlotte Tilbury Limitless Lucky Lips Berry Lucky
Best ultra-matte red lipstick
Specifications
RRP: $34/£25
Shade: Rosewood
Finish: Super matte
Reasons to buy
+
Bold pigment
+
Ultra long lasting
+
Comfortable feel
Reasons to avoid
-
May be too matte for some
If you are a confident red lipstick wearer who wants to make a powerful statement that lasts all day, this ultra-matte high pigment offering from make-up artist Tilbury could be the best red lipstick for you.
This shade, Berry Lucky, is a sexy and deep reddish-rose that's got nighttime glamour written all over it. We also love the limited edition Love Flame, a burnt orange-red. Like Charlotte Tilbury's universally-flattering nude lipstick, the color payoff for this product is fantastic, with a modern true matte finish.
Naturally, this does mean that you will feel it on the lips, but as ultra-mattes go this is about as comfy and light-feeling as they come. The slim bullet makes for easy application and, as with all Charlotte Tilbury products, it'll look great when you whip it out of your bag.
6. Maybelline Superstay Matte Ink Spiced Edition 325 Shot Caller
Best red lip stain
Specifications
RRP: $7.99/£9.99
Shade: Raspberry red
Finish : Matte
Reasons to buy
+
Completely budge-proof
+
Lightweight feel
+
Great price
When Maybelline says 'super stay' they are not messing around. This liquid lip stain, which you swipe on much like a gloss, will set down in about a minute then become utterly, indelibly, transfer-proof. This means a few things; firstly it is amazing to wear to an event where you will be eating and drinking lots and would rather not be constantly checking for smudges in the back of a knife. And secondly, that you had better apply it neatly and clean up mistakes quickly.
This shade, part of a special run of reds, is a cool-toned raspberry. It suits most skin tones and makes anyone's teeth look brighter, but there are warmer and deeper tones in the range if that's your thing. As a liquid lipstick formula, this benefits from feeling super weightless. Truly, you'll forget you're wearing it, but of course won't have that creamy, moisturizing feel of a traditional lippie.
7. Victoria Beckham Beauty Posh Lipstick in Fire
Best clean red lipstick
Specifications
RRP: $38/£38
Shade: Hot red
Finish: Soft matte
Reasons to buy
+
Ultra luxurious
+
Slim bullet
+
Clean ingredients
We are huge fans of Victoria Beckham Beauty here at w&h. Not just as a hangover from our youthful Spice Girls obsession, but because the products are genuinely excellent. This lipstick doesn't just have a fun name, it also boasts a deeply nourishing formula packed with plant-based waxes and oils plus plumping jojoba, and nothing the clean beauty brigade doesn't approve of.
This spicy red has an almost coral tinge that speaks of balmy evenings, but works equally well on a dark night teamed with your best cashmere sweaters. The slimline bullet makes applying precisely without a brush nice and simple and the color payoff is excellent for such a soft and moisturizing formula. It would be remiss not to mention how gorgeous the packaging is too—sustainable and ultra-desirable in VBs signature horn print.
8. Lancome L'absolu Rouge Drama Ink in French Touch
Best liquid lipstick
Specifications
RRP: $28/£27.50
Shade: Burnt red
Finish: Semi-matte
Reasons to buy
+
Comfortable feel
+
Handy application
+
Smudge-proof
Liquid lipsticks tend to fall into two categories—velvety yet smudgy or inky and a touch dry. This, however, breaks the mould. It paints on and sets down like a weightless ink and offers similar transfer resistance, but has an unusually soft sensation on the lips. This is due to the formula's composition, which Lancôme describes as a water-in-oil emulsion and to us feels like a rare gift—comfortable, high pigment color that won't quit.
This shade is a little deeper and richer than your average, bright, Hollywood red; making it a good call for glam evening looks. But thanks to that matte-ish texture, it works very well with casual daytime styling too. The teeny-tiny heart-shaped wand makes precision application easy-peasy, and the sweet little bottle is light and spill-proof for your handbag.
9. Burt's Bees Tinted Lip Balm Red Dahlia
Best red tinted balm
Specifications
RRP: $4.79/£5.99
Shade: Cool red
Fnish: Sheer
Reasons to buy
+
Care and colour
+
Very light pigment
+
Great price
Reasons to avoid
-
May be too sheer for some
This is red lipstick for people who don't like red lipstick. Mostly, it's a lip balm (one of the best lip balms at that), but with the sheerest hint of a red tint to lightly glaze over your lips in a quiet cool-toned red. Naturally, as a balm, there's more lip care here than color, with plant waxes and softening shea butter. The formula is 100% natural and the cute little twist-up stick is light enough for any bag or pocket.
You'll need to build it up a fair bit then top it up often to achieve anything approaching an opaque red shade, but opacity isn't really the point of a balm. If you want the most easygoing of lip products that feels lovely to wear and you can swipe on whenever without using a mirror, consider this red for you.
10. Armani Beauty Lip Power 404 Tempting
Best all-rounder red lipstick
Specifications
RRP: $38/£32.50
Shade : Berry red
Finish: Glossy
Reasons to buy
+
Glossy and hydrating
+
Angled bullet for neat applying
+
Long lasting
This is a real middle of the pack multitasker, but you'd be wrong to call it a jack of all trades. It lays on a lot of pigment in one or two swipes like traditional full-cover lippies but glides on smoothly like a sheenier, moisturizing formula.
Look-wise, this is a fairly rich and seductive berry red, with cool undertones that work on most skins and a nice glossy finish that will flatter thinner or lined lips particularly well. The best thing about this is how comfortable it feels, not just initially but several hours after application. Despite a generous color payoff and budge-proof properties it won't dry out or travel around your mouth as you eat or drink. Lip power indeed.
How to pick the best red lipstick shade for you
The most important part of finding the best red lipstick is picking a shade. We tend to think of red lippie in a classic pillarbox hue, and if that doesn't look quite right you may give up there. But actually, this colour is far from one dimensional.
"Red is really an umbrella term for a huge range of deeply nuanced hues, from pinkish watermelon to orangey geranium to fire engine red to oxblood," writes Rachel Felder in Red Lipstick: An Ode to a Beauty Icon (opens in new tab). "There truly is a rainbow within the color family, with ample options to suit literally everyone. Although there are some general rules most women follow, finding the perfect shade can take some trial and error, plus ample time at the makeup counter," she continues. "In addition to one's coloring, it's worth keeping in mind what clothing you'll be wearing it with, where you'll be going, and even the season and climate."
Max factor UK Make-Up Artist Ambassador, Caroline Barnes, agrees that a number of factors play into how a shade actually looks on: "Orange reds are good with warmer skin tone and that's a more modern red so you could wear it with a T-shirt, casually. A classic Hollywood red suits everybody. Be aware that any kind of red tones in makeup will amplify pink undertones in your skin. That's why when you've got a paler complexion people like to go for the bluer reds."
But while rules can be helpful in narrowing down your shade, don't write off a shade you love because your skin's undertone doesn't fit the profile. Every expert agrees the best way to answer the question 'what color suits me?' is to use your own eye:
"Ultimately, anyone can carry any lipstick off—you either put it on and go 'oh yes' or 'oh no'," says Caroline. "It's gut instinct and if you think it makes you feel good then it's for you." Amen to that.