23 fall makeup looks to try for glam nights and cozy days
Get inspired to try our favorite fall makeup looks with new-season buys and makeup artist tips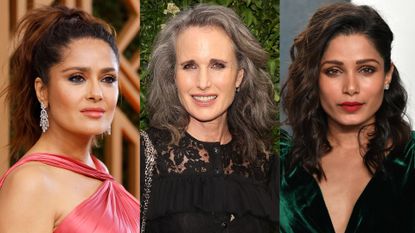 (Image credit: Future/Getty images)
Fall makeup looks are one of the best things about the change in season. A burgundy blush, a moody berry lip, a sultry smoky eye... who could resist?
What I especially love about these easy makeup looks is that you can make them as complicated or as simple as you like. Add a zing of color with just one product like a long lasting lipstick, or get playful with new, intricate eyeshadow looks. In case you hadn't already guessed, I am a certified fall fan. Sure, summer is just fine, but hot sticky days and Monica Geller-style frizzy hair from the humidity? No.Thank.You. Catch me in October, contentedly sipping an overpriced latte and digging out my new winter boots to pair with a dark new lipstick.
These fall makeup looks are the perfect accompaniment to chunky jumpers and spicy fall fragrances. To put it simply, fall is the most wonderful time of year – for makeup, clothes, and of course, that 'back to school' energy to try something new.
Top fall makeup looks to try for 2022, according to pro makeup artists
Not sure where to start? I spoke to two top MUAs to get their take on the newest trends for fall - Aimee Connolly, and Ruby Hammer, both founders of their own (quite brilliant) eponymous makeup brands.
Swap your smoke: "Smokey eyes don't have to be just deep, dark black", says Hammer. "Why not opt for a jewel or bronzey colored smokey eye, to better suit your complexion."
Try a berry lip: "For a proper Autumnal makeup look, you really can't beat a berry lip", muses Connolly. "The beauty of a berry lip is that you don't need to do too much else with it. A polished complexion, some blush, and the best lengthening mascara are all you really need to make it work."
Change up your base: We tend to swap to a higher coverage at this time, but this isn't always necessary. Instead, look for extra skincare ingredients. "As we move into the cooler months, the weather can cause dryness and irritations," Connolly advises, "I would always suggest keeping your base makeup hydrating and if possible, opt for something a little creamier."
Heat it up: As with fall hair colors, rich, warm tones work best for an autumnal makeup look. "You can't go wrong with those warm bronze tones in fall," says Connolly. "Incorporate more rust and orangey tones into your usual browns and beiges."
Start small: "Don't be afraid to start with a small change", urges Hammer. "If the trend is for bold lips opt for a sheerer texture first, find your comfort zone, and work your way up. Makeup is a tool to enhance your confidence by making you feel your best. If you follow a trend without adapting it you, you may find your confidence is knocked rather than bolstered!"
23 fall makeup looks and buys we love
1. Very cherry lips
For an autumnal lip that's super wearable, consider a cherry red tone a la Reese Witherspoon. Softer than your average best red lipstick, this particular shade is, according to the experts, especially well-suited to anyone with cool undertones – as it will add some warmth to your complexion.
2. Amethyst eyes
Shake things up this season with a bold, purple eye. "Colour is having a real resurgence this season – especially purple," says Dominic Skinner, global senior artist for MAC Cosmetics, who insists that this shade is flattering for all. To tap into the trend, opt for purple eyeliner or go all out with a sultry, smoky eye.
3. A peek of lilac
If amethyst feels a bit out there, go for a lighter lilac. It's an especially lovely eyeshadow for blue eyes, but it also helps brighten up hazel eyes as Andie shows here. Adding some depth with a kohl liner helps give the color a grown-up twist, and nude lips are the perfect pairing.
4. Soft sheer base
Some may think that the best tinted moisturizers are only suitable for summer, but that's just not true. A flattering radiant base has a place in fall, too. Skinner recommends opting for a moisturizing foundation that gives good coverage to protect skin from the elements while delivering a dewy makeup look. It will also pair well with a punchy lippie like Maya has on here.
5. Raspberry gloss
The best lip glosses don't always have to be nude. Get playful with deeper, autumnal berry colors like raspberry and blackberry, as a more flattering take on fall makeup looks. Glossy finishes tend to be more forgiving than full-blown mattes, so this is the ideal way of trying out darker lip colors if you're tempted to swap out your pinks and corals. For a longer-wearing finish, the experts recommend applying a base layer of one of the best lip liners first.
6. Retro Cat Liner
Fans of the retro '60s vibe will love this smoky cat eye - in fact, it's probably one of the most sought-after fall makeup looks of the season. Striking and stylish, the feline flick is on the tricky end of makeup application, but once you've mastered how to apply eyeliner, you'll feel invincible. Top tip? "Start with the flick," says Connolly, "before running the liner along the lash line to meet it." This way, you can make sure your flicks are even.
7. The not-so-smokey eye
If dramatic, dark eyeshadow looks intimidate you, opt for a lighter take on the smoky eye. Swap charcoal for dove grey with some shimmer, incorporating different tones of metallic to add extra dimension. Not only will this be an altogether more flattering look, but it'll also pair nicely with brighter lipsticks, as Natalie shows above.
8. Bronze monotone eyes
Sticking to just one eyeshadow shade is the easiest way of styling out fall makeup looks. Just swipe on, add your best mascara, and voila! You can't really beat bronze when it comes to this time of year - it's so flattering, neutral without being boring, and will suit all eye shades and skin tones. Top tip? Opt for cream textures that can be pressed and smudged along the lids with zero faff.
9. Sleek matte base
If a sheer, radiant base isn't your thing – or, if you're oily-skinned and are conscious of shine – rejoice at the return of a matte base. Fall makeup looks like Priyanka's plum lipstick pairs beautifully with a matte complexion and matte doesn't have to be flat, especially when you add a subtle bit of glow with the best highlighters. To avoid a powdery finish, Skinner recommends forgoing setting powder in favor of a matte primer, pressed on top of any areas prone to shine.
10. Barely there makeup
According to the experts, experimenting with different textures is an easy way to freshen up a makeup look, adding a point of interest. For an everyday fall look, consider this barely-there matte base with a clear or neutral glossy lip. The contrast in texture looks minimal, effortless, and seriously chic.
11. The stand out power pout
Another way to go for a minimal style when it comes to fall makeup looks is to focus on one area, then leave the rest relatively bare. This is one of our favorite ever makeup looks - just a simple red lip, maybe a swipe of mascara, and that's it. This lets the bold, bright lip do the talking. To apply, go straight from the bullet and clean up the edges with a little concealer using a small makeup brush.
12. Bye bye, bronzer
The best bronzers aren't solely reserved for summer – but if you want to embrace an outdoorsy rosy glow, we recommend skipping this step and going straight for blush. "A little bit of blusher, applied onto the apples of your cheeks, will inject your complexion with a shot of color and healthy radiance," says Connolly. "If you do want to go for a sun-kissed look, apply blush across the nose, too."
13. Silver sparkle
Frosted eyeshadow is set to be a big trend this season. Wear a silver shadow on its own or, "once you've applied your smoky eye, tap an iridescent sparkle shadow onto the very center of your eyelid," says Skinner. It will make those peepers pop and "it will make your eyes look bigger," adds Skinner. As well as being perfect for fall, this is a great Christmas makeup look too.
14. Golden touches
According to Connolly, you can't go wrong with warm bronze and golden tones in winter. To make an impact this season, try a golden shimmer shadow – "it's essentially an elevated version of your best neutral eyeshadow," says Connolly. Sweep the shadow all over your lids and take a thin eyeshadow brush to run it along the lower lash line, too. This look works especially well with simple nude lipstick.
15. Upside down eyeliner
A great way of getting playful with eyeliner looks is to flip it upside down and focus on the under-eye area instead of the lid. This is especially effective if you're looking for makeup for hooded eyes, as it will open up your eyes without having to worry about eyeshadow on your lids from smudging and smearing. Teal and blue tones work especially well with brown eyes.
16. Sharp liner flicks
A razor-sharp feline flick is a timeless beauty look that suits everyone. To recreate this flick, choose your tools wisely. An inky black liquid formula is a good choice for maximum impact – just seek out a thin, pen-like nib for easy application. As Connolly mentioned before, start with the flick before gliding along the lash line. For a lived-in finish, go for a kohl liner instead.
17. Slip into neutral
Browns and beiges don't have to be boring. For an easy take on this smoked-out look, "use the technique of applying a color pencil all over the eyelids – not taking it too high – to achieve a smoky eye in seconds," says Connolly. If time allows, layer this with a darker chestnut shadow in the crease and outer corner of the eye.
18. Blackberry bite
This is the epitome of those fall makeup looks I was gushing about in the introduction of this piece. This moody berry lip is so striking and impactful, and really helps offset a girly outfit. To recreate this soft glam makeup look, outline the lips with a deep burgundy liner before swiping a layer of matte plum lipstick on top.
19. Frosted berry
It's not just frosted eyeshadow that's trending, frosted lips are a must-try this season, too. Glossy lips with a touch of metallic shimmer will take your look from daytime to disco in no time. To recreate this look, apply pearlescent lipstick all over lips before layering with a high-shine gloss.
20. In The navy
If berries and bronzes don't float your boat, try something different with a navy eye look. It's a grown-up take on bright eyeshadow looks, and looks so gorgeous with Lupita's deep complexion and warmer undertones. Color shy? "Tap into this trend with a slick of navy blue liner along the lash line," says Connolly.
21. Full-blown pinks
We're all a bit pink-obsessed over here, thanks to the Barbiecore trend that's taken over our social media feeds. If you're wondering what is Barbiecore, it's about embracing an all-pink look in a grown-up way, as Mindy has here. Pink eyeshadow makes hazel eyes pop, and it's perfectly matched with that deep raspberry lipstick. Get this lip look with a slightly deeper shade of lip liner, blended with a small brush to create subtle graduation of color.
22. Brighened up blush
A good blusher can work wonders - helping your complexion look fresher and adding a bit of zing to gloomier fall mornings. Helen loves a bright pop of color on her cheeks using one of the best cream blushers, which are especially flattering on dryer skin types. Dab on with your fingertips, concentrating on the apples of your cheeks, to give your face an instant zhuzh.
23. Bring on Brusher
Brusher, the act of combining your bronzer and your blusher for a warmer, bolder cheek look, comes into its own in the fall. It's a great way of warming up your complexion without looking too bronzed - while also lifting your cheekbones. "Apply your blush after bronzer," says Connolly, "as bronzer defines your cheekbones while the blush is the icing on the cake." As for texture, Connolly recommends applying cream products on top of powder products to avoid any caking.