27 summer makeup looks to try, from color-pop liner to fresh, dewy skin
Get inspired by our edit of fresh summer makeup looks for 2022, with pro tips to shake up your makeup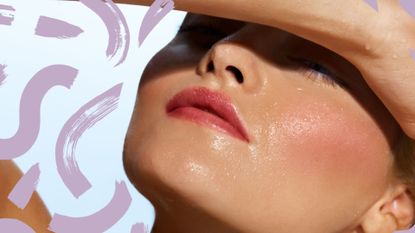 (Image credit: Future/Getty images)
There's no time like the present to try out fresh summer makeup looks. From glossy lips to natural, bushy brows, these inspiring ideas will get your creative juices flowing.
Part of the joy of makeup is experimenting with different looks, playing with colors, and finding out what suits you. It doesn't matter whether you have a preference for easy makeup looks or more complicated designs, trying a new summer makeup look can really boost your mood and deliver a shot of confidence. Whether you add the best cream blush to your makeup bag or go for a graphic liner, the beauty world is your proverbial oyster.
To discover the top trending looks for summer, we sought expert advice from legendary makeup artist, Ruby Hammer (opens in new tab) MBE. With decades of experience painting the faces of celebrities and models plus her own eponymous beauty brand, Hammer's pro tips will help you nail this summer's best beauty trends.
The best summer makeup looks to try for 2022
Monochromatic looks: "The first trend I'm seeing is monochromatic looks across the face – think eyes lips and cheeks all in the same tones. Not necessarily the same shade, but the same tone," says Hammer. This means matching your eyeliner looks, blush, and lip color to tie your whole look together.
Multi-purpose products: Handy for travel, there's no need to buy two products when one can do the job just fine. "I've definitely seen an increase in demand for hybrid products – specifically for the lips," explains Hammer. "People are no longer opting for long-lasting matte colors and are looking for products that care for your lips as well as color payoff."
Natural brows: Groomed eyebrow shapes that don't look too done have been increasing in popularity this year and this summer is the perfect time to showcase your brows. Hammer explains how to get the look, "There's been a return to natural brows. People are simply using a spoolie and angled brush to elevate what hairs they have."
Light coverage: Warm temperatures can result in heavy foundations sliding off but this year, breezy options like the best lightweight foundations and skin tints are taking precedence. "People are looking for lighter-weight coverage that looks natural on the skin," says Hammer.
27 inspiring summer makeup looks for 2022
1. Burnt orange smokey eye
A smoky eye is a classic go-to makeup look all year round. However, in the warmer months, deep black palettes can often feel too heavy. Swap those vampy hues for a bronzed, burnt orange color scheme to add dimension and definition without overwhelming the eye.
Opt for a shadow palette with tonal colors to create a look that will flatter any skin tone and eye color. Begin by sweeping the lightest shade across the lid and use the darker tones to accentuate the waterline and lid crease.
2. Vinyl lip
Lip gloss is firmly back on trend, with 90s-inspired shimmery looks dominating the summer beauty landscape. But for those who still favor classic lippies, the sheer pigment of a gloss doesn't always do the trick. Enter: vinyl-finish lipsticks. With all the color of traditional formula plus the gorgeous sheen of a gloss, you get the best of both worlds.
The buildable nature of vinyl lipsticks makes them the ideal companion for heavy and light makeup looks alike. Keep it natural with one light layer, or build up to match Jennifer's bold color.
3. Blue lashes
If there is any time of year to experiment with colorful mascara, it is certainly the summer. Something about brighter days makes us want to embrace bolder colors in our makeup looks and our wardrobes, and what better way to introduce new hues than through a fun pop of color on the eyes.
Straying from your best mascara in classic black may seem daunting. But, done right, a cobalt formula can make a unique statement that ties your whole look together. Begin with one layer for a lighter wash and build up as you like.
4. Monochromatic nudes
One of the top trends for this year, keeping your summer makeup look monochromatic is a simple way to look put together and refined without too much effort in the morning. But sticking to one shade doesn't necessarily require you to pick a vivid red or pink; you can create a stylish and subtle effect with neutrals.
Pair a light brown or skin-toned shadow with a nude lip for a you-but-better look that will never go out of style. Don't be afraid to use the same product for your cheeks, eyes, and lips to get perfectly matched shades.
5. Colorful liner
Not sure if you can get on board with colorful mascara yet? Then begin with a subtle eyeliner pencil to get you started. Working simultaneously to open up the eye and add an injection of color to the face, this true turquoise shade will look especially good with brown or hazel eyes.
Whether you stick to the waterline or use this pencil to create dramatic winged liner looks, the creamy gel formula will glide effortlessly across all areas of the eye. Contrast with a neutral shadow like Priyanka, or embrace summery brights with a similarly stunning colorful lid.
6. No-makeup makeup
When the weather starts to heat up, the last thing most of us want to do is apply a full face of foundation - but that doesn't mean that all makeup has to go completely out of the window.
No-makeup makeup is a perennial classic amongst beauty lovers who don't want to commit to piling on cosmetics. To achieve Emma's naturally glowy complexion, the best tinted moisturizers will work to hydrate and even out the skin whilst adding some sheen. Throw on your best lip balm, comb through your brows and you're good to go!
7. Monochrome bronze
Swap mismatched colors and use the same one for eyes, lips and cheeks. We love Michelle Pfeiffer's soft pink makeup look here. "The best thing about this trend, is that it's super easy to achieve," says Hammer. "Finish your look by using your blush or bronzer of choice to do a wash of color on the eyes (and lips if the texture allows) to pull it all together. It's great for women who are in a hurry or time-poor because it takes the guesswork out of things and you can do your full face with minimal products."
8. A cream blush flush
Rather than matching tones yet using separate products for lips, cheeks and eyes, this trend uses just one single product to create a harmonious makeup look that ties together. The result? A slim downed makeup bag that's handy for travelling light and a natural makeup look that works all over.
To make it work for you, we suggest adding a touch of cream blush to cheeks, lips, and brow bones and blending out until seamless. That way there are no harsh lines and you'll look naturally sunkissed rather than clown-like.
9. Naturally fluffy brows
This trend is all about embracing what brow hairs you have and making the most of them. "Use one shade of colour for definition and apply sparingly," says Hammer. "It's all about lovely tidied up, groomed brows. The no makeup makeup effect for your brows."
If your eyebrows are a little sparse you may want to look into eyebrow lamination. This treatment brushes up the hairs and sets them in place for six weeks or so, making them look thicker and fuller while staying natural-looking.
10. Fresh, dewy base
Rather than covering up every so-called 'imperfection' on the skin, try going for a lighter base and revealing some of your natural skin. If you have freckles, a few beauty marks, and scars, embrace them and don't be scared to show them off.
If you feel like you still need a little something, Ruby Hammer recommends skin tints as these even out the skin tone without masking. They're particularly great for menopausal women too, "This move towards a lighter-weight, natural finish is wonderful for women going through menopause as it doesn't require lots of layers which then slide off your face during hot flushes."
11. Burnt tangerine dream
Orange is a classic go-to shade in summer makeup looks, but as Viola Davis' nicely-coordinated look here shows, burnt orange has a cool factor and elegance that true tangerines sometimes lack. Try it in a modern, vinyl lip stain for sunny glossy lips, or you could tick another trend box and dab liquid blush in a deep peach onto your cheeks and lips.
12. Clear gloss
Clear lip gloss is back from the '90s and sticky, shiny lips aren't going anywhere fast. This trend is actually perfect for those with thinner lips as glosses are one of the best lip plumpers on the market. It's a good idea to pick clear gloss for a more natural look and avoid wearing it on windy days!
13. Ramped-up blush
A little more blusher than usual is a nifty way of boosting a dull complexion, especially if your skincare routine has gone out the window during a busy summer schedule. That extra dab of pink or peach brings a youthful glow to the skin and makes you look more awake!
If you're worried about looking a little too flushed, take a look at our guide on how to apply blush and you'll be sitting pretty in no time.
14. Fuchsia lips
Pair toned-down eye makeup with a bright lip and you've got 2022s summer makeup looks, nailed. It's an easy and fast way of making yourself look put together and we love the dopamine hit of wearing such a bright color. Choose one of the best long-lasting lipsticks to avoid transfer when you eat and drink so you won't need to touch up throughout the day
15. Smoked out eyes
A sultry, smoky eye looks amazing when you're out on a warm summer evening so, take Jane Fonda as inspiration and get blending. Cool-toned individuals will suit black and grey colors while those with a warm skin tone will suit deep browns.
If you're worried about ending up with panda eyes and don't know how to apply eyeshadow, try using one of the best cream eyeshadows as these are generally longer-lasting and far more forgiving than powder alternatives.
16. Neon brights
It's not a makeup trend for the faint of heart but, neon colors are making a comeback. And this time it's all about the eyes. Think, bright turquoise eyeliner or like Tracee Ellis Ross, a slick of highlighter yellow on the lids.
This trend works particularly well on brown eyes as the bright shades flatter the depth of dark eyes. If you're skeptical of neons, start with a tiny accent of color at the inner corner of the eye - it's a far more forgiving way of mastering this trend.
17. Brighter highlights
Remember when YSL's cult-status product Touché Eclat was first released? In 1992 this industry-changing pen transformed the way we highlight forever. Gone were thick, heavy concealers, and in came lighter, creamier highlighting wands.
It's with this trend that your Touché Eclat should see a resurgence from the vault of your beauty arsenal. Dab it on the center portion of your face including cheekbones and brow bones and see your complexion light up.
18. Lots of lashes
There's only so much even the best mascara can do... sometimes you just have to reach for the falsies just like Gwyneth. On the red carpet, you can guarantee almost every celeb is wearing a pair of false eyelashes. They instantly make eyes appear bigger and finish off a look.
Unsure of how to apply lashes? Designs with a thin band are easier to master and corner lashes are even easier still. Use a decent lash glue and practice applying before your event or evening out.
19. Glazed skin
Fresh, radiant skin is the backbone of dewy makeup and this summer, it's gone one step further. Say hello to 'glazed' skin. Ditch all of your setting powders and blotting papers and embrace your skins natural luminosity.
If you have dry skin, radiant, hydrating foundation formulas are a great place to start - then, give your complexion kilowatt shine by incorporating one of the best highlighters into your routine.
20. Silver accents
A small flash of silver on your lids can really make your sun tan pop. Grab a metallic eyeliner and apply a dot or line to the outer corner of your eyes and it'll make your lids sparkle.
This colour is particularly flattering on pale skin tones but deeper skin tones look best with bronze or gold accents. Feeling brave? Add on a small gemstone or crystal to liven up your look even further.
21. Tightlined eyes
For years we were told never to tightline (otherwise known as waterline) the eyes with eyeliner as it can make you eyes look smaller but this trend is actually about creating an intense smoky eye like SJP's.
Apply one of the best eyeliners you have on the rim of the eyes and it will make your lashes look fuller, thicker and more dramatic - perfect for an evening out.
22. Skip the mascara
If using your best mascara is an absolute must and it happens to be your holy grail makeup item, this trend won't be for you. It's essentially just avoiding mascara all together and letting your lips do the talking, à la style icon Tilda Swinton.
The outcome is a modern and fresh take on summer makeup with the attention being drawn to your lips rather than your eyes. A great tip is to curl your lashes then leave them, this will make you look more awake without the need for mascara.
23. Ballet pink
Create a softer, ballet-dancer-inspired look with one of the most flattering trends for summer 2022. Tones of petal pink have been gracing the eyes, cheeks and lips of so many A-listers and it couldn't be easier to do at home.
Pink is one of the best eyeshadows for brown eyes as it enhances the natural warmth of the eyes, but any eye colour can wear it. Skeptical? Try a light, warm brown to mimic the same effect.
24. Tan-touring
Next time you self tan your face, give 'tan-touring' a go. This trend incorporates self-tanning with contouring to give a more chiselled look to the face.
The best results are had from using a contouring brush to 'carve' out natural contours with the best fake tan for face. Blend through the cheekbones, temples and either side of the nose to create a look like Liz Hurley's.
25. Vampy chic
Vampy colors like deep purples and reds aren't reserved for autumn/winter. If you're going to a party or summer soiree, try out the vampy trend on yourself. It looks particularly great on medium to deeper skin tones and has a 1920s, flapper vibe.
Deeper colours can be a little difficult to apply neatly - follow our guide on how to apply lipstick and you'll have it nailed.
26. Matching your eyeliner to your glasses
It may sound peculiar but matching the color of your glasses to your eyeliner and eyeshadow has an immediate awakening effect, as seen here on Meryl Streep.
The technique creates an optical illusion that your glasses are a part of your face and if the colors match, it makes your eyes appear the same size as your frames. So, if your glasses have metal frames like Meryl, go for a silver or grey eye look. If they're brown, opt for a rich brown hue and so on.
27.Soft cat eye
Rather than intense black liquid liner to create a cat eye, use your eyeshadow to strategically wing-out the outer corner of the eye. The result it far softer and perfect for summer makeup looks.
We love Margot Robbie's makeup here as the brown eyeshadow subtly draws attention to the outside of the eyes, making them look bigger and doll-like.
---
Emma North is a Beauty Writer who works for digital titles including woman&home, Woman, Woman's Weekly, Woman's Own, Chat and GoodtoKnow. Emma's career in beauty journalism began with internships at publications including Vogue, Elle, The Telegraph and Glamour. She was then taken under the wing of Funmi Fetto, Contributing Beauty Editor at Vogue where Emma assisted with Funmi's debut beauty book, Palette.