The best lip plumpers to fake a fuller pout, nourish and smooth
Looking for the best lip plumper? Our beauty team has handpicked the top formulas for a fuller pout at any budget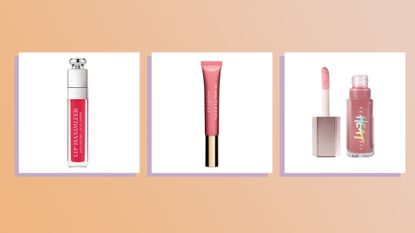 (Image credit: Dior, Clarins and Fenty Beauty)
Want a fuller-looking pout? One of the best lip plumpers can help you on your way to beautiful volume and definition. The even better news is that they don't have to cost the earth, whether you opt for a gloss, balm, or lipstick.
Loved by professional makeup artists and consumers alike, these handy makeup bag staples can either be worn alone or can be used as a base for, say, the best red lipstick.
If you've noticed your lips gradually thinning with age, don't panic. It's a perfectly natural part of getting older. "In profile, the lips recede with age, particularly the lower lip, and lip definition is lost," says consultant dermatologist Dr Anjali Mahto. "This typically starts to occur from the age of 40, and is a result of loss of collagen in the skin." As our doctor notes, there are no skincare products that will remedy thin-looking lips permanently (that's a job for tweakments such as facial filler administered by a licensed professional). But there are products that help make your lips appear fuller temporarily: enter the best lip plumper.
How to pick the best lip plumper for you
Why you can trust Woman & Home Our expert reviewers spend hours testing and comparing products and services so you can choose the best for you. Find out more about how we test.
If you don't want injectables (they're definitely not for everyone), turn to clever makeup products. Generally, the best lip plumpers, whether pencil, lipstick, gloss, or the best lip balm, will fall into one of two categories:
Super tingling formulas: Commonly found in tubes that offer a glossy lip finish, these products contain ingredients like ginger, capsicum, or menthol to stimulate blood flow for a plumper look. Depending on the brand, the finished result can be anything from subtle volume to all-out bee-stung. Tingling formulas aren't for everyone, as they may cause irritation in some wearers, so be cautious and always do a patch test the first time you use one. If these don't work for you, or you're simply not keen on the idea of a tingling gloss, you'll need to plump another way.
Nourishing and hydrating formulas: Often glosses or balms containing ingredients like hyaluronic acid and shea butter, but with none of that infamous tingle. The results may be less intense, but don't underestimate these formulas. "Lip gloss or high shine lipsticks tend to pick up the light and the mirrored effect adds a whole new dimension to the mouth," says professional makeup artist Cher Webb. "For more volume, just add to the center of the lip on its own, on top of a lip pencil or lipstick." As Dr Mahto says, "healthy lips generally tend to look fuller".
The best lip plumpers, chosen by our experts
1. Too Faced Lip Injection Plumping Lip Gloss
The best lip plumper overall
Specifications
RRP: $29/£22
Key ingredients: Vitamin E, avocado and jojoba oils (retinyl palmitate also listed on US site)
Shades: 16
Reasons to buy
+
Visible plumping
+
"The closest thing to having injectables," according to Webb
+
Contains skincare ingredients
Reasons to avoid
-
The tingling may be too extreme for some
This one is not for the faint-hearted. Back in 2020 Too Faced's aptly named Lip Injection Extreme went viral on TikTok for its extreme lip-plumping powers. But it's this regular version, which still contains the brand's advanced plumping technology, that Webb recommends. "It's one that works instantly and is the closest thing to having injectables, and it all starts with a tingly sensation after application," she says. "A little goes a long way so use sparingly, as this powerful gloss visibly adds instant volume and the tingle is real. These are lovely worn on their own or on top of lipsticks."
We found the classic doe foot applicator makes for easy and precise application. With a whole 16 different shades to choose from, there's a Lip Injection gloss for everyone and every look too, from party makeup to barefaced chic. If you want all-out plumping, try the Extreme edition which we found to be a little less comfortable but also more effective—give it a go if you're brave enough!
2. Dior Addict Lip Maximizer Hyaluronic Lip Plumper
The best luxury lip plumper
Specifications
RRP: $35/£29.50
Key ingredients: Hyaluronic acid
Shades: 8
Reasons to buy
+
Moisturizing
+
Feels very luxurious
+
Nice glossy finish
Reasons to avoid
-
More expensive than your average gloss
Hats off to Dior Addict for its Lip Maximiser Plumping Gloss, which creates a lovely plump-looking pout that has a gorgeous hint of color, making each shade suitable both for wearing alone or layered over lipstick. Contained in a very premium square tube with a little doe foot applicator, this formula has got a minty fresh tingle to it that lasts for quite some time, but that isn't too intense. We found the subtle hit of color worked just as well with a natural makeup look as it did soft glam makeup.
The hero ingredient in these glosses is hyaluronic acid, which has a reputation in the beauty industry for being an excellent hydrator, able to hold 1,000 times its own weight in water and draw moisture into the skin. There's no denying that this plumper has a hefty price tag that makes it the most expensive beauty buy in our guide. But thanks to a beautiful, non-sticky feel we do think it's worth it if you are after the best lip plumper that is the very definition of luxury.
3. Barry M That's Swell XXL Extreme Lip Plumper
The best budget lip plumper
Specifications
RRP : $12.99/£4.99
Key ingredients : Castor oil, ginger root extract
Shades : 8
Reasons to buy
+
Moderate tingle
+
Not too sticky
+
Great value
Reasons to avoid
-
May be too shiny or glossy for some
Here, we have a very purse-friendly plumper. Barry M is one of those fan-favorite makeup names that has been around for years wth good reason. These lip plumpers are a great option if you don't want to splash out too much cash on a luxury name, but you still want something that gets the job done.
That's Swell XXL Extreme Lip Plumper has a shiny finish and a moderate tingle that lasts, but generally, we found the wear very comfortable. The smell isn't our favorite (it's a touch spicy) but it's not overpowering and is a small price to pay for an affordable lip plumper that works. It certainly has a 'give it a go' price tag—at barely over $10, or in the UK, less than £5, you can't argue that this is a great deal. If you want to take its plumping effects to the next level, try the XXXL edition, which also contains fiery Sichuan pepper.
4. Fenty Beauty Gloss Bomb Heat Lip Luminizer and Plumper
Best non-sticky plumping gloss
Specifications
RRP : $24/£19
Key ingredients : Shea butter, vitamin E, capsicum, ginger oil
Shades : 6
Reasons to buy
+
Tingle isn't too overpowering
+
Very nourishing
+
Lovely comfortable texture
Reasons to avoid
-
May be too glossy for some
Is it just us who regularly wonder if there's anything Rihanna can't do? It's certainly true when it comes to her makeup brand Fenty Beauty, and it wouldn't be too far-fetched to suggest that it's one of the best celebrity beauty brands ever. Gloss Bomb Heat is an excellent not-too-sticky lip gloss with a finish that's very shiny. Plus it also comes in a heat edition that really works to plump the lips, thanks to the addition of a plump job complex.
There are a good amount of shades on offer, covering hints of color to close-to-clear options. The tingle is somewhere in the middle when compared with the other plumpers in this round-up—definitely noticeable, but not overpowering or eye-watering—so it's great for those who don't like too powerful a sensation. We found the plumping effect moderate, enough to notice without looking OTT. And while you won't feel this working in overdrive as with some others on the market, it is nevertheless a worthy mention in our guide.
5. Clarins Natural Lip Perfector
The best natural looking lip plumper
Specifications
RRP: $27/£19.50
Key ingredients: Shea butter
Shades: 5
Reasons to buy
+
Tingle free
+
Very subtle plumping effect
+
Smells delicious
Reasons to avoid
-
Effect may be too subtle for some
You just can't go wrong with a brand like Clarins. So lovely is the formula of this Clarins Natural Lip Perfector that even the Duchess of Cambridge, aka Kate Middleton has been pictured using it while attending Wimbledon in the past. It's got a deliciously sweet vanilla scent, is super nourishing, and adds a little natural-looking fullness to your lips.
There are several flattering shades to choose from so there's an option to suit every preference, whether you prefer a neutral brown nude like Rosewood Shimmer, pink shades like Rose Shimmer, or a peachy tone like Apricot Shimmer. The color payoff is good, so this works well on its own as your main lip product and the formula is housed in a handy squeezy tube with a soft applicator. Overall it's a great buy if you would prefer tingle-free plumping but still want to add a little 'something' to your natural lips.
6. MAC Powerglass Plumping Lip Gloss
Best lip plumper for a glossy finish
Specifications
RRP: $21/£20
Key ingredients : Castor seed and coconut oils, ginger, capsicum, menthol
Shades : 18
Reasons to buy
+
Good color pay off
+
Very glossy finish
+
Sweet-smelling
Reasons to avoid
-
Scent won't be for everyone
Loved by makeup artists all around the world, it's no surprise that MAC has made it into our edit of the best lip plumpers with relative newcomer Powerglass Plumping Lip Gloss. There's a definite warming sensation to the formula, although it is not as intense as some other buys on the market, the overall plumping effect is a good one with a minty fresh tingling feel.
The shade range is impressive, with glitter options available and a good color payoff that's not too sheer. In terms of their finish, these plumpers live up to their name as they are very glossy to an almost wet-look degree, and the sweet and almost coconutty scent is delicious (providing you have a sweet tooth) Sure, there are definitely cheaper options on the market, but if you are a MAC fan and your budget stretches then we don't think you'll be disappointed. Who are we to argue with pro makeup artists, after all?
7. Soap & Glory Sexy Mother Pucker XXL Pillow Plump
Best drugstore lip plumper
Specifications
RRP : $10/£9
Key ingredients : Natural plant oils
Shades : 5
Reasons to buy
+
Very affordable
+
Super plumping
+
Nice hint of color
Reasons to avoid
-
Tingle may be too intense for some
This is one of the original lip plumpers, and we're sure that many a reader will remember purchasing a Sexy Mother Pucker gloss as their first-ever lip-plumping product. The key plumping agent in XXL Pillow Plump is a signature Lipswell plant oil infusion and plumping spheres, and it really does pack a punch when it comes to volumizing your lips.
Similar to Too Faced's offering, its tingle is at the intense end of the scale and the plumping effect is certainly visible so you won't be disappointed if that's your end goal. Its scent is a bit unusual, a bit like hot chocolate powder, but nothing that should put anyone off. On top of that, it's also a very creamy and nourishing lip gloss and offers a good color, housed in a convenient squeezy tube that'll only cost you ten bucks. A bargain if ever we saw one!
8. Indeed Labs Hydraluron Volumising Lip Treatment
Best plumping balm
Specifications
RRP : $14.99/£14.99
Key ingredients : Shea butter, pomegranate sterols
Shades : N/A
Reasons to buy
+
Improves the condition of lips over time
+
Leaves lips feeling very soft and smooth
+
Kind to the skin on the lips
Reasons to avoid
-
Not for those who want instant plumping
Coming back to Dr Mahto's advice that plump lips are healthy lips, this is a great balm for keeping lips in tip-top condition and as a result, looking healthier and fuller. It contains what the brand describes as ultra-filling spheres that help to plump the skin and smooth out wrinkles, and Voluliptm, which the brand says mimics hyaluronic acid injections by improving its synthesis in the skin. But what did we find on testing?
All in all, it really is lovely; it's comfortable to wear without feeling at all thick or greasy, and your lips are left feeling and looking soft, happy, and healthy. This is a great product to carry around in your bag or to apply overnight. The original version is untinted and so makes a great base for makeup like a nude lipstick, or you could branch out into one of the five tinted lip treatments if you prefer to stick to balm-only and wish to add a pop of colour to your look.
9. Ciaté London Pump Plump Lip Gloss
Best vegan lip plumper
Specifications
RRP : $18/£20
Key ingredients : Squalane, raspberry seed oil, hyaluronic acid
Shades : 2
Reasons to buy
+
A nice wash of color
+
Moisturizing
+
Conscious ingredients
Reasons to avoid
-
Only two shades available
If you're looking for a vegan gloss that ticks all the boxes when it comes to plumping and nourishing, then cult British brand Ciaté London has the answer. Packed with hydrating hyaluronic acid spheres to plump out your pout, the Pump Plump formula is nourishing with a lovely shiny finish and contains a complex to help replenish the condition of your lips while you wear it.
There are just two shades available in the main collection currently, both of which are slightly iridescent, so there are not a lot of options to choose from—although there are additional special editions, like the red shade available in Selling Sunset's Christine Quinn's collaboration. With that said, they are very wearable and suit just about anybody thanks to the sheer finish, so would make a great addition to any makeup kit. Plus the tingle factor is relatively low for those who aren't keen on super fiery formulas.
10. Project Lip Plump & Fill Lip Liner
Best plumping lip liner
Specifications
RRP : $19.79/£15
Key ingredients : Castor oil, ginger
Shades : 6
Reasons to buy
+
Rich color
+
Glides on easily and plumps well
+
Built-in sharpener
Reasons to avoid
-
Not as precise as a sharp pencil
If you aren't a fan of the stickiness associated with a lip gloss or balm, you'll be glad to hear that it's possible to fake the look of plumper lips with a crayon. Project Lip's Plump & Fill Lip Liners aren't just good for defining and slightly overlining your lips, but the formula also helps to plump your pout.
Despite the name, we found this doesn't have the sharp precision of the best lip liner pencils. Instead, it is a very pigmented lip crayon, with the richest color payoff in this round-up. This makes it a great buy, as you simply line to define and then fill in your lips. By now you've probably caught on to the fact that ginger is a common plumping ingredient, and this innovative crayon makes the most of it too, though the tingling sensation is so subtle that you barely notice it while wearing. Bonus points for the built-in sharpener, which you'll find hiding at the opposite end of the crayon.
---
woman&home thanks Dr Anjali Mahto and Cher Webb for their time and expertise
Lucy is a UK-based beauty journalist who has written for the likes of Marie Claire, Cosmopolitan, OK!, Women's Health and more, as well as contributing to woman&home. Her work covers everything from expert skin and haircare tips to the latest product launches and the show-stopping beauty looks spotted backstage at London Fashion Week. During her career she's interviewed some seriously famous faces, from Little Mix to Drag Race royalty The Vivienne, as well as chatting to the industry's leading hairdressers, dermatologists and make-up artists.