The best lip balms, from hydrating drugstore staples to juicy tinted oils
Our essential edit of the best lip balms for every budget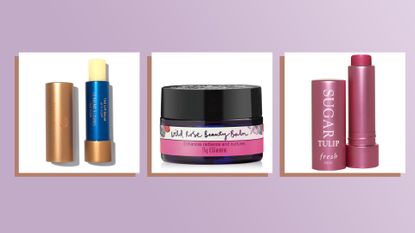 (Image credit: Future/Getty images)
The best lip balms nourish, relieve, protect and even perfect lips. And unlike the decidedly unsexy remedies of yore, today's versions boast fun packaging, comfortable formulas, and beauty benefits to boot.
However, with so many textures and formulas available, from thick medicinal waxes to silky creams that act as the best face moisturizer for your lips, and glam jellies and oils, finding the right balm for you can become a Herculean task.
Happily, for you, we've done the hard work to unveil the best lip balms out there—whether you're scouring for a solution in a simple squeezy tube or are on the hunt for a glam tinted balm as an alternative to your best red lipstick. This tried and tested guide includes every lip balm you'll find in our beauty team's bags.
How to choose the best lip balms for your needs
When it comes to selecting the right lip balm, take a close look at the following:
Ingredients: More often than not, the most hydrating lip balms feature waxed-based ingredients, like beeswax, lanolin, mineral oil, mango butter, and castor seed oil. We also love shea butter, coconut oil, and vitamins C and E among others—they're packed with skin-softening properties.
Packaging: Do you hate fussy caps on tubes or dipping your fingers into tins, pots, or jars? It's worth considering before you fork out for a balm that doesn't work for you. Backed by pencil-like tips, tubes ensure precise application, while jars, pots, and roll-ons offer more coverage.
Flavoring and fragrance: Lip balms with high concentrations of synthetic fragrances and flavoring can be irritating for some. That being said, many users love scented balms that are reminiscent of fruity cocktails. But, if you're sensitive to chemicals and smells, look elsewhere.
Versatility: Today's lip balms go beyond lip care and maintenance. One of the hottest trends in skincare, slugging, uses Vaseline (intrigued? Find out what is slugging with our guide) In fact, the latest formulas double as blush, eyeshadow, and even primer with subtle color. As makeup, they deliver a glow-from-within look, rather than a cakey shimmer.
The best lip balms, as chosen by our beauty team
(opens in new tab)
1. First Aid Beauty Ultra Repair Lip Therapy
Best lip balm overall
Specifications
RRP: $9/£10
Key ingredients: Colloidal oatmeal, shea butter, glycerin
Suitable for: Dry skin, redness
Reasons to buy
+
Vegan, cruelty-free, and gluten-free
+
Formulated without parabens, sulfates, and phthalates
+
Hydrates and soothes irritated, flaky areas
+
Nice cooling effect
If you're looking for a balm that offers skincare benefits at a reasonable price, this could be the best lip balm for you. First Aid Beauty's Ultra Repair Lip Therapy nourishes, hydrates, and protects lips and is especially kind on skin that's prone to irritation. When applied, we found it gave a nice non-greasy sheen to the lips, plus it has a light vanilla-mint scent and a cooling sensation that feels pleasant on the delicate lip area. Since it's formulated with active botanical emollients, this lip balm is silky-soft and not goopy in texture.
To keep sensitive lips supple, the ingredients list contains colloidal oat flour, glycerin, and shea butter—among other hydrating ingredients. A known skin protectant, colloidal oat flour has anti-inflammatory, antioxidants, and protective properties, which calm redness and irritation. This hero ingredient creates a protective barrier on top of the skin's surface, as a way to prevent transepidermal water loss. We can't imagine anyone not loving this simple, soothing balm. Simply put, it's an exceptional addition to any skincare routine for sensitive skin.
(opens in new tab)
2. Burt's Bees Coconut & Pear Lip Balm
Best cheap lip balm
Specifications
RRP: $4.39/£3.99
Key ingredients: Coconut oil, pear extract, shea butter
Suitable for: Dry skin
Reasons to buy
+
No parabens, phthalates, petrolatum or SLS
+
All natural ingredients
+
Full of moisturizing oils
+
Multiple flavors
Burt's Bees has become world-renowned for its hero lip balms that provide intense nourishment for a very low price. Providing everything from flavored beeswax balms to new squeezy tints, Burt has got you covered when it comes to healthy lips.
On testing, we found that this coconut oil and pear extract edition provides all the best properties of the original lip balm with the added luxury of fruity flavor. Not only does coconut oil protect and hydrate the skin on the lips, but it also works to reduce the appearance of lines and wrinkles as well as calming any irritation. If you suffer from dry or chapped lips, sticking to fewer, more natural ingredients may be the safest bet. Experts suggest that synthetic fragrances can irritate any skin type, so Burt's Bees' natural balm is one you need in your makeup bag.
(opens in new tab)
3. Teoxane [3D] Lip
Best luxury lip balm
Specifications
RRP: $40.99/£35
Key ingredients: Hyaluronic acid, collagen, shea butter
Suitable for: Normal, dry, combination, oily skin
Reasons to buy
+
Formulated with hyaluronic acid and collagen microspheres
+
Plumps and hydrates
+
Can improve lipstick wear
Known for its range of hyaluronic acid dermal fillers, the Geneva-born brand Teoxane also offers an impressive selection of skincare products. Designed to maintain the results of aesthetic procedures, they also promise to reduce signs of aging and revitalize the skin.
The [3D] Lip balm uses the same type of high-quality hyaluronic acid found in Teoxane's fillers. The product comes packaged in a convenient squeezy tube fitted with a precise metal tip for applying the product to your lips, making for a seamless and mess-free application, as well as providing a relaxing cooling sensation.
When we tested this out, we found that a little goes a very long way. With just a dot of product, you can expect your lips to feel instantly hydrated and to look as full as if you'd used one of the best lip plumpers. It also promises to improve the wear of lipsticks when layered underneath them. Providing shine without being sticky or greasy, this lip balm offers everything you need for a full, hydrated pout.
(opens in new tab)
4. Ciaté Fruit Burst Hydrating Lip Oil
Best lip oil
Specifications
RRP: $16/£20
Key ingredients: Mango seed butter, jojoba oil, Vitamin E
Suitable for: Dry skin
Reasons to buy
+
Contains antioxidants
+
Smooth texture
+
Flavor variety
+
Subtle color tint
Ciaté London's lip oil captures the hydrating properties of a balm whilst providing the high shine of a gloss. Bursting with tropical scents and a nourishing ingredient, sweet mango, this thick but not sticky formula is perfect for those with slightly dryer lips who want long-lasting hydration that won't budge.
Available in a variety of flavors, each with a different subtle color tint, you will be smelling as good as you look. We found the product easy to apply and spread across our lips thanks to the smooth, sloped applicator, whilst the oil-based formula provides speedy absorption whatever the weather.
Not much product is needed for effective hydration due to the added vitamin E, so this small but mighty tube is sure to last. Acting as a natural barrier to keep moisture in, vitamin E could not be a more perfect ingredient for this dryness-defying lip oil.
(opens in new tab)
5. Neal's Yard Remedies Wild Rose Beauty Balm
The most versatile lip balm
Specifications
RRP: $29/15
Key ingredients: Rosa canina fruit oil, beeswax, shea butter
Suitable for: Dry skin
Reasons to buy
+
Essential solution for many skincare concerns
+
Creates protective barrier
+
Antioxidant rich
+
Smooth application
The Wild Rose Beauty Balm is Neal's Yard Remedies' star product, and it is no wonder that so many people call this a holy grail. Not just a lip balm, this multipurpose one-pot wonder can be adapted to suit any skincare routine. Whether you use it as an intensive nourishing lip treatment, exfoliating cleanser, or to add some highlights to your face post-makeup, this little pot is something you won't be able to live without after trying it.
We love that it creates a natural shine and the delicately scented balm works as an ideal remedy for parched, flaky lips in need of some TLC. The oil-like formula deeply absorbs into the skin whilst maintaining a light texture that doesn't cause unnecessary build-up. The added rosehip oil contains vitamin A, which can help reduce hyperpigmentation and wrinkles, as well as protect your skin from free radicals that accelerate aging. A multitasking miracle in a pot, this balm is ideal for any and all skin that needs a pick-me-up.
(opens in new tab)
6. Augustinus Bader Lip Balm
Best luxury lip balm
Specifications
RRP: $38/£30
Key ingredients: Vitamin E, candelilla wax, bisabolol
Suitable for: Dryness, anti-aging
Reasons to buy
+
Plumping with plant-derived collagen
+
Non-irritating
+
Conditioning
+
Vegan
+
Free of gluten, GMOs, parabens, fragrance, heavy metals, petrolatum, and mineral oil
Reasons to avoid
-
Pricey for the amount of product included
Augustinus Bader Lip Balm is the creme de la creme of lip skincare, formulated to nourish, protect, and soften lips' texture. The waxy balm leverages a potent complex called TFC8 (the result of 30 years of research) which comprises natural amino acids, high-grade vitamins, and synthesized molecules naturally found in the skin. Simply put, it helps the skin repair, restore, and heal from stressors.
Additionally, the balm features a plumping complex with plant-derived collagen, which supports the skin's natural defenses. Together, these skin-healthy agents ensure that lips stay plump and supple for longer. Other standout ingredients include bisabolol, vitamin E, and candelilla wax, a vegan alternative to beeswax with a dense consistency that absorbs easily into the skin. We love that this balm is so rich, and when testing kept it on our nightstand to create a luxurious overnight barrier treatment to lock in moisture. The packaging is also beautiful and glamorous, so you'll be whipping it out all the time to reapply (and you can bet your friends will want to know what it is.)
(opens in new tab)
7. Glossier Balm Dotcom
Best lip balm for a variety of shades
Specifications
RRP: $12/£12
Key ingredients: Castor oil, beeswax, lanolin
Suitable for: Dry, flaky skin
Reasons to buy
+
Wide variety of flavors
+
Packed with antioxidants and emollients
+
Dermatologist tested
+
Cruelty-free
+
Doubles as a skin salve
Reasons to avoid
-
A little thick in texture
Balm Dotcom is exactly what we've come to know and love from US cult brand Glossier, sporting millennial pink aesthetics, sans-serif font, and a sleek squeeze tube.
The skin salve itself is formulated as a thick gel, which we found absorbed quickly into our lips and imparted a slight pigment and sheen. It comes in a variety of scents and tints, with new iterations hitting the market every so often (our current fave is rose) But if you're worried about fruit fragrance overload, fear not. The aromas aren't intense and vanish within minutes after application. The balm itself leaves behind a non-sticky texture and soft hue, which boosts the lips' natural color.
Even better, the formula is backed by impactful moisturizers, like castor oil, beeswax, and lanolin. Castor oil is a humectant that preserves moisture through the upper layer of the skin. Consequently, it relieves irritation, hydrates, and soothes chapped lips. Like castor oil, beeswax helps retain moisture while lanolin is a waxy substance that further seals in moisture to treat dry, irritated areas.
(opens in new tab)
8. Fresh Sugar Tulip Tinted Lip Treatment
Best tinted lip balm
Specifications
RRP: $18/£12
Key ingredients: Sugar and meadowfoam, grapeseed oil, blackcurrant seed oils
Suitable for: Normal, dry, combination, oily skin
Reasons to buy
+
Two finishes: shimmery and satin
+
Buildable color
+
Incredibly hydrating
+
Glides on like butter
+
SPF protection
Reasons to avoid
-
A bit large for tight pockets
Available in 14 tints—along with satin and shimmer finishes—Fresh Sugar Tulip Tinted Lip Treatment offers both rich color and hydration. As a result, it's garnered beauty industry awards aplenty, plus a sizable bevy of loyal fans, ourselves included.
As a remedy for dryness, this tinted treatment is formulated as a rigid, velvety wax, which feels soft and smooth upon application. It's this juicy hydration that helps it stand apart from typical lipsticks and glosses, although it won't quite offer the color payoff of long lasting lipsticks or stains. Capsuled in a dense tube, each flavored balm emanates a delicate and fresh scent that's not too overpowering. From an aesthetics perspective, its packaging is considerably more elevated than other options we've tried—and it's not too expensive, albeit not low-cost either.
In terms of main ingredients, we've got sugar, grapeseed, meadowfoam, and black currant seed oils. As a natural humectant, sugar draws moisture from the environment in the skin, keeping lips supple and hydrated. Grapeseed oil has antioxidants, which shield lips from free radicals, while meadowfoam oil augments the skin's natural protective barrier and blackcurrant oil contains vitamin C, which makes lips look dewy and conditioned. Truly a dream team.
(opens in new tab)
9. Aesop Protective Lip Balm SPF30
Best SPF lip balm
Specifications
RRP: $19/£13
Key ingredients: Grapefruit rind, cedar atlas, orange rind
Suitable for: Dry skin, SPF protection
Reasons to buy
+
A smooth, solid balm
+
Formulated without animal-derived products
+
Not sticky or greasy
+
No strong smell
Enhanced with UVA and UVB filters for top-notch sun protection, this hydrating balm is the perfect addition to your skincare routine. Formulated with botanical oils for softening the skin, your lips won't feel tacky or heavy whilst being moisturized.
We all know we should be slathering on the best facial sunscreen, but lips can often be forgotten when it comes to SPF protection, leading to the risk of burns and damage to the skin. Sunburnt lips can become dry, start to peel, and cause increased sensitivity and discomfort. Therefore, a strong SPF lip balm is essential. SPF 30 is estimated to block up to 97% of the sun's UVB rays, meaning you can rely on this balm to keep you protected in the bright sunshine. Be sure to reapply regularly throughout the day to maintain strong protection.
Aesop's minimal yet high-quality products have become a reliable staple in so many skin and body care routines for a reason. We found this classic stick balm easy to use and that it glides smoothly onto the lips without creating any mess, plus it also boasts a subtle hint of the brand's signature delightful scent.
(opens in new tab)
10. Typology Tinted Balm
Best 2-in-1 lip balm for makeup
Specifications
RRP: $22.30/£16.30
Key ingredients: Hyaluronic acid, raspberry seed extract, peppermint macerate
Suitable for: Dry skin, makeup application
Reasons to buy
+
Imparts nice flush of color
+
Multi-purpose
+
Soft and smooth texture
+
Over 97% naturally-derived ingredients
The perfect size for traveling or keeping in your makeup bag, look no further for a do-it-all product. Formulated with smoothing oils and hyaluronic acid to plump, this balm will keep your lips feeling as good as they look. Hyaluronic acid can hold over 1000 times its weight in water so acts to reduce tightness in the lips, providing a welcome break for dehydrated skin caused by drying lipsticks without compromising on color.
Available in a range of shades from vivid red to subtle dusty rose, this balm-gloss-cheek tint hybrid perfectly mixes repairing properties with a dewy makeup finish. The sleek, malleable metal packaging allows you to squeeze every last drop out, meaning this tube will last you a while. A mixture of raspberry seed extract with peppermint macerate provides a minty fresh feeling on the lips whilst oils leave them looking smooth and nourished. Leaving a subtle glimmering sheen, this kept us looking fresh-faced and healthy throughout the day.
(opens in new tab)
11. Kopari Coconut Lip Glossy
Best lip balm for plumping
Specifications
RRP: $9/£21
Key ingredients: Squalane, Shea Butter, and Coconut Oil
Suitable for: Dry skin
Reasons to buy
+
Vegan and cruelty-free
+
Formulated without parabens, sulfates, and phthalates
+
Non-greasy finish
+
Hydrating
It's no secret that glossy lips are back. Enter: Kopari Coconut Lip Glossy. This non-sticky, non-drying remedy locks in moisture and spreads a thick shiny coat for a fuller pout. If your idea of the best lip balms includes a glamorous whack of sheen, this could well be the one.
As a petroleum-free option, Kopari Coconut Lip Glossy consists of squalane, shea butter, and coconut oil: a powerful trio that keeps lips soft and hydrated. Squalane is a plant-derived oil that helps seal in moisture, and its thin consistency penetrates more deeply than thick textures. Working in tandem, coconut oil is loaded with fatty acids, vitamin E, and proteins, which help hydrate, heal and protect lips. Naturally, shea butter advances these efforts.
It's available in three shades, all of which we found provided a subtle tint, which can be layered over matte lipsticks and even eyeshadows. As for packaging, this balm is encased in a squeezable tube, which we found malleable enough that a hard press wasn't necessary.
---
woman&home thanks Dr. Cynthia Bailey (opens in new tab) of Dr. Bailey Skin Care (opens in new tab) and Lisa Quale (opens in new tab) of Skin Cancer Institute (opens in new tab) at the University of Arizona Cancer Center for their time and expertise.