How to apply lipstick—four simple steps to mastering flawless application
Learn how to apply lipstick so it looks better, lasts longer and feels comfier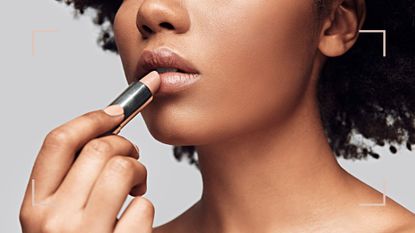 (Image credit: Getty Images)
There's knowing to apply lipstick, and then there's knowing how to apply lipstick. Of course, you can whip the tube out of the drawer, swipe it on, and—yes indeed—you'll be wearing lipstick. Nothing wrong with that. However, much like how learning to chop an onion chef-style changes your cooking game forever (seriously, google it), applying lipstick like a makeup artist makes your lippie eminently comfier to wear, far nicer to look at, and gives it superior lasting power.
Fans of an easy makeup look, i.e. the majority of us, generally try to avoid adding extra steps into our routine. But we promise the old 'stitch in time' idiom holds true here. Much like learning how to apply eyeshadow will save you battling smudges and smears halfway through the night, or mastering how to apply foundation means you can apply with care then forget it's there, that extra time invested early on will repay you many times over.
So if you've ever wondered how to stop lipstick bleeding and feathering, or why your allegedly long-lasting lipstick migrated out into a dark lipline ring reminiscent of Roy Lichtenstein's Crying Girl, we've got you.
This is your professionally approved, straightforward guide to mastering how to apply lipstick. Follow these steps and you'll be set for flawlessly smooth, long-lasting lip looks forever.
How to apply lipstick like a pro in four steps
1 Prep the skin
As with almost all makeup, learning how to apply lipstick starts with your skincare routine. Your lips need products that will smooth away flakes, plump and hydrate for your lipstick to look its best. "Whenever you wear a bold lip color, prepping is everything," says Dominic Skinner, Global Senior Artist, M·A·C Cosmetics. "You want to make sure you give your lip plenty of moisture first before using a lip scrub to help create a smooth base."
For moisture, you'll probably already have opinions on the best lip balm for your needs (as well as three or four of them in the bottom of your handbag). For extra plumping and softening, apply a thick layer like a mask and leave it on to absorb for 20 minutes or so. Slightly 'drier' waxy balms are good for this, or if you love an indulgent oil formula tissue off the excess so so it won't interfere with your lippie's pigment.
Use a specialist lip scrub to de-flake and stimulate circulation for a plumping effect. Gently buff in circles using the lightest touch of your ring finger. "The skin on your lips is very delicate so I would never recommend using a toothbrush to buff lips or a towel in case you rip the skin," explains pro makeup artist and founder of Tinker Taylor Beauty, Zoë Taylor.
Our beauty editor recommends...
2 Line your lips
Many of us forget about lip liner or think of it as a bit old-fashioned, but no makeup professional would think about applying lipstick without it.
Taking the extra time to draw a defined lip line before applying your best pink lipstick creates a strong and neat shape that's particularly welcome with bold lip colors. This not only helps redefine a lip line that's softened naturally with age, but it also creates an impenetrable forcefield that prevents your lippie from traveling outside the shape you've created. You can draw over your whole lips with your liner if you like, as this acts like a grippy priming layer to help your lipstick last
If you tend to get a bit wobbly, rest your elbow on a steady surface "Look into the mirror and smile, tightening the skin on the lips to see where to apply the pencil," says makeup guru Charlotte Tilbury. "Starting on the outer corners, trace just outside the natural lipline. This will help cheat a fuller pout, create perfect symmetry to the lips and stop the lipstick bleeding,"
Our beauty editor recommends...
3 Apply in layers
Now comes the actual application bit. The lipstick-wearing world is divided into those who love the precision of brushes and those who think, "Why bother?" It's true a brush will push the pigment ultra-neatly and evenly onto your lips, but it's also true that you can get a very nice result without one if you'd rather not have to wash one more tool.
Whether you go for the bullet or the brush, one non-negotiable is applying in layers:
Begin by painting on your first layer of lipstick
Put a tissue between your lips and gently press down
Go back in with another layer—you're aiming to build up to three
Blot with a tissue gently again
Finish with a final coat of lippie so the true finish is what people see
Working like this is much like when learning how to paint your nails—lots of light layers equals resilience. The blotting removes surface oils, which helps the pigment adhere, while the layers build the depth of your shade and the lasting power of your look. This means even if you do leave a bit of your top lipstick coat on a wine glass or friend's cheek, those early underneath ones will be gripping onto each other and staying right where they should be.
Our beauty editor recommends...
4 Wear it well
You've prepped, you've lined, you've applied in coats and now your lipstick is perfect and you'd like very much for that not to change. But we all know the stuff of life—eating drinking, talking, kissing—messes perfection up. So how to preserve your look?
The texture of your lipstick (as well as you're up to) will dictate how long it lasts. Sheeny or sheer formulas will inevitably slip more easily, but glossy lips are also easier to reapply than matte. If you don't mind giving your lipstick a soft-focus finish you could try a very light dusting of the best setting powder over the top, which will give it extra staying power.
Matte formulas, liquid lipsticks and stains are more likely to go the distance but can dry out a bit. If you tend to notice your lips feeling tight or powdery, you can cushion it through the night with a bit of balm over the top. Pick one that's clear and not too shiny then dab it on with a finger rather than rubbing, which can move the color.
Our beauty editor recommends...
---
womanandhome thanks Zoë Taylor, Dominic Skinner and Charlotte Tilbury for their time and expertise
Beauty Editor, womanandhome.com
As woman&home's Beauty Channel Editor, Fiona Mckim has tried more products than she's had hot dinners and nothing makes her happier than raving about brilliant finds on womanandhome.com or her instagram grid (@fionamckim if you like hair experiments and cute shih-tzus). Fiona joined woman&home as Assistant Beauty Editor in 2013 under industry legend Jo GB, who taught her everything she needed to know (learn about ingredients and employ extreme cynicism). She has since covered every corner of the industry, from interviewing dermatologists and celebrities to reporting backstage at Fashion Week and judging the w&h Beauty Awards.