Makeup for hooded eyes—13 pro tricks to enhance your eye shape and banish smudges forever
Get makeup for hooded eyes right with this expert-approved guide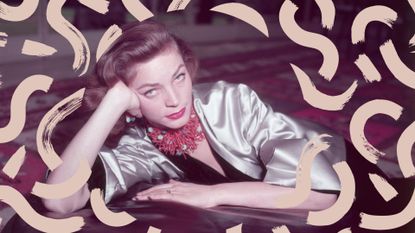 (Image credit: Getty images)
woman&home newsletter
Sign up to our free daily email for the latest royal and entertainment news, interesting opinion, expert advice on styling and beauty trends, and no-nonsense guides to the health and wellness questions you want answered.
Thank you for signing up to Woman & Home. You will receive a verification email shortly.
There was a problem. Please refresh the page and try again.
Often when we talk about makeup for hooded eyes, it's presented as a series of problems to solve. It's true that those with a hooded eye shape might need to pay extra attention to avoiding eyeshadow creases or those smudgy mascara tracks you spot in the bathroom at work (then wonder how long they've been there and how many people noticed?) But then again, this eye shape also enjoys plenty of less well-advertised benefits.
If you want an easy makeup look for a party, no eye shape looks more striking with a smoky cat eye or sooty liner. Case in point: Hollywood icon Lauren Bacall and her famously sultry 'look'. If you've always had hooded eyes naturally, you're probably already highly skilled in the art of how to apply eyeshadow so it stays in place. Meanwhile, those with other eye shapes have to rush to catch up with the process of priming and setting later in life as the skin on their eyes naturally loosens.

Really, the trick with makeup for hooded eyes is the same as with any makeup, from choosing the best foundation to learning how to contour. It's all about gaining a bit of expert knowledge and making clever product choices to enhance what nature gave you, rather than fighting against it. "Applying makeup on hooded eyes is not so much a challenge, as it is just a different way of achieving your goal," says celebrity Makeup artist and founder of Monika Blunder Beauty, Monika Blunder." With hooded eyes, you want to create something that works with your eyes open and your eyes closed."
We've consulted the experts to uncover every trick in the book to get makeup for hooded eyes right. From how to apply eyeliner in smooth wings to selecting the perfect eyeshadow shade and clever tips for a wide-awake look, here's what you need to know to make those beautiful peepers pop.
Makeup for hooded eyes—your expert guide
What are hooded eyes?
First things first. How can you tell if you even need makeup for hooded eyes?
Hooded eyes are a shape where skin from the brow bone drapes downwards and covers the eye crease. If you look straight ahead into a mirror and can't see the crease of your eyelid because it is covered by an extra fold of skin, it's likely you have hooded eyes.
Obviously, within the hooded eye category, there are many, many different eye shapes. Those with hooded eyes can also have round or almond-shaped eyes, large eyes or smaller ones, and plenty of people have no eye crease at all. You may have been born with this eye shape or it may have developed over time. Whatever your own hooded eye shape maybe, if you struggle to see your eye crease with open eyes and your carefully applied eye makeup 'disappears' because of that, then this guide is for you. Welcome!
As we've said before, the hooded eye shape lends itself to beautifully striking and dramatic makeup looks. You only need to look at actors Jennifer Lawrence, Samira Wiley and Charlotte Rampling, all famous hooded eye owners who perfectly demonstrate the seductive appeal of this shape.
Eyeshadow for hooded eyes—3 tips
Two questions that come up time and time again when talking about makeup for hooded eyes are how can I apply eyeshadow so that it is visible and how can I make it stay put?
Wash matt nude eyeshadow on the outer bridge
"With hooded eyes, placement of the eye makeup is integral," says NARS Lead Artist, Rachel Hardie. "For my clients with a hooded eye, I always recommend using a wash of a matte-toned deep nude on the outer bridge at the most prominent part of the lid. This will push the area back and encourage focus on the center of the eye."
Pull your cat eye beyond the crease
For something more dramatic, try 'pulling' the eye makeup upwards and outwards for a feline look, advises Monika. "I really love a beautiful pulled cat eye on hooded eyes. You have to take the wing beyond the crease so it can feel intimidating at first, but it looks so beautiful and pulls the whole face up and out. I like doing it in soft brown tones — it feels less dramatic that way but still gives you a beautiful shape."
Choose matt cream products for staying power
The texture of your product matters here too. "I find that matte products tend to stay the best on hooded eyes since product tends to move around more, but a nice cream product is really easy to blend out on the go if it starts to crease." advises Monika. "For super staying power I like a matte cream base set with a matte powder on top. Layering and setting really extends your wear time."
Our beauty editor recommends....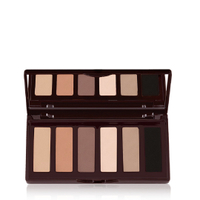 Charlotte Tilbury Super Nudes Easy Eyeshadow Palette | RRP: $57/£45
Just as it sounds, this palette packs in six easy to wear matte eye shades in various neutral tones. You could use it to create almost any eye look from a simple daytime wash to sexy cat eye, and the shine-free finish will grip to your lid like a dream.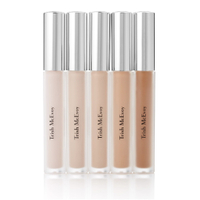 Trish Mcevoy Eye Base Essentials | RRP: $35/£31
Eye primer is one of those things that sound a bit superfluous until you start using it. This is beyond brilliant, creamy in texture, subtly brightening in shade to cover veins and, crucially, acts like a powerful magnet to keep eye makeup right where is should be.
Eyeliner looks for hooded eyes—3 tips
One word everyone with hooded eyes should have in their cosmetic vocab: Tightlining. This technique involves drawing an eyeliner, usually pencil, tightly in between the upper lashes and in the upper waterline to enhance smaller or more deep-set eye shapes.
This soft and subtle look can be more forgiving on smaller eyes and loose skin than more dramatic liquid liner looks, "Lines move with your skin, so if you're trying to do a very graphic look, that's something to really be conscious of," says Monika.
Choose a black or brown waterproof eyeliner
"My biggest tip is to really intensify that lash line with a deep black or dark brown, this will draw the eye to that focus point and enhance the whites of the eyes, making them sparkle," says Rachel. "Use the NARS High Pigment Longwear Liner as it is waterproof, so allows you to tightline the upper lash with ease and longevity."
Fill in between the hairs and skin
Expert make-up artist Ruby Hammer, who has launched her own range of precise, grown-up eyeliners agrees tightliner is perfect for lids that lack firmness. "Keep the liner close to your lash line and in between the hairs and skin—no need for dramatic wings,"
Apply with your eyes open
"Do not rush or hold the brush too tightly, steady your elbows on a surface or tuck them into your body. Keep your eyes open and not tightly shut and use a magnifying mirror if it helps", says Ruby.
Our beauty editor recommends....
Winged eyeliner on hooded eyes—4 tips
There is no denying that winged liner can be more challenging to achieve on hooded eyes. This is because the skin the eyeliner flick sits on is probably partially covered and is likely to be looser, making it tricky to draw neat symmetrical flicks. But challenging does not mean impossible. Set aside an extra 15 minutes and be patient with yourself and you can achieve flattering winged eyeliner on hooded eyes
Place the flick over the crease
"With a hooded eye a wing liner can be tricky," says Rachel. "Just ensure you place the flick slightly over the crease at the edge of the eye and connect back to the line. Do this with the eye open to really see how the look lifts the eye area."
Pull the skin taught as you draw
As well as working with open eyes so you can get a sense of how it will actually look, try pulling the skin taut as you draw to create a smooth surface to draw the liner along.
Hold your eyeliner flat and tilt it as you reach the corner
Think about how you hold the liner, as well as what direction you are drawing it in. "For a precise thin line, hold an eyeliner pen flat along the upper lash line and tilt it upwards as you reach the outer corner," advises Ruby. "For a hint of a flick work from the inner eye outward, or for a more dramatic impact draw from the tip of the wing inwards."
Have Q tips ready
It's worth remembering that little errors are inevitable and that goes for any eye shape. "Even the steadiest hands make mistakes, so don't forget to have Q tips on hand, or you can tidy up the edges with concealer and a fine brush," advises Ruby.
Our beauty editor recommends....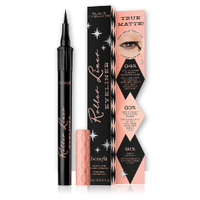 Benefit Roller Liner Matte Liquid Eyeliner | RRP: $22/£19.50
A very fine-pointed nib and great colour payoff makes this pen a perennial favourite of many beauty experts. The inky liner, which comes in black and a deep chocolatey brown, is pleasingly opaque and stays in place in all but the most biblical weather conditions.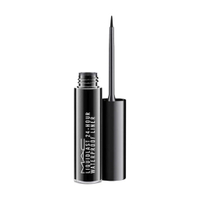 MAC Liquidlast 24 Hour Waterproof Liner | RRP: $22/£17.50
This blacker-than-black formula is applied with a brush that can be a little fiddly compared with a pen, but once in place this stuff is like tattoo. No smudging or flaking, not a speck out of place, come sweat, sleet or sleep. You'll need a hardy remover to get it off, but one of the best micellar waters should do the job.
How to make hooded eyes look bigger with makeup—3 tips
Half of the fun of makeup on hooded eyes is leaning into their natural intensity with smudgy kohl and cat eye looks. However, if you prefer more of a wide-awake natural makeup look and find your hooded lids can look a little on the small or sleepy side, there are things you can do to help.
Apply a lighter color eyeshadow on your inner eye
"To really open the eye up, use a pop of a lighter shade on the inner corner of the eye," says Rachel, who advises using a palette with a mix of matte highlight tones as well as shimmer to achieve natural highlighting looks.
Use a lighter eyeliner in your bottom waterline
Monika agrees using light colors can visually open the eye area up. "A light liner in the bottom waterline is also a good visual trick to add brightness and openness to your eyes.
Curl your eyelashes
Curling the lashes makes a huge difference here too, and it's something I see people skip all the time. It really opens your eyes up." Enhance this wide-open lash effect by topping off with the best lengthening mascara, or for special occasions learn how to apply lashes for high-impact glamour.
Our beauty editor recommends....
Sign up to our free daily email for the latest royal and entertainment news, interesting opinion, expert advice on styling and beauty trends, and no-nonsense guides to the health and wellness questions you want answered.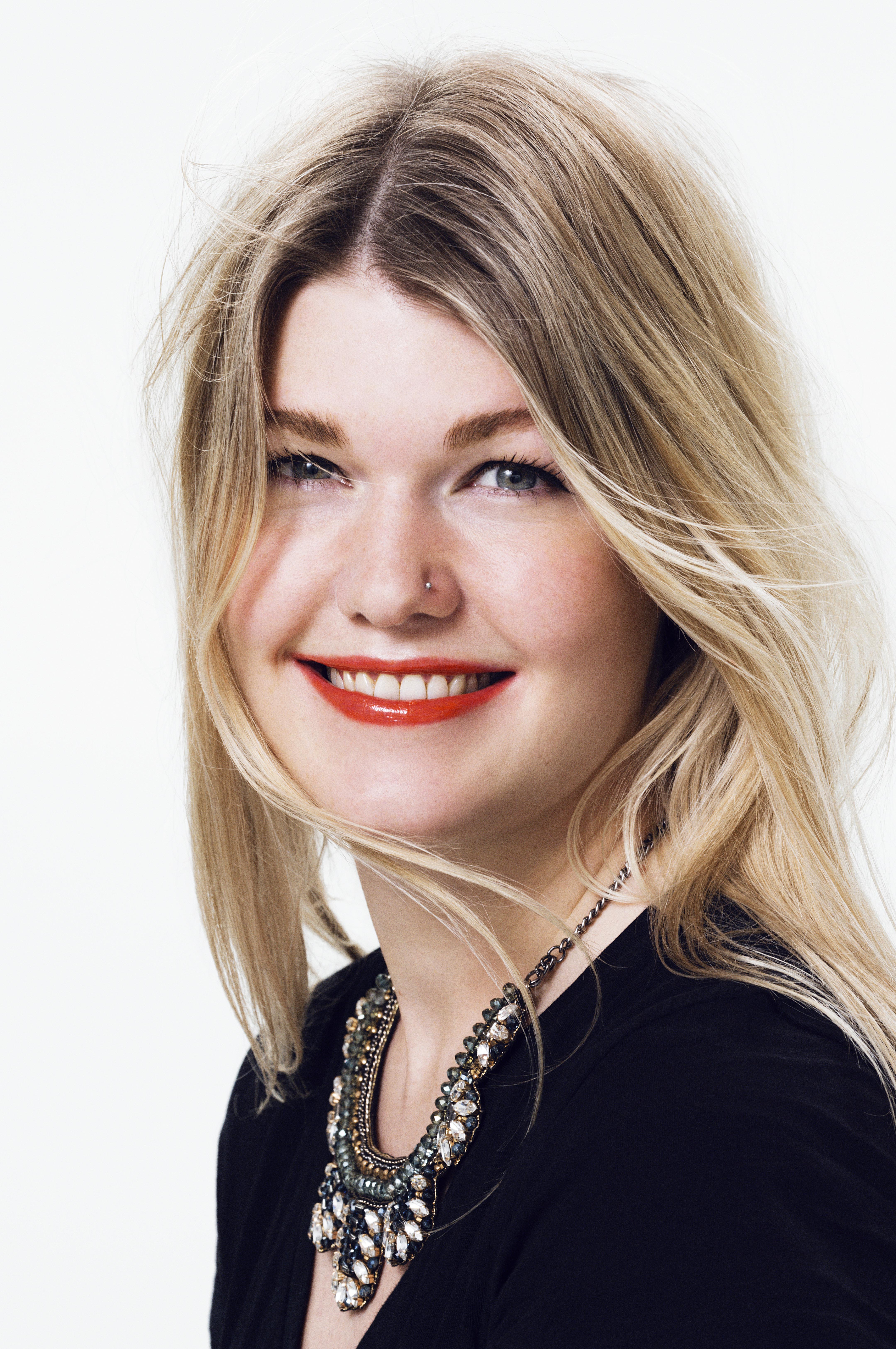 Beauty Editor, womanandhome.com
As woman&home's Beauty Channel Editor, Fiona Mckim has tried more products than she's had hot dinners and nothing makes her happier than raving about brilliant finds on womanandhome.com or her instagram grid (@fionamckim if you like hair experiments and cute shih-tzus). Fiona joined woman&home as Assistant Beauty Editor in 2013 under industry legend Jo GB, who taught her everything she needed to know (learn about ingredients and employ extreme cynicism). She has since covered every corner of the industry, from interviewing dermatologists and celebrities to reporting backstage at Fashion Week and judging the w&h Beauty Awards.