21 easy Christmas makeup looks for the 2022 holiday season
These fast, fun tutorials for easy Christmas makeup looks will inspire your festive glam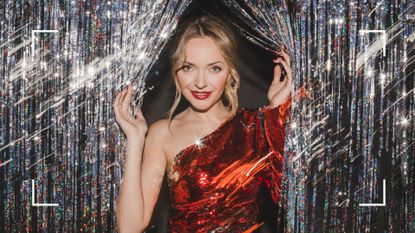 (Image credit: Future/Getty)
Easy Christmas makeup looks should be many things – for starters they should be quick and, well, easy. They also need to feel glamorous and a bit special (or even better a bit sparkly). But most importantly, all easy Christmas makeup looks need serious staying power to survive whatever plans you have in store for the festive period.
The good news is, there are plenty of Christmas makeup looks out there to try. From a slick of the best red lipstick to lashings of the best lengthening mascara - all you need are a few staple products in your beauty bag to take your look from deskside to dance floor. "With Christmas fast approaching, we're already seeing a few fun winter trends coming through," says Aimee Connolly (opens in new tab), celebrity makeup artist and founder of Sculpted by Aimee. "Sparkly eyes will be huge this season, as will dramatic lashes," she continues. Over on base, matte can move over as Connolly predicts glow-y, radiant and healthy complexions will reign supreme.
"I'm seeing a big return to color for this A/W season," adds Dominic Skinner (opens in new tab), Global Senior Artists for M·A·C Cosmetics, "of course, there will always be warm winter spices – but there's been a real resurgence in actual colour, too." From subtle radiance to offset an intricate Christmas hairstyle, to statement party glam to match Christmas nail designs, we round-up the best easy Christmas makeup looks online that can take as little as five minutes. You're welcome!
EASY CHRISTMAS MAKEUP LOOKS: OUR FAVE TUTORIALS
1. Easy Natural Christmas Makeup Tutorial
If you're after a natural Christmas makeup look that will still dazzle, take your cue from YouTuber Jess Clements. Her easy-to-follow tutorial features brushed-up brows, the best lightweight foundation, and a pop of gold eyeshadow from Guerlain. For lips, Jess provides three options (but we're particularly fond of her best pink lipstick choice) so you can choose which you prefer—they all pair equally well with the look.
2. Easy Red Lip Makeup Tutorial
A bright color on the lips is an easy and effective way to make a statement during party season. To get it right, makeup artist and lipstick guru Hannah Martin shows us how to apply the best red lipstick along with the perfect simple makeup to pair it with. If you're only interested in the lip, skip straight to 12:40.
3. Easy Full-On Glam Makeup Tutorial
Whether you're already a fan of Fenty Beauty or curious to try it, give this tutorial from Taylor Anise a watch. She uses Fenty foundation and Lip Paint to create this glam look. As well as demonstrating how to contour, Taylor teaches us how to do a sparkly, smoked-out eye using the most flattering eyeshadow for brown eyes.
4. Easy Smokey Eye Tutorial
Legendary makeup artist, Lisa Eldridge can always be relied on for a signature look. Here she covers how to apply eyeshadow by using just one crayon to create a brown smokey eye (as well as pro tips on how to navigate makeup for hooded eyes) The entire eye look takes just three minutes—making it perfect for unplanned drinks.
5. Easy Date Night Makeup Tutorial
This tutorial may be called 'Date Night Makeup', but we can all agree that it's one of the best easy Christmas makeup looks for any Christmas get-together. Many of us will already have similar products to the ones used within this video, so there's no need to buy new—and the gorgeous nude eyeshadow tones used will ensure your peepers make a statement.
6. Easy Sparkly Christmas Makeup Tutorial
YouTuber Jessi Malay has teamed up with Laura Mercier to create one of the most effortlessly sparkly easy Christmas makeup looks using just three products. If you're a fan of shimmer, you'll love the silver lids as well as the best highlighter to make cheekbones pop.
6. Easy Everyday Festive Glam Tutorial
Zoella shares her everyday glam makeup look that works perfectly for Christmas. Covering skincare for makeup prep, haircare, and one of the best easy Christmas makeup looks we've seen—this will suit anyone with a little more time on their hands. If you're in a rush skip straight to makeup at 8:20 where Zoella shows us how to apply bronzer as well as a soft smokey eye and ruby red lip.
7. Festive Party Makeup Tutorial
Take your look from day to night with ease by following this makeup tutorial that's been created with a Christmas party in mind. Makeup Artist Nam Vo demonstrates how to switch up your look in a few simple steps using staple products from bareMinerals. Her top tips on how to apply blush and how to apply eyeliner are super useful.
8. Simple Glam Makeup Tutorial
YouTuber Nyma Tang takes us through an effortless winter glam makeup look using NARS products. Take note of her foundation application technique, focusing on the center of the face, to create a seamless blend. To recreate the shimmering brown eyeshadow look, skip straight to 10:30.
9. Winter Wonderland Look
Granted, this tutorial is described as a 'winter wedding look' but it works just as well for Christmas festivities. Romantic and pretty, the look features lifted brows, sculpted cheekbones and a 'frosted glow' on the skin. Charlotte Tilbury talks us through the look and we can't get enough of her scribble and blend eyeshadow trick—an easy, quick hack.
10. Easy Eyeshadow Tutorial For Mature Skin
Ideal for mature skin, this easy eyeshadow tutorial is great for those who are new to makeup or like to keep things really simple. It also uses just three products to create the shimmering yet subtle eye. Plus, no special tools are required. Double win in the easy Christmas makeup looks stakes.
11. Easy Big Lashes & Red Lip Tutorial
For goddess-worthy skin and lashings of mascara, take inspiration from influencer and YouTuber Sophie Floyd. Her impressive makeup collection and know-how are guaranteed to make you want to get glammed up. As well as her easy hack of applying bronzer on the eyes, learn how to apply mascara like a pro for major festive impact.
12. Colorful Party Makeup Tutorial
Christmas makeup doesn't have to be all glitter and red lips, it can be bright and colorful, too. Uche Natori shows off an Instagrammable beauty look featuring celestial eye shadow that's set to dazzle your friends and family.
13. Easy Soft Glam Makeup Tutorial
Calling all glitter bugs, this look is for you. YouTube Briana Monique' goes all out for New Year's Eve with lots of sparkles packed onto the eyes using Stila's liquid glitter. "It's so easy to use and dries super quick," says Briana during the tutorial. For even more pizazz, Briana applies the best false eyelashes and a slick of nude gloss.
14. Fun Festive Holiday Makeup Tutorial
If dark circles are your bugbear watch this easy-to-follow festive makeup tutorial that focuses on finding your perfect foundation match as well as correcting and concealing products. The finishing touches include a pretty pink eye and rose lipstick that flatters all skin tones.
15. Day to night makeup tutorial
This would be one of the best easy Christmas makeup looks for anyone who is always dashing from one place to the next. Bobbi Brown Makeup Artist, Amy Conway turns a natural makeup look into full-on, party-ready glam in under five minutes using just three products: a neutral eyeshadow palette, eyeliner, and one of the best highlighters around.
16. Easy Drugstore Christmas Makeup Tutorial
This festive beauty look calls upon affordable makeup including the best drugstore foundation. The soft tones she uses make for super flattering eyeshadow for blue eyes, while the reverse contouring trick makes cheekbones pop. To finish? A ruby red, festive lipstick.
17. Emerald Party Eye Makeup Tutorial
This is easier than it looks! Smoldering emerald eyeshadow is the best way to dress up any outfit. Taking minimum effort but delivering maximum impact, Celine builds up dark green shadow before layering a green glitter on top and finishing with lashings of mascara and the best lip balm.
18. Hollywood Glam Party Makeup Tutorial
Starting with skin prep, Makeup Artist Hung Vanngo shows us all the steps to achieve this one of the most timeless easy Christmas makeup looks—red carpet Hollywood glam. Take note of Hung's top tips for a foundation that will last from day to night, as well as how to shape eyebrows like a pro.
19. Easy Euphoria Inspired Glam Tutorial
Inspired by the TV series Euphoria, YouTuber Brianna Fox has created this sparkly, show-stopping makeup look that's guaranteed to turn heads at Christmas. Brianna starts by demonstrating how to apply eyeshadow before dotting on crystals using glue for major sparkle. This look is best saved for when you have a little more time (and patience.)
20. Easy Pink Festive Makeup Tutorial
Pink and silver eyeshadow make for the dream festive duo. Case in point: Kyra Knox's glam party makeup. Head to 7:20 to see Kyra work her eye makeup magic with a bright pink base topped off with chunky silver glitter. Her top tip? Keep your lips nude so all the focus is on the eyes.
21. Easy Christmas Lights Makeup Tutorial
For a more literal take on Christmas makeup, turn your attention to this festive Christmas Lights tutorial. Taking 10 minutes in total, the creative, colorful eye makeup is easier than it looks—using the best eyeliner to draw on the details. To pull the look together, finish with a pop of red lipstick.