31 Christmas makeup gift sets for 2022: high-glamour gifting for all budgets
We've selected the crème de la crème of Christmas makeup gift sets for 2022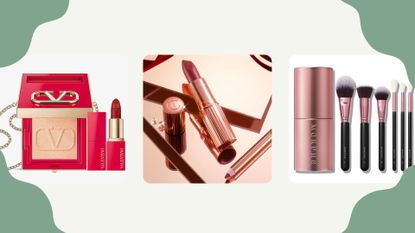 (Image credit: Future)
Christmas makeup gift sets are one of those universally well-received presents that always go down a treat – and this year's lineup is no exception.
Christmas may still be a few months away, but our favorite beauty brands have already stepped up their gifting game with a dazzling array of cosmetic kits. Think glamorous shades to create Christmas makeup looks, limited-edition products in the best beauty advent calendars, and chic makeup pouches that, in the case of designer beauty brands, can often double up as a luxury clutch. What's more, these makeup sets often represent impressive savings on the individual prices of the products they contain. High glamour and huge savings – what's not to love?
Whether you have a modest budget or want to push the boat out, we've rounded up the most fabulous Christmas makeup gift sets for every person and taste. We won't judge if you want to get one for yourself, too.
Christmas makeup gift sets for 2022 - our pick of the best
1. Charlotte Tilbury Walk Of No Shame On The Go
Reasons to buy
+
It covers you from lips to eyes
+
Seasonal tones
+
Wow-factor packaging
No one does Christmas quite like Charlotte Tilbury, and we bet every makeup lover has at least one of the brand's products on their Christmas wish list. Our favorite amongst this year's gift set selection has to be this lip-to-eye four-piece combo. Within the show-stopping packaging, you will find a volumizing mascara plus an eyeliner, lip liner, and matte lipstick, in a festive berry red hue. It is the perfect way to experiment with red lipstick ideas this season.
2. Giorgio Armani Lip Maestro Liquid Lipstick Makeup Gift Set
Reasons to buy
+
Luxurious
+
Wearable shades
+
Designer purse included
This beautiful set from Giorgio Armani oozes glamour and class. Not only does it include three velvety-soft yet long-lasting Lip Maestro Liquid Lipsticks (one nude-brown, one pink, and one classic red) It also packs in a very desirable little designer purse making the not-insubstantial price tag feel like an absolute bargain.
3. NYX Cosmetics Mrs Claus Butter Gloss Trio
Reasons to buy
+
Contains brand favorites
+
Wow-factor packaging
+
Perfect for a stocking filler
If you're familiar with NYX Cosmetics, you may be aware that they are industry leaders in the art of glossy lips (opens in new tab) thanks to their non-sticky and high-shine formulas. This makeup gift set explores their best-selling shades, including Sugar Glass, Crème Brulee, and Cinnamon Roll. A real Christmas treat!
4. ICONIC London Finishing Touches Gift Set
Reasons to buy
+
Great for achieving festive makeup looks
+
Luxury feel
+
Contains brand favorites
This set provides all the tools needed to turn up the festive feel of a variety of makeup looks. This includes one of the best volumizing mascaras that will make the eyes sparkle and the brand's cult glow-giving spray can be used as a primer or over the top of makeup to dress the skin in a radiant glow. You can't go wrong with this one.
5. Cult Beauty The Lip Edit
Reasons to buy
+
Chance to explore different brands
+
Varying lip products
+
Five full-sized products
We love gift sets like these because they provide the chance to explore different brands. This gift set unites some of the best lip balms, and best lip glosses the beauty industry has to offer. From established brands like Hourglass to ones to watch like Lanolips, this gift set has everything needed to prime, nourish and paint lips to Christmas perfection.
6. Huda Beauty Lovefest Tear & Share Lip Quad
Reasons to buy
+
Two types of lip formula
+
Must-have brand
+
Excellent value
Huda Kattan is one of the most influential women in beauty, so if you're looking to treat a makeup lover, her must-have brand is a safe bet. This collection of minis features two matte liquid long-lasting lipsticks and two tinted silk balms. It is the perfect way to explore her pout-loving products that will last throughout the festive season and beyond!
7. INIKA Organic Lash & Brow Set
Reasons to buy
+
Meaningful design
+
Botanic and active ingredients
+
Caring gift
Is there anything better than gifting a loved one with the best lashes and brows ever? This trio contains one of the best eyelash grower serums on the market and brow products that are infused with a host of hair-strengthening and growth-enhancing ingredients. The artwork not only adds a wow factor, but the pretty peonies also represent good luck, love, and honor. It is the perfect way to show a makeup lover that you care.
8. RMS Beauty Shine + Define Makeup Collection
Reasons to buy
+
Nourishing formulas
+
Glow-giving products
+
Covers multiple makeup needs
The festive season is the ideal time to rock radiant makeup and this gift set will make a great addition to any winter makeup bag. The trio contains RMS Beauty's best-selling bundle that will help master any dewy makeup look. It includes a high-shine cream eye shadow, a complexion-boosting primer, and a volumizing mascara to give the gift of a glow.
9. 17. Eye Collection
Reasons to buy
+
Excellent value
+
Creates a range of eye looks
+
Perfect for an eyeshadow lover
When it comes to affordable beauty, 17 is famous for boasting a wide product range that won't break the bank. This impressive offering gifts the lucky recipient with everything they need to create a huge range of eyeshadow looks. A wearable, festive color palette meets with pigment pots, mascaras, and liners to experiment with.
10. Makeup Revolution Get The Look Nude Glam Set
Reasons to buy
+
Covers multiple makeup needs
+
Wow-factor packaging
+
Excellent value
Makeup gifting doesn't get more exciting than this! A beautifully presented box houses a selection of six Revolution Makeup products. From eyeshadow palettes to the best false eyelashes, and pinky nude lipstick, this is sure to make any eyes light up on Christmas day.
11. LOOKFANTASTIC X Bobbi Brown Smokey Eye Edit
Reasons to buy
+
Industry favorite brand
+
Skincare and makeup included
+
Excellent savings on individual items
You can always rely on a classic smokey eye to stand the test of time. This curated lineup adds a festive touch to one of the longest-standing makeup trends. It contains two of Bobbi Brown's best cream eyeshadows, a smoke-inducing mascara, and last but not least, one of the best makeup removers to melt away residue - hiding any sins from the night before.
12. Morphe Flash Of Rosé 8-Piece Rose Gold Brush Set
Reasons to buy
+
Reusable pink tin
+
Covers all stages of the makeup routine
+
Soft fibers
Behind every successful makeup look is a hard-working brush that helped make it happen, and we bet any makeup lover is in need of a new stash. From the eyes to the face, this dazzling collection contains all the tools needed at all stages of your makeup routine. The reusable rosé pink tin will sit pretty on any makeup station.
13. NUDESTIX Brows & Lashes mini kit
Reasons to buy
+
Reusable tin included
+
Perfect for eyeshadow looks
+
Great for all skin tones
Opening anything from Nudestix has always felt like a gift, thanks to the iconic black tins that house their products. This eye kit has festive eye looks sorted. It consists of one of the best eyebrow gels in the game, alongside a creamy eyeshadow pencil and mascara. The eyeshadow is a celebratory champagne hue that will look flattering on all skin tones and eye colors.
14. Benefit Totally Glam Telegram Gift Set
Reasons to buy
+
Contains top brand favorites
+
Handy miniatures
+
Fun packaging
Benefit always brings the fun factor to their holiday offering, and this well-priced and creatively packaged little set would be sure to put a smile on anyone's face. You can always rely on this brand for some of the best bronzers , brow gels, primers, and mascaras in the 'biz - and this delightful gift set contains them all!
15. MAC Superstar Lashes to Lips Kit
Reasons to buy
+
Brand favorites
+
Great for stocking up makeup kit
+
Covers multiple stages of makeup routine
They say good things come in threes, and this is no exception. This impressive lineup features mascara, lip primer, and lipstick that work in harmony to enhance your natural beauty. That subtle, enhancing effect is what makes this set so desirable, it's packed with wearable neutrals that would elevate anyone's makeup collection - we won't judge if you buy one for yourself, too.
16. Urban Decay Stoned Vibes Vault Gift Set
Reasons to buy
+
Wow-factor packaging
+
Boasts 10 products
+
Covers multiple stages of makeup routine
This 10-piece gift set is the star of the show; in Urban Decay's spirit of creativity, it is inspired by gemstones and is the key to creating some seriously bright eyeshadow looks. The impressive offering includes a dreamy eyeshadow palette, eyeliner pencils, highlighter, and lip glosses - in short, this is every makeup lover's dream gift.
17. Valentino Beauty Go-Clutch Face Powder and Lipstick Bundle
Reasons to buy
+
Wow-factor design
+
Colour options available
+
Refillable when finished
Let's take a moment to appreciate the packaging on this one. Shaped like a designer handbag with glossy gold hardware, this Valentino compact powder will make on-the-go touch-ups feel like a moment out of a movie. As well as a useful face powder, it contains a classic scarlet lippie - because no handbag would be complete without your best red lipstick. We can't think of anyone who wouldn't love to receive this.
18. Gucci Lip Vault Limited-Edition Assortment
Reasons to buy
+
If you want to push the boat out
+
Contains all the lipstick you could need
+
Vault can be used as a makeup organizer
We are yet to discover a brand that does desirable Christmas gifts like Gucci, and this is any lipstick lover's dream gift. Whether they fancy a bold lip or a lighter, neutral look - this vault has it. It is packed with 25 shades and five finishes. Sure, it won't suit those on tight budgets, but if you did want to really push the boat out this ultra-luxe offering is ideal.
19. La Bouche Rouge Paris Chilwa Eyeshadow Set
Reasons to buy
+
Chic packaging
+
Available in multiple color options
+
Highly pigmented formula
Effortlessly chic and revolutionary are the words that come to mind when you think of Parisian beauty - they are industry leaders for some of the most iconic makeup looks of all time. This perfect gift set oozes French sophistication and class with a red leather pouch housing a slimline palette and iridescent warm and smokey brown pigments - très belle!
20. By Terry My Hyaluronic Routine Set
Reasons to buy
+
11 travel-sized products
+
Classy rose gold case
+
Great taste of the brand
By Terry is one of those cult makeup brands that not everyone has heard of, but once tried, these products are all you'll ever want to use. This set contains some of the brand's best hyaluronic acid products that will treat thirsty winter skin to a hydration hit, from foundation to primers to pressed powders.
21. Nude By Nature Complexion Essentials Starter Kit
Reasons to buy
+
100% natural ingredients
+
Contains 7 products
+
Great for natural makeup fans
Not every one of the best Christmas makeup gift sets has to be glittery or statement red. This cruelty-free makeup kit from the natural brand Nude by Nature is packed with subtle, complexion-enhancing products for fans of the natural look. Inside you'll find primer, foundation, concealer, finishing powder, and bronzer plus a sleek black case and brush to apply.
22. Clarins Make-Up Heroes Collection
Reasons to buy
+
Excellent value
+
Four sophisticated products
+
Chic packaging
Here's proof you don't have to spend hundreds to gift someone a sophisticated makeup set. This very sweet and beautifully packaged box from Clarins contains dinky versions of the brand's signature grown-up cosmetics including lip Comfort Oil, Instant Smooth Perfecting Touch, SOS Primer, and Natural Lip Perfector. The shades are subtle and the textures beautiful.
23. Pat Mcgrath Huetopian Dream Kit: Celestial Glow
Reasons to buy
+
Supremely cool brand
+
Customizable selection
+
Six full-sized products
Another pricy one, but you know your loved one will already be blown away as soon as they see that ultra-cool Pat McGrath packaging. What's inside is pretty special too. Not one but six full-size products, including blush, lipstick, and an eye palette in a mix of subtle and statement shades, all highly pigmented and high performance, as you'd expect from the makeup artist brand.
24. Emolyne Complete Kit
Reasons to buy
+
Classic shade selection
+
Three full-sized products
+
Coordinated look
There is something deeply satisfying, not to mention intrinsically sophisticated about wearing a perfectly coordinated lip and nail color combo. So why not gift someone you love the opportunity to feel that grown up and classy with this set from under-the-radar brand Emolyne? It includes a perfectly color-matched semi-matte lipstick, glossy nail lacquer, and lip definer in a lovely limited edition box.
25. Anastasia Beverly Hills Natural and Polished Starter Kit
Reasons to buy
+
Complete brow system
+
Four expert-made products
+
Multiple shades available
Brows don't get enough of a look-in at Christmas, as brands tend to focus on lipstick and sparkles, but this handy kit would be sure to go down well. It contains four of brow guru Anastasia's best-selling products that will define and shape brows and lashes - including the Mini Brow Definer, Brow Wiz, Mini Clear Brow Gel and Lash Brag Mascara.
26. Morphe Quad Goals Multi-Palette
Reasons to buy
+
Great value
+
Four cosmetic pots
+
Highly pigmented
This genius stacking pot makeup set from brand Morphe isn't just for Christmas - there are already six shade varieties on sale that make an excellent gift for her (or for him) at any time of year. However, this limited edition Holiday Quad with its shimmery highlighter and glossy lippie does feel particularly festive and fabulous for any beauty fans in your life.
27. SUQQU Powder Blush Compact
Reasons to buy
+
Sophisticated compact
+
Six blush and highlight options
+
Luxurious cult brand
If you're struggling to think of a gift for that makeup aficionado in your life who has everything, here is your answer. This beautiful compact houses six finely-milled, highly pigmented blush and highlighting powders, offering limitless options to enhance and define their complexion in any way they like - from natural-looking blush to a full-glamour look. You're welcome.
28. Ciaté London Christine Quinn Ultimate Collection
Reasons to buy
+
Five full sized products
+
Limited-edition shades
+
Box designed by artist 1Penemy
Have we got any Selling Sunset fans in the house? If there's an avid watcher of Netflix's glossy realtor-reality show in your house, they will adore this Christmas makeup gift set, a collaboration with the show's anti-hero Christine Quinn. Star power aside, the product shades are all super wearable, with a selection of glamorous neutrals and shimmers plus classic red and toffee-nude lip colors.
29. Lookfantastic Bundle Mystery Box
Reasons to buy
+
Contains five products
+
Giftable packaging
+
Great for secret santa
This mystery beauty box containing at least five beauty products isn't just a fun mystery for your intended giftee, it'll be a surprise to you too! Inside is a mix of makeup, body, and skincare sold sight unseen. This would make a clever cheap Christmas gift for that awkward Secret Santa draw where you don't have a clue what Sally in human resources might like. If it's not her taste, it's also not your fault!
30. Tom Ford Most Wanted Clutch Size Makeup Gift Set
Reasons to buy