29 hair up styles to try—cool, unfussy updo inspiration for every length
These hair up styles are modern, chic and easy to achieve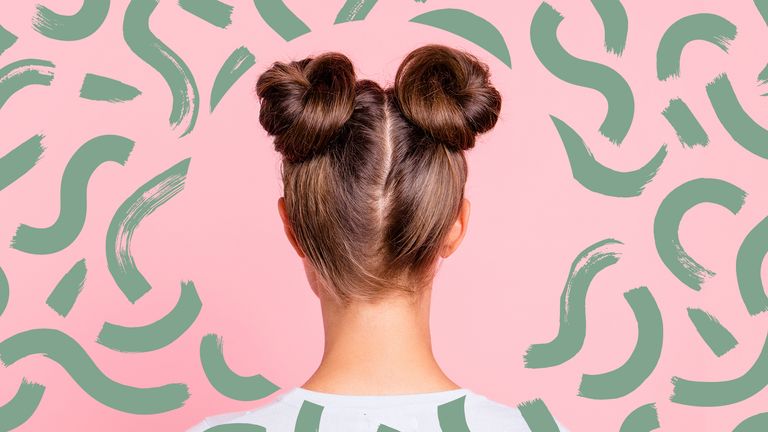 (Image credit: Future/Getty)
Hair up styles are probably the trickiest element of hair styling to get right—hence why many of us go to the hairdresser for hair up styling or simply don't bother with updos at all. It is worth having a go though, as nothing says special occasion or made an effort like wearing our hair up. Plus, fancy vibes aside, updos have the benefit of keeping our hair tucked away, tangle-free and off our faces should we find ourselves sprinting onto a sticky dancefloor as the opening bars of Proud Mary kick in.
We've probably all seen enough bad hair up styles to feel a bit wary. Fussy, overdone 'dos and princessy ringlets crispy with hairspray are as commonplace at weddings as drunken aunts. So what's the secret to a great hair up style? Keep it simple. It doesn't matter if you've got a long hairstyle, short hairstyle or braided hairstyle, the most flattering way to wear an updo is relaxed, undone and a bit messy. "Don't overcomplicate it," says Kiki Koh, Creative Director at John Frieda. "To look chic, it needs to look effortless. Even if you went to a salon, it needs to look like you could have done it yourself."
This is actually a very good thing for us home hair stylers, as imperfection is easier to achieve than following rigorous rules. It means you don't need the skills of a hairdresser or specialist kit to create a great hair up style. Arm yourself with a few key tips, the best hair dryer you can afford, a styling product or two and perhaps some hair straighteners and you'll be golden.
How to prep for a hair up style
The crucial difference between a professional hair up style and one created at home is how the hair is prepped. Hairstylists will always spend as much time preparing with a good blow dry and choice products as they do actually putting hair up. Great prep is also the key to a modern, relaxed look.
Prep step 1: wet hair but don't wash it
How to achieve this? Firstly, unless your scalp gets very oily, it's a good idea to start off with hair that is not 100% clean. Try skipping a wash, and instead simply misting the hair with water (or soaking it in the shower if that's easier) so you can still benefit from the styling power of a blow out without the fluffy softness that comes from washing.
Prep step 2: apply your products
Next prepare the hair with a product that will help your style stick around. "Use thickening spray when the hair is wet—this gives hold without making it sticky," says A-list stylist Luke Hersheson. If your hair is thick, or you have a curly or natural hairstyle a styling cream will be more suitable, offering a stronger grip without adding bulk.
Prep step 3: rough dry your hair
Now rough dry your hair to about 90% dry and finish the final 10% with a round brush if you know how to blow dry with one. If not, give it a final blast with a smoothing nozzle on the dryer, or diffuser for curly hair. If your hair is thick and holds a style well you shouldn't need any other products, if it's fine consider a mist of texturising spray or dry shampoo to give it some extra guts and grip.
Now your hair is dry and prepped with product, think about the updo you want to create.
Two easy updos to try, step-by-step
Chignon updo for long hair
An messy bun version of the classic chignon is easy to achieve and offers maximum glamour for minimal effort. It's also a supremely versatile updo suits shoulder length hair and longer, and can work on anything from ultra thick and curly to finer hair.
Lift up a handful of hair at the crown and backcomb underneath with a tail comb.

Sweep your hair back on both sides from above your ears, and use your index fingers to create a gap above the elastic, then flip the pony over and pull it through the gap to create a twist.

Take two to three inch sections of remaining hair, twist upwards and pin into the base of the twisted pony. Don't worry about being too neat, messiness looks modern.

Now pin in the end of the ponytail, using it to cover over any visible pins.

Pull a few strands out around your face and curl with a wand, if desired.
Wavy updo for short hair
The beauty of this style is that it works with any hair length, as you can simply pin sections back rather then trying to pull it all up together. As ever, think undone. "You don't want it to look too sleek, nor too smooth and certainly no crunchy, tightly tonged curls," says Kiki. "It needs to be touchable with a relaxed texture." If you have naturally wavy hairstyle skip to step three.

Create a side parting that lines up with the arch of your brow and use clips to section the hair so you don't miss any bits.

Wrap large sections around your curling iron for your hair length (longer hair needs a larger barrel) Wrap away from your face and hold for ten seconds. Don't curl the ends as this can look dated.

Leave to cool completely, mist with hairspray. "Spray with your arm outstretched to build it up rather than blast from close up," advises Luke.

Pin the back and sides of your hair up, twisting with your fingers and pin them in place, sliding a kirby grip 'bumpy' side down for grip

Use a tail comb to gently tease the ends to create texture and height. You could add an accessory here for extra glamour, a simple slide would look great.
Hair up style inspiration for every hair length
Short hair up styles
Half up twisted hair up style
The messier the better. Use a snag band to secure and tease with fingers.
---
Pinned-up natural curls with fringe and headband
Super glamorous and relatively easy to achieve, thick or skinny bands look great here.
---
Braided ultra-short hair up style
If you can't quite pin all of your hair up, braid the front section for an updo effect.
---
Low double buns hair up style
A cute and casual style that suits a jaw-length crop. Twist around your fingers to create the buns.
---
Twisted updo into tucked ponytail
A contemporary take on a bun—pin your twist in place and use plenty of hairspray.
---
Undone chignon with pearl slide
A romantic 'do that's perfect for occasions. Texturising spray is your friend here.
---
High double buns short hair up style
Fun, funky and more flattering than you might think—one for the brave!
---
Tucked side bun with hair pin
Show off a Celine-style minimal accessory with this classy tuck.
---
Super short natural hair with hairbands
If your hair is too short to pin up, accessorize with regal bands instead.
---
Medium hair up styles
Braided protective hair up style
Protect natural texture with this sophisticated style. Smoothing cream will keep it neat.
---
Mid-length curly updo
Curls make beautiful casual updos—pin the top half back then twist underneath.
---
Textured ponytail with cuff
The ponytail gets glam. Pull a few sections out and rough it up for texture.
---
French braid with silk scarf updo
If you can plait, you can do this. Weave a skinny scarf through a plait and tie in a bow at the end.
---
Sleek shell chignon
A sophisticated style that suits smooth hair best, mist with plenty of hairspray.
---
Tucked braid hair up style
Tuck a thick French braid in on itself, pin and you've got yourself a glam hair up style.
---
Twisted chignon hair up style
Worth the effort and 300 hair pins, once it's in this style won't budge.
---
High curly pony with scrunchie
Scrunchies are back and this curly style shows how just sophisticated they can be.
---
Double mid-level bun updo
Twice the bun fun in this quirky updo. You'll need plenty of grips but it'll be worth it.
Crown braids with braid rings
A sophisticated braided style with a touch of glam from the braid jewellery.
---
Long hair up styles
Low messy bun with accessories
Bling up a bun with as many slides as you dare—messiness keeps it cool, not fussy.
---
Braided natural bun with golden thread
Protective, yes, but also just plain gorgeous, this hair up style has the golden touch.
---
Bubble ponytail updo
Not as tricky as it looks.—backcomb before you start and have plenty of snag bands to hand.
---
Undone high pinned twist
The ideal 'I woke up like this' style—start with a pony then pin it in.
---
Double fishtail bun updo
A little tricky but so worth it—find a friend who knows how to do a fishtail plait.
---
Piled-high curly hair up style
Beautiful, artfully messy and piled-high. Define curls with a serum before you start.
---
The 'faux-hawk' pony
A little bit punk, a little bit pretty. You'll need sectioning grips and some patience but the results are worth it.
---
High relaxed bun with scarf
A super easy day-to-night updo. Best on a beach but great in the garden too.
---
Backcombed ponytail hair up style
As glam as ponytails get, if you can add a clip in extension so much the better.
---
French braid into high bun updo
A simple, relaxed do for occasions—accessorize with your favourite statement earrings.
woman&home thanks Kiki Koh at John Frieda and Luke Hersheson for their time and expertise.
As woman&home's Senior Beauty Editor, Fiona Mckim has tried more beauty products than she's had hot dinners and nothing makes her happier than raving about a brilliant beauty find on womanandhome.com or her instagram grid (@fionamckim if you like hair dye experiments and cute shih-tzus)

Fiona joined woman&home as Assistant Beauty Editor in 2013, working under legend Jo GB, who taught her everything she needed to know about the industry (clue: learn about ingredients and employ extreme cynicism).
In a previous life, Fiona studied journalism back home in bonnie Scotland and honed her skills as a features writer at publications including Junior and Prima Baby, with a brief and terrifying stint on the showbiz gossip pages of a tabloid newspaper in between. She's a skincare fanatic who can't resist adding an extra step to her routine if it's all the rage in Japan, loves fragrance, has fun with makeup and never turns down the chance to test a new hair tool. Basically, she loves it all.

When not slathering herself in self tan or squinting at a tiny ingredients list on a moisturiser, you'll probably find Fiona enjoying something to do with food - cooking it, eating it, cajoling her friends into trekking across London to try a hyped pop-up in a dirty car park.
Come to think of it, the hot dinners and beauty products are probably about even.