48 hair up styles to try – cool, unfussy updo inspiration for every length
Our edit of beautiful hair up styles are modern, chic and easy to achieve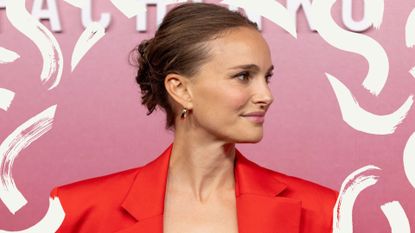 (Image credit: Future/Getty images)
Hair up styles are probably the trickiest type of 'do to get right – hence why many of us go to the hairdresser for updos or simply don't bother at all. It is worth having a go though, as nothing says special occasion like wearing your hair up. Fancy vibes aside, updos have the benefit of keeping your hair tucked away, tangle-free, and off your face should you find yourself sprinting onto a dancefloor as the opening bars of Proud Mary kick in.
We've probably all seen enough bad hair up styles to feel wary. Fussy, overdone 'dos, and crispy princess ringlets are as commonplace at weddings as drunken cousins. So what's the secret to ensuring updos are also easy hairstyles? Keep it simple. It doesn't matter if you've got a long hairstyle, short hairstyle or braided hairstyle, the most flattering updos are relaxed, undone, and a bit messy.
So what are the hair trends 2023 when it comes to hair up? "Don't overcomplicate it," says Kiki Koh (opens in new tab), Creative Director at John Frieda. "To look chic, it needs to look effortless. Even if you went to a salon, it needs to look like you could have done it yourself." This is a great thing for home stylers, as imperfection is easier than rigor. Arm yourself with these tips plus a product or two and you'll be up, up, and away.
Hair up styles - inspiration for every hair length
Short hair up styles
Updos for short hair have a tricky reputation. While you don't have the length to create intricate braids and bouffants, if you get creative with texture and accessories such as hair clips hairstyles there are still plenty of gorgeous hair up styles available to you.
1. The slick ponytail
Perfect when your hair needs a wash, work with the natural oils and slick hair back into a tight and low ponytail hairstyle. Spritz your palms with hairspray and smooth down the style to tame flyaways.
2. The half-up twisted topsy-tail
Take two sections of hair from the front and twist towards the back and secure. Create a little pocket above the hair tie then flip the loose ponytail through this hole and pull under.
3. The glitzy grips
Part hair on the side then use bejeweled hair slides (or kirby grips if you're feeling low-key) to pin one hair back flat against the head.
4. The pumped up pony
Use a backcombing brush to gently tease the hair at the crown then roughly pull back into a low ponytail, ensuring all that height remains on top.
5. Pinned-up natural curls with headband
Super glamorous and relatively easy to achieve, this silk hair wrap looks gorgeous and protects natural hairstyles.
6. Braided ultra-short hair up style
If you can't quite pin all of your hair up, try a braid in the front section for an updo effect. This would make a modern mother of the bride hairstyle and holds its shape under a hat well.
7. Low double buns hair up style
A cute and casual style that suits a jaw-length bob hairstyle. Twist around your fingers to create the buns.
8. Twisted updo into tucked ponytail
This contemporary take on a bun looks lovely with super sleek hair (you can use the best hair straighteners for that) Simply pin your twist in place and use plenty of hairspray.
9. Undone chignon with pearl slide
A romantic 'do that's perfect for occasions. Texturising spray is your friend here, just remember to gently brush it through after applying.
10. High double buns short hair up style
Fun, funky and more flattering than you might think – one for the young or the brave!
11. Tucked side bun with hair pin
Show off a Celine-style minimal accessory with this classy tucked chignon. Secure with plenty of hidden grips then let the hair pin be decorative only.
12. Super short natural hair with hairbands
If your hair is too short to pin into a hair up style, accessorize with regal headbands for short hair instead.
13. Halo braid with short hair
A halo braid is easier than it looks (we recommend heading over to YouTube to watch a tutorial) and it works just as well on short hair as it does on long hair. The trick is to let baby hairs loose for a romantic, undone finish.
14. The half up messy bun
An easy effortless look - pull half your hair back into a messy bun and let the rest hang loose. This style works especially well with bangs.
15. Multiple space buns
If your hair is too short to secure it in two space buns - take your cue from Zoë Kravitz and opt for several instead. Section the hair first before twisting into buns.
Medium hair up styles
Medium hairstyles offer a bit more scope for a variety of hair up styles, as you've got enough length to play with your hair texture – either by creating a smooth look with the best hair straightener brushes or a curly hairstyle with a wand.
16. The easy chic accessory
Wrap a silky scarf around your hair tie to elevate a simple ponytail in seconds.
17. The Heidi plait
Split your hair into two down the middle and plait each side. Pull one side up on top of your head and secure with pins, then repeat with the other plait, laying it next door to the other plait.
18. Braided protective hair up style
Protect natural texture with this sophisticated style. Smoothing cream will keep it neat.
19. The faux-hawk
Using your thumbs, take the top section of hair, secure with a band at the crown then wrap the loose ponytail around the base and secure with pins. Repeat this working your way downwards to create two or three more mini buns.
20. Mid-length curly updo
Curls make for beautiful casual updos – pin the top half back then twist underneath. Learn how to use a diffuser for extra definition on natural curls.
21. Textured ponytail with cuff
The ponytail gets seriously glam. Pull a few sections out and rough it up for texture.
22. French braid with silk scarf updo
If you can plait, you can do this. Weave a skinny scarf through a braided hairstyle and tie in a bow at the end.
23. Sleek shell chignon
A sophisticated style that suits smooth hair best, mist with plenty of hairspray.
24. Tucked braid hair up style
Create a thick French braid, tuck it in on itself, pin and you've got yourself a glam hair up style.
25. Twisted chignon hair up style
Worth the effort and 300 hair pins, once it's in this style won't budge. Prepping the hair with the best dry shampoo for extra grit will give this extra staying power.
26. High curly pony with scrunchie
Scrunchies are back and this curly style shows how just sophisticated they can be. The trick is using clear elastics do do the work of securing the pony, then let your scrunchie be purely decorative.
27. Double mid-level bun updo
Twice the bun fun in this quirky updo. You'll need separating grips plus a tail comb to create two distinct sections – it'll be worth it.
28. Crown braids with braid rings
A sophisticated box braids hairstyle with a touch of glam from the braid jewellery.
29. Protective braided bun
Searching for ways to experiment with medium or long braided hairstyles? Try this chic braided bun. Start with a low ponytail then wrap the braids around the base of the ponytail to create a tightly coiled bun.
30. Half up top knot
If a topknot if your go-to lazy day hair style - mix it up with a half-up top knot that looks cool yet effortless. To dial it up, style with loose waves using one of the best curling irons.
31. The ballerina bun
A ballerina bun is a great choice for special events like a wedding or birthday. To make your bun bigger, try spreading hair over a doughnut before securing with bobby pins.
Long hair up styles
Those with long hair have the most options when it comes to hair up styles, but your 'do will undoubtedly take a bit longer to prep and style. Arm yourself with plenty of strong hold styling products and a jumbo pack of kirby grips.
32. Tousled chignon
This dreamy hairstyle looks amazing and insanely intricate, but as this step-by-step shows, it's actually a doddle to achieve!
33. Tousled braided ponytail
If you're not a pro braider, don't worry. The looser the better with this one! Start with a wavy hairstyle, section the top part, loosely braid then secure in a ponytail at the nape of the neck.
34. Low messy bun with accessories
Bling up a bun with as many slides as you dare – messiness keeps it cool, not fussy.
35. Braided natural bun with golden thread
Protective, yes, but also just plain gorgeous, this hair up style is ideal for long braided hairstyles and truly has the golden touch.
36. Bubble ponytail updo
Not as tricky as it looks – backcomb right through your lengths before you start and have plenty of snag bands to hand.
37. Undone high pinned twist
The ideal 'I woke up like this' style – start with a ponytail then simply tuck forward and pin it in.
38. The longer, thicker ponytail trick
If you want to give your ponytail extra swish, try this trick. Divide the hair into two sections, using your thumbs to separate the hair from above the ears and secure it in a high ponytail. Create a second 'hidden' ponytail directly underneath with the remaining hair and your ponytail will look longer and fuller.
39. Double fishtail bun updo
A little tricky but so worth it – find a friend who knows how to do a fishtail plait (or create two yourself if you can) then pull around the back of the head and pin.
40. Piled-high curly hair up style
Beautiful, artfully messy and piled-high. Define curls with a serum before you start.
41. The 'faux-hawk' pony
A little bit punk, a little bit pretty. You'll need sectioning grips and some patience but the results are worth it.
42. High relaxed bun with scarf
A super easy day-to-night updo. Best on a beach but great in the garden too.
43. Backcombed ponytail hair up style
As glam as ponytails get, if you want XXL length and volume, read up about which hair extensions are best for your needs and go for it!
44. French braid into high bun updo
A simple, relaxed do for occasions – accessorize with your favourite statement earrings.
45. French twist updo
An undone French twist is elegant without being too polished. To recreate this style, you'll need to do lots of twisting and have several bobby pins to hand. Top tip? Tease out loose tendrils to frame the face.
46. Natural pompadour updo
A twisted pompadour style looks ultra elegant and is the perfect updo for special occasions. It involves sectioning the hair into three, creating a French roll at the back before twisting the front section and taking it backwards, securing with bobby pins.
47. Claw clip updo
Great for the summer months, this effortless updo requires just one tool: a claw hair clip. Pull all your hair backwards (the messier, the better) and fold hair before grasping with the clip. Easy!
48. Sky high ponytail
Prefer to go high with your updo? Take inspiration from this sky high ponytail that's pulled over to one side. It's fun, cool and easy to do. Tick, tick, tick!
---
Two easy hair up styles step-by-step
Chignon hair up style
(opens in new tab)
A messy bun offers maximum glamour for minimal effort, which makes it ideal for very special occasion looks such as mother of the bride hairstyles. As hairstylist Lee Stafford says, "It's completely effortless and anyone can put their own unique stamp on it by choosing different accessories or making the whole look sleek and glossy."
Backcomb: Lift up a handful of hair at the crown and backcomb underneath with a tail comb.

Twist: Sweep your hair back on both sides from above your ears, and use your index fingers to create a gap above the elastic, then flip the pony over and pull it through the gap to create a twist.

Secure: Take two to three-inch sections of remaining hair, twist upwards, and pin into the base of the twisted pony. Don't worry about being too neat, messiness looks modern.

Finish: Now pin in the end of the ponytail, using it to cover over any visible pins. Pull a few strands out around your face and curl with a wand, if desired.
Wavy pinned hair up style
(opens in new tab)
The beauty of this style is that it works with any hair length, as you can pin sections back rather than trying to pull it all up. "You don't want it to look too sleek, and certainly no tightly tonged curls," says Kiki. "It needs a relaxed texture." If you have a naturally wavy hairstyle skip to step three. You could also add in an accessory, there are beautiful headbands for short hair out there to suit every occasion.

Prep: Create a side parting that lines up with the arch of your brow and use clips to section the hair so you don't miss any bits.

Wave: Wrap large sections around your best curling iron Wrap away from your face and hold for ten seconds. Don't curl the ends. Leave to cool completely, mist with hairspray.

Secure: Pin the back and sides of your hair up, twisting with your fingers and pin them in place, sliding in kirby grips bumpy side down for grip

Tease: Use a tail comb to gently tease the ends to create texture and height. You could add an accessory here for extra glamour, a simple slide would look great.
How to prep for hair up styles
The crucial difference between a professional hair up style and one created at home is how the hair is prepped. Hairstylists will always spend as much time preparing with a good blow-dry and products as they do actually putting hair up.
Prep step 1: time your hair wash right
How to achieve this? Firstly, unless your scalp gets very oily, it's a good idea to start off with hair that is not 100% clean. "Clean hair and zero product for hair up styles is a recipe for disaster because the hair will be too soft, no matter how much hairspray you apply," warns hairdresser, Lee Stafford.
"When hair is a little dirtier it holds better, however, no-one wants greasy hair on a night out," says Stafford. Just to be safe, I recommend those with thicker hair wash the night before and those with finer hair that gets greasy quickly, in the morning with the best shampoo and conditioner for hold. Clean hair can absolutely hold if it's prepped correctly!"
Prep step 2: apply your products
Next prepare the hair with a product that will help your style stick around. "Using mousses and creams on wet hair before blow-drying will increase the hold time," says Lee.
"Use thickening spray when the hair is wet – this gives hold without making it sticky," says A-list stylist Luke Hersheson. If your hair is thick, or you have a curly or natural hairstyle a styling cream will be more suitable, offering a stronger grip without adding bulk.
Prep step 3: rough dry your hair
Now rough dry your hair to about 90% dry and finish the final 10% with a round brush if you know how to blow dry with one. If not, give it a final blast with a smoothing nozzle on the dryer, or diffuser for curly hair. If your hair is thick and holds a style well you shouldn't need any other products, if it's fine consider a mist of texturizing spray or dry shampoo to give it some extra guts and grip.
"A good hairspray will be your best friend to finish off your style and deliver guaranteed hold throughout the day or evening, even on the dance floor," says Lee Stafford. If you're opting for something sleek, spray a toothbrush with hairspray and use it on the parting and hairline to tame wisps.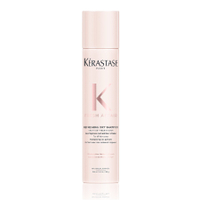 (opens in new tab)
Kérastase Fresh Affair Dry Shampoo | RRP: $33/£24.80
Every hair wardrobe needs a great dry shampoo and this might just be top of our list. It refreshes dirty hair and gives grit to slippy, just-washed hair. But what really has us sold is the addictive, perfume-like neroli fragrance.
---
Beauty Editor, womanandhome.com
As woman&home's Beauty Channel Editor, Fiona Mckim has tried more products than she's had hot dinners and nothing makes her happier than raving about brilliant finds on womanandhome.com or her instagram grid (@fionamckim if you like hair experiments and cute shih-tzus). Fiona joined woman&home as Assistant Beauty Editor in 2013 under industry legend Jo GB, who taught her everything she needed to know (learn about ingredients and employ extreme cynicism). She has since covered every corner of the industry, from interviewing dermatologists and celebrities to reporting backstage at Fashion Week and judging the w&h Beauty Awards.
With contributions from