12 beautiful headbands for short hair and how to wear them, according to pro hairdressers
Our pick of the most flattering headbands for short hair, with styling tips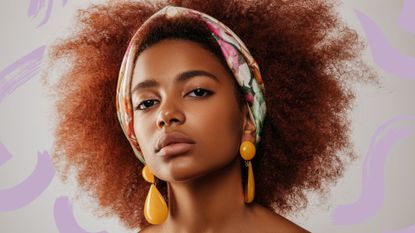 (Image credit: Future/Getty images)
If you've been browsing Pinterest for accessory ideas but found that most are shown on longer hair, fear not. There are some brilliant headbands for short hair out there, and you've come to the right place if you want to learn how to style them.
Accessorizing short hairstyles with a headband is a really nice way to add a little something to your look, or even help to disguise oily roots. Whether you're looking to elevate your everyday style or add a bejeweled piece for a special occasion, there are loads of good-quality and stylish options on the market. As with equally on-trend hair clips hairstyles, you can go as statement or as subtle as you like, and although there are no rules when it comes to personal style, there are a few things to consider when thinking about how to wear headbands in shorter styles.
"The width of the headband will depend on the cut and style of your short hair," says celebrity hairdresser Lorraine Dublin (opens in new tab). "If your hair is very short – i.e. a pixie cut or shorter – then a thin headband will be more flattering as it will show more of your haircut." But that's not to say short hair never works with a wider style. "If you use something that's quite wide, you'll give short hair a retro sixties-seventies feel," hair pro and accessories expert Zoë Irwin (opens in new tab) tells us. "It's so often to do with what you're wearing it with."
How to choose the best headbands for short hair
Why you can trust Woman & Home Our expert reviewers spend hours testing and comparing products and services so you can choose the best for you. Find out more about how we test.
Consider fabric: "Wearing a headscarf as a headband is great for short hair," says Dublin, "If you have a curly hairstyle or afro hair, silk prevents friction damage." But top hairstylist, Patrick Wilson (opens in new tab) explains, "Silk is best to protect your style, but isn't always the most amazing fabric for short hair as it may slip." Look for silk or satin-covered sturdy bands that sit across your head comfortably (not too tight or loose) to avoid this. Dublin also recommends trying a headband with grips if you want it to stay in place or hold a particular style.
Size matters: You may want to make a statement with a big accessory, but balance is key. "I would say proportion matters and would stick to a headband that is around 1-2.5 inches wide and not much wider; you may not want to cover up half of your head if you don't have too much hair," says Wilson. "But I think it's all about how the individual feels – a thinner band would look more delicate with a cropped haircut, but that's not to say you can't wear a statement piece."
Have a try-on session: Order a few options online to try on and return the ones that don't suit you, or try on a bunch in-store to see what suits you best. Our experts also shared their shopping recommendations. "My favorites are Oliver Bonas and & Other Stories. For something special I would look at Lelet NY and Jennifer Behr," says Wilson. Dublin adds: "I like getting headbands from Primark, Zara, and Accessorize as they always have a great selection."
The best headbands for short hair, chosen by our experts
1. Invisibobble HAIRHALO Headband
Best adjustable headband for short hair
Specifications
RRP : From $10 / £10
Key material: Varies, but always has an adjustable base
Reasons to buy
+
Can be adjusted to your head size
+
Lots of different styles available
+
Comfortable because of adjustable design
Reasons to avoid
-
Less grip than some other options
This is one of Patrick Wilson's favorite headbands for short hair. "Invisibobble offers an adjustable Hairlo Headband that is comfortable if you want to wear it all day, and you can bend and adjust the style to suit your head shape," says Wilson.
Thanks to the patent-pending technology, these headbands can be bent wherever they feel too tight or too loose, really giving credit to the phrase 'one size fits all. Essentially, sore heads from wearing too-tight headbands will be a thing of the past with this adaptable style.
We love that there are lots of different designs to choose from, whether you'd prefer a thicker satin band like the champagne-colored Let's Get Fizzycal style, or a thinner jeweled band like Dark Sparkle, which we think would look ultra sophisticated with a bob hairstyle or chic French-girl bob with bangs.
2. Oliver Bonas Acacia Floral Print Brown Knot Headband
Best affordable headband for short hair
Specifications
RRP : $28.50 / £19.50
Key materials: Polyester
Reasons to buy
+
Seasonal color
+
Flattering knot design
+
Works well with all hair colors
Reasons to avoid
-
May be too playful for some tastes
Oliver Bonas is one of the high-street retailers that Patrick recommends as a go-to for perusing the best affordable headbands for short hair. With prices at the lower end of the price spectrum but designs with a luxe feel, all of this brand's accessories are worth a look.
We love the knotted design that really helps to add volume and texture to the hair. If you are looking for ways to liven up a simple bob or to add some height where your hair is lacking, a knot style like this is ideal. Use the best hairdryers to create body and throw this knotted band on for a put-together and bouncy look. Plus, it saves on volumizing hair products that can be drying.
When styling short hairstyles for women over 50, don't be afraid to add colors and patterns through your accessories. This rust color and subtle floral design will liven up your look without being overbearing. Suitable for all times of the year, but particularly the fall-winter months, this is a great budget option for all.
3. H&M Knitted Headband
Best minimalist headband for short hair
Specifications
RRP : $8.99 / £5.99
Key materials: Polyester, acrylic, polyamide
Reasons to buy
+
Available in three colors
+
Light yet cozy
+
Adaptable wear
Reasons to avoid
-
More on the practical side
As the months get colder, practical accessories reign supreme. On short hairstyles, hats and other larger accessories can totally conceal your hairstyle, which is not always ideal. To keep some warmth whilst also allowing your hair to be on show, knitted headbands have our vote.
This luxurious H&M headband is delightfully soft on the skin, meaning you won't have to worry about irritation or itchiness throughout the day. We love the minimalist style that will suit every taste, making this headband an ideal Christmas gift for friends, even on a budget. Whether you use this headband to push hair back, or place it over your hair as an accessory, it will serve you well. Available in three neutral hues, there is no worry about it clashing with your outfit, hair color, or makeup look.
For easy Christmas hairstyles, place the knot detail facing outwards to add some dimension to your 'do. You could even add some of your own glitzy embellishments for evenings out.
4. AllSaints Leopard Print Silk Headband
Best patterned headband for short hair
Specifications
RRP : $35 / £29
Key materials: Silk
Reasons to buy
+
Staple print
+
Premium material
+
Easy to style
Reasons to avoid
-
Not for those who prefer plain designs
AllSaints is one of our staple brands for clothing, but they make great accessories too. This leopard print headband is delightfully versatile thanks to its muted brown hue, but the pattern will make a statement against shorter hairstyles. We think it will look especially good on red or warm brunette hair, such as the trending pumpkin spice hair color.
If most Christmas hair accessories are slightly too on-the-nose for you, a neutral print works well year-round, and will never go out of style. Made from 100% silk and featuring subtle gold glitter, this headband really feels premium - even if the price point doesn't.
Thanks to the smooth material it is ideal for day-to-night wear as it won't make you uncomfortable. The slightly padded style adds some edge to short hairstyles, drawing the eye and enhancing your look. Plus, it's large enough to still stand out in thicker hair types.
5. Slip Silk Knot Headband
Best silk headband for short hair
Specifications
RRP : $69/£69
Key material: Mulberry silk
Reasons to buy
+
Fabric is good for hair
+
Elasticated design
+
Available in three different colorways
Reasons to avoid
-
Wide band may be better suited to bob-length
Slip's silk hair accessories are all made from the brand's own Slipsilk fabric, which was 10 years in the making and helps to prevent snagging and friction in your hair. (The brand also makes some of the best silk pillowcases, which are good for your skin, too). With an elasticated section at the back, this particular headband also promises not to leave an imprint on your hair after wearing it, making it a fab option for daytime wear on vacation.
It's worth noting that this design is quite wide so it may lend itself better to longer bob hairstyles and, considering the luxe material and accompanying price tag, it is definitely an investment piece. But there's no denying it's a seriously chic accessory and it's available in black, pink, or navy and white stripes, so you have a few different options to choose from.
6. Kristin Ess Cozy Headband
Best textured headband for short hair
Specifications
RRP: $12 / £22.22
Key material: Boucle type fabric
Reasons to buy
+
Available in two colors
+
Soft, comfortable fabric
+
Stylish knot design
Reasons to avoid
-
More of an everyday piece
You're probably already aware that Kristin Ess makes incredible hair products, including some of the best shampoo and conditioner buys and best hair masks. But on top of that, the brand also offers some really cute hair accessories, including scrunchies and headbands.
Just as its name suggests, this on-trend knot headband in a fuzzy fabric is a super cozy option that's perfect for when you want to add a fun element to an everyday outfit. We love the comfortable feel in hair and stylish knot that would add some height to fine, short hairstyles that lack volume. What's more, you can pick from two wearable colorways, rust and white. Lovely!
7. Lelet NY Bow-embellished silk-faille headband
Best luxury headband for short hair
Specifications
RRP: $150 / £105
Key materials : Silk faille
Reasons to buy
+
Very luxurious
+
Handmade
+
One for fashion fans
For a real statement look you can't go wrong with an oversized bow, which will suit all shorter lengths ranging from shorter crops to a bob that sits just above the shoulders – and according to Zoë Irwin, luxury name Lelet NY has the perfect piece.
"This is a really cute accessory and works amazingly well. Although it has this huge bow, if you put your hair back or even if you had a fringe down, this would be a little bit Breakfast at Tiffany's I think," Explains Irwin. "Grosgrain ribbon or satin ribbon is fantastic for an evening look or a chic Parisian vibe. It would be all about what you wore with it, so no overkill, but paired with a simple black dress would be quite fantastic."
8. BAUBLEBAR Rosa Pearl Headband
Best embellished headband for short hair
Specifications
RRP : $16 (US only)
Key materials : Metal
Reasons to buy
+
Pretty pearl embellishment
+
Very elegant design
+
Statement piece
Reasons to avoid
-
Glam, so may not be to everyone's taste
When it comes to chic accessories brand Baublebar, there are so many different gorgeous headband options to choose from that it was hard to recommend just the one for shorter hairstyles.
But we found this design particularly pretty with its pearl embellishment that will give a real classy vibe to your look, with one Ulta shopper pointing out they'd worn it as a wedding hairstyle accessory on their big day. The medium-thick and eye-catching band would suit just about any wearer but will pop particularly well against dark hair that's in a chic bob or cheekbone-length crop. You just can't go wrong with pearls.
9. OnlyCurls Pineapple Protector
Best headband for short and curly hair
Specifications
RRP: £10 (UK only)
Key materials: Satin
Reasons to buy
+
Reduces frizz
+
Protects curly hair overnight
+
Stylish print
Reasons to avoid
-
May not do much for straight hair
Those with curly hair will know that it often needs some extra TLC compared to straight hair, so finding accessories to work with your hair type can be tricky. From the best hair straightener brushes to various creams and oils, there is no end to the number of products on the market to help tame those curls.
If you are after a more low-maintenance approach, and also want to add some flare to your accessories collection, this OnlyCurls headband is ideal. Designed to be worn at night, it helps to keep hair healthy and reduce frizz when you sleep. However, we love it as a daytime piece, too!
The soft satin fabric is comfortable enough for day-long wear, and the best part is that you can fall asleep with it on and know you will wake up to soft and tidy curls. The Dalmatian print is ideal for mixing and matching with different color palettes but also doesn't come off too strong thanks to the soft and moldable fabric. Curly girls seeking comfortable and stylish headbands for short hair should look no further.
10. Sister Jane Polly pearl-embellished woven headband
Best statement headband for short hair
Specifications
RRP: $41.50 / £40
Key materials: Polyester, pearls
Reasons to buy
+
Comfortable
+
Lightweight
+
Beautiful design
Reasons to avoid
-
You'll need to keep it clean!
Thicker headbands can feel overpowering on short hairstyles, but this creamy woven design will give just the right amount of bling without looking OTT. Fully padded and with a velvety texture, you won't need to worry about discomfort throughout the day.
This is just one of the stunning statement hair accessories that London-based brand Sister Jane offers. If you find yourself unsure how to style your shorter hair for formal events, or just fancy switching up your everyday look, the bold yet easy-to-style sparkle of the pearls on this band offers the ideal solution. The only downside to this chic white colorway is keeping it in pristine condition - trying to stop passing admirers from touching it is half the battle!
11. Free People Mini Molly Headband
The best padded headband for short hair
Specifications
RRP: $20 / £18
Key material: Polyester suede
Reasons to buy
+
Available in two colors
+
Comfortable fit
+
Slimline design suits shorter styles
Reasons to avoid
-
Padded style may be too statement for some
This is perfect if a standard black headband just doesn't do it for you, particularly if you have darker hair that moody colors can get lost in. That's why we love these unique padded designs from Free People that can easily be worn alone or layered.
The comfy padded fit makes it adaptable to plenty of hair types and means that those who sometimes find headbands uncomfortable should get on just fine. It's great to see on-trend chunky headbands made in this thinner style, that's slim enough for super short cuts yet statement enough to draw attention. Plus, at this price, this headband is sure to sell out fast.
12. Kitsch Thin Non-Slip Headbands
Best everyday headbands for short hair
Specifications
RRP : $8 / £7
Key material : Recycled plastic
Reasons to buy
+
Built-in grip
+
Affordable
+
Three-in-one pack
Reasons to avoid
-
Design may be too simple for special occasions
Sometimes you want a statement piece adorned with jewels or in a standout color, other times you simply want something elegant that's going to stay in place while blending in with the rest of your look – and these affordable bands from hair accessory brand Kitsch tick that exact box.
Complete with a built-in grip to keep the band in place even on the shortest pixie haircuts you get three headbands for the price of one here, two in black, and one in a timeless torte pattern. Fans of this brand rave about this with many claiming they are the only headbands they can wear without hurting their head or slipping. A great endorsement that we heartily agree with.
---
How to style headbands in short hair
Consider position: "The position of your hair, even if it's short, is massively important, because with hair pieces it's all about the right proportions," says Irwin. The headband shouldn't be too far forwards, sitting across the middle of your head with the ends positioned behind your ears. How your hair is styled around the band can also change the overall look; having all of the hair pushed away from the face makes a great evening look, while added height at the back of the head can balance out a heavier jawline.
Get a grip: Once you have positioning nailed, your next consideration is keeping your accessory in place. With short hair, you've less to anchor it and not all headbands will come with a built-in grip. "A good way of keeping headbands in place on short hair is by using grips and hairpins," says Dublin. If you want to keep the grips concealed, place them towards the ends of your band so that they are out of sight.
Finish with products: There are also styling products that will help to give your hair a bit of grip and add texture around your accessory. "A little tip that I think always helps is to use a root powder to help anchor the band or accessory," Wilson advises. "Sprinkle at the root to give stability before placing the hairband. "I'm a huge fan of a texturizing product," Irwin agrees. "Spraying that on the roots of the hair will give it more support and so you have more lift in your style. "Root Lift spray is fantastic too—I like ghds— as is the best dry shampoo," she adds. Using shine-boosting products is another great way to elevate your look, particularly if your headband is made from a very shiny material.
The world is your (very stylish) oyster when it comes to accessories that compliment short hair. Consider your crash course in shopping for the best headbands for short hair complete.
Lucy is a UK-based beauty journalist who has written for the likes of Marie Claire, Cosmopolitan, OK!, Women's Health and more, as well as contributing to woman&home. Her work covers everything from expert skin and haircare tips to the latest product launches and the show-stopping beauty looks spotted backstage at London Fashion Week. During her career she's interviewed some seriously famous faces, from Little Mix to Drag Race royalty The Vivienne, as well as chatting to the industry's leading hairdressers, dermatologists and make-up artists.