The 13 best silk pillowcases for reducing frizz, wrinkles and skin irritation
From cult favorite Slip to skincare brand Espa these are the best silk pillowcases for every skin type, hair texture, and budget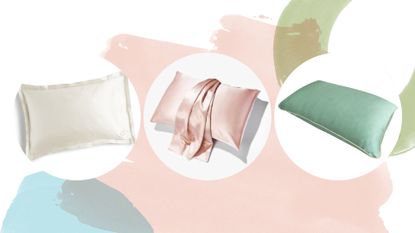 (Image credit: Espa | Razzl Dazzl Hair | Holistic Silk)
The best silk pillowcases can help you maximize those precious hours of sleep in more ways than one, not only aiding comfort so you feel fully rested but also by offering additional beauty benefits for skin and hair.
Our faces and hair can experience major friction when we sleep. When sleeping on rougher cotton pillowcases, this friction is reported to lead to an increase in lines and wrinkles on the face, as well as split ends and frizz in the hair. Silk, on the other hand, is a smoother, gentler fabric, which is less likely to irritate. As a natural material, silk is also a less absorbent fabric, meaning skincare is less likely to transfer to your pillow.
Do they live up to the claims? We put the most popular brands on the market, spanning a range of price points and designs, to the test to see if the benefits of silk pillowcases truly justify the price tag.
How we tested the best silk pillowcases
Why you can trust Woman & Home Our expert reviewers spend hours testing and comparing products and services so you can choose the best for you. Find out more about how we test.
Finding and testing the best silk pillowcases out there wasn't simply a case of sleeping on them. We assessed the below pillowcases on a range of factors, including:
The smoothness of the pillow – we tested just how smooth the pillowcases felt. Anything too slippy could be uncomfortable and prove detrimental to getting a good night's sleep.
Effects on our skin and hair – next to consider was our skin and hair the morning after. Were there any pillow creases on our faces? Had our skincare rubbed into the pillow and stained it? Was our hair smooth and silky, or lacking in moisture?
The material – nearly all of the silk pillowcases tested are made from Mulberry silk, which is commonly used as it is both hypoallergenic and naturally anti-bacterial. Rather than thread count, silk fabrics use momme, the standard unit to measure silk's weight and thickness. Most of the pillowcases tested had a momme count of 19-25 – and we did find that those with a higher count generally performed better. "Momme is the weight measurement of silk, so choosing a higher Momme means the fabric is softer," explains Siobhan Brown, ESPA's (opens in new tab) Homeware Buyer. "Also, the higher the Momme, the tighter the weave, so more silk is used in every square cm. A higher Momme will have a better hand feel and density, so you can enjoy an indulgent night's sleep."
The pillowcase after washing – after a few nights of testing, we also wanted to see how the silk pillowcases performed after washing (some required hand-washing while others could be machine-washed). It was important to check how the pillowcases held up after washing, as they need to be able to stay of the best quality for use time and time again.
Size – size also mattered when testing the best silk pillowcases. Some brands only offer one size, whereas others had up to five. Equally, some silk pillowcases came up small on standard pillows.
Style options – last but by no means least, the style options were incredibly important. We examined how many color options were on offer for all pillowcases, and how nice the pillowcases looked overall.
The best silk pillowcases as reviewed by our experts
During our testing of the best silk pillowcases, we found the hugely popular Slip Silk pillowcase to be the best contender – not surprising given its cult following. The Holistic Silk pillowcase also proved to be a fabulous luxury pick, too. While the LULUSilk pillowcase bagged the spot for our best budget option.
If you're switching your bedding set up, be sure to check out our guides on the best pillows and the best duvets, too.
1. Slip Silk Pillowcase
Best silk pillowcase overall
Specifications
RRP : $89 / £85
Material: 100% Mulberry Silk
Colorways : Over 15 colours including white, navy, caramal and black
Size(s) : Queen, King, 40cmx80, 80x80
Thickness : 22 momme
Reasons to buy
+
Left skin feeling smooth and hydrated
+
Large range of pillow sizes
+
Zip or envelope closure
Reasons to avoid
-
Fabric wrinkled after washing
Slip has an almost cult-like following from celebs and dermatologists alike, and it's no surprise, as the brand has been refining its design for many years. And it certainly seems to have paid off.
On first impression, their 22-momme pillowcase was beautifully smooth to the touch. And in the sleep testing, yielded fantastic morning-after results. Our tester's skincare remained on her face rather than being absorbed into the pillowcase, which left her with radiant skin the next morning that didn't feel crumpled or lined with pillow marks. Her hair was also frizz-free the next day – a big tick for us.
The Slip pillowcase didn't have the highest momme count of those tested (although it's pretty good), but the thermal-regulating was a big bonus and made up for that massively – the pillow was cooling and refreshing even on warmer evenings. Our tester's partner also commented on how he even felt a difference in his beard the next day!
Available in both an envelope and zip closure, Slip's range of colors and pillowcase sizes is solid. This means that finding a pillowcase to suit your bedroom aesthetic and needs is incredibly easy. It performed well in washing and can conveniently be hand-washed or machine-washed, making it simple to look after. One drawback we noted was that the fabric was a little wrinkled after washing, but this is something that can be simply solved with a quick iron (see our guide to how to clean an iron, as you'll want to avoid smearing any debris onto your pillowcase).
Overall, this is our pick for the best silk pillowcase out there.
2. LULUSILK silk pillowcase
Best budget silk pillowcase
Specifications
RRP: $30.89 / £26.99
Material: 100% Mulberry Silk
Colorways: 20 colors from white and ivory to water green and violet.
Size(s): Standard, King and Queen pillowcase sizes
Thickness: 16 momme
Reasons to buy
+
A great budget option
+
Very cooling on the face
+
Smooth to the touch to aid a comfortable night's sleep
Reasons to avoid
-
Doesn't feel like silk, more like a blended material
At just $30.89 / £26.99, Lulusilk is our top budget-friendly option and allows everyone to enjoy the luxury of a silk pillowcase. If you're weighing up whether to get a silk or satin pillowcase and cost is a big factor for you, Lulusilk could be a good happy medium.
Lulusilk's pillowcase was incredibly silky for the price which was a blessing for smooth, crease-free skin. Our tester's hair also had noticeably less frizz than when sleeping on a cotton pillowcase, which is another big plus. However, we found it to be a bit too slippery for the most comfortable sleep, in comparison to the other options on the higher end of the budget.
Notably, the Lulusilk doesn't have the luxurious quality of the others and is undoubtedly a no-frills product. The brand (that only sells on Amazon) claims the pillows have a 16 momme count but some reviewers have commented that they think it may be a polyester blend rather than 100% silk. Still, it does the job very well if you need something that fits your budget, or you want to try a more affordable silk pillowcase option before investing in something a bit pricier. That's why it's our best silk pillowcase option for those who can't or don't want to spend as much.
3. Holistic Silk Pure Mulberry Silk Anti Aging Pillowcase
Best luxury silk pillowcase
Specifications
RRP: $122 / £90
Material: 100% Mulberry Silk
Colorways: White, Cream, Jade, Rose, Navy, Saffron Silver
Size(s): Standard Pillow of 75cm x 50cm
Thickness : 22 momme
Reasons to buy
+
22 momme fabric weight
+
Wide range of colors to choose from
+
Features a contrasting colored decorative piped trim
Reasons to avoid
-
Pricier than other options
With 20 years of experience in silk pillowcases, Holistic Silk has been selling the same high-quality product since 1999. Starting with the packaging, their luxuriously plush pillowcase has an immediate high-quality feel, which sets the tone for the product from the beginning.
After a few nights of testing, our tester's skin and hair were left feeling smooth and hydrated. After using face moisturizers and oil, she felt confident her skincare stayed on her face, rather than being absorbed by the pillow. Which is important: you don't want to invest in the best night cream only for it to transfer onto your pillow. And while the brand's self-titled "anti-aging" pillowcase isn't actually infused with any anti-aging skincare ingredients, the brand is confident their product will help to minimize friction and prevent facial creasing – which we would wholeheartedly agree with.
Aesthetically, Holistic Silk pillowcases have a decorative piping detail around the seam and have a traditional envelope closure, which gives them a really premium look. They don't offer a huge color range (like many of the other pillowcases on this list), but what they do provide is a curated edit of neutrals and more vibrant colors which will look chic and stylish in any bedroom. This silk pillowcase is also machine washable, which makes it ideal if you're after a low-maintenance option.
4. Mela Eucalyptus Silk Pillow
Best vegan silk pillowcase
Specifications
RRP: $48 / £42 for a pair
Material : 100% Eucalyptus
Colorways : Stone, Blush, White, Grey
Size(s): 50cm x 75cm
Thickness: N/A
Reasons to buy
+
Vegan alternative to silk
+
Incredibly cooling to sleep on
+
Good value for money
Mass-produced silk is made from domesticated silkworms that live on farms and are fed mulberry leaves. Mela's Silk pillowcase on the other hand is a vegan alternative, made from 100% Eucalyptus, sourced from regenerative forests in Europe. With this in mind, their vegan silk pillowcase is definitely the most sustainable and environmentally friendly on our list. It performed incredibly well too, meaning it's a good option to consider whether you specifically require a vegan alternative or not.
The Mela pillowcase was incredibly soft on the face, and the most cooling to touch of all the brands we tried, making it an absolute delight to sleep on during warmer nights. Our tester woke up with far less irritated skin than from standard cotton, so despite the fact that it isn't pure silk, it's a great option for those who want something gentler for their complexion.
Given that it's not actually pure silk, Mela rates highly on affordability too, with a pair of pillowcases costing just $48/ £42. While the color range is small, it would suit most rooms with its neutral tones. The pillowcases have a standard envelope opening which works well as the case isn't overly slippery.
5. Navvi Hyaluronic-Infused Silk Set
Best silk pillowcase infused with skincare ingredients
Specifications
RRP : $103 / £90
Material: 100% Mulberry Silk
Colourways: White, Pink (Wistful), Charcoal, Sand, Black (Raven)
Size(s) : International Standard / Queen - 51 x 76cm
Thickness: 25 momme
Reasons to buy
+
Very high quality 22 momme silk
+
The only pillowcase infused with skincare
+
Machine washable despite the infused products
Hyaluronic acid is the moisture-attracting skincare ingredient that has beauty editors in a frenzy. Known for holding 1000 times its weight in water, what could be a greater addition to a silk pillowcase than this hero ingredient? Well, that's where this pillowcase comes in, as the brand has infused all of their silk sleep sets with the product to help your skin retain moisture while you sleep. And while the addition of hyaluronic acid in the pillowcase doesn't hold any scientific or clinical backing, it most definitely doesn't do any harm.
The Narvvi silk pillowcase is a luxuriously high 25 momme thickness, which resulted in dewy skin and knot-free hair. Our tester's face was also noticeably less creased and puffy after awakening as well, so while we can't guarantee the hyaluronic acid worked its magic, it certainly felt beneficial.
This top-quality pillowcase offers a little extra too, as it comes with a sleep mask, which was wonderfully comfortable to sleep with. It's also machine washable, which is convenient. It's definitely a luxury product, and that's reflected in the higher price point - but if you're looking for something special, or are on the hunt for a 50th birthday gift idea, this is a strong choice.
6. Face Case Silk Pillowcase
Best silk pillowcase for skin overall
Specifications
RRP : $50 / £40
Material: 100% Mulberry Silk
Colourways: White
Size(s): 50cm x 76cm Standard Pillowcase
Thickness: 22 momme
Reasons to buy
+
High-quality silk
+
Skin was crease-free the next day
+
Comfortable to sleep on
Reasons to avoid
-
Some might not like the embroidered design detail
Ex-beauty director Zoë Foster Blake launched Go-To skincare in 2014 and the brand has since released the Face Case silk pillowcase. Their expertise in creating the product has paid off with them having tried and tested most beauty and wellness products on the market, their silk pillowcase kept our tester's hair shiny and frizz-free and didn't absorb any skincare.
The irresistibly smooth pillowcase was very comfortable to sleep on and stayed put on the bed despite being incredibly silky. It struck the balance of having enough glide to not pull on the skin, without being a slip and slide for the head. Our tester's skin was also crease-free the next day. Given this fact, and the high-quality silk, we'd bargain that this is one of the best silk pillowcase options if your primary concern is looking after your skin while you sleep.
In terms of design though, the options are limited. The pillowcase only comes in white and has "HI CUTE FACE" embroidered on one corner – which, although fun and playful may not suit everyone's taste.
7. Blissy Silk Pillowcase
Best silk pillowcase for not absorbing your skincare
Specifications
RRP: $79.95 / £59
Material: 100% Mulberry Silk
Colorways: Over 24 colours
Size(s): Standard, Queen & King pillowcase sizes
Thickness: 22 momme
Reasons to buy
+
22 momme thickness
+
Huge range of colors
+
Zip closure meant we felt secure on this
Reasons to avoid
-
Lighter colours are easily stained
This highly-coveted pillowcase is one of the most searched-for on Google, and it's easy to see why. Available in three sizes, Blissy also offers the largest selection of colors in our entire guide, from neutral pinks, whites, and blacks, to fun, multi-colored tie-dye – meaning it's easy to find a silk pillowcase that will fit with the latest bedroom trends, or your preferred color scheme.
With a zip closure (rather than that standard pull-over cover on most cotton pillowcases), ensuring that the pillow didn't slip out, we felt secure sleeping on this pillow and there was little to no movement during the night, which was a big plus. This pillowcase left our tester's face smooth in the morning, and we really felt the skincare last on our face, which is why we'd say this is the best silk pillowcase for you if you want to ensure your skincare doesn't smear off during the night.
One negative is that although it didn't absorb our skincare products, the pillowcase was easily stained with them – but, like the Celestial Silk pillowcase, we imagine this would be less obvious on a darker shade of silk.
8. Celestial Silk Pillowcase
Best silk pillowcase for amazing value-for-money
Specifications
RRP: $38.99 (US only)
Material: 100% Mulberry Silk
Colorways: 19 colours including white, black, lavender and vintage pink
Size(s): Standard, Queen and King pillowcase sizes
Thickness: 25 momme
Reasons to buy
+
Value for money
+
Excellent color range
+
Hair and skin looked brilliant the next day
Reasons to avoid
-
Skincare left stains on pillowcase
Celestial Silk is a slightly less known brand, but one that has been highly rated online. Their 25 momme pillowcase is one of the highest momme ratings we've seen, and it certainly translated into feel – the pillowcase was thick and luxurious to touch, unlike some thinner momme counts on our list. The packaging also felt lovely and premium, so we reckon this would make for a great wedding gift, too.
At just under $40, the quality for the price point is exceptional. Their luxurious Mulberry silk didn't tug or pull at the skin, and our hair was still glossy upon waking. Some skincare had stained the pillow, but it certainly hadn't been absorbed or wiped off by it, and sleeping on a darker color would probably avoid that issue. It also offered a comfortable sleep, without any slipping or squeaking.
Coming in a plethora of colors to cater to even the most style-conscious, their pillowcases also come zippered or with an envelope closure depending on your preference. We like that Celestial Silk offers the option, which is something not many other brands do.
While it may not have the prestige of some of the larger brands, Celestial Silk is a fantastic option to help retain the moisture in your skin and hair at a fairly reasonable price point, offering perhaps the best value-for-money pillowcase on our entire list.
9. Alaska Bear Pillowcase
Best silk pillowcase for a smooth sleep
Specifications
RRP : $22.99 (US only)
Material: 100% Mulberry Silk
Size(s): Standard size
Colorways: 30 colours from classic neutrals to teal, burgundy and gold
Thickness: 19 momme
Reasons to buy
+
Smooth-satin feel on the hair and face
+
Affordable
+
Face felt moisturized the next morning
Reasons to avoid
-
The material wasn't as comfortable as the others
Similar to Lulusilk, Alaska Bear is another brand that has rave reviews and a very low price point, in comparison to the other best silk pillowcases on our list. So, is their 19 momme pillowcase too good to be true?
Unfortunately, there are some doubts about whether the product is actually 100% Mulberry Silk, with the material feeling more like a polyester blend. But despite this, Alaska Bear left our reviewer's skin and hair feeling more moisturized and shiny than an ordinary cotton pillow, so it was undoubtedly still a better option than a regular pillowcase.
Admittedly, the finish and quality of the pillowcase weren't the best, as we noted a few frayed edges which detracted from any kind of premium feel. It also wasn't the most comfortable night's sleep, as the pillowcase proved to be too shiny and slippery for us to stay in one place all night.
Overall, the Alaska Bear is a good budget option for your skin and hair, but there are some drawbacks that mean we would only suggest this option if you can't justify the price tags of the more expensive pillowcases on our list.
10. Bouclème Mulberry Silk Pillowcase
Best silk pillowcase for curly hair
Specifications
RRP: £38 (UK only)
Material : 100% Mulberry Silk
Colorways : White, Grey
Size(s): 66 x 51 cm
Thickness: 22 momme
Reasons to buy
+
Machine washable
+
Great for curly hair
+
Very affordable for 22 momme
Reasons to avoid
-
Smaller than a standard pillow so didn't fit perfectly
Bouclème is the award-winning British curly hair brand that has consistently been making waves in the industry. And their silk pillowcase is a fantastic addition to their range, given that curly hair is often the most delicate type, and has the potential to feel great benefits from a gentler pillowcase.
At £38, their pillowcase offers incredible value for money given the high momme count and fantastic smoothness of the product. Unsurprisingly, our tester's curly hair looked the best after sleeping on this pillow, and her tresses didn't feel stripped of the moisture it generally craves. Our tester's hair also felt super smooth after waking up, too.
Our only gripe was that it didn't properly fit a standard size pillow, which is an unfortunate drawback. After checking the online measurements, the Bouclème pillowcase is smaller than the most common pillow and therefore isn't a perfect fit. However, this might be a compromise you are happy to make if you're searching for the best silk pillowcase for curly hair.
11. Sleep London Silk Pillowcase
Best silk pillowcase for acne or rosecea sufferers
Specifications
RRP : £69.99 (UK only)
Material: 100% Mulberry Silk
Colorways: Champagne, pink and black
Size(s): 51cm x 66cm
Thickness: 22 momme
Reasons to buy
+
Set comes with silk eye mask and hair scrunchie
+
Good quality silk
+
Very gentle and soothing on skin
Reasons to avoid
-
Pillowcase is smaller than standard pillow size so not the best fit
A silk pillowcase itself is not a cure for any skin condition, but the materials your face comes into contact with can play a role in keeping the skin as comfortable as possible. This is where Sleep London's silk pillowcase shone. It was very cooling and smooth on the face, which means it would be a good option for those with easily aggravated skin, acne, or rosacea sufferers. Hot sleepers could also team it with one the best cooling pillows for a smooth night's sleep.
The smooth texture of the 22 Momme pillowcase also meant that any movement while sleeping didn't disturb our tester's skin or hair. Upon waking, it means that her hair took mere minutes to tend to, while her skin felt hydrated and plumped from the previous night's skincare.
Coming in just three colorways, the variety isn't huge, but the brand's simple but chic design looked good on the bed and it should suit most bedrooms. However, like Bouclème's pillowcase, the sizing is a little smaller than a standard-sized pillow, which was slightly inconvenient. It's something to bear in mind before buying, as understandably this could be an issue for some sleepers.
12. Espa Oxford Edge Silk Pillowcase
Best silk pillowcase with Oxford edging
Specifications
RRP: $68 / £60
Material: 100% silk
Colorway: Pearl White, Moonlight Grey, Claret Rose
Size(s): 51 cm x 75 cm
Thickness: 22 Momme
Reasons to buy
+
Indulgently soft to sleep on
+
Elegant oxford pillowcase edging
+
Soft colors that offer a muted accent shade to your bedding
Reasons to avoid
-
Embroidered ESPA monogram might not be to everyone's taste
Our fashion editor has been testing the Espa silk pillowcase over the course of the past month. Firstly we'll touch on her thoughts on the design which feels super elegant when dressing the bed, thanks to the Oxford pillowcase edges – synonymous with hotel pillows.
With naturally very curly hair she was most hopeful for transformative results, but in all honesty, noticed very little difference with taming curls – no euphoric moment of any great difference that she had hoped for.
The pillowcase feels soft and decadent to sleep on, creating a soothing surface that retains a level of coolness to enjoy a good night's sleep. While it feels kind on the skin she hasn't seen a visible difference as such, but we should be mindful that the benefits are skin-deep.
Washed according to the instructions, in the washing machine within in garment bag, this silk pillowcase washes up well – feeling just as soft to the touch after multiple washes.
On a standard pillow, the fit feels quite generous, which is better than being too small but something to be aware of if you like your pillowcases to fit perfectly snug.
13. Razzl Dazzl Hair
Best silk pillowcase for general hair health
Specifications
RRP: $62.95 | £55
Material: 100% Organic Mulberry silk
Colorways: Pink, Black
Size(s): 50 cm x 76cm Standard pillowcase
Thickness: N/A
Reasons to buy
+
Colorways made using non-toxic dyes
+
Affordable price
+
100% organic silk material
Reasons to avoid
-
No neutral colors, only pink and black
The Razzl Dazzl Hair silk pillowcase is specifically made with hair care in mind but dermatologically tested to ensure skin is well looked after in the process. Made from 100% Mulberry silk this pillowcase is available in two colorways, pink and black, both made with natural, non-toxic dyes.
Although we haven't tested this in-house we have spoken to celebrity hairstylist, Lisa Laudat who has tried and tested this silk pillowcase and highly recommends this particular design for the best haircare pillowcase. "Silk pillowcases are great for preventing split ends and I love this silk pillowcase from Razzl Dazzl Hair for this reason," says Lisa. "This pillowcase so feels really soft, gentle, and great for protecting your hair against breakage." Lisa notes how it keeps her hair in the "absolute best condition".
"Silk helps your hair stay hydrated, preserve your hair's natural oils, and prevents breakage," says Lisa. "This is especially important for anyone with curly hair which can become dry and break easier than straight hair, but overall silk hair products should be a staple for everyone who wants to keep their hair in great condition."
Do silk pillowcases really make a difference to your hair and skin?
Yes, silk pillowcases can potentially be much better for your hair and skin (and sometimes sleep), than cotton pillowcases. But it's important to remember that they aren't magic either.
Sleeping on a silk pillowcase can prevent creases and fine lines on the face, and can help to reduce hair breakage or bedhead. However, they also aren't a replacement for a diligent skincare or haircare routine. Think of sleeping on a silk pillowcase as a nightly supplement—it can help to support your beauty routine far better than other pillowcases.
Overall, silk pillowcases can't be thought of as a cure-all for any skin and hair problems, but they can be a great addition to your self-care and offer a lot more gentle support than any other pillowcases. And if you're wondering how to sleep better generally, see our guide to the simple changes you can make to improve your shut-eye.
Here are the much-touted beneficial claims of sleeping on silk pillowcases...
Less hair breakage and frizz—even in our deepest sleep, our body is constantly moving. The friction between our hair and a normal, cotton pillowcase often leads to breakage, thinning, split ends, and frizz. But as an anti-static material, silk's innate slippiness reduces that friction and is altogether much gentler on the hair.
Gentler and kinder on the skin—some beauty experts argue that rough cotton pillowcases can contribute to signs of aging, such as wrinkles and lines. But the soft smoothness of silk pillowcases is much gentler on your skin and is thought to slow the rate of appearance.
Better absorption of skincare products—if your bedtime routine involves layering active serums and nurturing moisturizers onto your face, a silk pillowcase can help these products work their magic. Cotton pillowcases are hyper absorbent and soak up the moisture our skin and hair crave. But silk is far less absorbent, meaning that the products we apply to our skin stay there, rather than transferring onto the pillowcase. Satin pillowcases can also offer similar benefits at a lower price, too.
They're cooler and more comfortable – silk pillowcases offer a more comfortable night's sleep thanks to their cooling texture.
Hypoallergenic and antibacterial – great for sensitive skin types and those who suffer from menopausal acne.
How do you wash silk pillowcases?
Silk pillowcases are best washed by hand or on a gentle machine wash, but the best way to wash your silk pillowcase is according to the specific care label. Given silk's delicate texture, washing and drying it properly helps to extend its lifespan.
"For best results, hand wash with cold water and a PH-neutral detergent," advises Siobhan. When hand-washing it is advisable to use a very mild detergent to prevent any damage. You should also wash at a cool temperature when using the washing machine.
Buying a silk pillowcase is a homeware and beauty investment, so washing it in the correct manner will be crucial to keep it in the best condition. "Whilst there's not a definitive time on how long pillowcases last if cared for properly, silk pillowcases can last much longer," adds Siobhan.
To maintain your silk pillowcases' lifespan, it's also important to think about the pillow they sit on top of too. See our guide to how to wash pillows as a fresh, cleaned, and properly taken care of silk pillowcase is nothing without a properly taken care of pillow.
Rhea Cartwright is a beauty editor and business strategy consultant who has worked in the beauty industry in training and sales for nearly a decade. From deep-diving in the latest beauty tech to better-understanding wellness practices, her bylines are in Vogue, Net-A-Porter, Refinery29, The Zoe Report, Marie Claire. Although a London girl at heart, her writing has been featured in the US, India, France and Brazil.