How to treat menopausal acne at home and the effective products to include in your routine
Anyone who has suffered from adult acne—in particular menopausal acne—will be all too aware that it isn't just a teenage problem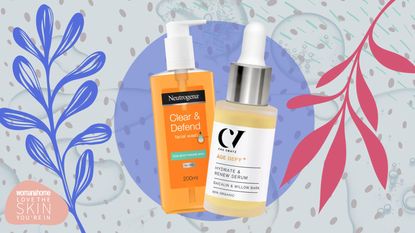 (Image credit: Future)
woman&home newsletter
Sign up to our free daily email for the latest royal and entertainment news, interesting opinion, expert advice on styling and beauty trends, and no-nonsense guides to the health and wellness questions you want answered.
Thank you for signing up to Woman & Home. You will receive a verification email shortly.
There was a problem. Please refresh the page and try again.
Battling menopausal symptoms and spots? We feel your pain. But menopausal acne is extremely common and certainly no cause for any shame. With the right advice, routine and targeted skincare, menopausal acne can be dealt with effectively at home.
As if navigating menopause isn't bad enough, hormonal changes can trigger adult acne, leaving women to deal with painful spots on top of other symptoms such as hot flushes, night sweats, low mood, and difficulty sleeping. If you've ever experienced acne, you'll know that it can be a debilitating skin condition that can really affect your self-esteem. In fact, research by the British Association of Dermatologists found that more than half of British adults who've experienced acne felt it adversely affected their confidence. The good news is that there's help out there—and the right skincare routine can make all the difference. We spoke to skincare specialists and menopause experts about the causes and treatment for menopausal acne, plus we've rounded up the top dos and don'ts of managing acne at home so you can find ways to feel your best.
What are the causes of menopausal acne?
"The etiology of menopausal acne is multifactorial, with hormonal imbalance being the major culprit," explains Dr Anastasia Therianou, a consultant dermatologist. "There's a decrease of hormones called estrogens in menopausal females, whilst male hormone levels (androgens) remain the same—this can lead to clinical acne."
As well as hormones, other factors play a part. "Genetics, stress, lack of sleep and exercise, and lifestyle changes are also triggers," says Dr Therianou. So is what we eat. If you haven't already, it's time to limit alcohol and caffeine (why not try a healthier coffee trend like a matcha latte that's kinder to your skin?) and ditch the junk food altogether. These treats can overtax the liver, which leads to skin congestion. For healthy skin, eat foods rich in the essential fatty acids omega-3 and omega-6 such as oily fish (three times a week) and chia and flaxseeds, and fill your diet with whole grain, fiber-rich foods. Cruciferous vegetables such as broccoli, cabbage, and cauliflower are especially helpful because they contain a compound known as DIM, which supports hormone balance.
How to treat menopausal acne
Because our hormones react differently depending on our stage of life, treating menopausal acne sometimes differs from treating adolescent acne. Hormone replacement therapy (HRT) can be very helpful in reducing the number of menopausal symptoms, including breakouts "though it's only used in women who have no history of breast cancer or endometrial cancers," says Dr Therianou.
If HRT isn't an option you can try topical treatments, which are applied directly to the skin. "Benzoyl peroxide, anti-microbial creams, and retinoids are helpful," she advises. If your menopausal acne is moderate to severe, you can try oral medication that includes, "antibiotics, androgen blockers like spironolactone, and oral retinoids," says Dr Therianou.
Dr Alia Ahmed, a dermatologist and menopausal skin expert, agrees—but urges that we proceed with caution. "Direct treatment of acne can be achieved using topical treatments containing retinoids, benzoyl peroxide, and azelaic acid," she told w&h. "However, all of these can irritate the skin, therefore introduce their use gradually over time. Some people will require oral treatment available from a GP or dermatologist."
How to manage menopausal acne
DO...
---
Avoid soap—instead, wash your face daily with the best cleansers for acne that contain a gentle skincare acid like salicylic acid. This helps to unclog pores.
Use an oil-free moisturizer—on a regular basis.
Apply a thin layer of topical product to the whole face—not just spots. This can help prevent future breakouts.
Invest in oil-free products—such as mineral or water-based products – including sunscreen and foundation.
Wear SPF30 sunscreen—not only is sun exposure aging, but its drying effect can also cause sebaceous glands to overproduce sebum, which can encourage spots.
Make an appointment with a dermatologist—or your GP if your acne doesn't improve.
DONT...
---
Over-wash or scrub your skin clean—as this can irritate and inflame acne. Wash your face twice a day, plus after sweating.
Use acne products designed for teens—because ageing causes the skin to become drier, your skin can't tolerate harsh treatments like it did when you were younger.
Be tempted to use make-up removal wipes—as they may block pores.
Buy products containing pore-blocking or acne-irritating ingredients—dermatologist Debra Jaliman said it's usually best to avoid silicones (often found in even the best foundations) and Mica (found in powder products). "Silicones can block pores and make it more likely to break out or get bumpy. Mica in powder makeup can irritate sensitive skin," she explained.
Use old make-up—as it can become a hotbed for bacteria. The best foundation for acne-prone skin is one that's non-comedogenic and fairly fresh. Ditch mascara after three months, foundation and lipstick after a year, and eyeshadow and powder after two years.
Sleep in make-up—even if it's non-comedogenic.
Ever pick, however tempting—it may be a stress reliever but it can turn into acne excoriée. Also known as 'picker's acne', it's a condition where you feel compelled to pick your skin, which can result in scarring. If you think you have this, visit Skin Support for help.
---
The emotional impact of menopausal acne
Acne is tough to deal with at any age, but combined with other symptoms of menopause, it can be overwhelming. "Having acne can be psychologically distressing, especially at an age when you do not expect to have it. Consider talking to your doctor or dermatologist if you are feeling your skin is stopping you from doing the things you want to," Dr Ahmed told us.
Alternatively, Boots has an online clinic service that's suitable for people with mild to moderate acne between the ages of 16-65 and gives access to prescription-only medicine.
Skin products suitable for menopausal acne
Using the right products with the right skincare routine can make all the difference. The below products have active ingredients as advised by dermatologists, but are also gentle on the skin.
---
---
---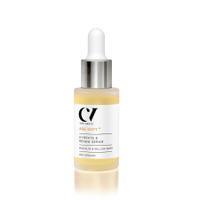 Cha Vøhtz Age Defy+ Hydrate & Renew Serum
Not only is this serum 90% organic, vegan, eco-friendly, and cruelty-free, Green People products don't contain alcohol, parabens, or artificial fragrances (amongst other potentially skin-disrupting ingredients). To help with spot and sebum control, this anti-aging product contains light oils such as rosehip and pomegranate seed oil.
---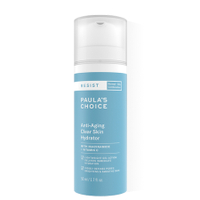 Paula's Choice Resist Anti-Aging Clear Skin Moisturiser
Containing ingredients to help reduce breakouts, this lightweight but hydrating moisturizer fights wrinkles and blemishes, especially when used in tandem with another facial product that contains salicylic acid. If you want some more recommendations for the best moisturizer for dry skin, we have a full guide.
---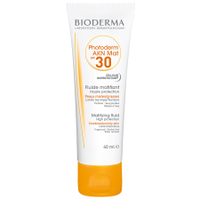 Bioderma Photoderm AKN Mat SPF30
Acne can be aggravated by sun exposure and we all know how aging the sun's rays can be. Counter those negative effects with this non-greasy, non-comedogenic, and hypoallergenic mattifying lotion that contains a cellular protection complex to protect skin cells against premature aging. A little goes a long way, too.
---
w&h thanks Dr Anastasia Therianou, a consultant dermatologist and Dr Alia Ahmed, a dermatologist and menopausal skin expert for their time and expertise.
Sign up to our free daily email for the latest royal and entertainment news, interesting opinion, expert advice on styling and beauty trends, and no-nonsense guides to the health and wellness questions you want answered.
Lauren is the former Deputy Digital Editor at woman&home and became a journalist mainly because she enjoys being nosy. With a background in features journalism, Lauren worked on the woman&home brand for four years before going freelance. Before woman&home Lauren worked across a variety of women's lifestyle titles, including GoodTo, Woman's Own, and Woman magazine.