The best duvets for a great night's sleep in 2022
We've rounded up the best duvets, testing top products from Simba and Silentnight, John Lewis, The White Company and more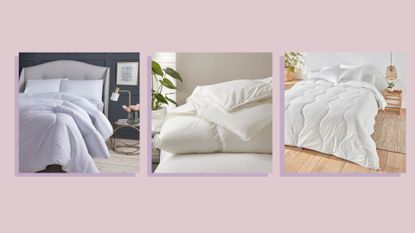 (Image credit: Silentnight | The White Company | La Redoute)
Picking one of the best duvets for your bed is crucial if you want a good night's sleep. After all, a duvet or comforter is key to keeping you warm and comfortable, whether you're heading back to school, hitting the hay after a long day at work, or just resting your weary head.
Duvets have evolved rapidly in recent years. Gone are the days of one-size-fits-all comforters, instead, the duvet market has expanded to offer everything from luxe down to temperature regulation, meaning there's the perfect duvet out there to match your unique requirements.
Our guide to the very best duvets covers all price points and also has options for those looking for hypoallergenic or eco-friendly picks. Working with a small budget? Don't be deterred. Our research includes some of the best duvets with smaller price tags, too: in fact, one of our favorites is available for just £13.50.
How we tested the best duvets
Why you can trust Woman & Home Our expert reviewers spend hours testing and comparing products and services so you can choose the best for you. Find out more about how we test.
Homes and interiors shopping expert Katie Byrne tested all of the duvets in this guide, and more, in her own home over the course of a few nights. The factors she considered when testing and assessing each duvet were as follows:
Seasonality: Is the duvet season-specific or is it adaptable?
Performance: How did the duvet perform when tested over a few nights? Was it comfortable and did it live up to the claims made on the packaging?
Stand-out qualities: Does the duvet feature eco credentials or impressive technology?
Care: Is the duvet straightforward to look after and clean?
Value for money: All things considered, does the product justify the price tag?
Additional factors we considered included packaging, as well as the range of colors and sizes the product is available in. The prices shown throughout our guide are starting prices, typically for a single-sized duvet, and were correct at the time of publishing.
The best duvets as tried and tested by our team
1. Silentnight Hotel Collection Duvet
Best overall duvet
Specifications
RRP: From £28
Made from: 100% microfibre and 100% hollowfibre polyester
Sizes available: Single, double and king
Reasons to buy
+
Affordable price point compared to more luxurious brands like The White Company
+
Hypoallergenic
Reasons to avoid
-
Smaller range of sizes than others
-
Not as luxurious as other options high-end options in this list
You really can't go wrong with Silentnight, whose bedding prowess has you covered with everything from mattresses to pillows. The brand's Hotel Collection Duvet is every bit as decadent as it sounds and is ideal for adding a five-star touch to your bedroom—just without the price tag.
At 10.5 togs, it's the perfect weight for using throughout the year, whether you use it on its own in the summer or layer it up with blankets as the months get cooler. The duvet features a sleek embossed finish, which we thought looked great: it's almost too elegant to conceal under a duvet cover. (Hey—we said almost...)
We found the duvet really cozy, and liked that it was easy to clean, too: we just popped it in the washing machine and it came out good as new. Another bonus that we liked—as sensitive souls with itch-prone skin—is that the duvet is hypoallergenic. There was no itch-inducing rustling, either, and we found the duvet to be as silent as the name suggests. You can also get this one in other togs if you like a thicker duvet.
2. Slumberdown Chilly Nights 15 Tog Winter Duvet
Best budget duvet - ideal for students
Specifications
RRP: From £24
Made from: Polyester, Microfiber
Available in: Single, double and king
Reasons to buy
+
Great for a quick winter upgrade
+
Budget-friendly
Reasons to avoid
-
Only really suitable for winter
-
Filling not great for "hot" sleepers
A 15 tog duvet available to buy at such a ludicrously low price is unheard of. Granted, the price shown above is for the single size but the king size clocks in at a purse-friendly price of £28. It hasn't quite got the same glitz appeal as some of the other duvets that feature in this guide, but if you're shopping on a budget and just want a standard quality duvet without the price tag, you really can't go wrong.
Ideal for using in the heart of winter, this cozy duvet is a solid pick for anyone who's keen to keep their heating costs low. Super snuggly with its soft-touch exterior, it's available in a trio of sizes that will suit any home, and can be easily machine-washed at 40C. However, due to its synthetic composition, we did find that things got a little sweaty—so if you're a hot sleeper, this is definitely one to avoid.
The real stand-out detail here is the price, so if you're looking for a super-cheap duvet that can be used in a guest bedroom then you could be on to a winner. A real bang-for-your-buck choice, it's also worth noting that Slumberdown offers the duvet in two parts if you opt for the All Seasons comforter. You'll receive a 10.5 tog and a 4.5 tog, which can be used separately throughout the cooler months of the year and then easily buttoned together in the winter to create a 15 tog.
3. Bedfolk The 100% Down Duvet
Best luxury duvet
Specifications
RRP: From £269
Made from: 100% Egyptian cotton exterior and 100% European duck down filling
Available in : Single, double, king and super king
Reasons to buy
+
Responsibly sourced filling
+
NOMITE certified
Reasons to avoid
-
Pricey compared to duvets by brands like Silentnight and Slumberdown
-
Dry-clean only
The clue is very much in the name with Bedfolk's The 100% Down Duvet. Stuffed with 100% European white duck down, the duvet manages to feel both light yet incredibly cozy, all at the same time. The casing is positively crammed full with down, meaning you can feel the luxury instantly; it's like being enveloped in a marshmallow. It's little surprise that the brand recommend dry-cleaning the duvet rather than machine washing it, in order to allow it to keep its volume.
Despite that 100% down composition, you can feel confident that every single feather involved has been ethically sourced. Bedfolk state that their suppliers are members of EDFA (European Duck & Feather Association), meaning that the duvet's filling has been responsibly sourced and are traceable.
The duvet is delivered in a material bag that we thought would be ideal for storing it (or other bedding) in in warmer months. All in all, yes, it's expensive. But its price feels fully justified, and it's a worthy winner of the "best luxury duvet" title.
Now, all you need is the softest sheets and the secrets behind how to make a bed like a hotel housekeeper to complete that luxury hotel feel at home.
4. John Lewis & Partners Natural Duck Feather and Down 3-in-1 Duvet, 13.5 Tog (4.5 + 9 Tog)
Best all-year duvet
Specifications
RRP: From £70
Made from: 100% cotton exterior; 90% duck down and 10% duck feather filling
Available in: Single, double, king and super king
Reasons to buy
+
Great for all-year use
+
Easy to attach and detach
Reasons to avoid
-
Loose feathers can be irritating
-
Poppers can "unpop" during the night
Haven't got the time, energy or budget to source a different duvet for every season? We hear you. Our advice? Invest in one that will have you covered—quite literally—whatever the weather. With that in mind, a solution like John Lewis's Natural Duck Feather and Down 3-in-1 Duvet could make a great option, giving you the freedom to choose between a 4.5 tog duvet, a 9 tog duvet, or to combine the two to create a toasty 13.5 tog duvet.
The two duvets are easily attached with poppers (although we did find that a bit of vigorous turning could make a popper or two detach) and offer a great way to control the warmth of your bedding. The coziness is due to the feather and down filling, which has been certified to ensure animal welfare, and comes with the assurance that it has been sourced as a by-product.
It's also easy to care for and can be popped in the washing machine at 40C every two or three months for basic maintenance. Unless it's urgent, we'd recommend doing this one part at a time to ensure you have at least one dry segment of the duvet to snuggle up under (Although we did find that it dried quickly in a tumble dryer). It's worth noting that this duvet isn't recommended for dry-cleaning, so consider another product if that's an important factor for you.
One slight critique? You might spot feathers wafting through the air when you change your duvet cover. We noticed several poking through the duvet's exterior, and, as satisfying as they were to pull out, it would undeniably have been more preferable for them to not be there in the first place.
5. The White Company Deluxe Down Alternative Duvet - Warm
Best non-natural duvet
Specifications
RRP: From £130
Made from: Cotton percale cover with 100% Smartdown filling
Available in: Single, double, king and super king
Reasons to buy
+
Innovative design
+
Five-year guarantee
Reasons to avoid
-
Expensive compared to similar products in this list
-
Dry-cleaning recommended
If you're looking for a duvet that doesn't rely on feathers or down for warmth yet also doesn't feel (or worse, sound!) synthetic, search no further. The White Company's innovative Down Alternative Duvet offers a truly unique bed cover that feels as if it should be filled with down or feathers, but in fact, is filled with something quite different. This eco-aware duvet is stuffed with Smartdown, a fine recycled fiber that's super-cozy, despite its non-natural properties.
The duvet does sit at one of the higher price points on our list, which might be frustrating if you're keen to make a non-feathered choice but simply don't have the budget to match. However, there are lots of reasons why it makes a solid investment. With The White Company synonymous with top quality, you can be confident it will last (it comes with a five-year guarantee). And despite the fact it's down-free, you really wouldn't notice it; we found it every bit as soft, snug and enveloping as its feather-filled equivalents.
Overall, it's a great option for anyone who finds themselves irritated by natural materials, such as feathers. It's also easy to maintain: while The White Company recommends dry-cleaning it if possible, we found that a spin in the washing machine was more than adequate at freshening it up.
6. Simba Hybrid® Duvet
Best eco-friendly duvet
Specifications
RRP: From £119
Made from: Recycled PET bottles filling
Sizes available: Single, double, king and super king
Reasons to buy
+
Impressive eco credentials
+
Great for temperature control
Reasons to avoid
-
Expensive compared to other duvets on this list
-
Slight rustling sound when turning
Simba, the brand behind some of the best mattresses on the market at the moment, also have a clever duvet that boasts a range of impressive features, starting with some notable eco-credentials. The duvet's Renew filling is 100% constructed from recycled PET bottles, while the duvet's cotton is responsibly sourced. On top of that, the duvet is manufactured with energy from certified renewable sources, in an Eco factory. Phew.
Anyway—the really amazing thing about this duvet is the engineering that lies behind it. It features Stratos, an ingenious temperature regulation system that is inspired by the needs of astronauts in space. Capable of storing and releasing heat, it's ideal for keeping you cool on hot nights and toasty-warm on chilly ones. We tested it in late November and as well as feeling as if we were lying underneath a cloud, it also managed to keep us feeling comfortably warm all night long.
Another added bonus? Despite its impressive features, this duvet can be easily bunged in the washing machine at 40C for an instant freshen-up.
If the higher price point of this products puts you off, consider checking out the current Simba sales and deals - the brand have a good track record of reducing the price of their duvets and best pillows throughout the year, offering prices that easily beat competitors.
7. Bensons For Beds Anti Allergy 10.5 Tog Duvet
Best hypoallergenic duvet
Specifications
RRP: From £27.99
Made from: Microfiber exterior and 100% polyester filling
Available in: Single, double, king and super king
Reasons to buy
+
Suitable for use all year
+
Great price point compared to similar products from BedFolk or The White Company
Reasons to avoid
-
Washing machine clean only
-
Functional rather than wow-worthy
Sensitive skin is far from unusual among adults, with everything from eczema to psoriasis a lot more common than you might think. It's important to give consideration to how you can keep skin irritation to a minimum in the bedroom, with everything from bed bugs to too-hot temperatures playing a part. With that in mind, this duvet has been reassuringly designed with anti-allergy properties, promising to keep discomfort at bay.
At 10.5 togs, the duvet is ideal for use throughout the year, and we found it was perfectly cozy on a chilly winter night.
The only tiny downside? It can't be dry-cleaned, which is worth noting if that's how you usually freshen up your bedding. However, it's easy to wash at home: simply pop it in the washing machine and tumble dry on low heat to get it feeling as good as new again.
If you do have sensitive skin, ensure you use a non-bio detergent and that you change your bedsheets regularly.
8. Nanu Hot & Not Duvet
Best duvet for hot sleepers
Specifications
RRP: From £50
Made from: Recycled bottle filling
Sizes available: Double and king
Reasons to buy
+
Hypoallergenic
+
Eco-friendly
Reasons to avoid
-
Temperature range available is limited
-
Only available up to king size
On first impression, the Hot & Not Duvet might not look like anything particularly special. However, appearances can be deceiving. Every one of their split-weight duvets is uniquely created via Nanu's website, with the brand's easy-to-use tool making it simple to design a duvet that reflects the temperature needs of you and your partner.
How? Each half of the duvet is treated as its own entity, with a spectrum that spans from Extra Cool (4.5 tog), Chilled (7.5 tog), Cozy (10.5 tog) and Toasty (13.5 tog). It's worth noting that you can go no higher or lower than one temperature tier across the two halves: for example, it's impossible to have a 4.5 tog left and 13.5 tog right. (Single-temperature duvets are also available to buy.)
When testing, both sides of the bed—a chronic too-hot sleeper and a "normal" sleeper—were satisfied with the duvet and we were impressed by its design. There's no zip, groove, or join to denote the two different sides of it (small labels are used instead), making it a seamless experience.
Delivered in a drawstring bag (again, great for storage), the duvet itself is beautifully soft to the touch. The filling comes with an eco-friendly pedigree owing to the fact that it's made from recycled bottles, and it feels pleasingly plump to the touch. We didn't hear any rustling, and it's also handy to note that its hypoallergenic properties make it a great pick for those with sensitive skin.
9. Eve Sleep The Cool Duvet
Best lightweight duvet
Specifications
RRP: From £65
Made from: 100% cotton cover, Eco-friendly recycled filling
Sizes: UK Single, double, king and super king
Reasons to buy
+
If you get too hot while sleeping
+
Eco-friendly
Reasons to avoid
-
If you prefer a weighted duvet
-
Seeking winter warmth
This extremely light duvet, with its 4.5 tog, is the ideal cool sleeping solution to tackle how to sleep in the heat. It feels ultra-light but thoroughly effective for providing a sense of comfort when you can't go without a duvet, but don't want to feel too hot.
As well as being a great cooling comforter it is also ideal if you're looking for an eco-friendly duvet thanks to a sustainable filling made entirely from recycled plastic bottles. The hollow fibre filling promotes good air circulation to create cooling qualities and reduce moisture from sweating. The lightweight duvet still has all of the fluffiness you'd expect from a feather and down duvet, you would necessarily think it was an alternative filling. The design doesn't create a rustling sound like you might expect when you hear the words 'plastic filling'.
This feather-free filling is also better for allergy sufferers because it doesn't use feathers, plus its 100% cotton cover is super breathable so your skin can breathe easy at night, no matter how hot it is outside or how hot you get while sleeping.
You can choose to wash this duvet on a 40-degree wash cycle provided you have a large enough drum - because while the duvet is light, it is still a bulky piece of bedding that might be best left to the professionals, rather than risk overloading your washing machine. Because as we know from professionals who advised on how often you should wash towels, an overloaded machine does not produce great results.
10. La Redoute Rêverie Nature 4 Seasons Duvet
Alternative all-year duvet
Specifications
RRP: From £150
Made from: Organic cotton cover, recycled filling
Sizes available: Single, double, king and super king
Reasons to buy
+
Versatility throughout all weathers
+
Greenfirst® dust mite protection
Reasons to avoid
-
Not feathers
-
Looking for a budget solution
This duvet offers the best of both worlds for all year-round satisfaction, with an eco-friendly angle because unlike the all-year duvet above this design is made from an alternative filling. We favoured this duvet primarily due to the different weight options, with a 3-4.5 tog (175g/m²) duvet for the summer, and a 10.5 tog (300g/m²) duvet for in-between seasons. You tie the two different duvets together to form a combined weight of 13.5 tog to act as a heavier winter duvet.
It feels cozy and weighted when you have the combined tog weight which means you don't have to have additional blankets in the height of winter but likewise the light duvet is ideal for even the hottest of summer nights when you are beside yourself searching how to cool a room down without AC. The versatility makes this duvet a worthwhile investment, and a comfortable one at that.
The eco-friendly design features a fully recycled filling, made up of siliconised polyester obtained mainly from recycled bottles treated with Greenfirst® dust mite protection – an innovative technology that uses the active substance geraniol, extracted from a plant called Palmarosa to fight against various parasites such as mites.
The 100% organic cotton cover and the anti-mite quality gives peace of mind that it won't be allergies keep you awake at night. The duvet cover is a hexagonal design with a double-stitched reinforcement that feels full and comforting to the touch, even when covered with a duvet cover. All components are machine washable at 40-degrees which is handy, to ensure freshness for every season. Comes in a
What should you consider before buying a duvet?
There are a range of factors that are worth considering before you splash out on a new duvet for your bed, advises Rob Davey, sleep expert at Snoozel Green. These include:
Do you sleep hot or cold? "If you're a hot sleeper, you'll probably want to get yourself a duvet that is less insulating and will keep you cooler," says Davey. "Conversely, a cold sleeper will want a thicker duvet with denser fillings to help keep them snug. The standard measure for this is togs, which is an industry-standard measure of a duvet's ability to retain heat and ranges from one to 15. If you are a hot sleeper, we would suggest a duvet with a tog of around 10 and a cold sleeper should aim for a 12 plus tog duvet."
Which season are you buying for? Whether you're buying in advance or looking for a great new duvet to start using ASAP, be mindful of the time of year you'll be using it in. "For regular sleepers, a 10.5 tog duvet should be good for all-year-round," says Davey. "Some people prefer to change their duvet set-up as the seasons change. If this sounds like you, look for duvets that have the option to separate into two parts, meaning you can have a cooler 10 tog duvet in the summer, with the option to attach the additional duvet layer for the winter to convert it into a 13 tog."
What materials are involved? A range of materials are currently used in the creation of duvets, with everything from natural down or polyester to organic cotton and recycled material. These can be used for both the exterior of the duvet as well as its filling. "Once you've decided on the tog of the duvet, you'll have a selection of different materials and fillings to choose from," Davey explains. "We would always recommend looking out for the most natural options, so opt for cruelty-free feathers and down, or sheep wool, encased in organic cotton, where possible."
What is the best duvet filling?
There most common duvet fillings available are down, wool and feathers, but options also vary from natural to synthetic.
Davey recommends choosing natural fibers for your duvet filling, if you can. "If you can find organic certified materials, that's great," he adds. "Look out for the GOTS (Global Organic Textile Standard) logo, which ensures the materials are organic, and that the whole supply chain has been audited."
How should you look after a duvet?
There are a few simple tricks you can use to ensure your duvet stays in top condition once it's home. To start, invest in the best bed sheets, as this can help to protect it.
"This will also allow it to breath, and keep the fibers aerated and mold-free," says Davey. "Natural fiber sheets, such as cotton and bamboo, are great options."
Ensuring the duvet is kept dry is also crucial. Clean up any spillages ASAP, and make sure your bedroom is damp-free and warm to promote a dry atmosphere within the duvet, rather than one that encourages the growth of mold and bacteria.
Davey also recommends washing your duvet approximately every two to three months, advising that the manufacturer's instructions are followed to the letter and that the duvet is entirely dry before it's put back on the bed.
Katie Byrne is a contributor to woman&home and a writer whose interests span everything from homes and interiors, to pop-culture, travel, business and self-development. A former digital editor, her freelance journalism has featured across a wide range of print and online titles, including Raconteur, Digital Spy and more. When she's not writing, she loves reading (and has the groaning bookshelves to prove it...), dreaming up new décor ideas for her flat and devouring Netflix's latest true-crime series with her husband. You can find her on Twitter: @katie_b123.