What to wear to the races—sophisticated outfit ideas and dress code tips to help you shine on race day
Race day style: Here's what to wear to the races, according to fashion experts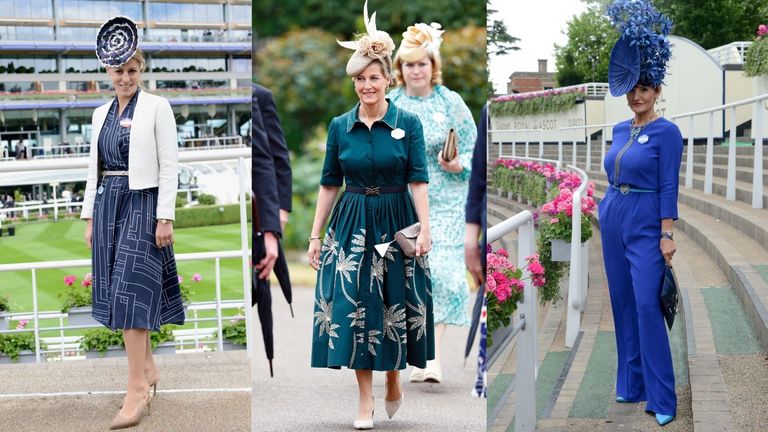 (Image credit: Getty Images)
When it comes to working out what to wear to the races, this is one occasion where you don't want to step out of sartorial lines. With many of the big race days governed by dress codes, finding the perfect look can be tricky.
If you've already booked your race day tickets, there's no better time to start the search for the perfect dress. The best dresses will have just the right width of shoulder strap to keep you cool, stylish and will be well within the dress code parameters. While you might not find anything in your capsule wardrobe to wear for the horse races, the good news is that when it comes to race day looks, they will often meet the criteria for what to wear to a wedding or a christening too—ensuring you'll be sorted for summer events.
With big race days on the horizon, in the form of the Kentucky Derby in the US and Royal Ascot in the UK, stores are starting to fill up with summer occasion wear. From the best midi dresses and chic trouser suits to the most flattering jumpsuits, there is something for every style.
What to wear to the races
When planning what to wear to the races, a good starting point is to check the dress code for your specific event or race day. While some meets have a relaxed dress code, other events take what you wear seriously, going so far as to have marshalls on arrival to stop those who don't meet the style requirements from entering—you could literally be stopped by the fashion police!
While dress codes differ between events, a safe bet is to think about your outfit in the same realm as what to wear to a christening. A pretty midi-length dress, with shoulder coverage and a hat or fascinator, will ensure you tick all the potential requirements. When it comes to shoes, you can certainly opt for comfortable flats, if you so desire, as there is a lot of walking and standing at race days, just make sure they're well turned out and smart. Of course, the best designer heels will also do the job here.
What not to wear to the races
Forget your best jeans and t-shirts, and leave your best white trainers by the door, this is your time to shine. Your race day outfit should reflect summer occasion wear and is governed largely by the same rules as wedding guest looks.
While you can wear black to the races, given that they are high summer events, you may want to consult the fashion color trends 2022 and opt for bright color clothes and accessories instead to reflect the mood of the season.
Many race days have a set of codes of what to wear and you will often find the length of dresses or sleeve length mentioned, midriff-baring tops and dresses are also usually out, so it is wise to have a really detailed read of regulations before you start shopping.
Best dresses to wear to the races
When it comes to selecting the perfect dress to wear to the races, this is a time to embrace color and print—why not opt for one of the best pink dresses this season for an on-trend outfit? For an elegant and timeless look, fit and flare midi dresses make for an easy and stylish choice. To avoid any possible dress code infractions, avoid strapless and halter-neck styles, opting instead for short sleeves or straps over one inch wide. If you select a printed dress, pick out one or two of the colors from the pattern for your accessories to complement your outfit.
M&S Polka Dot Tie Front Midaxi Shirt Dress
RRP: $69 / £39.50 | Take a style tip from Vivienne in Pretty Woman and try polka dots. With a tie detail at the waist, it'll draw the eye to your natural narrowest point. Add cream accessories and a blazer for a smart summer vibe.
LK Bennett Silk Apple Blossom Print Midi Dress
RRP: $498.75 / £399 | As an official licensee for Royal Ascot, you can guarantee that LK Bennett's dresses will stand up to every dress code for the races. This beautiful apple blossom dress has plenty of colors to pick from your accessories.
Three Graces London Jodie Cotton-Poplin Midi Dress
RRP: $820 / £595 | This hot pink dress will have you standing out from the crowd for all of the right reasons. A prime example of the dopamine dressing trend, you'll be instantly more cheerful when you put this frock on.
Best jumpsuits to wear to the races
If you feel more comfortable in trousers than a dress, a jumpsuit is a stylish and modern middle ground. Like dresses, it's best to avoid strapless or spaghetti straps and opt for a design with sleeves or straps wider than one inch. If in doubt, add a jacket in a matching or complementary color for a modern take on race day dressing.
Fashion editor Rivkie Baum agrees that jumpsuits are a great alternative:
"The rule allowing jumpsuits in the Royal Enclosure at Ascot is relatively recent but a strong sartorial move. Jumpsuits are universally flattering and as with dresses offer easy styling solutions for important occasions. For a super chic look, opt for a fitted bodice and wide-leg trousers in light and pastel hues for a look that is instantly summer-ready. The wide-leg will help to balance fuller busts and flatter a pear-shaped body.
Zara Seafoam Belted Jumpsuit
RRP: $69.90 / £49.99 | With a wrap front and chic belt, this Zara jumpsuit in a flattering seafoam shade is a great race day outfit. Try adding bold statement jewelry to contrast and complement the clean lines of this look.
Thought Floral Jumpsuit
RRP: £110 (worldwide shipping available) | This jumpsuit from sustainable clothing brand Thought is so versatile—style up with metallic platforms and a fascinator for the races, then team with flat sandals and a leather jacket for weekend brunch.
Best jackets to wear to the races
A tailored jacket is an ideal choice for a race day outfit. The best blazers and boucle tweed jackets are timeless and will complement most outfits. For jackets that can work beyond race day, opt for neutral shades or earth tones that can become a wardrobe essential and worn for smart or casual occasions at a later date. If you're looking for a more statement look, bold colors are a big fashion trend 2022, so a punchy pink blazer won't go a miss.
A blazer also makes for a great cover-up option if your dress or jumpsuit doesn't have wide enough straps, but again, be careful as you might find yourself overheating if it's a particularly warm day.
H&M Cream fitted blazer
RRP: $34.99 / £24.99 | A cream-fitted blazer is an excellent warm-weather staple for those cooler spring days or when you want a light extra layer. The neutral shade will work with a variety of outfits, making it a great investment piece.
Stradivarius Double-Breasted Blazer
RRP: $59.90 / £39.99 | Trouser suits have become a popular style choice for race day outfits. Swap muted office shades for co-ords in pastels. Add a silk t-shirt or blouse in a contrasting color underneath for extra style points.
Mango Double-Breasted Tweed Jacket
RRP: $119.99 / £69.99 | Get designer-inspired style for a snip with this pink double-breasted tweed jacket. The slightly cropped length is flattering when worn over dresses, jumpsuits or high-waisted trousers—ideal for hourglass body shapes.
Best hats and fascinators to wear to the races
When it comes to finding the right hat to wear to the races, keep your head held high with a stylish finishing touch to your outfit. While some events may have more relaxed attitudes towards hats and fascinators or not require them at all, other prestigious events won't allow entry without one. If you're wearing a patterned outfit, try picking out one color from the print for your headwear.
Eliane of Eliane Sarah Millinery talks us through how to select a hat that suits your face shape:
"Not all hats fit all faces. Don't be put off if the seasons' hottest trends or the Duchess of Cambridge's new headpiece style doesn't suit you. There are different designs that suit different face shapes. Face shapes fall in a few categories; round, long, square, heart, triangle, oval."
"Round—to slim your face, you need to create length, so look at asymmetrical styles, or a tall hat (with a small brim). Avoid round shapes and large brims or anything that will horizontally go along the forehead as these will make your face appear rounder.
Long—if you want to make your face look rounder, then you need to do the opposite to round faces. Opt for a hat with a brim—the larger the better—a low crown, is great to cut the length of the face.
Square—a bit like round, you can add asymmetry to your face or soften the features with curves. Height on the crown will also help lengthen the face. Round fascinator shapes, brims, crowns, and flowers will soften the look.
Oval—you can try anything. Go for any trend or style you want, all shapes should complement your face shape.
Heart—similar to oval shapes, you have a great choice. The one thing to consider is slimming the forehead, or just not accentuating the forehead as a feature, so avoid a narrow crown on the hat. A medium brim is a great choice. Asymmetrical headpieces and berets are also a great choice.
Triangle—as with the heart and oval shape, you have endless choices of styles to pick from."
Hobbs Pink Disk Fascinator
RRP: $165 / £79 | A disc fascinator that sits forwards on the head and slightly over the forehead is a timeless style. This easy-to-wear look is mounted on a narrow headband, meaning complicated hairstyles and a pile of hairpins isn't necessary.
Phase Eight Wide-Brim Hat
RRP: $200 / £110 | A wide-brimmed hat is a timeless finishing touch to your race day outfit and can also be a practical addition to your look if it's a sunny day. This lightweight hat has a fun fashion twist with its oversized bow detail.
Best shoes to wear to the races
For a day at the horse races, it's likely you'll spend a fair amount of time on your feet, cheering on your filly from the stands so it's best to avoid stilettoes and shoes with narrow heels such as kitten heels. Instead, opt for shoes with block heels, wedges and platforms. Not only are these on-trend but they will also be infinitely more comfortable for the duration of the day. Still stuck on the perfect shoe for you? Look to the best spring shoe trends 2022 for inspiration.
Dune London Beige Snaffle Detail Slingbacks
RRP: $125 / £90 | Not only will the block heel on these stylish snaffle detail slingbacks save you from sinking into the turf of the paddock but the medium heel height means your feet won't suffer nor will you compromise on style.
Jimmy Choo Dellana Leather & Rope Wedges
RRP: $625 / £525 | Not only are wedge heels a perennially on-trend style that will lengthen your legs visually but they're also a comfortable option that exudes effortless glamour. The champagne hue of this pair will work well with many outfits.
What is the dress code for the races?
Whenever you're planning what to wear to the races, it's important to read the dress code rules for each event you attend ahead of time as they vary from meet to meet and even section to section, depending on what level of entry you have.
For example, the Royal Ascot dress code has stringent outfit guidelines that differ between enclosures—with the Royal enclosure governed by the strictest style dress code. From the width of the straps of your dress to the circumference of your hat, in order to have a fun and smooth day, you'll want to adhere to the rules. Any style infractions could see you barred from attending. It's important to check the legislation for your particular enclosure as some areas have far more relaxed guides.
While not quite as prescriptive as the Queen's race week, those attending the Kentucky Derby in May should also read the small print of their tickets to make sure they're appropriately dressed in business casual—think dresses, jumpsuits and matching co-ords, leaving the jeans, halternecks and your best leggings at home.
Can you wear jeans to the races?
If there's one item to avoid when it comes to race day, it's your jeans. Give denim the day off, but if you want to wear trousers, there are plenty of stylish equivalents to your everyday true blue favorites. Why not try an elegant wide-leg trouser teamed with a pretty blouse or go for a two-piece trouser suit for a chic race day look?
What do ladies wear to the horse races?
When planning an outfit, it's better to err on the side of caution and go for the smart end of your wardrobe rather than casual. To avoid being denied entry, opt for modest dresses or jumpsuit styles with covered shoulders, preferably in a length that falls around or below the knee. For style inspiration, look towards The Duchess of Cambridge's favorite outfit combination of a midi dress and stylish pair of heels.
Another race day regular is a headpiece. Many traditional horse race meets still require women to wear a millinery hairpiece or hat. If hats aren't your favorite look, a chic alternative is an Alice band or subtle disc fascinator that is mounted on a narrow band and sits forward on the head.
Not sure what will suit you? Eliane has this advice when it comes to picking the perfect race day chapeau choice:
"A headpiece should complement and balance the garment you will be wearing and can be as adventurous or as simple as you are comfortable wearing. Obviously, if you want to stand out—the bigger the better! After a few years of very little happening, styles are getting smaller. My best sellers are the oversized headbands with flowers, a halo crown effect headpiece and an asymmetrical shape with floral trims.
If you prefer a larger piece or a more traditional shape—the large brim with a low crown is a winner or a saucer shape with elegant, understated trims looks effortlessly stylish too."
Antonia Kraskowski is a freelance fashion editor with over 15 years of experience in the industry.
Having started her career at Conde Nast working for titles including Easy Living, Glamour and Vogue New Markets, Antonia went on to work in the fast-paced world of newspapers and weekly magazines, becoming Fashion Editor at Express Newspapers and Magazines in 2014, a role she held for five years before going freelance.
Her career has seen Antonia travel the world, shooting in 18 countries and styling campaigns for brands ranging from Ben Sherman and DKNY to Wallis.