25 hair clips hairstyles – chic accessorized looks to suit every length and texture
Our favorite easy hair clips hairstyles to upgrade your look, from barrettes and bobby pins to claws and click-clacks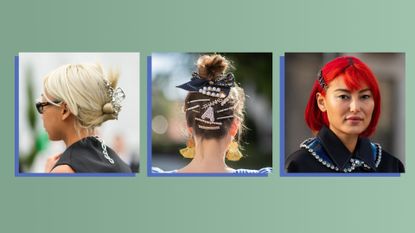 (Image credit: Future)
Looking for some inspiration for hair clips hairstyles? You've come to the right place. The right hair accessory will elevate your everyday look, whilst also providing a stylish solution to pinning back overgrown bangs or hurriedly throwing up third-day hair in need of a wash.
Where once hair clips provided a functional fix for hair up styles, they are now becoming a style star in their own right – the mane event, if you will. So, what's hot? The most iconic (and TikTok-approved) hair accessory right now comes straight out of the '90s. "There is no doubt that the claw clip has become so much more popular," admits Jay Birmingham, celebrity hairstylist. "It's the go-to 'it girl' hair accessory, and it is so versatile." Hair clips offer health benefits over traditional stretchy hair ties too. "Elastics can definitely cause damage to the hair if worn too tight, by creating friction and pulling the hair back harshly," explains Birmingham. "With claw clips, for example, the hair tends to be a little less fraught on the scalp, meaning less chance of breakage."
Hair clips also happen to be a suits-all addition to any hair type or texture – even cropped styles can get in on the accessory action. As with the chicest headbands for short hair, you don't need XXL-length locks to dress up your 'do in one of these hair clips hairstyles.
25 of the best hair clips hairstyles
1. Messy bun
This ornate metallic accessory turns a simple hairdo into a statement style, but how to get it right? "It's important to prepare and style the hair before putting it up using a claw clip," insists Jay Birmingham. "By putting in a little work beforehand, your overall style will look much more polished and put together."
"First, you need to ensure your hair is frizz-free by either slicking it down or adding a subtle wave throughout. Brush hair and part it where it feels right for you, then create your style using the clip," explains Birmingham.
2. Half-up, half-down
Switch your humdrum hair elastic for a chic gold barrette to elevate a half up half down hairstyle. Use your thumbs to part hair from your ears back and secure it with a clip. If you have thick hair, go for a wider barrette to ensure it will hold your hair securely.
3. Label lover
If you can spring for it, a designer hair accessory screams chic. Whether it's a haute headband or logo clip, investing in a hair adornment is a much more affordable way to tap into your favorite luxury brands, and finishes off ponytail hairstyles perfectly.
4. Snap clip bangs
Snap clips are a cheap and potentially colorful way to embellish your everyday look. With hair parted in the center, add a snap clip to each side of your temple, or stack them up. This is a great style to temper the growing pains of a regrettable bangs hairstyle.
5. Slick French twist
A modern French twist is one of the most popular claw clip hairstyles to create. Start with a crisp center parting and apply some pomade over the hairline and top layer to create a smooth, slick finish. Draw hair back into a mid-height ponytail and twist the lengths until it's tightly coiled. Raise the twist up and loop it back on itself, securing this top part with your claw clip. Take the remaining length of hair and loop underneath, re-clipping the ends with your claw clip so they're neatly tucked away.
6. Bobby pin chevron
Finish off hair up styles with some carefully-placed kirby grips. Use bobby pins in a contrasting color to your natural hair shade so they're visible. This chevron pattern is simple but effective.
7. Pearly plait
This might be one of the prettiest party hairstyles we've seen. Add extra glitz to a low-slung fishtail plait with a few pearl pins slotted into the braid. If you can't do a fishtail braid, a regular French plait will do the job just as well.
8. On the side
Wide barrettes are usually worn to hold hair in a ponytail or half-up style but they make a bold statement styled with loose waves and stacked above the ear. Choose a couple of slides in different widths.
9. Cute bow
Wrap up hair with a sweet bow clip, whatever the season. There's plenty of selection on the high street. This look works best on mid-length or long hairstyles.
10. Pop of pearls
For natural hairstyles, Birmingham recommends, "a clip with more teeth, which may provide more grip to hold the hair in place." Here, a pretty pearl hair slide pops against the deep brunette tone and looks beautiful. Minimal effort, maximum impact.
11. Party in the back
Want to add some pazzazz to hair up styles? Bag yourself a pack of hair slides and dress up the back of your head. The key here is to embrace a 'more is more' approach using slides of a similar pattern or colorway.
12. Colorful claw
Inject a bit of fun into your hairstyle with a rainbow-bright claw clip. It will make your look appear more intentional and less "oh, I just threw it on!" We love the coordinating pink hair and accessory here.
13. Cool girl clips
These symmetrical gold slides are the perfect finishing touch to hairstyles for straight hair, but this is a look that works on any texture, from wavy to curly. Use a tail comb on damp hair to create a sharp center parting.
14. Party ponytail
Adding some shiny click-clacks to the length of your ponytail is an easy way to party-fy your look. The best bit? It requires zero skill - the messier the better!
15. Make a statement
Don't wear your heart on your sleeve - save it for your hair with a slogan slide. Whether you want to convey your current mood like a modern-day Facebook status, or even make a political statement, there's an array of slogan barrettes to choose from on the high street. We love this one decked out in diamante - it works best with a fairly simple hairstyle such as this sleek bob, rather than a fussy updo.
16. Slick snap
If you want to grow out a fringe or keep flyaways out of your face, try a stack of snap clips along the hairline. Chic and practical. The monochrome hue of these ones keeps the look very chic and grown-up.
17. Braidy bunch
Prettify boxer braids - one of our all-time favorite braided hairstyles - with some hair accessory bling, pinned close to the plait on each side.
18. Dainty twist
"Designer hair accessories have become more popular over the last couple of seasons," says Birmingham. "These tend to be jeweled and therefore perfect for the party season ahead."
To recreate this style, take two sections of hair from the front and carefully twist each one, securing with kirby grips at the back of the head. Finish with a slogan (or designer) hair slide.
19. Pretty pony
This is a quick, easy and impactful way to add a bit more intrigue to your standard mid-height ponytail. Secure hair in a high ponytail then pin the loose hair to the back of your head, underneath the base of your ponytail, using a shiny barrette clip.
20. Relaxed updo
Twist hair into a low-slung, messy bun and secure with a claw, letting the ends cascade like a fountain over the top of the clip. You'll need relatively long hair to create that fountain effect, or simply fake it with a clip in hair extension.
21. Waterfall ponytail
Dress up your ponytail with a waterfall hair clip. The one rule? Make sure your natural hair is longer than the length of the hair clip.
22. Bobby dazzler
Everyone has kirby grips lying around. Collect a few matching ones and stack them up on one side of your parting for a polished look in 60 seconds. We love the side parting of this style, which adds an air of groomed sophistication to the look.
23. Winter warmer
You don't have to forego warmth and comfort this winter – just make a stylish hat part of your hair clip look. This white beret with a boho plait and perfectly-placed Gucci barrettes is giving us a serious case of French girl FOMO.
24. Butterfly clips
"If your hair is shorter, it's best to opt for a small or medium-sized clip so it doesn't overwhelm your hair and take over your style," says Birmingham.
These dinky claw clips work particularly well on short hairstyles, and are so easy to use. Just twist a small section of hair and clasp it in place with your clip.
25. Chic roll
Who knew a '90s accessory could help create such an elegant hairstyle? This tortoiseshell version forms the centerpiece of this twisted style. "I love the current trend of almost creating a subtle French roll in the hair before adding in a large claw clip and pulling a few pieces of hair loose to create that effortless vibe," says Birmingham.
"To do this, gather all your hair at the nape of the neck and twist round one or two fingers. Rotate your fingers with the hair wrapped round them and move it upwards. Your hair folds in on itself and creates that French roll shape, you can then add your favorite claw clip for a super easy, chic style."
---
What are those hair clips called?
Claw clip: This '90s staple has prongs that sandwich together, held together by a spring. Depending on the size of the jaw clip, they can be used to twist hair up into a quick French twist or messy bun.
Barrette: Also known as a hair slide, this type of hair clip has a clasp for holding hair in place. They are often made from plastic with a metal fastening. These wide clips are best reserved for sweeping hair back in a ponytail or a half-up, half-down style.
Bobby pin: The humble kirby grip is potentially the hardest-working clip in your accessory arsenal. This metal, double-pronged hairpin slides into hair to hold updos in place or keep bangs out of your face. The wavy edge is designed to sit against the scalp to offer better grip and hold, with the flat slide facing outwards.
Snap clips: These metal clips, sometimes referred to as click-clacks, slide into position and then snap shut, holding the hair in place. They're designed to hold small sections of hair and work particularly well around the hairline.
Sign up to our free daily email for the latest royal and entertainment news, interesting opinion, expert advice on styling and beauty trends, and no-nonsense guides to the health and wellness questions you want answered.
Stephanie Maylor is a Beauty Editor working across five national magazine titles, with almost 15 years' experience in the industry. She has written for many brands, including woman&home, Grazia, Now, More!, Fabulous, NW, Woman, Woman's Own, Woman's Weekly, Essentials, Best, Chat, and OK! online.
In 2010 she launched her own beauty blog, which was shortlisted for Best Beauty Blog in the 2011 and 2012 Johnson & Johnson Beauty Journalism Awards. She has interviewed many high profile industry experts and celebrities including Alesha Dixon, Twiggy and Christina Hendricks.