Ponytail hairstyles—how to master the classic pony, plus 25 looks we love
These ponytail hairstyles offer up inspiration for every hair type, texture, and length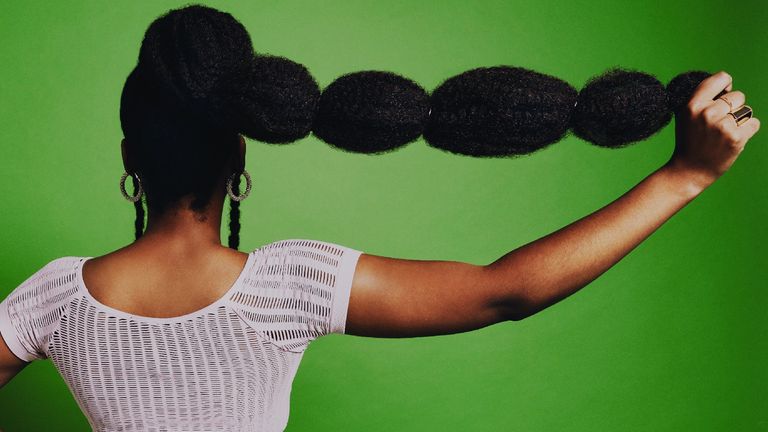 (Image credit: Getty Images)
The beauty of ponytail hairstyles is that they can be anything you want it to be. A pony can be entirely practical—a way of getting your hair out of the way for exercise, washing your face, or dashing out for some milk. Conversely, ponytails can also be a glamorous style choice, with almost endless possibilities within that category, from a feminine teased-out updo to a minimalist-chic look. Truly, the choice is yours when it comes to the ponytail hairstyle.
Thanks to this versatility, you'd be hard pushed to find a woman who hasn't worn her hair in a ponytail before. Whether you have a long hairstyle, short hairstyle, box braids, or are a curly girl method devotee, chances are you've grabbed your hair in your hand and secured it with a tie at some stage.
But just because the ponytail is familiar to us all, that doesn't mean we have to file it under boring. Perfect the pony and you'll realize that, just like the messy bun or beach hair waves, this timeless style has so much to offer for every hair type and texture.
How to choose the right ponytail hairstyles for you
Make sure it flatters your face shape
As with just about everything hair related, begin by thinking about your face shape. "You can make ponytails work for different shapes, as long as you change how much hair you have around your face and how much volume you add or take away," explains Skye Edwards, Artistic Director for Gielly Green.
Long face
"For a long face, a low ponytail works well as higher ponytails can elongate the face. If you really want to have a high ponytail, try a half-up and half-down look, as this will shorten the face," says Skye.
Round face
"The key rule is to stay away from any sleek ponytails they will only enhance the roundness of your face," says celebrity hairstylist and Jerome Russell Brand Educator Jason Collier. "You want to lengthen your face, so opt for a high hair ponytail with volume added to strands around the face to help lengthen and give dimension to the style."
Square face
"For a square or rectangle face leave, some hair out around the face this will soften or camouflage a chiseled jawline," says Skye.
Heart-shaped face
"For a heart-shaped face, a mid-ponytail that sits about an inch below the crown is great. Leave some hair on the face; if you have a fringe, even better. If your hair is too long around the face to leave loose, then go for a low ponytail," says Skye.
Oval face
"You're the lucky one!" says Jason. "You can pull off anything. I always love a super sharp, middle-straight parting, high shine, nape of the neck, low ponytail."
Consider your hair texture
Fine hair
Ponytails can make fine haired-types feel nervous, as a tight or pulled-back pony can expose a lack of volume. But there are plenty of ways to cheat the look of fuller hair. "For clients with fine hair wanting to create a fuller ponytail, I would suggest putting a wave through the hair first," says Bradley Deeming, Salon64 stylist. "This helps give the illusion of density. Using a wand or curling iron and curling the hair in the same direction is the most effective way to create this."
Still not satisfied with your pre-pony volume? "When it comes to fine hair, the trick is to simply fake it. Add in hair pieces to create what you want," says Jason. Don't be put off by the old cliché of waist-length plasticky hair pieces; these days, brands make discreet, sophisticated clip-ins that nobody will be able to tell aren't yours.
If you experience hair thinning and have a sparse hairline, Toppik ambassador and A-List hair expert Adam Reed recommends using the brand's hair building fibers to disguise any scalp show-through when hair is pulled back. "Think about how you would fill your brows in and apply those disciplines when using Toppik. It can be used as a filler or 'concealer' for any areas which are finer," he says.
---
---
Thick or curly hair
If you have curls, a wavy hairstyle or natural hairstyles, that beautiful movement in the hair will suit a less-is-more approach to ponytail styling. "When it comes to curly or naturally textured hair, you want to opt for a style that doesn't pull the natural texture out and adds dimension," advises Jason. "My ponytail of choice is always either super low or high ponytail, don't forget to add as much volume to curls as possible. The key with curly hair ponytails is that it's all about the volume."
"If you go for a low ponytail, you'll probably be able to loosely tie your hair so it sits softly allowing your curls to still be soft," agrees Skye. "If you fancy a higher ponytail make it tight so it stays in place—maybe add some very gentle back combing to the ponytail to add lots of volume."
If you fancy taking your curls in another direction with a sleek pony, run a pair of wide-plate straighteners over the hair, then follow Skye's tips. "For a really smooth ponytail, brush your hair in the direction you want it to go, then add in smoothing cream. Get your hair into the ponytail in your hand and brush again, opening your hand to take any extra pieces of hair. Wrap your hand around the ponytail to hold tight, brush all round until everything looks smooth, and then secure in place. Add some light gel around the hairline to control any little flyway hairs."
---
---
Match your ponytail hairstyle to the occasion
This is the fun part! Are you looking for a relaxed or dressed-up style? Low, textured ponytails have a totally different feeling than super-stylized ones that sit at the crown, so think about where you're going, what you're doing, and most importantly, what makes you feel confident.
"Some people don't suit or feel comfortable with all their hair tight and clean off their face. To learn what suits you, you need to play around with different heights," says Ava Holland, Artistic Director at Gielly Green Salon.
For glamour, aim high
Generally speaking, the higher you go, the more glam the look. "I'm totally obsessed with high ponytails with smooth volume and a soft flip towards the end of the hair," says Jason Collier. "The shape sits well at every angle making it picture perfect!"
Celebrity hairstylist Jay Birmingham agrees the high ponytail is a key look for those seeking easy glamour. "Think super sleek, high ponytail that's snatched and sassy. This is the perfect style to get your hair off your face but it still looks put together." The key to ensuring a high ponytail looks sophisticated, and not "shoved it up in a scrunchie to clean the bathroom" vibes, is to keep the hair you pull back towards the pony sleek. Misting a brush with strong hairspray as you brush it backwards should do it.
Keeping it casual? Go low
Fancy a more dressed-down style? A low, textured pony is likely to suit. "Low ponytails are amongst the top hairstyling trends," explains Joana Neves, Editorial Director at Alterna Europe. "Low maintenance styles that require no heated styling but can be enhanced with the use of styling products. Using a texturizing spray is a great way to add texture to low ponytails. They can be scrunched into the hair damp or dry, providing your hairstyle with flexibility while allowing it to be long-lasting."
Unfussy low ponytails also make a perfect partnership to one of the hottest hair trends—hair accessories. Headbands, clips, slides, and, yes, the infamous scrunchie are all hugely popular and a great way to jazz up a relaxed ponytail hairstyle. Keep the look sophisticated and grown-up by wearing accessories in classy materials such as velvet and silk, or tortoiseshell and simple metallics for grips.
---
---
Ponytail hairstyle inspiration—25 looks to try
Low ponytail with bow scrunchie
Face shape: Heart, square, oval | Hair type: Medium-thick
---
Low braided ponytail on natural hair
Face shape: Long, oval | Hair type: Thick, curly, natural
---
Mid-height bubble ponytail
Face shape: Heart, round, oval | Hair type: Fine, straight
---
Braided high ponytail
Face shape: Round, heart | Hair type: Box braids
---
Low twisted textured ponytail
Face shape: Long, square, oval | Hair type: Medium-thick, wavy
---
High glam waves ponytail
Face shape: Round, heart | Hair type: Fine, tonged waves
---
High slicked-back braided ponytail
Face shape: Oval, heart | Hair type: Curly, natural, long
---
Glossy low ponytail with covered band
Face shape: Long, oval | Hair type: Thick, long
---
Messy short ponytail with fringe
Face shape: Square, heart | Hair type: Straight, fine-medium
---
Nape of the neck ponytail with swept-back fringe
Face shape: Long, round, heart, oval | Hair type: Fine-medium, any texture
---
Glam waves ponytail with curtain fringe
Face shape: Round, heart, square | Hair type: Medium-thick
---
Soft ponytail with scrunchie
Face shape: Round, oval, heart | Hair type: Wavy or lightly curled
---
Sleek and shiny bubble ponytail
Face shape: Oval, heart | Hair type: Straight, long
---
Short backcombed ponytail
Face shape: Long, heart, oval | Hair type: Fine, short
---
Looped ponytail with ribbon bow
Face shape: Long, heart | Hair type: Medium-thick
---
High relaxed pony with fringe
Face shape: Oval, heart | Hair type: Medium, straight
---
Low undone middle-parted pony
Face shape: Long, oval | Hair type: Very long, thick
---
Low ponytail with slide accessories
Face shape: Long, oval | Hair type: Fine
---
Beachy waves ponytail with loose scrunchie
Face shape: Long, square, oval | Hair type: Curly or wavy, very long
---
Sleek, middle-parted low ponytail on natural hair
Face shape: Long, oval | Hair type: Natural texture, long
---
Super straight tucked ponytail
Face shape: Heart, long, oval | Hair type: Fine, sleek
---
High and full ponytail with volume and fringe
Face shape: Heart, round, oval | Hair type: Textured, thick
---
Ultra-low tucked pony with loose strands
Face shape: Heart, long| Hair type: Very long, any texture
---
Textured bob ponytail with ribbon bow
Face shape: Oval, long | Hair type: Wavy, short
---
High ponytail with bouncy curls and volume
Face shape: Round, oval | Hair type: Long, curly, natural
---
How to protect your hair in a ponytail hairstyle
Ponytails may be an easy go-to style, but it's important to prep and style your pony carefully to protect your hair's health.
Firstly, always use heat protection for pre-pony styling, whether you're blow drying, straightening or putting waves in with the best curling irons. "If you going to be using a lot of hot tools it is so important to protect the hair," agrees Jason. "My go-to heat protect is Jerome Russell BStyled Heat Protect Primer, it is a super lightweight, non-greasy primer with bond building technology to eliminate frizz."
---
It's also crucial to style carefully and protect from breakage.
"High ponytails are a go to style at moment but the long-term effects these styles can have on your hairline is massive," says Caroline Brooker from hair loss specialists Ginger & Pearl. "While it can be only too tempting to tie your hair up tightly, if you do it too often it can sadly result in long term effects such as atrophy, scarring and in some instances permanent hair loss." It's scary stuff, but luckily a few careful tricks can keep you—and your hairline—safe.

Follow co-founder of Live True London Salon Valerie Maine's tips:
"Do not tie up your hair when it is wet. Wet hair is at its weakest and is more likely to snap.

Try using a serum on your hair so that the hair tie can glide over your hair more easily, reducing the chance of breakage.

Avoid tight ponytails as these can cause extra tension on the hair causing damage.

Take care with your hair ties. Elastics or hair ties containing metal can all snag your hair causing breakage; try using a fabric hair ties where possible.

Avoid hair breakage when taking your hair down by carefully and gently removing your hair tie."
woman&home thanks Skye Edwards and Ava Holland of Gielly Green Salon, Jason Collier of Jerome Russell, Bradley Deeming of Salon64, Adam Reed of Toppik, Jay Birmingham, Joana Neves of Alterna Europe, Caroline Brooker of Ginger & Pearl, and Valerie Maine of Live True London Salon for their time and expertise.
As woman&home's Beauty Channel Editor, Fiona Mckim has tried more beauty products than she's had hot dinners and nothing makes her happier than raving about a brilliant find on womanandhome.com or her instagram grid (@fionamckim if you like hair experiments and cute shih-tzus). Fiona joined woman&home as Assistant Beauty Editor back in 2013, working under industry legend Jo GB, who taught her everything she needed to know (clue: learn about ingredients and employ extreme cynicism).