Best party hairstyles 2021—40 glam ideas for every hair length
These party hairstyles are guaranteed to make an entrance, from power ponytails to glittering accessories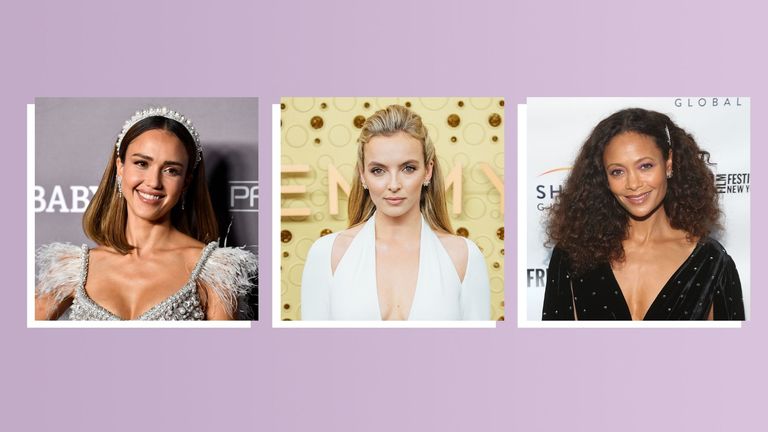 (Image credit: Getty)
The best party hairstyles should make you feel a little bit special, and elevate your hair game beyond bulldog clips and mum buns. Some may require a little more time and product investment than your everyday 'do, but these styles are all very much achievable with your own skills, however basic they may be.
In fact, the most difficult part of your party hair should be choosing which look to go for—because the best party hairstyles are easy hairstyles.
From ponytail hairstyles and glittering accessories to pretty plaits and the perfect messy bun, trust us when we say there's a festive style to suit every hair type and length. So whether you need inspiration for long hairstyles, short hairstyles, hairstyles for straight hair, or a natural hairstyle we've got all the tips, tricks, and pics you need to add a little razzle-dazzle for every cocktail party, family gathering and romantic date night in your diary.
How to choose the best party hairstyles
If fussy hair up styles aren't your usual hair-fare, don't doubt yourself by booking straight into your local salon. Help is at hand. Hairdresser, Lee Stafford shares his expert tips for beautiful party hair.
You don't need to be neat: "Perfect hair doesn't have to be super neat and clean. Adding that effortless undone texture and giving hair body and volume will certainly make it look cooler, rather than fussy and bridal."
Use the right products: "If you want an updo to last all day, extra hold is needed. Using mousses and creams before blow-drying will increase the hold time."
Protect then perfect: "No-one wants their hair to look dry and frazzled, which is why heat protection is key to helping your hair look its best, whatever your party hairstyle. Apply to damp hair before styling to keep hair well-conditioned and hydrated."
Soften an updo: "Be playful with your style. Pull your fringe out and take some longer pieces out at the front and create loose beach hair waves with them."
Party hair inspiration—40 looks we love
Party hairstyles for short hair
There's a pervasive myth that party hairstyles are the hardest to achieve on short hair. It's true most updos are out of the question but your simple, chic cut means you can go crazy with height, texture, and accessories. There's nothing so-so about these short styles.
1. The slick pixie
So simple yet so impactful. Part your hair on the side then apply a wet-look gel to flatten your hair, brushing through keeping the sides nice and sleek.
---
2. The ear tuck crop
When it comes to creating texture in short styles, a salt spray is indispensable. Spritz your hair to amp up natural bends and waves then tuck one side behind the ear to create a sexy (yet incredibly easy) asymmetric style.
---
3.The bejewelled ponytail
Dress up a simple ponytail or pinned back style with a metallic clip placed above one ear. Gold and silver barrettes look party-ready yet grown up.
---
4. The snatched top knot
If you've got the length to do this, pull your hair up into a high tight ponytail then as you secure it, stop yourself from pulling the loose hair out all the way on that last loop to create a cute knot. It's an instant facelift.
---
5. The tousled crop
A short style is a great way to encourage volume in fine and super straight hair. Apply a volumizing mousse to damp hair then dry upside down for a bouncy blow dry. Flip your hair back over and finish drying the hair with your natural parting.
---
6. The mussed-up pixie
Prep hair with volume-boosting mousse and blast dry in different directions to achieve a full and mussed-up look. Apply a matte pomade to your fingers and pull and tease the lengths to add texture on top.
---
7. The undone updo
There's an ethereality to this cascading updo. Begin with wavy or curly hair (learn how to curl hair with straighteners for cool-girl bends) then start pinning small sections at the crown using kirby grips. A slim gold headband adds an elegant element.
---
8. The slick quiff
Prep damp hair with volumizing spray then blow-dry the top section of your hair up and to the side using a round brush to create some oomph. Slick down the sides with hairspray.
---
9. The wavy updo
Enhance naturally wavy or curly hair with a serum designed to reduce frizzy hair, create a deep side parting and dry with either a diffuser attachment or the best hairdryer for waves and curls. Pull hair back into a ponytail, leaving a sweeping section loose to one side.
---
10. The wave fringe
Blow-dry hair smooth, keeping the sides nice and tight to the head with plenty of height through that top section. You can use a curling tong or the best hair straighteners to create a bend in the fringe section then add gel to hold in place. Start sparingly—you can always add more if you need.
---
Party hairstyles for mid-length hair
Mid-length hair is incredibly versatile. You've got enough length to work with most updos, can pull off a super-sleek style or tousled waves plus, cool bob hairstyles won't look too girly with a nice hair accessory in. The party hairstyle world is your oyster.
11. The sleek and chic chignon
No time to wash your hair? No worries. This slick bun works best on second or even third-day hair. Rub some pomade into your palms then smooth over the front section of hair. Use a brush to gather all your hair together, flattening out any lumps and bumps until you have a sleek finish. Secure tightly in a ponytail then twist the loose hair around the band and pin neatly with kirby grips.
---
12. The cold weather accessory
A chic French girl bob demands an equally chic French girl accessory. If you have an outdoor event and need to stay warm while looking cool, a beret, carefully poised on the side, is both stylish and practical in the colder months.
---
13.The poker straight bob
To get really expensive-looking, glass-straight hair, you need to put in the prep. Apply a smoothing serum to damp hair and blow-dry as straight as possible to smooth down the cuticle. Create a deep side parting using a tail comb for pin-neat precision then use straightening irons to make slow passes over each section. Spray your hands with hairspray and flatten them over your finished look.
---
14. The tousled top knot
Bangs hairstyles + curls = top tier gorgeousness. Work with your hair's natural texture and show off this statement fringe with an updo that maintains all those lovely curls. To do this, use your fingers, rather than a brush, to rake your curls up into a high ponytail and wrap them into a loose bun.
---
15. The mermaid wave
Achieve beachy crimps with a specially-designed waving tool (find out why we love the Amika High Tide Deep Waving Tool most of all) When working with shorter hair, it's best to go for a smaller 25mm barrel. Take small sections and clamp the waver down on the hair, hold for a few seconds and release. Repeat this process working down the length of the hair.
---
16. The undone Dutch braid
This look works best with some sort of texture in the hair, so if yours is naturally straight use a curling iron to create waves. Apply a texturizing spray to give your braid extra fullness and grit. Need to get clued up on your braided hairstyles? This is a Dutch braid where strands are folded into the plait from underneath, unlike a French braid where hair is crossed over the center. Divide hair in two and create a braid on each side of the head and secure it at the nape of the neck.
---
17. The side-swept flick
This is so glamorous yet so simple. Create a deep side parting and blow dry hair smooth, flicking out the ends with a round brush or one of the best hair straightener brushes. Run over the lengths with irons if you need to, maintaining the flicked out ends, then slick down one side behind the ear and dress with a glittering hair adornment.
---
18. The supersized headband
Straight, curly, long or short, a padded or embellished headband is a suits-all accessory, and the perfect finishing touch to any party ensemble. The trick with a statement accessory like this is keeping your hairstyle simple—Jessica alba shows how it's done with her sleek bob.
---
19. The wet look wave
Sienna Miller showcases one of our favorite short hairstyles for women—the textured bob—worn with a wet-look, just-emerged-from-the-sea finish. Her hairstylist, Adir Abergel revealed his process on Instagram. 'I used Virtue Labs Unfrizz Cream mixed with healing oil, applied everywhere," explains Adir. He then dried her hair using the diffuser attachment and tonged random sections with a one-inch curling iron, then finished with wax pomade and more healing oil.
---
20. The preppy half-up half-down
Dress up a plait, ponytail or half-up style with a chic black ribbon tied in a bow. Head to your local haberdashery for a length of satin or velvet ribbon.
---
Party hairstyles for long hair
Long hair has the benefit of abundance—having plenty of length to work with means you can create any updo you like and have it look full and textured. The downside is that styling will take longer. Set aside 30 minutes minimum for these party hairstyles.
21. The relaxed ponytail
This laissez-faire style can be banged out super speedily, and you don't need to have professional skills to master it. Sweep hair back and secure in a loose ponytail, pulling the band down a couple of inches until it sits at the base of the neck. Tousle out front sections, and if you have one a fringe will give the style more of a fashion-forward direction.
---
22. The sleek finish
Glossy hair will never go out of style. Prep damp hair with smoothing serum or hair oil to encourage a slick and shiny finish. Blow-dry hair smooth then glide straightening irons over two-inch sections.
---
23. The adorned plait
This is a little tricker, but so beautiful it's worth the effort. Whip hair up into a mid-height ponytail and secure. From there, loosely plait the hair then tease the end of the plait with a backcombing brush to hold it in place without a band. Blake Lively's stylist wove glittering chains by Lorraine Schwartz into the braid for a super-luxe, Boho finish.
---
24. The side-slung wave
The Duchess of Cambridge aka Kate Middleton's hair always looks perfect but we especially love these Hollywood waves. Create a deep side parting, blow-dry smooth then use a large barrel tong to curl hair, always curling away from the face. Brush the hair out gently, tuck one side behind the ear and finish with hairspray to hold.
---
25. The glam grips
This is modern and will really show off your bone structure. Begin with a chic centre parting and smooth, gentle waves, smooth each side down and pin above the ear with two parallel hair slides.
---
26. The half-up chignon
Leaving a few softly-waved tendrils around the face, use your thumbs to separate the top half of your hair. Secure with a bobble then wrap the loose hair around the band and pin in place.
---
27. The side-swept waves
There's something a bit New Romantic about this swept-over style. It's perfect for naturally wavy hairstyles but could easily be achieved by plaiting damp hair and leaving it to set. Once you've got your mermaid waves, sweep all your over to one side and pin discreetly with a kirby grip to hold in place.
---
28. The voluminous ponytail
A polished ponytail needn't be tight, rigid and slick. This swingy ponytail is incredibly glamorous, thanks to a bouncy blow-dry, voluminous crown and loose side-parted section at the front.
---
29. The half-up with oomph
Use a backcombing brush to gently zhuzh the top section of hair and sweep back. Gather the top half of your hair, from just above your ears, and secure with kirby grips or a hair tie making sure you retain the volume on top.
---
30. The slick ponytail
Max out the sleekness of your ponytail with a clever finishing trick. Spritz a toothbrush with hairspray gently flatten any flyaways around the hairline and parting.
---
Party hairstyles for natural hair
Natural hair has the benefit of plenty of volume and bounce, which you can make the most of in so many party hairstyles. Updos and accessories will enhance beautiful curls and kinks, while slick styles look fresh and modern.
31. The one-sided clip
Allow those natural curls to take center stage by styling hair into a center parting then pinning one side back just above the ear using a pearly hair slide or diamante clip to add some sparkle.
---
32. The glittering finish
Put some razzle-dazzle into your mane by mixing a little glitter with mousse. Silvery flecks really enhance the tones of Cynthia Erivo's platinum crop.
---
33. The undone up updo
This relaxed updo looks super pretty and it's incredibly easy to achieve. Pull hair up into a high ponytail—leaving a few face-framing tendrils at the front—then loosely wrap the hair around the base of the ponytail tucking the ends into your hair elastic to hold in a loose and natural fashion.
---
34. The staggered click-clacks
Dress up a simple ponytail with staggered click-clack clips—a glamorous way to keep grown-out fringes and flyaways under wraps. Try and ensure the clips are all equidistant and sit at the same angle for a sleek look like Solange.
---
35. The modern mohawk
Showcase your natural curl type and texture with a curl-enhancing spray then use a strong-hold gel to slick both sides back and upwards, securing with a hair comb.
---
36. The slicked back style
Make a statement by giving long natural curls a sleek-over. Apply a strong-hold hair styling product like a mousse to the roots and mid-lengths then blow-dry back away from the face, keeping the sides slick to the head with a little oil or gel.
---
37. The pretty pastel
'Tis the season to be jolly, and there's no jollier way to express yourself and change up your look for the party season than with a fresh new shade. A color-depositing hair toner mask is a low-commitment option and will wash out after a few shampoos. Apply your temporary color to clean, towel-dried hair, leave on for a few minutes, then rinse out.
---
38. The finger wave ponytail
Part your hair on the side and create a '20s-inspired finger wave using a deep hair waving tool. Keeping the sides taut, pull hair back into a ponytail, letting your natural curls cascade down.
---
39. The peekaboo clip
This is chic and a little bit cheeky, too. Sweep hair up into a high bun then adorn the back section with a bejeweled comb, hair crown, or in the case of Kerry Washington, a statement hair slide.
---
40. The half-up flick
Use your thumbs to separate the top half of your hair and secure it with a band. Ensure your hair is well-moisturized and apply heat protectant spray. Take small sections from the bottom half of your hair, and slowly glide flat irons down the lengths, flicking out at the ends.
---
Beauty editor-approved buys for party hairstyles
Whichever look you're going to attempt for that all important invitation (you've got this girl!), it's important to be clued up on the best hair products. These handy hair heroes will help you to master your dream style so add them to your styling kit pronto.
---
woman&home thanks Lee Stafford for his time and expertise
Stephanie Maylor is a Beauty Editor working across five national magazine titles, with almost 15 years' experience in the industry. She has written for many brands, including woman&home, Grazia, Now, More!, Fabulous, NW, Woman, Woman's Own, Woman's Weekly, Essentials, Best, Chat, and OK! online.
In 2010 she launched her own beauty blog, which was shortlisted for Best Beauty Blog in the 2011 and 2012 Johnson & Johnson Beauty Journalism Awards. She has interviewed many high profile industry experts and celebrities including Alesha Dixon, Twiggy and Christina Hendricks.
Her portfolio spans generations, writing for everyone from teens to baby boomers, covering topics such as the latest catwalk nail trends and the effects of menopause on the skin. She lives with her husband and two children in Milton Keynes, and still loves playing with makeup as much as she did in her teens - she's perfected the 5-minute school run look.