This new hair waving tool from America has beauty insiders buzzing
Everyone's talking about the Amika High Tide Deep Waver hair tool, and here's why...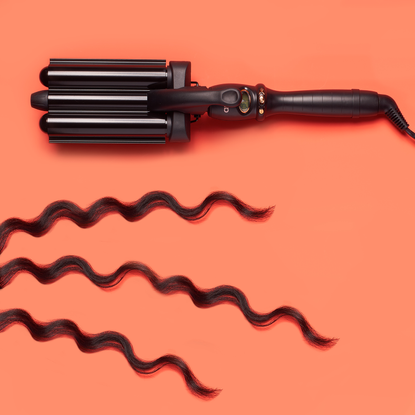 In beauty if something sounds too good to be true, it often is.
So when the hugely-hyped Amika High Tide Deep Waver hair tool landed on my desk, promising 'effortless, crease-free waves with a frizz-free finish' but looking very much like an old-fashioned hair crimper we had to take it home and give it a try.
What is the Amika High Tide Deep Waver?
The thing with hair is everyone wants what they haven't got, so any hair waving tool that promises to switch boringly straight, well-behaved lengths for something with a bit more oomph is high on my must-try list. But said tools – usually wands and curling tongs – generally take at least half an hour of faff and a reasonable level of skill to master.
The Amika High Tide Deep Waver aims to remove these time and skill restraints. Clamp your hair into its undulating curves and you'll create a whole head of natural-looking waves in minutes without having to worry about technique at all. Yes this is crimping 2.0, except instead of wiry zigzags and dents the fat barrels are designed to create tousled texture. So far, so promising. It also boasts adjustable temperature, from 50 to 180 degrees, plus neat safety features, like automatic shutoff after 30 minutes and a kick stand so there's no chance of accidentally singeing your dressing table either.
SHOP NOW: Amika High Tide Deep Waver, £90, Beautybay.com (currently sold out)
Why is everyone talking about this hair waving tool?
The Amika arrived in the UK surfing a wave of hype, both from beauty insiders and celebrities. British Make-up Artist Kate Jane Hughes is a confirmed fan, and has shared her love of the Amika with her her 400k+ instagram followers on several occasions, calling it her 'favourite lazy girl wave tool'.
Hairstylist Christian Wood's followers were in raptures after he used the tool on his A-List client, Game of Thrones actress Sophie Turner. 'Loveeeee this natural look on Sophie!!! Literally perfect', wrote one fan on social media, while another said, 'one of your best looks on her'.
Famous fans aside, this tool's appeal is obvious: not all of us are skilled at heat styling. In fact, I'd go so far as to say the majority of women avoid anything more complex than running a pair of straighteners down their hair. Sectioning, wrapping it the correct way and getting the size and spring of a curl just right can feel insurmountably time-consuming and complicated. But pressing it into a large clamp? That we can all do.
What happened when we tested it?
The first thing I noticed about the Amika High Tide deep Waver is its size. This is a hefty hair tool, about twice the size and weight of your average pair of straighteners, but thanks to its slick design and smooth material it doesn't look or feel clunky.
It's easy to operate (just plug it in and go), the temperature is displayed digitally and can be adjusted with + and – buttons. I went with 130 hoping that 50 degrees down from full whack would negate any risk of frazzling. Once it was up to temperature, which took about 15 seconds, I grabbed large handfuls of hair, clamped them in for five seconds or so, released then moved on until my whole head was finished.
So, how did it look? In a word, cool. The finished style is pretty much as described in the name of the tool, a beachy, wavy texture. I won't pretend that you'll ever get big, rolling glamorous curls from this hair waving tool, for that you will need a wand or rollers.
But, as a veteran hair curler, I can say this required about 5% of the effort, skill and time that traditional heat styling does. Even after years of DIY curling at least once a week I still need at least half an hour, six dividing clips and laser focus to do a half decent job.
This I did haphazardly, with one eye on my phone and in less than five minutes for the whole head. The song that was on the radio when I began was still playing when I finished - how's that for speed?!
Top waving tips when using the Amika High Tide Deep Waver hair tool
A few weeks after my initial test and several styling sessions later I have picked up a few tricks. I prefer not to clamp it in right at my roots, instead starting around the tops of my ears and leaving the last inch of ends out too, which gives a more effortless, undone look.
As with all heat styling its best to leave your whole head to completely cool without touching it after using the waving tool. But instead of brushing the waves through just give them a little ruffle with your fingers then add a styling product.
Hairspray locks in the waves just as they are, a tiny bit of serum will smooth the look down a bit, whereas a texturizing spray amps up the mussed up texture – use whichever one suits the look you are going for.
Of course at £90 the Amika High Tide Deep Waver is an investment, but no more so than your average premium straightener and this definitely feels like a premium tool.
It now has its own place in my hair tool collection, and though it'll never replace my beloved wand for curling it is foolproof, ultra-fast and extremely fun to use, especially if you fondly remember crimping from the first time around.
Shout out to my original 1990s Crimping Trio tool - thanks for the memories!
Beauty Editor, womanandhome.com
As woman&home's Beauty Channel Editor, Fiona Mckim has tried more products than she's had hot dinners and nothing makes her happier than raving about brilliant finds on womanandhome.com or her instagram grid (@fionamckim if you like hair experiments and cute shih-tzus). Fiona joined woman&home as Assistant Beauty Editor in 2013 under industry legend Jo GB, who taught her everything she needed to know (learn about ingredients and employ extreme cynicism). She has since covered every corner of the industry, from interviewing dermatologists and celebrities to reporting backstage at Fashion Week and judging the w&h Beauty Awards.