Eyeshadow for blue eyes—brilliant buys flattering looks to enhance your shade
Finding the right eyeshadow for blue eyes can really make your color pop! These are the tones and products to choose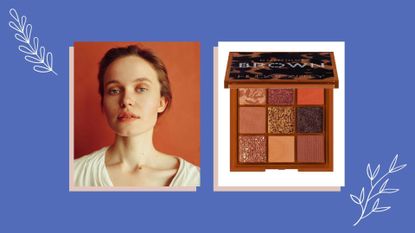 (Image credit: Getty images)
Choosing a flattering eyeshadow for blue eyes is essential if you're looking to make your baby blues stand out.
There are no hard and fast rules when it comes to makeup, but some eyeshadow shades will really make your natural features pop. And getting to know which colors will flatter your eyes will help you create easy makeup looks for any occasion.
Max Factor UK Makeup Artist Ambassador Caroline Barnes, who has painted the faces of celebs such as Kylie Minogue and Gillian Anderson, is an advocate of using eyeshadow to flatter particular eye colors, and we've grilled her for the ultimate pro tricks, plus products and inspiration looks to find your perfect shade.
How to pick the best eyeshadow for blue eyes
Why you can trust Woman & Home Our expert reviewers spend hours testing and comparing products and services so you can choose the best for you. Find out more about how we test.
Finding a great eyeshadow for blue eyes all comes down to simple color theory.
Color theory refers to the science of using color. It's a way of explaining how colors are perceived, how they blend, match and contrast with each other and the visual effects of what the human eye sees. "When selecting colors to create bright eyeshadow looks that make your eyes pop, go for contrast rather than a match," explains Caroline. "The contrast that will bring your eye color to life is often opposite on the color wheel. It simply doesn't have the same effect if you match your eye color." The same goes for eyeliner looks, a color contrast makes the biggest impact.

Blue is opposite to orange on the color wheel and therefore experts recommend using the following eyeshadow for blue eyes:

Orange-based shades
Peach and apricot tones
Yellow-based neutrals
Warm-toned metallics
The best eyeshadows for blue eyes
1. Revolution Makeup Reloaded Eyeshadow Palette
Best cheap eyeshadow palette for blue eyes
Specifications
RRP: $8/£5
No. of colors included: 15
Reasons to buy
+
Affordable
+
Mix of shimmers and mattes
Achieving a makeup look to make your blue eyes pop doesn't need to cost a lot. This affordable palette, in the colorway Velvet Rose, has a range of warm shades to suit baby blues, from dramatic burnt reds to subtle warm taupes and is great for those wanting to try out a few looks without breaking the bank.
We particularly rate the range of deeper brown hues which could work across all skin tones. In order to create a more dramatic look, you may have to layer up your shadows to create a good color payoff as this is not the most pigmented section of the bunch. But for the price it's unbeatable.
2. Too Faced Born This Way Natural Nudes Skin-Centric Eyeshadow Palette
Most versatile eyeshadow palette for blue eyes
Specifications
RRP: $48/£36
No. of colors included: 16
Reasons to buy
+
Mix of mattes and shimmers
+
Warm toned
With a mix of shimmering golds, hues of matte brown, and light pink, blue eyes will be able to create a plethora of natural makeup looks that complement their features. The matte shades are great for daytime looks and creating multi-step smoky eyes, while shimmers are great for evening or using as an accent in the corner of the eye.
Not only are the eyeshadows in this palette incredibly pigmented, but they're also very easy to blend with minimal fallout. But, if you are worried about ruining your foundation, apply your eyeshadows before you start your base.
3. Natasha Denona Mini Nude Palette
Best compact eyeshadow palette for blue eyes
Specifications
RRP: $25/£22
No. of colors included: 5
Reasons to buy
+
Pigmented colors
+
Great for travel
Small but mighty. This miniature Natasha Denona palette is great for travel and features some beautiful warm-toned natural colors, along with a few shimmers for adding sparkle to your baby blues.
Learn how to apply eyeshadow and you'll be able to create a natural daytime look with the lighter brown or jazz things up with the deeper bronze. If you prefer simple and striking eye looks, try dipping a very fine damp liner brush into the deepest shade then running it close to the lash line to create a subtly contrasting eyeliner.
4. Urban Decay Naked Heat Palette
Best iconic eyeshadow palette for blue eyes
Specifications
RRP: $54/£43
No. of colors included: 12
Reasons to buy
+
Huge range of shades
+
A mix of shimmer and mattes
Urban Decay are famed for these Naked palettes, but this particular one is a dream for blue-eyed types wanting to make their peepers pop. We particularly recommend the shades Sauced and Low Blow, swept up the socket line as a daytime shadow that will make your blues stand out.
Full of rich, earthy reds, peaches and warm-toned browns plus a couple of subtle shimmers, with this you're able to create a natural makeup look or add some drama and go for something glam. They're super blendable and highly pigmented for easy application too.
5. Bobbi Brown Long-Wear Cream Shadow Stick
Best every day eyeshadow for blue eyes
Specifications
RRP: $30/£25
No. of colors included: 1
Reasons to buy
+
Hydrating and creamy
+
Great for mature eyes
+
Highly pigmented
Reasons to avoid
-
You may need to buy more than one
One of the best makeup tips for older women is to use cream products rather than powder. Mature skin tends to be drier and this can cause powder products to crease or settle in fine lines. Creamier products will be far more forgiving and a lot more flattering.
That's why we rate this cream shadow from Bobbi Brown in the shade Cinnamon. Not only is the color a perfect warm brown to contrast with blue or grey eyes, it is also incredibly pigmented, has no fallout and glides across the lids, without dragging, keeping your look flawless rather than powdery.
We love wearing this rusty brown all over lids, blending it out with a fluffy brush then applying one of the best lengthening mascaras to finish.
6. Delilah Colour Intense Eyeshadow Palette
Best palette for evening eyeshadow looks
Specifications
RRP: $32.91/£34
No. of colors included: 9
Reasons to buy
+
Highly pigmented
+
Blendable
With a varied palette, like this one from Delilah, you can create a whole host of looks from low-key to exaggerated. This Damsel selection features warm browns to make blue eyes pop and shimmering champagnes, so has got everything you need for creating beautiful eye looks.
We rate the staying power of this one as it works particularly well on dry eyelids that have a tendency to crease. If you're unsure about wearing such intensely pigmented colors, use a looser, fluffier brush to apply and it'll only lay down a sheer smattering of pigment.
Inspiring eyeshadow looks for blue eyes
1. Copper smoke
Actor Charlize Theron wears a warm copper shade with a little shimmer to bring out the blue in her eyes. It's subtle, but the warmth from the bronze added to the lids and underneath the lower lash line really makes her eyes stand out. If you're not skilled at blending eyeshadow, using bronze or gold eyeliner will create the same effect.
With lashings of black mascara to define the lashes, it's an easy makeup look you can recreate at home.
Recreate the look with...
---
2. Rosy hues
The wonderful Emma Thompson's bright blue eyes have been accentuated with a mixture of plum, peach, and gold shades on the lids. Opposite to blue on the color wheel, peach tones (especially shimmers) can really make eyes pop.
Create this look at home by sweeping a natural peach tone all over the lid, then building up a deeper plum shade close to the lash line. Adding in champagne-colored sparkle to the inner corners will brighten things up if it's feeling too dark. Finish with some falsies or one of the best volumizing mascaras and you're ready to party.
Recreate the look with...
---
3. Antique gold
The gorgeous Holly Willoughby wears this antique gold, cat-eye look and we think it makes for a perfect Christmas makeup look.
Created by makeup artist Patsy O'Neill, copy the look yourself by smoking out a warm brown or muted gold shade with a blending brush then adding a black liner to create a feline flick. Finish with a pair of false corner lashes to really extend the eye.
Recreate the look with...
---
4. Smoky shadow
The ever-glamorous Nicole Kidman knows just how to emphasize her bright blue eyes with lots of winged-out, warm, earthy-brown eyeshadow.
As we age, the colored pigments in our hair and eyes tend to fade, which is why playing with color theory can make such a huge difference when making your features stand out. Wearing this bronze eye with plenty of mascara and filled in brows, leaves Nicole looking awake, bright-eyed, and incredibly youthful.
Recreate the look with...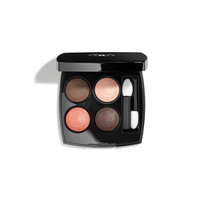 Chanel Les 4 Ombres Multi-Effect Quadra Eyeshadow in 204 Tissé Vendôme
Create Nicole's look by mixing the peach and brown colors together and blending out with a fluffy brush. Learn how to apply lashes and you've got a complete look.
---
5. Soft, champagne eyes
She has some of the sparkliest eyes in television and Mary Berry's baby blues look incredible with the help of some brightening, champagne-colored sparkle across the lids.
Get the look yourself with a cream eyeshadow in a similar color. Apply directly to the lids then blend it out with your finger. Add some brown eye pencil to define the lash line before popping on a pair of half lashes to complete the look.
Recreate the look with...
---
w&h thanks Caroline Barnes, Max Factor UK Makeup Artist Ambassador, for her time and expertise