10 seriously good makeup tips for older women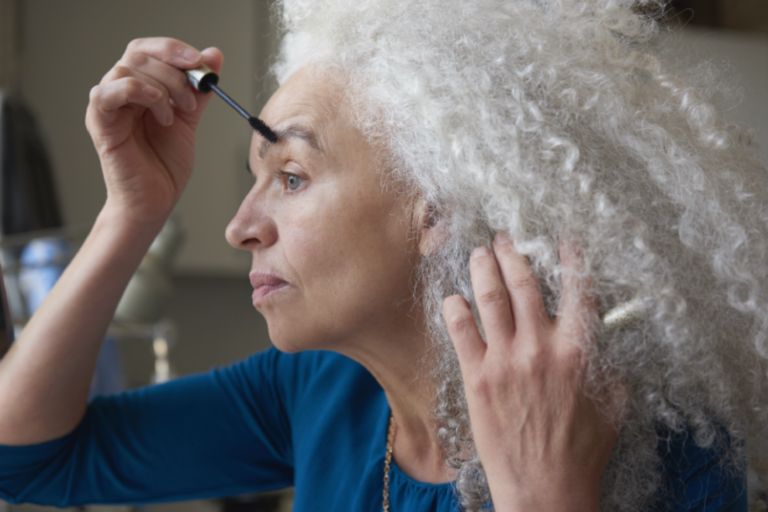 As we age, our beauty habits tend to change. But getting older does not mean you can't still have gorgeous makeup.
With a lot of makeup tips out there, and the best beauty advent calendars 2020 offering countless new beauty treats to try, it can be tough to know what the best makeup for older women is. For example: What's the best foundation to use on mature skin? Is kohl eyeliner still flattering? What about eyebrow tinting? It can feel like an minefield.
Thankfully, though, seriously chic 50-something beauty addict Elizabeth Ross and BAFTA-winning celebrity make up artist and UK Spokesperson for SUQQU Morag Ross, are here to share her best tips on how to wear makeup well. So when you're no longer in your 20s or 30s you can continue to look fabulous. These are beauty experts who seriously know their stuff!
Top makeup tips for older women
1. Eye cream is a must - "Always use an eye cream day and night, even if you didn't use one when you were younger. They are essential in promoting brightness and delaying lines and wrinkles." - Elizabeth Ross
2 . Invest in a good primer - "A good quality primer will help your foundation base stay on top of your skin, rather than sink into any lines," says Elizabeth Ross. "If you wear lipstick, use a primer and a lip liner that is the same shade as the lipstick - this will prevent any lipstick bleed into the fine vertical lines above and below your lips."
3. Nail your skincare routine - "As we mature, it becomes more and more important to focus on skincare for really healthy skin, and choosing products that suit our skin type. This is such an important part of makeup, because our skin provides the base for everything that we apply on top! I always recommend using more moisturising skincare products as sometimes as we mature our skin can become a little more dry." - Morag Ross
4. The secret to great eyebrows - "Eyebrows can often become sparse with age; ensure you use an eyebrow pencil no more that a couple of shades darker than your hair colour. Talking of eyebrow hair, always go lighter as you get older. Alternatively, consider getting them tattooed!" - Elizabeth Ross
5. Avoid matte foundation - "When thinking about makeup for older women, it is important not to use a matte foundation base: this will result in a 'flat' powdered look that even Barbara Cartland could not pull off with any degree of success. Choose a moisturising base for a more natural, slightly dewy look." - Elizabeth Ross
6. Highlight with care - "Never wear highlighter on your brow bone, especially if your eyelids have already begun to move south - no point drawing attention to them!" - Elizabeth Ross
7. Use eyeliner to your advantage - "If you are lucky enough to have deep set eyes, use eyeliner on your eyelids only, close to your lashes. However, if you are not so blessed and your eyelids disappear when your eyes are open, then use eyeliner on the waterline and outer corners only. This will help to enhance your eye shape without drawing attention to your lack in the lid department." - Elizabeth Ross
8. Do not be tempted to contour - "Use a sweep of bronzer, or a cream blush for a pop of colour." - Elizabeth Ross
9. Sun protection still takes priority - "Most importantly - wear SPF! Wear high factor suncream, or invest in a foundation with at least SPF 20. This will help to prevent wrinkles and even more crucially, skin cancer." - Elizabeth Ross
How to choose the right lip colour
Finally, the 10th top tip from the experts. How to choose the right lip colour when it comes to makeup for older women.
"As a rule of thumb, nude lips are always going to be gentler on the eye and the face," Morag explains.
"They can often make the lips look fuller. As our lips tend to seem to get smaller as we age, nude and paler colours work to counteract this to make them look full and plump."
"Generally, you should go for a more neutral eye so if you want to put on a brighter lip. This will look elegant and elevated.
"I suggest avoiding really strong dark colours, or anything with too much of an orange tone. An exception to this is that a bright, bold red can look absolutely amazing with silver hair! I'd recommend a red with a slightly blue undertone (as opposed to an orange) as this will make your teeth look whiter.
"Always embrace what you have and enjoy!" encourages Morag.