10 beautiful mother of the bride makeup looks, with tips from pro artists
Recreate these flattering mother of the bride makeup looks, from radiant skin to the perfect pink lip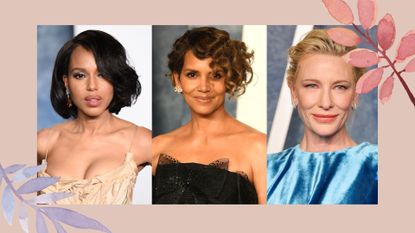 (Image credit: Future/Getty images)
A beautiful mother of the bride makeup look will help you feel your best on their big day. From soft and subtle to bright and joyful, there are so many ways to elevate your everyday makeup for a look that feels special and true to you.
There's no one-size-fits-all makeup look for the mother of the bride. While spring makeup looks are fitting for daytime and destination weddings, bold lips and smoky eyes reign supreme for evening or black-tie ceremonies. "I always say to the mother of the bride, to think of a time where you loved how you felt and start from there – what did you like about your makeup that day or night?" advises Saskia Wright, bridal makeup artist and former global pro artist at Charlotte Tilbury. You can then work to recreate, and ramp up, that look.
Whether you're doing your own makeup or enlisting the help of a professional, it's a good idea to do a little research first. To help, we've curated an edit of beautiful mother of the bride makeup looks to take inspiration from and asked expert makeup artists to share their best advice.
How to get mother of the bride makeup right
Consider the venue: The location, as well as your skin type, are important factors to consider when getting ready. "If someone has dry skin and the wedding is in a cool location, then we can really play on this to create a dreamy glowy finish," says Wright. If the wedding is somewhere hot, you may want to opt for matte products instead.
Enhance your features: "The main thing to think about is what feature you want to emphasize – do you like your eyes, skin, or lips to be the focus?" asks Wright. Your answer will then help steer you in the right direction. For instance, if it's eyes – you may want to experiment with a soft smoky eye or a statement winged liner.
Stay true to you: While it can be tempting to switch things up for a special occasion, the experts agree that it's important to still look like you. "Often the goal is for the mother of the bride to feel like the best version of themselves," says Cassandra Lusi, international makeup artist, and bridal specialist. "They will want to look back at the professional photographs and recognize themselves."
Practise makes perfect: "Having a trial or practicing before the wedding day is a great idea," says Cat Parnell, editorial and bridal makeup artist. "This will help to ensure that you're happy with the look and will allow for time to make changes if so desired."
10 beautiful mother of the bride makeup looks to try
1. Soft smoky eye
Love a smoky eye? Consider soft neutral shadows, as seen on Halle Berry. "A nice taupe or soft brown eye is really flattering," says Parnell, "especially with a little touch of shimmer pressed gently onto the lid, not the crease." The best cream eyeshadows work well here as they're easy to blend without the risk of fallout. "I love Hourglass Scattered Light Glitter Eyeshadow," says Lusi, "they're so pretty and not at all drying which is great for mature skin."
2. Pretty pink lip
You can't go too wrong with your best pink lipstick, as Nicole Kidman proves here. Fresh and easy to upkeep, this is a great choice for anyone after a soft mother of the bride makeup look. "A pretty coral or pink lipstick is especially lovely for a summer wedding," says Parnell. When choosing a specific shade, consider your outfit. "If you've got a dress with hints of pink in it, you could take that and bring it into your lip," suggests Parnell. "But be careful not to be too 'matchy-matchy', as this can look dated."
3. Fresh-faced complexion
The key to a beautiful mother of the bride makeup look? A radiant complexion. "The goal here is fresh-looking skin, nothing too heavy – something that will subtly even out skin tone and cover blemishes and pigmentation," says Lusi. "A good primer will do most of the work for you and it will act as an anchor for your best foundation." plus, keeping things simple here means you can go for something more statement with your wedding guest nail design. As for foundation, the experts agree that lightweight liquids work best. "Powder products can settle into fine lines or look cakey over the course of the day," warns Parnell.
4. Powerful red lip
Don't shy away from bold colors on the big day. "Adding a lip is a great way to glam up a look," assures Lusi. "Tie in a bright color from your outfit or nails if you're feeling confident," she continues. Parnell recommends experimenting with your best red lipstick – "this looks very chic." To boost longevity, make sure you line your lips first, "this will also minimize bleeding," adds Lusi. And don't forget to pack your lipstick in your clutch bag for those all-important touch-ups.
5. Romantic blush
The best blusher will perk up your look, adding a healthy flush of color that shouts wedding ready. "Soft blushes can instantly brighten your complexion," agrees Lusi. Follow her advice and go for your best cream blush or a liquid formula. "Cream and liquid products help the makeup look much healthier," seconds Parnell. To set your rosy glow in place, "apply a non-shimmery blush over the top for longevity," adds Lusi.
6. Fluttery lashes
In much the same way as a classic wedding nail design, a layer of your best mascara will instantly pull your whole look together. To avoid an OTT look, as well as clumping and flaking, apply one-to-two coats max. And between each layer, let the mascara dry. "Using one of the best waterproof mascaras is a good idea, especially for those teary special moments," says Lusi. Don't want the stress of mascara running? "Individual lashes are a great solution," suggests Lusi, who recommends going for short to medium length for a natural look. "They will define the lash line and create a fuller-looking flutter."
7. Soft matte base
"If someone has oily skin and the wedding is in France in July then I'd steer towards one of the best matte foundations with a good primer underneath," advises Wright. Note that, "having a matte foundation doesn't mean you can't add a natural glow on the cheekbones." For a soft matte base a la Cate Blanchett, begin with an even layer of a matte foundation before swirling on your best setting powder. Finish with your best highlighter (we recommend cream and liquid textures) pressed onto the high points of the face.
8. Popping bright lip
The main thing to consider when choosing your lip color is how that specific lipstick shade makes you feel. If, for example, bright colors boost your confidence – go for a popping hue. "Reds, peachy tones, and punchy pinks are always great options," says Wright. "However, I'd avoid mauves as they often dull the complexion." As for the finish, the pro artists agree that matte, velvet, and balmy textures work best. "Too glossy and the lipstick won't last," warns Lusi.
9. Dramatic smoky eye
You don't have to play it safe with a soft neutral eye. An intense smoky eye, as seen here on Viola Davis, is an easy makeup look that will elevate any mother of the bride outfit. When creating said smoky eye, the experts say it's important to pick your shadows wisely. "Whether it's greys, browns or taupe – make sure the shade suits you," says Parnell. Once you've chosen your color palette, begin with a medium base before adding a darker shade into the crease and blending it outwards.
10. Brushed-up brows
Never underestimate the power of well-groomed brows. Framing your eyes and accentuating your best features, strong, defined brows can complete your mother of the bride makeup look. "It's important that the mother of the bride feels comfortable and looks like themselves but just that little bit elevated," says Parnell. To enhance your natural arches, apply your best eyebrow pencil, filling in any sparse areas to create a fuller brow. Finish with a shaping gel to brush the hairs upwards and hold them in place.
Emma Stoddart is a freelance beauty journalist and self-confessed skincare aficionado with over five years' industry experience. Emma has worked for some of the UK's top women's titles including Net-A-Porter, Stylist and Grazia. Her experience spans online and print as well as producing editorial shoots with some of the industry's biggest artists, including Val Garland. Asides from working with them behind the scenes, she's also had the chance to interview the likes of Patrick Ta, Pat McGrath, and Sam McKnight for all their insider tips and tricks.