21 chic and modern wedding nail designs for every type of big day
From classic neutrals to elaborate nail art, these wedding nail designs are guaranteed to inspire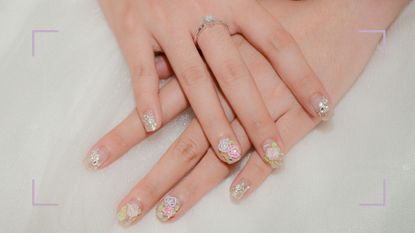 (Image credit: Future/Getty images)
Calling all brides-to-be, it's time to think about what wedding nail designs you might like for your big day. From intricate nail art to sparkly sheer shades, there are countless looks to choose from. And while it may not seem like an important decision, a beautiful manicure will show off your new ring and pull your entire look together.
Not sure where to start? Consider the top nail trends 2023 has to offer. "This season is all about understated nail designs and minimalist nail art like a reverse French manicure or delicate floral details," says Juanita Huber-Millet, founder and creative director at Townhouse. "Some brides love to add a touch of glamour to their nails with a chrome finish too," continues Huber-Millet.
If you want the most classically bridal mani possible, there is one clear frontrunner. "At Townhouse, the most popular request for bridal nails is definitely the French manicure. It's timeless, elegant, and beautifully complements every style of wedding dress," says Huber-Millet. Whether you want to go traditional with French tip nails or fancy switching it up with some nail art – we have all the inspiration you need.
Trending wedding nail designs
1. Glazed nails
Made famous by supermodel Hailey Bieber, glazed nails are everywhere right now. Glossy and pink with an iridescent shimmer, this nail trend has bride-to-be written all over it. Top tip? Ask your nail tech to use chrome powder for that super shimmery sheen.
2. Baby French manicure
Not exactly new, the baby French manicure has been a wedding nail trend for some time. A classic design, it combines a neutral base with a thin (hence 'baby') white tip that looks fresh and clean.
3. Spring florals
Take inspiration from J-Lo's floral spring nails and ask your manicurist to paint intricate flowers in bold or pastel shades on top of a neutral base. This manicure works especially well with a tailored white suit or simple wedding dress.
4. Lipgloss nails
Currently trending on TikTok, lip gloss nails are a minimal wedding nail design that can be achieved using sheer shades with a super glossy top coat. Flattering for all nail lengths and shapes, you can't go too wrong with this design.
5. Velvet nails
Go ultra-glam on your big day with dazzling velvet nails. Trending for a while now, velvet nails have a soft, multi-dimensional finish that can be created using a magnetic gel polish and magnet.
6. Vanilla French manicure
For a more natural-looking take on the classic French tip, opt for this trending Vanilla French manicure. Instead of pairing a pink base with a bright white tip, this new nail look combines more muted shades (including an off-white tip).
7. Gold foil details
Yes, gold foil is still trending. And absolutely, it is the perfect addition to any wedding nail design. Place on a neutral base or experiment with gold flakes scattered on top of ruby red. Anything goes.
Simple wedding nails
8. Neutral nails
After a minimal nail design? Invest in good nail care in the weeks and months leading up to your big day for healthy, natural nails that will look amazing with one or two coats of sheer, neutral polish.
9. Classic wedding white
Classic white nail designs are a popular choice for brides, and we can totally understand why. Chic and sophisticated, this hue is super flattering and looks great against a white dress. Top tip? Apply two or three coats for a solid white base that's streak-free.
10. Something blue
Fancy a pop of color? This pretty pastel shade is a flattering hue that can also be your 'something blue'. If you're wearing an open-toe shoe, learn how to do a home pedicure and apply the same shade onto toenails too.
11. Neutral ombre
For a softer take on a classic French manicure, try neutral ombre nails. Seriously sophisticated, this nail look won't detract attention away from your dress while still adding a point of interest.
12. Milky white
White comes in multiple shades. You can go for a classic, opaque white or you can choose something softer like this milky aesthetic. "Sheer, milk nails are an understated look that's very popular among brides," says Huber-Millet.
13. Soft sparkles
This also makes a great choice of wedding guest nail design, If the dress code is black tie. Go glam with a sparkly top coat applied on top of a sheer pink base or match the sparkle shade to your wedding band, be it gold or silver, for a pulled-together look.
14. Romantic red
Red isn't just for Valentine's day nails – this romantic shade is a great choice for brides who want to go bold on their wedding day. Pair with your best red lipstick to really make a statement.
Wedding nail art
15. Monogrammed mani
We have fallen head over heels for this monogrammed manicure that features the bride and groom's initials in gold foil on a single nail. Subtle yet striking, expect to see this accent nail art design everywhere this wedding season.
16. Abstract swirls
Have some fun and get creative with white abstract swirls painted onto a neutral base. For long-lasting results, we recommend booking in for bio sculpture nails and asking your manicurist to recreate this design.
17. Pearl embellishments
Elevate your French manicure with pretty pearl embellishments, as seen here. This nail look works especially well when paired with a simple wedding dress and a pearl embellished veil (or pearl earrings).
18. Love heart details
You needn't stick to creamy whites and soft neutrals on your special day. For a fun, love-themed wedding nail design, ask your manicurist for red hearts in various shapes and sizes, painted onto a pink base. It's bold, fun, and perfect for a destination wedding.
19. White marble nails
If you're feeling nail art but don't want anything too OTT, consider marble nail designs. Soft yet intricate, milky marble nails with gold foil cuffs look seriously chic and will suit most nail shapes and lengths.
20. Daisy details
Daisy nail art is a trending spring nail design that's also ideal for a summer wedding. Ask your nail technician to paint several dinky daisies onto each nail. If you want to attempt this at home, you'll need a dotting tool.
21. Leaf design
A unique wedding nail design, white leaf details on a sheer base look dainty and chic. Pair with glitter, pearls or gold foil to make more of a statement.
Emma Stoddart is a freelance beauty journalist and self-confessed skincare aficionado with over five years' industry experience. Emma has worked for some of the UK's top women's titles including Net-A-Porter, Stylist and Grazia. Her experience spans online and print as well as producing editorial shoots with some of the industry's biggest artists, including Val Garland. Asides from working with them behind the scenes, she's also had the chance to interview the likes of Patrick Ta, Pat McGrath, and Sam McKnight for all their insider tips and tricks.