55+ spring nail designs for 2023, from pastels to floral nail art
Get inspired by our edit of fresh spring nail designs – with on-trend ideas for every nail length and skin tone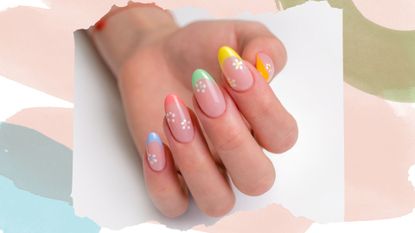 (Image credit: Future/Getty images)
The time has come to ditch moody hues in favor of brighter and lighter spring nail designs. We're talking pretty pastel shades, colorful French tips, and ditsy daisy art.
And what are the spring nail trends 2023 has to offer? "Pink is everywhere right now," muses Juanita Huber-Millet, Townhouse founder and creative director, "across catwalks, beauty products, and now nails." For spring, "expect to see pastel pinks finished off with chrome powder for the ultimate glazed finish." Other popular nail designs for spring include micro-manicures, "from dainty French tip nails to accents of tiny flowers, minimalist shapes, and dots – this is one of the chicest trends that works as a nail design for short nails too."
So, whether you know how to paint your nails like a pro and fancy a DIY session, or plan on booking your favorite nail technician to do the hard work for you, our beauty team has curated the hottest spring nail designs around. Warning: you're going to want to try them all – but luckily, spring's just getting started!
Spring nail designs – 55+ looks we love
Floral spring nail designs
Florals for spring may not be groundbreaking, but they are beautiful. "Floral nails can be created both with gel polish, regular polish, or even by adding fresh flowers," says Iram Shelton, pro nail artist, and Max Factor ambassador.
"This is a trend we'll be seeing more and more of– it's so pretty and can look great as a full nail art look or even just as an accent nail." Longer-wearing manicures such as gel and shellac will help trickier designs stick around (wondering what are shellac nails? Our guide can help with that) Intricate designs will benefit from some extra length, so a builder treatment such as Biab nails or polygel nails might also be a smart idea.
1. Subtle mini flowers
A simple but effective way of bringing some fun spring colours into your life. The multi-color flowers across the nails can be easily achieved at home with either a dotting tool or even a cotton bud.
2. Center stage florals
Loud and proud. Despite being simple in design, these bold and bright nails definitely make a statement. These can work for both short and long nails with endless color scheme options to choose from too.
3. Mosaic florals
These nails are full to the brim with florals. Pictured here with a matte finish and subtle 3D effect, the intricate design may be hard to master at home but is definitely one for your next salon visit.
4. Pressed florals
These nails will definitely keep you in touch with nature. With delicate real dried flowers layered in between gel and gold leaf, this is an extra special addition to a gel extension manicure.
5. Delicate florals
Combining a hint of gold leaf and the most delicate and beautiful nail art, this is one of the most sophisticated floral spring nail designs we've spotted.
6. Accent florals
With just a subtle hint of flowers on neutral-toned nails, this is a great look for anyone who wants floral nails that aren't too floral.
7. Floral French
Focusing the floral design just to the tips results in the most amazing spring-inspired French manicure look. This is a tricky look to achieve that looks best on long, glossy nails, so consider having this as a part of your next gel or acrylic manicure in the salon.
8. Floral base
Another subtle nod to florals without going over the top. When you fancy a switch-up, try focusing your florals on just the half-moon at the base of your nail.
9. Ring finger floral
Sometimes just a suggestion of floral is all you need, and in those times try this floral accent on the ring finger only. We love this spring nail design where a flower has been switched for a dandelion.
10. Jewelled florals
Add a hint of texture and sparkle by having a gem applied as the center of your floral nail design. Learn how to style rings in a stack to set off this pretty style.
11. Pastel florals
Is there anything more spring-like than pastels and florals together? We think not. The squared-off edges of these nails keep the look contemporary and cool.
12. Floral frames
For a really unique take on floral nails (or any spring nail designs for that matter) take the detail around the edges of the entire nail, creating a picture frame-like effect. Ensure nails are in tip-top condition for the best results by learning how to repair damaged nails.
13. Gothic florals
Who says florals can't have a dark edge to them? This is so striking. We love it on top of a black base, plus it makes the design stand out even more.
14. Co-ordinated florals
By tying in your base nail color with your nail design, your mani will look co-ordinated but not overly twee.
15. Fun florals
A simple flower motif with a cheeky smiley face is one of the more achievable floral spring nail designs we've seen. Plus, if this design doesn't bring a smile to your face, then we don't know what will.
16. Layered florals
We're obsessed with these statement nails. Our advice? Save this one for your next nail appointment and ask your technician to layer flowers in white, pale pink, and fuchsia shades. This look works best on long oval or squoval nails so you may wish to have acrylic nails applied for extra length.
17. Daisy nails
Daisy nail art is one of our favorite nail designs. It's fresh, pretty, and perfect for spring. This is a nail look you can do DIY – all you need is a dotting tool. "Add a dot in the center, then follow the shape of a daisy creating more dots around the center," says Shelton.
18. Fluoro flowers
Go bold with neon bright florals painted onto a barely-there base. We're talking zingy lime, popping pink and coral orange. These shades are guaranteed to spark joy and will definitely put a spring in your step.
19. Funky florals
Combine two of the hottest nail trends of 2023 with this floral and swirly design. To try this at home, start with abstract swirls painted onto a natural base. Next, use your dotting tool to create flowers.
Pastel spring nail designs
Another springtime classic, pastel nails feel pretty and optimistic as the days get longer, lighter, and brighter. If pastels are a bit sugary for your liking, experiment by combining trending creamy milk nails with pastel nail art effects to add a modern edge to this look.
One predicted nail trend for spring is iridescent, glazed nails in pastel hues. "2023 will see full chrome manicures in a rainbow of colors," confirms Tinu Bello, senior brand ambassador for Mylee Professional. Think pale pink, pistachio green, and sunny yellow. Other pastel nail art effects include stripes, swirls, and gradient nails.
20. Pastel swirls
A subtle and elegant way of bringing in some spring pastels. These abstract swirls can be achieved at home with a thin detailing nail brush however they look most effective on longer almond-shaped nails.
21. Dual toned pastel hearts
These nails really give you the best of both worlds, combining pastels and bold tones as well as French tips with cute mini hearts. With so much detail this design works best on longer acrylic nails that have lots of nail bed space to use.
22. Vanilla chrome
If you loved the glazed nail trend then you'll love these! These trending Vanilla chrome nails are perfect for spring with the soft pastel yellow base being brought to life by the use of chrome powder over top.
23. Psychedelic pastel heart
These are a groovier take on spring pastels with a statement heart painted on the middle finger. The design is no doubt very tricky and intricate so you may want to leave this one to your nail tech.
24. Ombre pastel
This ombre meets watercolor nails look is probably best left to the pros, but once achieved it's like walking around with a permanent sunset on your hands, and there's nothing wrong with that.
25. Negative space pastel
Sometimes the mani magic happens when there's no polish at all, like the gorgeous negative space in this spring nail design. Use nail art stickers for ultra-neat spaces.
26. Pastel marble
Adding a marble effect to your pastel manicure gives it a slightly more sophisticated and glam feel. This looks best with a glossy finish, so if you know how to do gel nails at home we'd recommend going down that route.
27. Colour block pastel
One of the easiest ways to create a striking look with minimal effort is by simply choosing a different pastel shade for each finger. Try a powdery matte topcoat for extra cool points. In a rush? Our guide on how to dry nail polish fast can help you hurry things along a bit.
28. Candy stripes
Add some confectionary-inspired detail with candy stripes over a pastel base. Skinny striping tools (or in a pinch a slim eyeliner brush) will help you achieve neat lines.
29. Mint green
Some of the best spring nail designs are also the simplest. This cool minty green hue suits deep skin tones particularly well and would make a fresh and modern springlike mani. If you know how to do a home pedicure, it looks great on toenails too.
30. Muted pastels
Pastels don't always have to be super sweet and saccharine in tone, slightly more subtle hues are just as spring-like and have a grown-up edge.
31. Two-tone pastel
Why wear one pastel shade, when you can wear two? This looks great on short-round-ish nails and works as a fun wedding guest nail design. Pick contrasting shades opposite each other on the color wheel for an eye-catching effect.
32. Rainbow pastels
Yes, it may slightly resemble something from Care Bears but why should that be a bad thing? This is one of the easier nail art spring nail designs we've seen (providing you've got a steady hand) Plus, we love the cloud detail.
33. Pastel glitters
A simple sparkly design that combines muted pastels with glitter to create a slightly more grown-up look. These nails would be fabulous for a spring wedding.
34. Speckled pastels
Take your cue from our favorite Eater treat (mini eggs, obviously) and dot brown and white flecks on top pastel shades before finishing with a matte topcoat. The most delicious-looking Easter nails.
35. Lilac nails
Lilac and lavender shades work well on all nail shapes, all year round, but especially in spring. And this particular hue looks incredible on darker skin tones. For a solid, opaque finish, paint on two to three coats in thin layers.
36. Pastel nail art
Why stop at one nail art design when you can experiment with five? Take inspiration from the nail look above and ask your technician for hearts, stars, swirls, and flowers in several pastel shades. Or, mix and match a selection of the best press on nails.
37. Pastel polka dot nails
Love a simple, minimalist design? This polka dot pastel nail look is for you. Try this at home with a dotting tool or a bobby pin, or request dots in-salon and opt for bio sculpture nails for a long-lasting look.
38. Glazed pastel nails
Tap into two nail trends with one look and try glazed nails in a soft pastel hue. Our favorite shades? Lilac and sage green. For that glossy, iridescent shimmer, ask your nail expert to use chrome powder.
French manicure spring nail designs
Classic French tip nails never go out of style and for spring 2023, expect to see them everywhere. "Gone are the days where a French meant a simple white tip," says Charlotte Knight, nail tech and founder of Ciaté London, "now the term is being used to describe much more 'out there' tips, minimal tips, and everything in-between." The classic French also makes a beautiful choice of wedding nail design, for brides and guests alike.
You can experiment with French tips at home in a range of different ways. "Use tape to section off your tip and paint on your desired color or get some practice in drawing your tip freehand with either the varnish brush or a small detailer brush," says Knight. From pastel tips to negative space tips, find your next nail look below.
39. Heart-dotted tips
A simple but adorable addition to the classic French. This romantic design can be easily achieved at home with a small detailing brush and could even be swapped out for a dainty flower or star.
40. Psychedelic tips
This colorful, trippy design couldn't be further from the traditional French tip and we love it. Its vibrancy is perfect for spring and looks most effective on a mid to long almond nail.
41. Irregular tip
This dual tone design works brilliantly on shorter nails and is one you can execute at home with either a gel kit or regular polish and glossy top coat.
42. Cloud tips
We love this dreamy nail art design, which looks most effective on longer acrylic or grown BIAB nails. Despite its detailed design, you can mix this look up with different base colors, we think a pastel pink would be perfect for spring.
43. Two tips
This gorgeous combo of red tips and pink half-moon bases looks so great for spring. Begin with a clear base coat to help the bolder polishes adhere, then finish with a glossy topcoat to seal them in.
44. Pastel tips
Looking for a way to incorporate your signature French mani into spring nail designs? Switch up the classic white tip for a pastel, or selection of pastels. Simple!
45. Curved tips
Instead of going for regular 'straight across' tips, add a slight twist at the sides for a more contemporary feel.
46. Tortoiseshell tips
If bright colors are just not your thing, then this tortoiseshell pattern is just what you need and still feels perfect for spring. This is another design that's definitely trickier to achieve at home than it is with beauty treatments administered by a pro.
47. Rose gold tips
Metallics are perfect for spring and softer than the usual white. We love this bronze hue on warm skin tones, or if you're cooler, try champagne or rose gold.
48. Milky nude dotty tips
Looking to keep a classic white tip but change it up slightly? Try these dots instead! Apply an on-trend milky nude base coat, then use varying amounts of pressure for each dot to achieve a nice mix of sizes.
49. Bow tie tips
If you have a spring function to attend, may we introduce you to the most perfect 'black tie' mani there is! This looks striking against a white nail but works with any light-colored base, including nudes and pastels.
50. Fluoro tips
The sun is slowly starting to appear, which means two things: look out your best facial sunscreen and get ready to welcome fluoro shades back into your life. We love the gradient of color here that slightly softens the look.
51. Double tips
We're not going to lie, this is one that's probably best left to the professionals because it requires a seriously steady hand. But my goodness is it worth it for a sophisticated French tip that'll have your friends cooing with envy.
52. Nude tips
Opting for a flesh-toned tip is actually far more flattering for your hand and less severe than a white one. If you're a fan of Kate Middleton's nude nails then you'll love this, go one or two shades deeper than your skin tone to create a soft contrast.
53. Elevated French tips
There's nothing amiss with sporting a classic French manicure for the whole of spring, but if you are looking for a subtle difference then add a metallic band between the white and your base. As long as you've got a steady hand and a skinny brush this one should be relatively easy to achieve.
54. Faded lavender tips
Purple French tips are having a major moment this spring. For a contemporary twist on this fun look, opt for a faded lilac French manicure instead. To do this at home, use a sponge to apply the polish to the tips for a diffused finish.
55. Reverse French manicure
One of our go-to white nail designs, switch up your classic French manicure for spring and flip the white tip to the base of the nail to recreate this reverse French mani. If you prefer a pop of color, go for greens, purples, or pinks instead.
56. Negative space pastel tips
Thin pastel tips over a sheer neutral base always look chic. To take it one step further, experiment with a negative space design where the French tip is outlined instead of being filled in.
57. Green gradient tips
Can't find the perfect green hue? Experiment with five to recreate this gradient look. "I love these designs during the spring and summer months," says Shelton, "you can start off with a dark green tip on one nail and work through to a lovely bright green."
---
Sign up to our free daily email for the latest royal and entertainment news, interesting opinion, expert advice on styling and beauty trends, and no-nonsense guides to the health and wellness questions you want answered.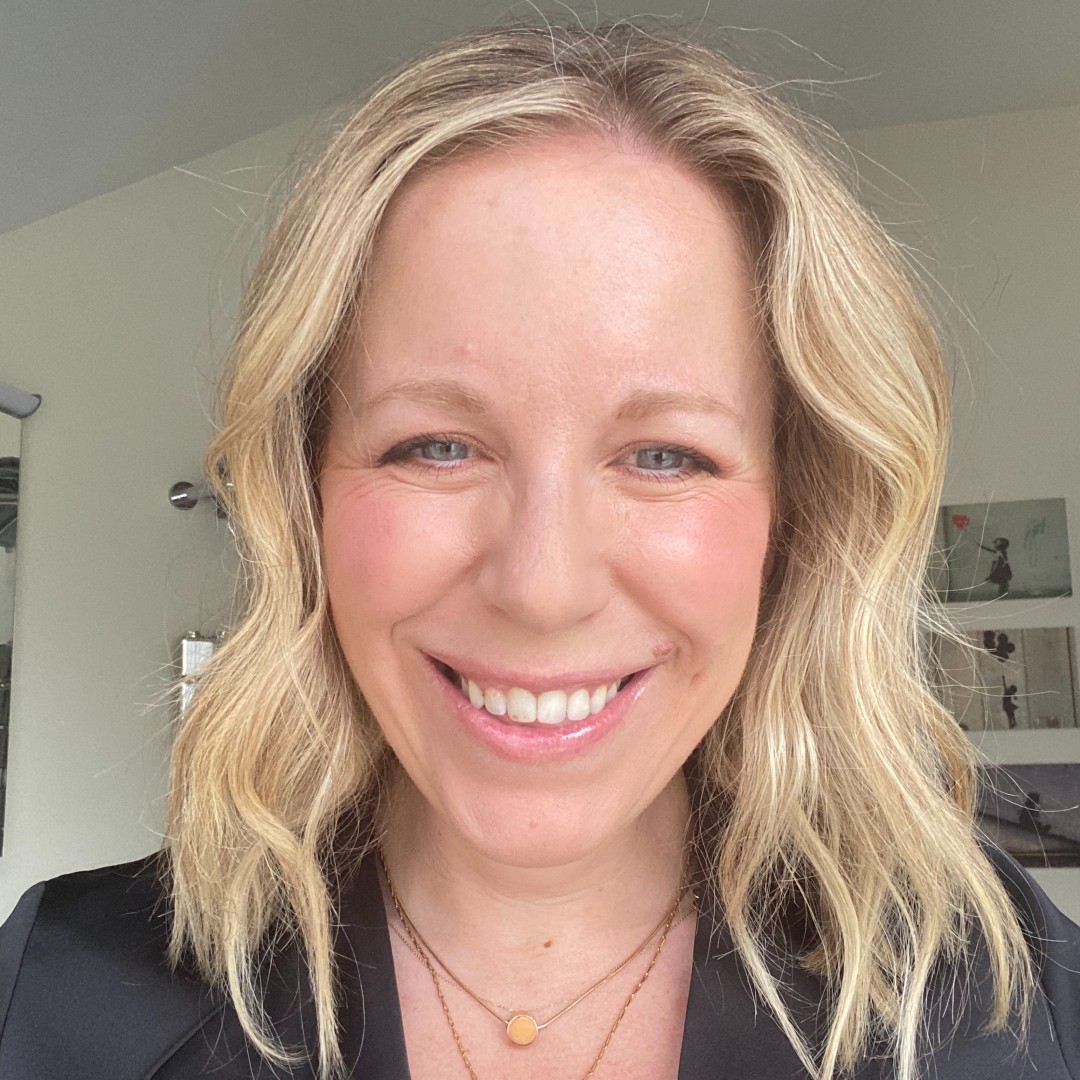 Freelance Beauty Director
Sarah-Jane Corfield-Smith has worked in the beauty industry for more than 15 years and, as well as woman&home, has contributed to titles such as Stylist, The Daily Mail and The Times.

As a mum of two little girls she has limited time to spend on herself, so if you're looking for hard-working multi-tasking products, she's the one in the know.

Her top three products she has on her at all times are a glow-giving tinted moisturizer, brow pencil and a tinted lip balm. Oh, and she's never far away from a hydrating face mist.