44 Easter nails ideas to try in 2023, from pastels to cute nail art
Be inspired by our Easter nails inspiration edit – including easy-to-do speckled chocolate egg designs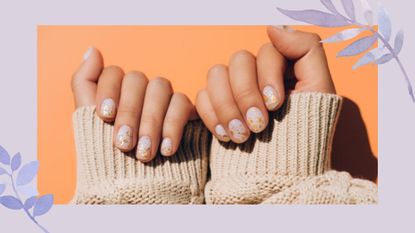 (Image credit: Future/Getty)
woman&home newsletter
Sign up to our free daily email for the latest royal and entertainment news, interesting opinion, expert advice on styling and beauty trends, and no-nonsense guides to the health and wellness questions you want answered.
Thank you for signing up to Woman & Home. You will receive a verification email shortly.
There was a problem. Please refresh the page and try again.
Put aside chilly, muted nail shades and opt for joyful Easter nails instead. Think pretty pastels that will see you through the long weekend and beyond, as well as speckled egg-inspired nail art for those who love this time of year.
"When I think of Easter nail trends, I think of pastels," says Iram Shelton, Max Factor UK Nail Ambassador, and manicurist. "They're soft, calming colors that subtly nod to Easter without feeling over the top." As well as being ideal for spring, pastels are also great summer nail colors, so investing now means that you'll use these shades for months to come.
If you already know how to paint your nails at home, pick a design that's easy enough for DIY. Or, if you fancy something intricate like a pastel baby French manicure, save this page and show your favorite design to a nail professional. Scroll on down for our edit of Easter nail inspo, guaranteed to put a spring in your step.
44 Easter nails ideas for spring 2023
1. Easter egg nails
For a literal take on Easter nails, why not try recreating a speckled egg in homage to our favorite sweet treat (the chocolate Mini Egg, of course). Simply apply your chosen base color before painting speckles on top. For a step-by-step guide, scroll to the end.
2. Mini easter egg nails
If you're up for the challenge, give this unique mini egg nail design a whirl. Begin by painting on two coats of a pink-toned base then use a thin brush or nail tool to recreate this sweet look.
3. Pink easter egg nails
Update your fresh pink manicure with a statement Easter nail on each hand. We're talking lines, dots and zig-zags in pretty Easter shades.
4. Chocolate easter egg nails
Looking for neutral colors but still want an easter theme? These delicious chocolate easter egg nails are perfect. It's an easy DIY project, using a fine dotting tool and a quirky conversation starter.
5. Creme Egg nails
Creme Egg fans assemble! As scrumptious as they look, you can't eat these but this bold nail art design will be sure to get you noticed. If you are DIY-ing, a very fine striping tool will help, otherwise, this look is probably best in the hands of the pros.
6. Chocolate truffle nails
This delectable selection of 3D milk chocolate truffle nails might remind you of enjoying a selection box all to yourself during Easter, but we'd recommend enlisting the help of others if you want to achieve it. Alternatively look out for press-on chocolate nails or wraps to cheat the look from home.
7. Easter egg tips
Tap into the Easter egg trend with speckled French tips in an array of classic mini egg shades. For even more Easter vibes, why not add a set of bunny ears into the mix.
8. Red and white speckled mix
Not just for Easter, this cool and easy-to-DIY nail look combines ruby red nails on one hand with speckled white and black nails on the other. So chic.
9. Mini egg French tips
So sophisticated, we adore these egg-inspired French tips. To add a golden touch, chrome pigments have been used to paint on a line, separating the tip from the rest of the nail.
10. Marbled mini egg manicure
How pretty is this marbled manicure? Pale pink swirls combined with a white-speckled nail art look romantic and classy. If you want to recreate the look yourself, learn how to do gel nails at home for long-lasting results.
11. Grey and yellow speckled nails
Grey and yellow make for the perfect color combination. Case in point: this seriously chic manicure with speckled nail art on top of an alternating base of pastel yellow and muted grey.
12. Pastel Tips + Mini Eggs
Love a classic French manicure? Mix it up for Easter with a speckled egg-like base and pastel tips in yellow, white, and pink.
13. Sophisticated Egg Nails
A subtle nod to Easter, these speckled matte nails in dark green and soft cream shades make for the perfect sophisticated manicure.
14. Floral Easter nail art
"Pastel French tips, floral details, and a sprinkling of dots are my favorite nail art looks for Easter nails," says Shelton. Fancy experimenting with Easter nail art at home? "Flowers are really pretty and super easy to recreate."
15. Easter baby chick nails
How adorable are these? Embrace your inner child with these baby chick nails, they have the perfect pop of color for Easter and work best on a square shape or squoval nails.
16. Pastel chocolate nail art
Looking for neutral tones with a nail art twist? Try these milky pastel chocolate nails. You can include as much or as little art as you like depending on whether you want something subtle or more statement.
17. Easter bunny nails
The Easter bunny has arrived! This adorable design combines a simple pop of color with cute bunnies and carrots for a look that screams Easter.
18. Chicken feet nails
The name might sound strange, but the design is elegant and an easy bit of Easter nail art to DIY at home. Pick any nail color you fancy, apply two coats then once dry use a striping tool to add in little chick footprints.
19. Baby blue French tips
For a spring update on classic French tip nails, opt for baby blue tips instead of white. To take it up a notch, ask for these cute micro stars along the fingernail moons (aka the rounded shadows at the base of your nails).
20. Daisy nail art
Florals are a signature spring nail design that always looks chic. Take inspiration from these pretty pastel daisies in varying shades.
21. Abstract swirls
Swirls of pretty polish are an easy way to dial up your Easter nail looks. Our top trick? Try painting on different shapes and swirls for an organic, natural finish.
22. Beautiful bunny tips
How adorable are these bunny rabbit tips? Best for almond-shaped nails, we recommend saving this one for your next salon visit.
23. Love heart details
An Easter update on our favorite Valentine's Day nails, Shelton showcases her go-to Max Factor pastel shades with this Easter French manicure, featuring cute love heart details. We're obsessed.
24. Asymmetrical Stripes
A modern twist on a classic French manicure – ask your nail artist to paint on asymmetric stripes, extending down the length of the nail on one side. For ultimate Easter vibes, opt for springy pastels.
25. Painterly Pastels
With painterly strokes in pink and blue hues topped off with gold foil details – this luxurious manicure is perennially chic. Note that the gold accents will really pop against a neutral base.
26. Beige and browns
Chocolate fan? This is a simple (and delicious) design for Easter that will flatter any skin tone, with a mix of matte and glossy finishes that adds extra interest.
27. Orange and pink nails
Looking for a way to elevate your pastel nails for Easter? These orange and pink ombre nails are a great combination for any celebrations you have planned over the long weekend.
28. Veri Peri purple and yellow nails
Looking for a unique combination? Periwinkle was Pantone's color of the year 2022, and matched with buttercup yellow makes a modern and fresh match that's a show-stopper for Easter 2023.
29. Pastel skittle nails
This mood-boosting manicure is so easy to re-create at home. Simply select five different shades and paint them onto each nail. We especially love the peach and purple.
30. Milky neutral nails
Milky neutral nails have been trending for some time and we can see why. It creates a healthy 'your nails but better' finish that looks good all year round. For best results, follow our 11 essential nail care tips ahead of your manicure to get your nails in tip-top shape.
31. Bold blue
Dubbed 'Bader blue', this nail polish (that matches a certain £215 rich cream) has taken over our social media feed, spotted on myriad A-listers and nail influencers alike. Bold and bright, this is the season's 'it' nail color.
32. Tangerine dream
Another must-try color, orange (in all its varieties) is set to make a statement this season. Tap into the trend for Easter with vibrant tangerine talons. And, for extra pizzazz, learn how to style rings to match your nails.
33. Mellow Yellow
Looking for a sunny, mood-boosting shade for your Easter manicure? Go for a pastel yellow. This color represents energy and happiness and looks super flattering on all nail shapes and lengths.
34. Matte Blush
Blush pink is a go-to nail color all-year-round – to give this shade an Easter update, why not opt for a soft matte finish instead of gloss.
35. Blue Gradient Manicure
Why stick to one color when you can experiment with five? This gradient manicure is easy-to-do yet looks impressive. All you need are five shades of varying blues to recreate this nail look.
36. Classic Easter egg nails
This manicure almost looks good enough to eat and works beautifully on shorter, rounded nail shapes. Matte, speckled, and in a variety of soft sweet shades, this is the ultimate Easter nails design.
37. Pretty polka dots
If you've ever managed snowflake nail art using a nail dotting tool, you'll easily be able to recreate this moody polka dot design that's a less literal take on Easter egg nail art.
38. Simple Easter nails
This design is a good pick for short natural nails. It's fairly straightforward (especially if you're a dab hand at nail art) and looks impressive. Use a glossy gel polish to create a very opaque base, then carefully draw on your stripes and bunny design.
39. Mix and match green nails
As you may have already spotted, green is a go-to color trend for spring 2023. Have some fun and experiment with solid shades as well as dotty nail art for a fresh finish.
40. Pastel Easter nails
Easter is a great excuse to experiment with colorful hues – from bold brights to pretty pastels. If you can't decide on one shade, follow Shelton's advice. "I love a pastel skittles manicure where you paint each nail a different color," she says. "It's a great way to take your basic manicure one step further."
41. Pistachio points
Pale pistachio green is the perfect polish for Easter. It's a fresh, fun, and feel-good shade that goes with any summer wardrobe.
42. Lilac lover
If you like lilac, you'll love this pale purple manicure that has spring written all over it. A subtle statement that's not overly bright, this is a great color choice for Easter nails that looks equally as good on toes if you know how to do a home pedicure.
43. Skittle nails
This is one of the best nail designs for short nails as it's so striking. This skittles inspired manicure is also ideal for those of us who aren't color shy. Incorporate primary colors for maximum impact.
44. Green and Pink Easter nails
Green and pink are a fun and fresh pairing that gives a nod to Easter without looking OTT once the long weekend is over. Try this with a long-wearing nail service like Bio Sculpture nails in the salon and they could be your month-long spring man.
---
What color nails should I get for Easter?
"Typically, we see lots of greens, pale pinks, yellows, and lilacs at this time of year," says Rianna Basurto, marketing specialist at LA nail salon BellaCures, who adds that these colors capture that spring feeling perfectly. "What better way to embrace the change in seasons than with a joyful nail shade?"
How to do easy Easter nails
"An easy way to do Easter nails at home is simply by picking the right color," says Basurto. If, however, you'd like to take your mani to the next level, there are some easy nail art options, "such as classic French or flower details." For a French tip, start by prepping the nails. "Next, apply a nude shade that suits your natural skin tone," says Basurto. Let the base dry, then "use a thin brush and your choice of polish (it doesn't need to be white) to carefully line the tips." Finish with a top coat.
"As for a flower design, these are fairly simple depending on the look you are going for," assures Basurto. "All you need is a dotting tool, and with your choice of polish place five dots in a circle, with a different colored dot in the middle. Repeat this step until you've achieved your desired look, and don't forget to finish off with cuticle oil for maximum shine!"
How to do Easter egg nail art, step-by-step
Fancy giving mini Easter egg nail art a whirl? Follow Shelton's step-by-step guide:
"Begin by painting each nail a different pastel color as your base."
"Once you've aced your base, decant some black nail polish onto a nail art palette, or some foil."
"Then, using a fanned nail art brush, dip the brush in polish and gently dab it over the base to recreate the speckled effect. You will need to do this a few times to cover the entire nail and remember, it doesn't need to be perfect, the speckles should be a variety of shapes and sizes."
"Add some larger dots using a dotting tool or the end of a hairpin."
"Finally, apply a matte topcoat to seal the design."
Our beauty editor's favorite Easter nail kit...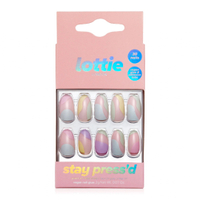 Lottie London Stay Press'd Press On Nails in Pastel Dream | RRP: $6.48/£6.95
If you love mixing up your nail look, have some fun for Easter and try these swirly pastel false nails from Lottie London. The soft almond shape is super flattering and the pack of 30 comes with vegan nail glue or adhesive pads so you can take your pick.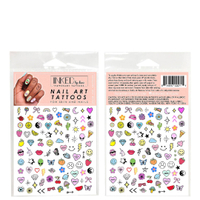 INKED by Dani Colour Nail Art Pack | RRP: $10/£7.99
Forget DIY nail art, invest in these hand-drawn nail tattoos, and take your pick from over 100 designs. We'll be experimenting with flowers, fruits, and hearts this Easter. To use, press onto nails before wetting the back of the paper and peeling it off. Easy!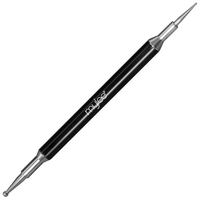 Mylee Nail Art Accessory - Stainless Steel Dotting Tool | RRP: $5/£5
With a dual-ended design, you have the option of two differently-sized dotters (3mm and 1mm) to create various Easter nail designs. For intricate nail art, like flowers and dots, use the small end. For egg-shaped nail art, use the larger end.
Sign up to our free daily email for the latest royal and entertainment news, interesting opinion, expert advice on styling and beauty trends, and no-nonsense guides to the health and wellness questions you want answered.
Emma Stoddart is a freelance beauty journalist and self-confessed skincare aficionado with over five years' industry experience. Emma has worked for some of the UK's top women's titles including Net-A-Porter, Stylist and Grazia. Her experience spans online and print as well as producing editorial shoots with some of the industry's biggest artists, including Val Garland. Asides from working with them behind the scenes, she's also had the chance to interview the likes of Patrick Ta, Pat McGrath, and Sam McKnight for all their insider tips and tricks.