25+ Valentine's Day nail ideas to inspire your next manicure
Fall in love with these romantic Valentine's Day nails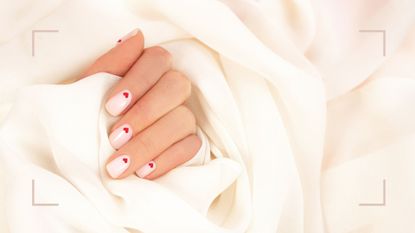 (Image credit: Future/Getty images)
woman&home newsletter
Sign up to our free daily email for the latest royal and entertainment news, interesting opinion, expert advice on styling and beauty trends, and no-nonsense guides to the health and wellness questions you want answered.
Thank you for signing up to . You will receive a verification email shortly.
There was a problem. Please refresh the page and try again.
What's not to love about Valentine's Day nails? From sophisticated solid shades to adorable nail art, there are so many ways to elevate your standard manicure for February 14th. We've rounded up the best nail looks that are guaranteed to steal your heart.
"Valentine's Day nail designs are the perfect way to get prepped for the most romantic time of the year without feeling over the top," says expert manicurist Sophie Louise Martin. "Sometimes just a solid shade of pink or red can be the perfect nod to our valentine, or if you're feeling adventurous there are plenty of nail art designs to try out."
If you already know how to paint your nails like a pro and prefer to do it alone, pick a design that's easy enough for DIY (don't worry, we've got lots of options). And while we're planning ahead, many of these simple, romantic shades work just as well as summer nail colors—so now's the perfect time to invest. Other Valentine's Day designs, like the pink baby French manicure, are a little more intricate and may require a helping hand from your favorite nail professional.
Whichever route you decide to go down, take inspiration from our edit of the most romantic Valentine's Day nails—there's something for everyone to fall in love with.
Valentine's Day nails: 25+ looks we love
Valentine's day nail art
Nail art doesn't have to be tricky or time-consuming, simply adding a cute frosty topcoat or sparkle tips can take your Valentine's Day nails to the next level. If you don't have a steady hand, screenshot these images and book in with a pro.
1. Love heart accents
Wear your heart on your hands with the symbol of Valentine's Day: a love heart. Recreate the look with micro red hearts painted onto a fresh, barely-there base. For best results, follow our 11 essential nail care tips ahead of your manicure to get your nails in tip-top shape.
---
2. Pink and red love hearts
In keeping with the love heart theme, ask your manicurist to experiment with shapes and sizes for a fresh, modern take. Fancy trying this at home? Learn how to do gel nails at home for a look that will last.
---
3. Frosted nails
Take inspiration from frosty Christmas nail designs and give them a romantic sparkly pink twist. Peacci's Valentina is a beautiful light candy pink shade with a shimmer reflection. Paint on two coats for a super pigmented finish.
---
4. XO Nails
If you mastered snowflake nail art, you'll have no problem recreating this 'XO' design. All you need is a thin brush or dotting tool, along with a steady hand, to draw on the letters and cutesy love heart.
---
5. Sparkly framed nails
As with eyeshadow looks, a little bit of glitter goes a long way for Valentine's Day nails. Case in point: this chic design uses silver sparkly polish to frame neutral nails. Feel inspired? Note that this look works best on square-shaped nails, like the ones pictured above.
---
Red Valentine's Day nails
What could be more romantic than red? Much like the best red lipstick, a classic red nail looks great at any time of year but is particularly apt as a subtle and classy nod to Valentine's Day nails.
6. Red heart tips
For a flirty take on the classic French mani, try these beautiful red love heart tips. This one is probably best left to the pros, and to nail the design, ask for your nails to be filed into an oval or pointed shape that will act as the 'V'.
---
7. Red abstract nails
This abstract nail art is cute enough to wear on Valentine's Day and beyond. To master the mani, file your nails into an almond shape before you (or a professional) start painting—this shape will elongate your nails and compliment the design.
---
8. Deep red tips
There are so many ways to mix up a classic French manicure. One of our favorites is opting for a colorful tip like this deep wine shade. If you're attempting this at home, start by painting your base color before drawing a curved line, using a thin brush, along the smile line, and filling in the tip.
---
9. Scarlet half moon
Half moons are trending and we can totally see why. This simple yet intricate design involves painting polish around the rounded shadows at the base of each nail (otherwise known as the lunula). To make the lunula pop, opt for a cherry red.
---
10. Rouge glitter nails
Glitter is an easy way to dial up party makeup as well as Valentine's Day nails. All you'll need are two polishes—one with a glitter finish and one that's opaque—to recreate this fun, glitzy statement nail look.
---
Pink Valentine's Day nails
Pink, pink makes the boys (or girls) wink! It's also supremely flattering and a sweet way to tip your cap to V-day without going too far.
11. Pink swirly nails
Swirly nail art has taken over our social media. For a pretty design that's ideal for Valentine's Day nails, take your cue from these pink waves. To nail the look at home, start with a light pink base, then once it's dry, paint deep pink waves on top using a thin brush.
---
12. Ombré pink nails
Ombré is a type of manicure whereby a light color at the base of the nail gradually blends into a darker color towards the tip. To do this yourself, try using a slim makeup sponge for small areas to press on the darker shade and finish with a clear coat of polish.
---
13. Two-tone pink waves
How beautiful are these pink wavy nails? This color combination of blush pink and magenta looks seriously chic. As with the swirls, you'll need a thin brush to paint on the waves and a steady hand (or save this look for the pros).
---
14. Pink cuff stripes
Cuffed nails always look cool. The minimalist style features a solid base of color (you can't go wrong with a pale pink) topped off with a slim arc of a different color around the cuticle. To dial it up, try painting on two arcs of color for a tonal rainbow look.
---
15. Pink gradient nails
After a simple style, that's easy to DIY? Turn your attention to this effortless gradient mani. All you need are five polishes in varying shades of pink, starting with the lightest on your thumb, to recreate the look.
---
Simple Valentine's Day nails
Simple means different things to different people, but we mean chic, pared-back styles in neutral tones. Not all of these are super simple to achieve at home, but hey that's what nail bars (or very skilled friends) are for.
16. Baby pink tips
By now, you've probably spotted that colorful French tips are trending. If you prefer pink to red, take inspiration from this design. Top tip? File your nails into an oval shape—it's super flattering.
---
17. Black heart accents
You don't have to go down the red or pink route for Valentine's Day. Why not celebrate love with adorable mini black hearts that really pop against a nude base. Easier than they look, you'll need a dotting tool to paint on two dots before joining them with a 'V'.
---
18. Gold sequin dots
Prepare to dazzle with these minimalist sparkly nails. Gold dots on a neutral base are easy to do at home and will definitely make an impact. For extra oomph, learn how to style rings to match your nails.
---
19. Merlot manicure
Not into nail art? No problem, just opt for a solid shade instead like this deep merlot red that shouts sophisticated. This looks equally beautiful on toes if you know how to do a home pedicure.
---
20. Silver cuffs
Another cuffed design, but this time with silver stripes placed just above the nail bed. This one requires ultra-fine painting skills, so we recommend screen-grabbing this picture and taking it with you to your next appointment at your go-to nail salon.
---
Cute Valentine's Day nails
Hey, Valentine's day should be a little bit cutesy, borderline cheesy—or at least in our opinion they should be. These nail designs offer a grown up take on cute Valentine's Day nails, from hearts to polka dots and squiggly snakes.
21. Cherry nail art
Take your classic French manicure to the next level with sweet miniature cherries. Fun and fruity, this clever nail art is ideal for those who want to steer clear from traditional love hearts.
---
22. Gold foil flakes
There's something so special about gold foil flakes on top of a neutral base. Perfect for a wedding day, birthday, and definitely Valentine's Day—this look is a firm favorite of ours that we'll be asking our manicurist to recreate, pronto.
---
23. Cloud nails
When it comes to nail art, the sky is the limit. Just look at these intricate fluffy clouds. Perhaps one to save for your manicurist, or if you fancy the challenge equip yourself with a white polish, a pale pink polish, and a thin brush to paint on the clouds.
---
24. Pink and red squiggles
A retro-inspired nail design using our favorite V-Day color palette. If you want to recreate this at home, use a thin brush and have fun with it—the joy of this nail art is that the squiggles look best when irregular.
---
25. Dotty nail art
If, like us, you're dotty about nail art—get on board and try this one at home. Using red polish, pink polish, and a dotting tool, you can recreate this look easily. Top tip? Go for square-shape or slightly rounded nails for best results.
---
How to do Valentine's Day heart nails
"A favorite design amongst all nail techs is the scattered heart design," says Sophie Louise Martin, which consists of micro love hearts painted onto each nail. "Not only does it look great but it's also relatively easy to recreate at home," she adds. Here's how:
Step 1: Apply base polish. "My favorite way to wear this design is with a classic nude base," says Sophie.
Step 2: Get dotting. "Take a small dotting tool and dab it into your chosen nail polish (red or gold looks great). Next, place two small dots onto the nail positioned next to each other."
Step 3: Join the dots. "Grab a fine line brush and start to drag the two dots diagonally down until they meet at a point. You'll then need to fill in any gaps and voila, there's your love heart."
---
woman&home thanks Sophie Louise Martin (opens in new tab) for her time and expertise.
Emma Stoddart is a freelance beauty journalist and self-confessed skincare aficionado with over five years' industry experience. Emma has worked for some of the UK's top women's titles including Net-A-Porter, Stylist and Grazia. Her experience spans online and print as well as producing editorial shoots with some of the industry's biggest artists, including Val Garland. Asides from working with them behind the scenes, she's also had the chance to interview the likes of Patrick Ta, Pat McGrath, and Sam McKnight for all their insider tips and tricks.