11 essential nail care tips for a spa-style manicure at home
Your ultimate nail care guide to strong and healthy nails, no salon appointment required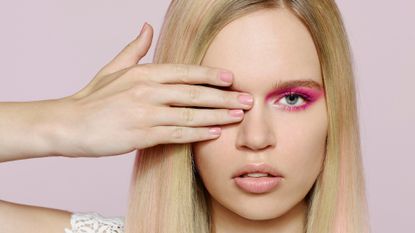 (Image credit: Getty / Jonathan Storey)
woman&home newsletter
Sign up to our free daily email for the latest royal and entertainment news, interesting opinion, expert advice on styling and beauty trends, and no-nonsense guides to the health and wellness questions you want answered.
Thank you for signing up to . You will receive a verification email shortly.
There was a problem. Please refresh the page and try again.
How high does nail care factor on your beauty to-do list? Be honest! You may have a rigorous, 10-step skin regimen and book in for a trim at the first sign of a split end, but how many of us devote the same time, energy, and money towards nail care?
Before you start thinking about cute nail designs, consider nail care. Well-groomed nails make you look polished and put together, in the same way, a bouncy blow dry or slick of red lipstick will immediately elevate confidence levels. Not only that, but strong, healthy-looking nails (along with the best hand creams) have the power to make hands look more youthful, too. With a few easy nail care tricks and lifestyle tweaks, you can transform broken, brittle, chewed-off tips into elegant talons that look as if you've just stepped out of the salon.
11 nail care tips for strong, healthy nails
1. Treat your nails like your face
Daily moisturizing is the cornerstone of great skin. But this essential step is often overlooked when it comes to nail care, as we're more likely to become distracted by the latest 'it' shade (who doesn't want to find the perfect summer nail colors to flatter your skin tone?) If your nails split, break and flake frequently, they're probably crying out for hydration. Redirect some of your hand cream to the nail bed every day. Alternatively, after applying your night skincare routine serums and creams, use the excess to give your nails a little extra attention. That way, you put the spare product to good use, and it will keep your hands and nails in tip-top condition.
2. Upgrade your file
Your grandma probably kept a stash of fuzzy emery boards in her handbag, but those coarse cardboard files can actually cause teeny tiny tears in the nail, so these days it's better to opt for a crystal file. 'A crystal file promotes healthy, strong nails making them less prone to splitting,' says podiatrist Margaret Dabbs, whose own Crystal Nail File is up there as one of the best nail care tools of the trade. The initial outlay might be steeper than those old-timey emery boards, but a crystal version will last years and years, so it's a worthy investment.
3. Avoid water
Washing your hands multiple times a day is unavoidable, as much as we'd like to skip the dishes. But excessive water exposure will weaken the nail (just think about how bendy your nails get after a long soak in the tub), so when you are washing up, it's a good idea to protect your hands and nails by wearing gloves. Too much time spent in water leads to brittle, peeling nails, and on a purely superficial basis, means any subsequent nail polish won't last as long.
4. Don't peel off your gels
We get it. Peeling back the remnants of a once-gorgeously glossy gel manicure feels weirdly satisfying and is a lot less messy and time-consuming than a salon soak-off, but the damage it causes can be lasting. By peeling off your gels, you're also removing the top layers of your delicate nail cells, which will thin out and weaken your nails. We all want to know how to do gel nails at home, but it's also important to know how to remove gel nails at home safely without damaging your nails.
First, use a nail file to gently sand down and rough up the shiny top coat seal. Then place a cotton ball soaked in acetone remover on each nail, wrapping the tip in squares of tin foil to hold everything in place. Let the nails soak for at least 15 minutes - the polish should look as if it's lifted and will slide off with a fresh acetone-soaked cotton ball when it's ready. For any remaining gel spots, use a wooden cuticle stick to lift them away gently. Once all the gel has been removed, you need to add moisture back into the nails and cuticles with a treatment like Jessica Phenomen Oil, which will keep nails healthy between appointments.
5. Pick the right shape
'Nail shapes have become more diverse over the years, but not all shapes suit everyone, and this quite often depends on the length and shape of the nail bed,' says Michelle Humphrey, celebrity manicurist. If you're attempting a DIY manicure, avoid edgy, short-lived styles like coffin or stiletto nails in favor of a more natural oval shape. It's a universally flattering style that looks clean, groomed, and polished. It can even elongate shorter fingers, so your hands look more slender. 'Oval tends to suit most people and is one of the strongest nail shapes for natural nails,' says Michelle.
6. Move in one direction
Ever shaved your legs with a blunt razor? Just imagine that and the accompanying skin irritation the next time you try to file your nails in a back-and-forth, sawing motion. This causes similar trauma, leaving a nail edge that is frayed and prone to peeling. Take your file and shape inwards from each outside corner into the center of the nail.
7. Let your nails breathe
Giving nails a break from polish every so often is vital for healthy nail care. But, if you can't bear to, choose a breathable polish instead, like Barry M Breathable Air Paint, which allows oxygen, water vapor, and essential nutrients to pass through to the nail bed to keep them healthy and hydrated.
8. Paint in thin coats
It may be tempting to load up your brush to apply a nice, thick coating of colour, especially if the pigment isn't as punchy as you'd like, but a generous glob will take much longer to harden, can end up bubbly, and is more likely to chip. The pros make sure they apply two thin coats, allowing enough drying time between layers. Start at the little finger on one hand, and by the time you work your way to the other little finger, you'll be ready to start the second coat on that first nail.
9. Reapply top coat
There is no greater fly-in-the-ointment than spotting a chip glaring out from your freshly-applied, deftly-executed at-home manicure. Professional manicurists recommend reapplying your top coat every other day to reload the shine and help prevent chips. For a rounded glossy finish to rival that of a gel manicure, we dig out Seche Vite Dry Fast Top Coat every time.
10. Fix a smudge
'If you've smudged a nail and don't want to start again, wet another finger and gently rub it over the smear, then reapply a layer of top coat to smooth and even out the color,' advises nail technician Adam Slee. Similarly, if you spot a chip, there's no need to remove the whole lot and start again. Gently buff the area around the chip, then dab a bead of polish into the gap. Apply a second thin coat of polish over the whole nail to blend and seal with topcoat.
11. Oil cuticles on the reg
Perhaps the single most important nail care act is to apply cuticle oil every day. It will help to boost circulation, encourage growth, bolster weak nails and prolong the life of your manicure. Choose an oil over a cuticle cream as it will delve deeper to lock moisture into the nail plate. Naf Cuticle Oil Pen is a handy tool to chuck in your handbag for on-the-go nail care.
Stephanie Maylor is a Beauty Editor working across five national magazine titles, with almost 15 years' experience in the industry. She has written for many brands, including woman&home, Grazia, Now, More!, Fabulous, NW, Woman, Woman's Own, Woman's Weekly, Essentials, Best, Chat, and OK! online.
In 2010 she launched her own beauty blog, which was shortlisted for Best Beauty Blog in the 2011 and 2012 Johnson & Johnson Beauty Journalism Awards. She has interviewed many high profile industry experts and celebrities including Alesha Dixon, Twiggy and Christina Hendricks.