8 gel manicure alternatives for nail health, faster growth, and more
Looking for gel manicure alternatives to switch up your usual nail treatment? Our expert guide clearly explains the need-to-know options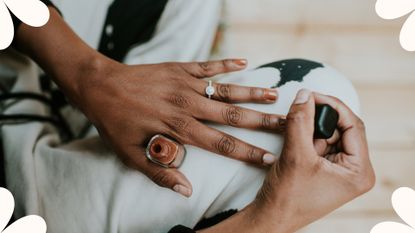 (Image credit: Getty Images)
Whatever reason you're looking for gel manicure alternatives, gel is just one in a sea of excellent nail treatments that you can DIY or have applied in-salon. Whether you prefer block color or nail art, there are few different reasons you may want to take a different approach to nail trends – be it an allergy, requiring something harder-wearing, or something else entirely.
"Gel manicures are super popular but may not always be the right fit for someone," says Tammy Koslowski, manicurist and founder of NAF! Salon. "Gel polish is painted and cured on top of the natural nail or a nail enhancement and won't add length, so anyone looking to lengthen their nails will need to opt for acrylic, hard gel, or full-cover tip extensions before having the gel applied."
She also notes that some professions and religious practices require bare nails, which makes gel tricky because of its lengthy removal time. As Sherrille Riley, founder of Nails & Brows Mayfair, explains: "[Removal] requires soaking the nails in acetone to remove the gel polish, which can be time-consuming and damaging if not done correctly. Gel manicures are also more expensive than [some] other nail treatments, due to the specialized products used."
As Koslowski notes, a good nail professional will be able to advise you on the best option for you but, as a starting point, we've broken down the key gel manicure alternatives and their pros and cons below, so you can dip into the latest summer nail colors, whatever your method of choice.
8 gel manicure alternatives to consider
1. Regular nail polish
Ah, the humble nail polish. An oldie, but a goodie. Not only is it more affordable than gel when booked in-salon, but you'll save even more money by learning how to paint your nails like a pro. Another upside is that you don't have to return to the salon to have it removed, and can easily take it off at home in a matter of minutes using a store-bought remover.
The downside? Regular polish is much easier to chip than gel polish or acrylics, even when you're diligent about applying a good top coat. Applying it also requires some time and patience to allow the polish to dry without knocking or smudging it. But the joy of painting our own nails still has a place in our hearts.
2. Press-on nails
If you struggle to grow your natural nails, press-ons are a great way to fake the look of professionally-applied extensions for less, and very quickly, too. Available in various lengths and sizes, you simply choose a nail that fits the size of your natural nail, use a (usually accompanying) nail glue.
A drawback to this method is that they aren't as secure as in-salon extensions, particularly for those who know they're a little clumsy and require a very durable manicure — you'll probably need to carry nail glue with you in case one should come loose or get knocked off while you're out and about. Koslowski also points out: "They can be applied with sticky tabs for easy application and removal, but are difficult to remove while keeping the integrity of the nail if glue is used".
3. Nail wraps or stickers
Nail wraps (and stickers!) are a bit of fun. Taking the trickiness out of DIY nail art, once in the desired position each wrap is secured by applying a layer of clear nail polish over the top. They're very affordable compared to professional nail art and fairly easy to apply.
That said, it may take some practice to get them right if it's your first go applying them yourself, and they aren't as durable as more hardy options like acrylic or dip powder. They are, however, easier on your nails and can generally be removed with oil instead of harsh chemicals.
4. Acrylic nails
Acrylic nails are one of the longest-standing manicure options around. They're created using a mix of liquid monomer and powder polymer to create a durable layer over your natural nails, often paired with an extension "tip" for a bit of added length (though this isn't a requirement). Polish – regular or gel – is then applied over the top. The good thing about acrylics is that, once you've had the initial set applied, you can have one or two "infill" appointments to prolong their life, which saves you paying for a completely new set each time.
Though the risk of damaging your natural nail is low with careful and safe professional application and removal, some people do find that with repeated treatments their nails feel slightly weaker over time and that they need breaks. It's also a must to get them removed in-salon, which requires time and (in some cases) money.
5. BIAB
Also known as builder in a bottle, BIAB nails have taken the nail world by storm in the last few years and have quickly become something of a go-to among nail enthusiasts. The treatment, invented by The Gel Bottle, gets its name for the growth that's able to be achieved thanks to the hardy protective layer formed over your natural nails.
There are a couple of little downsides to a BIAB manicure. Firstly, builder gel takes a while to apply, and secondly, it's quite a pricey treatment, particularly if you opt for polish or nail art over the top. But if longer natural nails is your goal, we speak from experience that it really helps them to grow.
6. Bio Sculpture nails
Another very trendy option that's great for those who like to prioritize nail care wherever possible, Bio Sculpture nails are described as being gentler on your natural nails. The vegan treatment is designed to strengthen your natural nails while you wear, without damage.
Bio Sculpture nails are still a cured product and require soaking off for removal, though our beauty writer noted that this was far smoother process than gel removal. Prices are usually a bit higher than you'd pay for a gel manicure – but if healthy nails are your priority, they're worth every penny.
7. Dip powder nails
A dip powder manicure, as the name suggests, involves using powder rather than polish. Though not as often found in salons as treatments like gel, acrylic, and even BIAB, they can be combined with extensions and are very durable, which makes them good for heavy-handed manicure fans.
Hygienic practices are important with all nail treatments, but in the case of dip powder nails it's also important to make sure your nail tech applies them by decanting the powder into a separate container for the "dipping" stage, or by pouring it over your nails. Like gel and acrylics, dip powder also has to be removed in-salon. Read our guide to dip powder nails for more on this, plus everything else to know about them.
8. IBX manciure
If you're struggling with weak or brittle natural nails, an IBX manicure could be a step in the right direction toward getting them to a healthy place again. IBX is a two-step treatment that repairs and strengthens nails, and can be performed alone or as an add-on to your manicure at the salon.
"For nails that are looking damaged, dry, and tired, this flawless manicure uses IBX conditioning molecules to bond together and penetrate the nail plates by filling in gaps and ridges," says Riley, who offers IBX at Nails & Brows Mayfair. "This provides a protective shield to prevent nails from further breakage." However, adding on this service will of course mean that your manicure costs more.
If you are allergic to any components of nail treatments, always check the ingredients before proceeding. In the case of a reaction, always seek medical attention.
Sign up to our free daily email for the latest royal and entertainment news, interesting opinion, expert advice on styling and beauty trends, and no-nonsense guides to the health and wellness questions you want answered.
Lucy is a UK-based beauty journalist who has written for the likes of Marie Claire, Cosmopolitan, OK!, Women's Health and more, as well as contributing to woman&home. Her work covers everything from expert skin and haircare tips to the latest product launches and the show-stopping beauty looks spotted backstage at London Fashion Week. During her career she's interviewed some seriously famous faces, from Little Mix to Drag Race royalty The Vivienne, as well as chatting to the industry's leading hairdressers, dermatologists and make-up artists.