Acrylic nails: everything you need to know, from how long they last to removal
Curious if acrylic nails are right for you? Our in-depth guide has the lowdown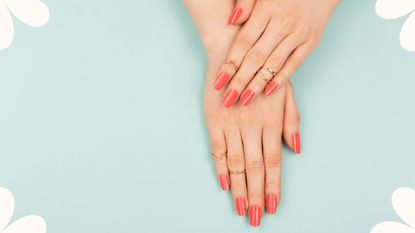 (Image credit: Getty Images)
Buzzy new nail technologies pop up from time to time, but acrylic nails have been a go-to manicure at salons all over the world for decades. Despite that, not everybody knows how acrylics work or how they differ from other treatments.
There are so many different nail services that reading a salon menu can be a little overwhelming to a newbie. From the very on-trend BIAB nails to gel manicures and regular polish, acrylics are just one in a sea of nail enhancements.
To fully brief you on how they work, the benefits, and any potential risks, we caught up with a leading manicurist to break everything down, so you can decide if this is the right treatment for you.
Acrylic nails, explained
What are acrylic nails?
Acrylic nails are a type of nail enhancement and, like dip powder nails, they are very durable. "The OG of nail extensions, acrylic nails started in the 80s – if you weren't having French-tipped acrylic nails in the 90s, where were you?" says leading manicurist Kate Williamson. "They will add strength [to your nails], especially for those who are heavy-handed."
Acrylics are often assumed to damage natural nails, but the risk of this is low if the nails are safely and carefully prepped, applied, and removed – which is why it's always a good idea to do some research and ensure your nail technician is qualified before booking in. As with any treatment, it is also possible to be allergic to acrylics, however, as Williamson points out, "they can be removed fairly quickly if [a reaction] happens."
What happens during the treatment?
"Using a monomer liquid and polymer powder, a 'bead' is applied to the nail and then blended and sculpted to the desired shape," Williamson explains. "They can be used along with tips to create any length you wish, or can be a simple overlay on your natural nail."
Your appointment length will vary depending on any add-ons, but a full set should take between 1-2 hours to apply, longer if extensions or gel polish are being applied, and the process is painless.
"Unless the file has touched the skin or glue for a tip has spread onto the skin, you shouldn't feel any pain," Williamson continues. "A qualified and professional nail tech will know how to use the products correctly and prep the natural nail. Suitable grit files should always be used during each stage of any nail enhancement."
How are acrylic nails different to gel nails?
Our guide on choosing between a gel or acrylic manicure compares the two in more depth, but the key difference is how each hardens on your nail. "Acrylic does not have to be set in any kind of UV or LED lamp, as the chemical reaction is what hardens the acrylic," Williamson confirms. "A gel manicure involves using a 'curable' product, whether that be a gel polish, hard gel, BIAB; all of these have to be cured or set in a lamp after each layer."
That said, it is possible to opt for a layer of gel polish, rather than regular polish, as the color over the top of your acrylics. Once the acrylic has hardened, you can then have any color or design you like applied over the top – which is great if you like to experiment with nail trends such as negative space nails or a French manicure.
How long do acrylic nails last?
Acrylics can last for a few weeks, however, as with any manicure, you will start to see a gap at the base of the nail where your natural nails grow with time. "Ideally, every two weeks should be when acrylics get infilled, refining the shape and also preventing any lifting," Williamson says. "This is essential to keep your natural nails in the best possible condition underneath the acrylic. Damage is often caused when there is little aftercare and the nails get too long, and water gets under any lifting."
It's also important to get a fresh set applied and not keep infilling the same set for as long as possible – as tempting as that is from a cost perspective. "My rule of thumb is that after two infills I like to remove the set and apply a fresh set," our expert continues. "This way, about every 4-6 weeks I can check my client's natural nails. Cuticle oil should always be applied with any kind of enhancement to hydrate [the natural nails]."
Lifting can result in developing 'greenies', a nickname taken from the resulting discoloration. "Water can get trapped underneath [the lifted acrylics], bacteria breed, and, voilà, a greeny can appear," Williamson explains. "If there is any slight look of discoloration to the nail, return to your nail tech and get the set removed ASAP."
How do you remove acrylic nails?
It's always best and safest to get your acrylics removed at the salon, where your technician will soak them off with acetone. But whatever you do, resist the temptation to pick off your acrylics yourself, as this is what will damage your natural nails.
"The only damage that could be done is by – and we are all guilty of this, FYI – pulling, picking, and ripping acrylic off the nail," Williamson confirms. So as soon as you see lifting around the two-week mark, book in to get them infilled or removed!
Acrylic nails: the woman&home verdict
As they're so hardy, particularly when applied with gel polish, acrylic nails are a particularly good choice for those who are very prone to chipping their manicures or who struggle to grow their natural nails and want to try extensions.
They last well, though you will understandably need to have the time spare for the initial appointment and infills – which takes longer than painting them yourself with summer nail colors or getting a gel manicure. But for durability and a lower risk of breakage, they are a well-loved treatment and still have their place among a sea of newer options.
Lucy is a UK-based beauty journalist who has written for the likes of Marie Claire, Cosmopolitan, OK!, Women's Health and more, as well as contributing to woman&home. Her work covers everything from expert skin and haircare tips to the latest product launches and the show-stopping beauty looks spotted backstage at London Fashion Week. During her career she's interviewed some seriously famous faces, from Little Mix to Drag Race royalty The Vivienne, as well as chatting to the industry's leading hairdressers, dermatologists and make-up artists.