Should you choose a gel or acrylic manicure? Here's everything you need to know to decide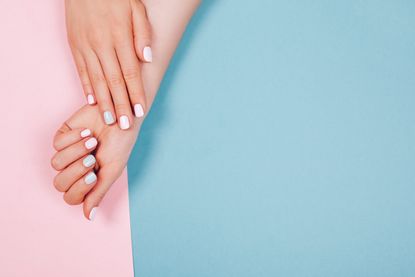 (Image credit: Getty Images/iStockphoto)
woman&home newsletter
Sign up to our free daily email for the latest royal and entertainment news, interesting opinion, expert advice on styling and beauty trends, and no-nonsense guides to the health and wellness questions you want answered.
Thank you for signing up to . You will receive a verification email shortly.
There was a problem. Please refresh the page and try again.
Have you ever wondered what the difference is between gel or acrylic nails? Step right this way...
While many of us are embracing DIY summer manicures (opens in new tab),home pedicures (opens in new tab), and even learning how to do at-home gel manicures (opens in new tab) ourselves, with summer in full swing now's the ideal time to go back to beauty school and educate ourselves about professional nail treatments.
Along with the classic polish manicure, gel and acrylic nails are two of the most popular nail treatments available in salons.
Both result in a glossy, hardwearing nail, but are very different in terms of process and appearance. Feeling confused? Let's break it down.
What are the differences between gel or acrylic nails?
Gel manicures:
In a nutshell, gel is painted on to your natural nail like regular polish, except it is sandwiched between special top and base coats then 'cured' under a UV lamp. This curing process essentially bakes the gel polish onto your nail giving you a plump, glossy manicure that is instantly dry and very difficult to chip.
The whole process usually takes no more than an hour, including preparing the nail for gels by buffing and tidying the cuticles, then you can expect to get about two weeks without any 'lifting' (when the gel starts to come away, usually at the side or top of the natural nail) Many women manage more than two weeks chip free, and have their gel manicures removed only when there is too much regrowth at the base of the nail and they want to have a fresh gel applied down to the cuticle again.
Acrylic manicures:
Acrylics work more like extensions. They are formed from a flexible putty made with liquid monomers and powder polymers that your nail pro shapes and sets down over your natural nail. They are often used to add length, strength or a nice shape to short, weak or bitten nails. The putty can be customised to any size or shape you like, then it naturally hardens over the nail without needing to be cured.
After that you can go as crazy as you like, or not, with the decoration. Regular polish, nail art or even gel polish all work over acrylic, in fact some nail artists recommend having gels on top to make the acrylics last longer.
The appointment time can vary depending on the shape, size and decoration you want, but expect to be in the salon for anything between two and three hours. In return for that time investment you should get around six weeks of fabulous new talons, although you will need another, shorter appointment halfway through that to have the regrowth filled in at the base of the nail.
Gel nails are increasingly popular as a DIY treatment, whereas acrylic nails are a more complicated process involving professional-strength chemicals, tools and requiring pro-level skill, so sensibly enough most women do not attempt it from home.
Do gel nails ruin your nails?
Ruin is a strong word. Gels do have the potential to cause some damage but this mostly comes down to misuse. Despite some sources claiming that covering nails prevents them from 'breathing', nails don't actually need to breathe as they get their oxygen and nutrients from the blood supply.
The main issues with gels usually occur through poor application. Either the gels are not cured for long enough under UV and the uncured chemicals in the polish cause a reaction. Or the gels are cured for too long which can cause damage to the nail bed. Both issues are easily resolved by visiting a reputable salon where the staff are properly trained and use respected professional brands like CND Shellac, Orly and OPI.
How do you take off gel nails?
Poor removal is another cause of damage with gels. Once the gel colour starts lifting it can be very tempting to just pick or peel away the rest, which can take a good few layers of your nail with it.
If you have a grown out gel manicure and no way of getting to a salon, read our guide to removing gel nails safely at home without causing damage. (opens in new tab)
Proper home or professional salon removal is certainly less aggressive than picking, but still can lead to issues. Both processes usually involve soaking the nail in acetone, a harsh chemical that can cause dehydration to the nail plate and cuticle.
This doesn't mean you should avoid gels altogether, but it's a good idea to alternate gel manis with regular polish or n (opens in new tab)ail repair treatments (opens in new tab). If you are prone to fragile, dry or splitting nails, save gels for special occasions only.
Do acrylic nails ruin your nails?
They're certainly not known to be kind to your nails, but again a lot of issues with acrylics come down to poor application or misuse.
In order to make acrylics adhere, the natural nail is buffed to create a rough surface. Without care, this buffing can thin the nail plate making it susceptible to damage. If you have sensitive skin certain chemicals used during the process can be irritating too.
The main issue with acrylics is they are particularly appealing to people with weak nails, as they are so robust. This then creates a vicious cycle as parts of the acrylic process can further damage the nails, so when the acrylics are removed the natural nail underneath is in such a bad way it's tempting to get another set of acrylics put straight on top and exacerbate the problem.
How do you take off acrylic nails?
The process is surprisingly similar to gels – the nails are soaked in acetone until they soften enough to gently remove. There are horror stories out there about salons using mechanical filers to burr them down or prising them off with tools, but any good salon will use the soaking method as it's least likely to damage the nails,
It is recommended to have the acrylics completely removed and, if desired, replaced every six to eight weeks. Some women will try to push this with continuous in-fills, which is understandable from a cost perspective (as acrylics can cost upwards of £25 for a new set but infills start at around £15) But any good nail artist will discourage you from doing this, as it prevents you and your technician from seeing the natural nails underneath and making sure they are healthy and infection-free.
The best nail products to use with gels or acrylics
For DIY gel nails: Sensational Gel Polish Starter Kit
If you're reasonably confident in your nail painting skills, this will give you the closest thing to a professional gel manicure without leaving the house.
It contains everything you need to crate a glossy, lasting mani including prep products, an LED lamp, gel polish colour top and base coats.
SHOP NOW: Sensational Gel Polish Starter Kit, £49.99, Amazon.co.uk (opens in new tab)
To nourish the nail while wearing gel or acrylic nails: Nail HQ London Cuticle Oil
Combat the drying effects of the gel or acrylic process with this nourishing oil.
Rub it into your cuticles and the skin surrounding the nail daily to nourish and keep your mani looking great.
SHOP NOW: Nail HQ London Cuticle Oil, £4.97, Amazon.co.uk (opens in new tab)
If you need to remove at home: Superdrug Acetone Nail Polish Remover
Always soak, never pick! Follow our step-by-step guide to removing gels safely at home and use this bargain acetone to do it.
SHOP NOW: Superdrug Acetone Nail Polish Remover, 80p, Superdrug.com (opens in new tab)
To strengthen between gel or acrylic manicures: CND Rescue RXX
Give your nails a break every now and then and paint this on every day for a fortnight.
It's made with keratin; the protein that gives nails their natural strength and oils to moisturise.
SHOP NOW: CND Rescue RXX, £16.55, Amazon.co.uk (opens in new tab)
Let's hope it's not too long until we can head out to the nail salon again!
Beauty Editor, womanandhome.com
As woman&home's Beauty Channel Editor, Fiona Mckim has tried more products than she's had hot dinners and nothing makes her happier than raving about brilliant finds on womanandhome.com or her instagram grid (@fionamckim if you like hair experiments and cute shih-tzus). Fiona joined woman&home as Assistant Beauty Editor in 2013 under industry legend Jo GB, who taught her everything she needed to know (learn about ingredients and employ extreme cynicism). She has since covered every corner of the industry, from interviewing dermatologists and celebrities to reporting backstage at Fashion Week and judging the w&h Beauty Awards.