How to repair damaged nails so they stay in tip-top condition
Follow these steps to learn how to repair damaged nails and keep your hands healthy as can be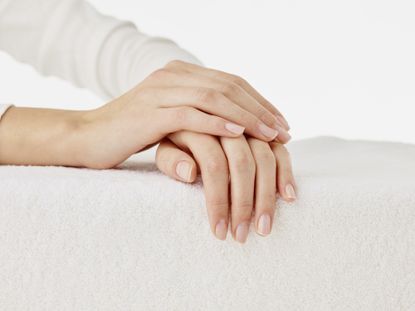 We all love perfectly manicured nails, but it can be difficult to keep them in a good condition when constantly decorating them. Knowing how to repair damaged nails can keep your fingertips looking fresh varnish after varnish though.
It's often the case that once we remove polish that our nails are weak, brittle, and prone to breaking. This is made far worse if you have a habit of picking off your polish—or worse, can't figure out how to stop biting your nails. There are some important, everyday habits you can implement to repair damaged nails and keep them in tip-top condition.
How to repair damaged nails
1. Keep nails short and rounded
The best shape for strong and healthy nails is rounded. File your nails from the outer edge into the centre so that each half is filed in one direction. This helps keep nails even, which prevents snags and breakages. Nails filed into angular shapes often whittle away healthy parts of the nail that promote growth.
2. Don't cut your cuticles
Although it's tempting to cut off unsightly cuticles, your cuticles are what protect the growing part of your nails. By cutting them down, nail growth gets stunted and it allows more room where an infection could develop. Instead of cutting them back, push cuticles down using an orange stick or cotton wool bud when applying polish or any lacquer when deciding how to paint your nails.
3. Use a cuticle oil
To keep your nails healthy with the right kind of nail care, use cuticle oil on the beds of your fingernails before doing anything. This stimulates nail growth in between manicures and can prevent nail damage. OPI Prospa Nail and Cuticle Oil is one of our favorites. It's full of vitamins and contains a mixture of sunflower, cupuaçu, and grape seed oils to provide nourishment to your cuticles.
Our beauty editor recommends...
4. Eat plenty of protein
Your nails are made of a particular protein called keratin. By eating foods rich in protein like chicken, tofu, fish, beans, or eggs, along with plenty of water, a protein-rich diet can help preserve nail growth.
5. Don't bite your nails
If you have a habit of biting your nails, there are lacquers you can apply to the nail to help deter the habit like using Mavala's Stop Nail Biting Deterrent. It looks just like a nail varnish, but instead of helping the look, works as an extremely bitter layer if you start biting. The taste is nasty, but harmless, and will discourage any nibbling. It can also go on top of any nail polish as a daily top-layer over even the chicest pastel nails.
Our beauty editor recommends...
6. Use a base coat or hardener to prevent deeper damage
We don't let a day pass without applying a base coat to protect our nails. Like a personal trainer for your nails, Sally Hansen's Hard as Nails will stop your nails from flaking and build up their strength day over day.
Our beauty editor recommends...
7. Keep hands moisturized
Moisturizing your nails is essential to keeping them healthy, so keep one of the best hand creams in your bag so that you can moisturize on the go. This helps keep your hands soft to work with the cuticles around the skin too. We love La Roche-Posay's Cicaplast Baume B5 Repairing Balm as it targets dry and sensitive skin without leaving a greasy residue behind.
Our beauty editor recommends...
8. Carry a nail kit
A snagged or broken nail is an easy way to throw a wrench in anyone's day. A simple fix for those problems is to carry a nail kit in your bag so that you're prepared to deal with anything head-on. We've stashed Tweezerman's Nail Rescue Kit in ours. The mini trimmer, cleaner, and file make everything from small touch ups to big corrections possible. These also make a great stocking stuffer for anyone about to go big with their Christmas nail designs.
Our beauty editor recommends...
9. Use a gentle nail polish remover on both healthy and damaged nails
Harsh chemicals are a key cause of damaged nails, so when you remove gel nails at home, use as gentle a nail polish as you can. OPI's acetone-free remover dissolves nail polish without exposing the skin to the harsh chemicals usually found in removers.
Our beauty editor recommends...
10. Nourish your nails
We all know how great face masks are for your skin, so why not give your nails the same type of pampering routine? You can whiten your nails by soaking them in milk, or immerse them in warm water and lemon juice to remove stains. Soaking them in olive oil will also help moisturize the skin around the nails.
Beauty Editor, womanandhome.com
As woman&home's Beauty Channel Editor, Fiona Mckim has tried more products than she's had hot dinners and nothing makes her happier than raving about brilliant finds on womanandhome.com or her instagram grid (@fionamckim if you like hair experiments and cute shih-tzus). Fiona joined woman&home as Assistant Beauty Editor in 2013 under industry legend Jo GB, who taught her everything she needed to know (learn about ingredients and employ extreme cynicism). She has since covered every corner of the industry, from interviewing dermatologists and celebrities to reporting backstage at Fashion Week and judging the w&h Beauty Awards.