Pretty pastel nails inspiration for your next manicure
The most beautiful pastel nails designs and sweet polish shades to suit every skin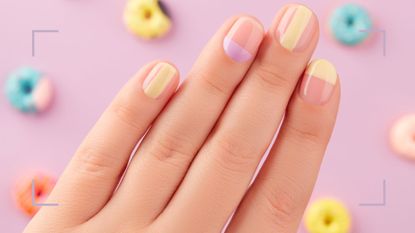 (Image credit: Future/Getty images)
Pastel nails may be a huge trend for spring-summer 2022, but they're also a smart look to have in your locker for life. It's easy to get stuck in a rut with nail colors, but as low-risk, high-reward beauty goes, there's no better area for experimentation than your manicure. So why not try something new?
If you generally like to play it safe with nail designs, pastel nails are a great way to begin branching out. Candy-colored shades make fun summer nail colors without being scarily bright, they suit shorter shapes such as squoval nails nicely, and if you know how to do a home pedicure, these sweet hues look great on toes too.
"Pastels always make a welcome return season after season," says Carla Opoku, founder of nail brand Cienna Rose. "Greens have been popular for a few seasons now and will continue to be. A gorgeous pastel mint shade works on every skin tone —think pistachio gelato." The finish is another consideration, as pastels can be combined with the sheeny glazed nails trend for something a little more flattering than chalky matte effects. Here's how to pick the perfect pastel look for you, shop our top ice cream shades, and get inspired by the prettiest pastel mani ideas. Pure joy guaranteed.
How to pick flattering pastel nail colors
If you've ever spent an hour painstakingly painting your nails only to wonder why your hands look ever-so-slightly corpse-like, you'll know some shades will suit you better than others. Here's how to get it right:
Try before you buy: "The quickest way to see if a shade suits your skin tone or not is to hold the bottle between your fingers," advises Mavala's in-house nail and color expert Lynn Gray. "You will see instantly if the color washes you out and makes your hands look gray."
Think about skin tone: Broadly speaking, anyone with fair and cool-toned skin might find chalkier pastels like blue and lilac can make hands look a little washed out, whereas apricots and pinks bring paler skin to life. Medium or olive skin tones can be very nicely complemented by yellows and greens while dark skin tones can usually pull off pastel shades through the whole spectrum.
Wear what makes you happy: Obviously, much comes down to personal taste too, so if you love a shade don't be scared to give it a go. "Trust your instincts," says Gray, "if all else fails go with something that makes you feel confident as there is no right or wrong."
Can't choose just one shade? "For a mismatched manicure, I love to choose colors that vary in vibrancy and depth," explains Rita Remark, celebrity manicurist and Essie Global Lead Educator. "Choose coordinating colors then when choosing the order, make sure to not place colors with similar depths beside one another, break up the order by polishing pastels beside darks." Think about texture too. Pastel nails can also look very chic with a matte finish from a dip powder nails technique or in a softly graduated ombre nails effect.
Pastel nail inspiration—our favorite looks
1. Pick & Mix Pastel Nails
For the ultimate pastel nails embrace your sweet side and go for this pick and mix style, painting each nail a different color. Each hand can match or mismatch, and this is one that's easy to do from home, all you need are a variety of nail polishes (or one of the best at-home gel nail kits for a longer-wearing finish) Have fun with it!
---
2. Mint Speckled Nails
Mint nails are a great way to make a subtle statement and get into the summer mood. Why not add a twist and make them speckled? The best way to achieve the speckled look from home is to invest in a dotting brush or, even easier, a speckled polish.
---
3. Chalky Green Marble Effect
Create a delicate, ethereal look with a pastel green marble design. One way to do this from home is to take a cup of room temperature water and add a couple of drops each of the colored nail polishes you want to use. Then get a clean, flat sponge, lay it on the surface of the water, and watch the marble effect transfer onto the sponge. Then place the sponge onto a prepped nail and the design will transfer. Magic!
---
4. Pastel Lilac Nails
Who doesn't love a bit of lilac? This simple design makes a great choice of nail designs for short nails and is a nice way to add a pop of color to your pastel nails look. Wear with some fun acrylic rings to step up the fun an extra notch.
---
5. Duck Egg With Daisies
To get in the spring/summer mood try a duck egg polish shade and add a few delicate daisies. This looks best on shorter, rounded nails and can be done from home using a fine-nibbed nail pen.
---
6. Perfect Pastel Pink Manicure
Want to try the pastel trend without going too bold? Try an understated baby pink manicure. It's like natural nails but enhanced. This suits longer almond-shaped nails best, if you struggle to grow your natural nails try a builder service like Biab nails.
---
7. Negative Space Pastel Swirls
Create fun pastel swirly patterns by leaving clear spaces on your nails. Make sure to layer with a top coat to add a stunning sheen. The good thing with these nails is that if they chip, it may actually suit the style! Create this design yourself using the sides of your nail polish brush.
---
8. Buttercup Yellow With A Cheeky Smile
Make yourself and everyone around you smile by opting for sunshine yellow nails with smiley faces. You can paint a cheeky smile on every nail or just a couple, the choice is yours. This look is so easy to create using nail stickers and will suit any nail shape and size. If you have the skills, you can also use a fine tip nail pen.
---
9. Textured Pistachio Manicure
For a slightly darker pastel look try a pistachio polish and add a subtle speckled effect to create texture. You can either do this using a clear, extremely fine glitter polish over the top of the green or by using a speckled nail product.
---
10. Perfectly Peachy Pastel
Look pretty in peach pastel. This is a great look to go for if you want to try something new whilst remaining understated and keeping your nails sophisticated. These look best when painted with gel polish for a glossy finish.
---
11. Pastel Lilac and Nude Nail Art
Create a mini work of art by taking a few different pastel shades and applying them in sections on your nails. Have fun with it, try different combinations and patterns on each one. This pastel nail design doesn't have to be neat, so it's a great one to do from home.
---
12. Chalky Blue Nails
A safe bet when it comes to pastel nails is to go for a simple baby blue polish all over the nail. It will suit most outfits, looks great on all nails, and is a nice way to get in the spring-summer mood.
---
13. Pastel French Tips
French tip nails are so on trend, so why not add a twist with these pastel french tip nails. These nails will last for ages because as your nail grows, the lack of color at the bottom suits the style! These tips look best on almond-shaped nails. If you prefer square, then go for more sharp, angled tips.
14. Tutti Frutti Tones
Go for the tutti frutti ice cream style by alternating between yellows, pinks, and greens. This will look great with gold jewelry, although it could clash with some outfits, so keep your wardrobe minimal if you prefer a more low-key look.
---
15. Pastel Yellow Nails to Suit All Tones
A simple pastel yellow base color will look stunning on all skin tones. It's a great way to add a pop of color whilst keeping your nails understated and makes a perfect shade for occasions such as weddings.
---
16. Double Line Pastel
For a look that makes a statement whilst being simple to create, simply paint two thin pastel-toned lines on your nails. They could go at the top, bottom, or middle of your nail, and you could try using different colors on each nail if you fancy. All you need is a fine polish brush or nail pen.
---
17. Sweet Pastel Swirls
Swirls are very on trend right now, and are a perfect playful design to try if you're planning on going on vacation this summer. When getting these done at the salon, ask for almond or oval shaped nails.
---
18.Pastel Frames
Outline your nails with a thin layer of pastel and leave the center clear for a framed look. This will have your talons looking super smart and neat. This is a look you can play around with, either wearing the same pastel shade throughout, alternating between nails, or even with different colors on the same nail. The framed style looks best on square-shaped nails.
---
19. Pastel Celestial Nails
If you're an astrology queen then these nails are perfect for you. Choose any pastel color base you desire and then draw delicate stars and zodiac signs on top. This is probably best created in salon as it's difficult to do at home and requires a steady hand and nail pen. Either way, the end result will look out of this world!
---
20. Head In The Cloud Nails
This cute cloud design is a gorgeous way to add something unique to your pastel nails. Go for a baby blue base and white clouds, with almond-shaped nails for the dreamiest of looks. It will match any outfit.
---
21. Pastel Ombre
Ombre is a classic style for nails, but why not adapt with the seasons and make it pastel? Choose a color for the top part of your nail, painting to just above the centre. Then, take a clear polish and paint over it, bleeding the color towards the bottom so it transitions smoothly into clear at the bottom half of your nail. This looks great with square and coffin shaped nails.
---
22. Gorgeous Glitter
You can never go wrong with glitter. Paint your nails pastel, either choosing one color for every nail or adapting the pick and mix style, and then add a glitter polish on top.
---
23. Clear Base With Pastel Dots
Spring-summer here we come! Using the corner of your nail polish brush, or using a nail pen, add some pastel dots to a clear base. You can either paint it straight onto your bare nail or add clear polish as a base coat first. Paint as many or as few dots as you like for a customized look.
---
24. Pastel Base With White Dots
Reverse a polka dot mani by painting your base a pastel color and then adding white dots over the top. This is great for a more subtle, yet still colorful, look, especially when created on short nails.
---
25. Pastel Animal Print
Animal print is a classic for clothing, but you can adapt the trend to your nails too! Create an adorable cow print look by adding pastel splodges to a clear or white base. This is probably best left to the pros and is extra effective on longer, square nails.
---
26. Pastel Checkerboard
Paint pastel squares and rectangles onto your nails to create a cool checkerboard look. Leave some squares blank or fill each one with color. You could also have a statement nail that is one solid color or features a French tip to mix up the look. This looks stunning on long almond nails.
---
27. Pastel Love Hearts
Everyone loves love, and you can spread the love with these adorable heart detailed nails. Paint each one a different pretty pastel color, and create as many or as few hearts as you like. This might be time consuming to create at home, with a fine nail brush or pen being the best to use, but you will love the outcome. This looks the most sweet and delicate on short, round nails.
---
28. Flower Power Pastel
Nothing says summer and sunshine more than flowers. Keep your base clear and draw large flowers on top. Paint the petals in an array of pastel shades. We recommend square nails for this look.
---
29. Double Trouble Pastel
Embrace the 80s and try a color-block effect. Paint your base one stunning pastel color, and then add double or single French tips in a contrasting pastel shade. This is also an easy pastel nail design to create from home, providing you use stickers to create neat lines.
---
30. Two-Tone Pastel
Go for a half-and-half look and paint one side of your nail in one pastel shade, and the other side in a different color. Why not add even more playfulness and make the middle part non-linear to add some shape and dimension. These look great on any nail shape. Pair with some fun, colorful rings to finish off the look.
---
31. Pastel With Gold Tips
Get the look of luxury by going for pick and mix pastel nails and adding a thin gold tip. Create these using a metallic gold polish for the ultimate sheen. Pair with gold rings to complete the look.
---
32. Pastel Paint Drip
A pastel French tip with a twist. At the top of your nails, create a paint drip effect by taking the corner of your nail polish brush and dragging wet polish down. The great thing with this design is that it looks fine a little on the messier side.
---
33. Pastel Patterns
For a real statement mani, create fun patterns in pastel colors. This could be a Ying and Yang sign on one, a checkerboard on another, dots, hearts... the list is endless. Combine a few of the trends from this list in one by going for a different design on every nail. The longer the nail, the more detail your nail technician will be able to add.
---
The prettiest pastel polish to shop now
---
woman&home thanks Lynn Gray, Carla Opoku and Rita Remark for their time and expertise.
Beauty Editor, womanandhome.com
As woman&home's Beauty Channel Editor, Fiona Mckim has tried more products than she's had hot dinners and nothing makes her happier than raving about brilliant finds on womanandhome.com or her instagram grid (@fionamckim if you like hair experiments and cute shih-tzus). Fiona joined woman&home as Assistant Beauty Editor in 2013 under industry legend Jo GB, who taught her everything she needed to know (learn about ingredients and employ extreme cynicism). She has since covered every corner of the industry, from interviewing dermatologists and celebrities to reporting backstage at Fashion Week and judging the w&h Beauty Awards.