Pastel nails—how to wear a candy mani plus our fave looks for inspiration
Pastel nails aren't just a trend, they're a pretty and sophisticated look for life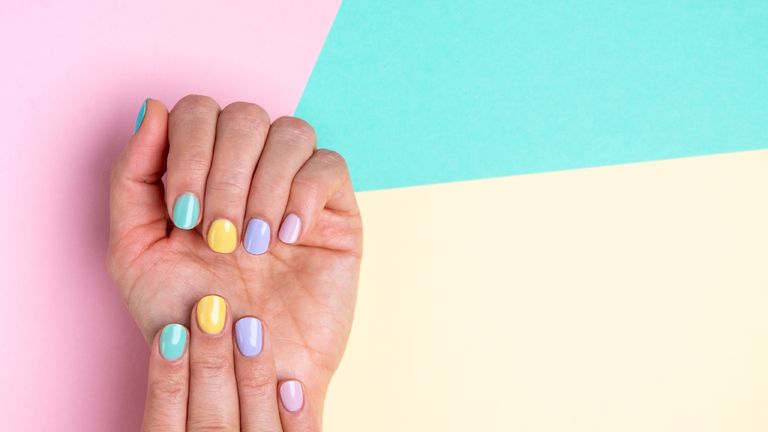 (Image credit: Getty Images)
Pastel nails may be a huge trend, but they're also a smart look to have in your locker for life. It's easy to get stuck in a rut with nail colors, sticking with the same safe pinks, reds and neutrals. But as low-risk, high-reward beauty goes, there's no better area for experimentation than your manicure. So why not try something new?
The reason for this is simple—jazzy colors and 'out there' designs feel far more palatable on your hands than on your face. The best foundation will never be one that makes a statement, it'll be the one that blends discreetly into the background. You wouldn't necessarily be pleased if someone noticed and commented on your "bold" choice of baby Botox (er, what gave it away, exactly?) But if your summer nail colors make a lasting impression on a friend or even a stranger on the street, so much the better.
If you generally like to play it safe with nail colors, pastel nails are a great way to begin branching out. Soft candy-colored polish is pretty and flattering without being scarily bright, and if you know how to do a home pedicure, these shades look great on toes too. Pastels also work very well together if you are keen to try some nail art or a very on-trend multi-colored manicure. Truly, the sky is the limit when it comes to the possibilities of pastel nails, or alternatively you can keep your feet firmly on the ground with some nail care and a low-key milky pink if that's more your thing.
Whatever your preference, the one thing every pastel nail look has in common is a joyful spirit. It's impossible to glance down at hands coated in sugared almond shades and feel anything less than uplifted—which is surely the whole point of giving yourself a manicure in the first place, no?
Discover how to pick the perfect pastel look for you, shop the sweetest ice cream shades and get inspired by the prettiest pastel manis on social media. Pure joy guaranteed.
How to pick the best pastel nails shade for you
Our nails are such fertile ground for self expression—as it's you, not other people who look at your hands all day—so it feels churlish to start slapping rules on which pastel nail shades you should and shouldn't wear. But if you've ever spent an hour painstakingly painting your nails only to step back and wonder why your hands suddenly look ever-so-slightly corpse, like you'll know some shades will suit you better than others.
Let your skin tone influence your nail color
As with finding the right nude lipstick, it a lot rests on your skin tone and the most reliable way to judge is with your own eyes. "The quickest way to see if a shade suits your skin tone or not is to hold the bottle between your fingers," advises Mavala's in-house nail and color expert Lynn Gray. "You will see instantly if the color washes you out and makes your hands look gray."
Broadly speaking, anyone with fair and cool-toned skin might find chalkier pastels like blue and lilac can make hands look a little washed out, whereas apricots and pinks bring paler skin to life. Medium or olive skin tones can be very nicely complemented by yellows and greens while dark skin tones can usually pull off pastel shades through the whole spectrum.
Obviously, much comes down to personal taste too, so if you love a shade don't be scared to give it a go. "Trust your instincts," says Lynn, "if all else fails go with something that makes you feel confident as there is no right or wrong."
Research nail trends
Casting rules aside, do some research and think about about which pastel colors you fancy trying. "Have a look on Instagram pages for inspiration or research nail companies new collections as they will lead the trends," says Lynn. "Mavala's Chill & Relax selection has a selection of creamy pastel shades including pinks, peach, and frozen berry, a gorgeous pastel purple."
Want to get experimental? Now's the perfect time. "Pastels always make a welcome return after the dreariness of winter," advises Carla Opoku, founder of nail brand Cienna Rose. "Greens have been popular for a few seasons now and will continue to be. A gorgeous pastel mint shade works on every skin tone and beautifully mirrors the freshness of spring and summer—think pistachio gelato."
This embracing of unusual pastel shades has really taken off everywhere from social media to Sainsbury's, who reported a 20% surge in sales of their Boutique Pastel Yellow and Pastel Green polishes during a spell of warmer weather.
If you chan't choose, wear them all...
Can't pick a shade? No problem, try a multi-colored manicure with each nail a different sugary hue. This playful and popular trend has really taken off, largely inspired by Carey Mulligan's unlikely hero in Oscar-Winning film Promising Young Woman.
"I get asked a lot of questions about the nails, which I'm always delighted to answer because I'm obsessed with nails." The film's director, Emerald Fennell told Variety, with actor Mulligan commenting, "I had this amazing manicure: Each finger was painted a different color of pastel. It was so pretty."
Fancy having a go? Either go all-pastel or follow Rita Remark, celebrity manicurist and Essie Global Lead Educator's tips and mix up the tones. "For a mismatched manicure, I love to choose colors that vary in vibrancy and depth," says Rita.
"Choose coordinating colors then when choosing the order, make sure to not place colors with similar depths beside one another, break up the order by polishing pastels beside darks to prevent the look from becoming an ombré mani."
The best pastel nail shades to try now
Pastel nail inspiration—our favorite looks
Pick & mix pastel nails
---
Mint speckled nails
---
Chalky green marble effect
---
Pastel lilac nails
---
Duck egg with daisies
---
Perfect pastel pink manicure
---
Negative space pastel swirls
---
Buttercup yellow with a cheeky smile
---
Textured pistachio manicure
---
Perfectly peachy pastel
---
Pastel lilac and nude nail art
---
Chalky blue nails
---
Pastel french tips
---
Tutti frutti tones
---
Pastel yellow nails to suit all tones
Promising Young Woman available on Blu-ray™ & DVD from 2nd August, also available on Digital Download now
woman&home thanks Lynn Gray and Carla Opoku for their time and expertise.
Image gallery compiled by Aoun Ali.
As woman&home's Senior Beauty Editor, Fiona Mckim has tried more beauty products than she's had hot dinners and nothing makes her happier than raving about a brilliant beauty find on womanandhome.com or her instagram grid (@fionamckim if you like hair dye experiments and cute shih-tzus)

Fiona joined woman&home as Assistant Beauty Editor in 2013, working under legend Jo GB, who taught her everything she needed to know about the industry (clue: learn about ingredients and employ extreme cynicism).
In a previous life, Fiona studied journalism back home in bonnie Scotland and honed her skills as a features writer at publications including Junior and Prima Baby, with a brief and terrifying stint on the showbiz gossip pages of a tabloid newspaper in between. She's a skincare fanatic who can't resist adding an extra step to her routine if it's all the rage in Japan, loves fragrance, has fun with makeup and never turns down the chance to test a new hair tool. Basically, she loves it all.

When not slathering herself in self tan or squinting at a tiny ingredients list on a moisturiser, you'll probably find Fiona enjoying something to do with food - cooking it, eating it, cajoling her friends into trekking across London to try a hyped pop-up in a dirty car park.
Come to think of it, the hot dinners and beauty products are probably about even.