17 on-trend summer nail colors to spice up your next manicure
From juicy orange to burnished bronze, our selection of inspiring summer nail colors will flatter every skin tone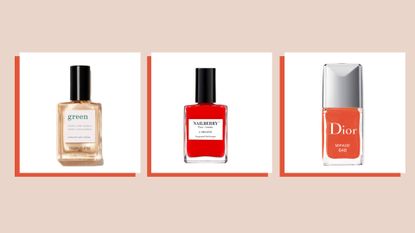 (Image credit: Future)
Nothing completes a summery outfit better than summer nail colors. Whether your nails are painted, gel or acrylic, you're going for a classic color or trying out the latest nail art, these bold shades are the perfect finish to any look.
Not sure where to start? Whether you choose a gel or acrylic manicure, master the DIY manicure, or how to do gel nails at home, shade is everything. The right summer nail design in a flattering hue will make you look and feel great.
But with so many shades to choose from, it's tricky to know what's on trend and what will suit you. So we've tried and tested the sunniest shades by trend-setting brands like Chanel and Dior plus drugstore favorites Rimmel and Essie to find the best summer nail colors for every skin tone – with expert tips on picking a shade and nail looks to get you inspired.
What are the 2022 summer nail colors?
It's all about nail care and a natural aesthetic this season, says Krisztina Van der Boom (opens in new tab), co-founder of DryBy (opens in new tab), "we've seen a big spike in interest in nail health. A natural-looking nail with minimal accents or nail art is the preferred choice of our customers," Prefer eye-catching colors? Don't worry. Summer 2022's trends have plenty to offer, according to the experts.
Monochrome: "Classic black nails are going to feature heavily in 2022 for both men and women. All black on short well-manicured nails can look very sophisticated, or you can turn it up a notch and go for a French mani with a twist using your favorite midnight shade," says ORLY expert Lou Stokes (opens in new tab).
Summer pastels: Mylee Senior Brand Ambassador, Tinu Bello (opens in new tab) says, "Pastels are a summer staple and can be bold, intricate, and elegant, especially when paired with nudes. For an alternative opt for a reverse French manicure by painting a pastel line at the cuticle curve or if you are feeling artistic, swirls of pastel are a great way to show off your favorite shades."
Vivid brights: "We are living for a bright and bold color moment this summer – we are no longer in the nude zone. My clients are loving the bold prints and designs for a fun summery vibe mani. Going from the natural muted nudes to bright sunset orange is a must this Summer," says Chaun Legend, Nail Artist in Residence for Lottie London.
Pared-back art: Nail art will take a simple, graphic approach. "Nail art will be minimalist," says Alex Fox, Editor-in-Chief of Scratch (opens in new tab) magazine, while that perpetual favorite - the baby French mani – also features. "French will appear in a myriad of ways from a thin line or doubled up to sensational colored tips."
Y2K nails: "As the '00s resurgence rumbles on, so does nail nostalgia in the form of Y2K nails. Smiley faces, flowers, waves, and hearts can be added to the nails for a fresh fun nail look. Bright colors are key so dig out your favorite neon pinks, bright blues, and eye-catching yellows," says Stokes.
18 summer nail colors we love now
1. Dior Vernis in Mirage
Specifications
RRP: $30 / £22
Size: 10ml
Colors: 19
Reasons to buy
+
Vivid color
+
Glides on easily
+
Long-lasting
This vibrant Mirage shade is the perfect choice for the bright color trend. All Dior Vernis shades offer an ultra-shiny finish with a gel effect that lasts and lasts. While the higher price point may partially be attributed to the luxurious Dior branding, this formula is also one of the glossiest and most hard-wearing on our list for a long-lasting freshly manicured look. If you favor a more subtle look, this shade will work well as bright French tips over a neutral shade or dotted over a neutral base above the cuticle.
2. Manucurist Nail Polish in Gold Sand
Specifications
RRP: $19 / £15
Size: 15ml
Colors: 53
Reasons to buy
+
High-pigment finish
+
Long-lasting shimmer
+
Kind to nails
+
Eco-friendly
Reasons to avoid
-
A statement look might not be as suitable for everyday
We love this eco-friendly beauty brand that's kind to your nails and the planet. The entire manicurist range is created using up to 84% bio-sourced ingredients and is completely vegan and cruelty-free. Gold Sand offers a high-pigment shimmer that's perfect for balmy summer evenings, with a high-shine finish.
3. Nailberry 5 Free Breathable Luxury Nail Polish in Cherry Cherie
Specifications
RRP: $18.38 / £15
Size: 15ml
Colors: 15
Reasons to buy
+
Opaque finish
+
High shine
+
Glides on easily
+
Breathable formula
We loved this vibrant nail color. It glides on like a dream and lasts and lasts, even after we gave it heavy-duty activities like washing up and a very sweaty boxercise class to contend with. The formula is light and breathable, making for a less clumpy finish and happier, healthier nails after removal. We'll definitely be investing in some of the other 15 shades in the range.
4. Sally Hansen Complete Salon Manicure in Commander in Chic
Specifications
RRP: $8 / £6.75
Size: 14.7ml
Colors: 17
Reasons to buy
+
Super chip resistant
+
Nourishes and protects the nails
+
Long-lasting formula
Reasons to avoid
-
Less noticeable shade
-
Needs more coats for an opaque finish
Nude shades aren't just for the cooler seasons; natural shades also make great summer nail colors and will complement a bronzed glow and darker skin tones. This understated hue from Sally Hansen is perfect for everyday wear, as not only is the shade classic and neutral, but the formula is also super chip-resistant and offers a gel-like effect that nourishes and protects the nails. We found we needed to apply three coats rather than two for a truly opaque color, though. If a brighter shade is more your thing for summer, there's a wide variety of shades in the 17-strong range.
5. Le Mini Macaron Gel Polish in Milkshake
Specifications
RRP: £11.99 (UK only)
Size: 10ml
Colors: 12
Reasons to buy
+
Glides on easily
+
Quick drying
+
Opaque finish
+
On-trend color
This opaque white shade has garnered a cult following thanks to its winning formula that glides on easily and really lasts. It's part of le mini macaron, one of the best at-home gel nail kits on the market, with a gel formula developed to withstand chips. Another bonus is that this polish cures in just 30 seconds, far faster than your average gel manicure or dip powder nails. This bright white shade is only available in the UK at the moment, but other shades in the range are available in the US at $12 per 10ml bottle.
6. Nails Inc Nail Polish in Walker's Court
Specifications
RRP: $8 / £11
Size: 10ml
Colors: 6
Reasons to buy
+
Neon bright shade for statement color
+
Makes a tan pop
+
Wide-hugging brush for easy application
Reasons to avoid
-
Neon brights may be too garish for some
This statement shade from cult classic nail brand Nails Inc is sunshine in a bottle and perfect for ticking the vivid bright trend box. Designed with a wide-hugging brush for easy and even application, it's a great holiday shade and works well on toes if you're looking for pedicure ideas too. If this shade is a tad too bright for you, we found it a great option for the neon tips trend or dotted onto nails to add a summery finish to a natural manicure.
7. Chanel Les Vernis Longwear Nail Colour in Rouge Noir
Specifications
RRP: $39 / £32
Size: 13ml
Colors: 56
Reasons to buy
+
High shine
+
Longwear formula
+
Attractive packaging
+
Wide range of shades
Darker nails have never been more on-trend thanks to the likes of Jennifer Lopez opting for chic black nails and a neat shape. While this shade may be more associated with the winter months, we say Chanel's Rouge Noir makes it a perennial classic, with a warm reddish tinge for a sophisticated and sultry summer nail look. Chanel polishes may be on the pricier side, but the high-shine finish, easy-to-glide-on formula, and luxury packaging make them worth the investment.
8. Essie Nail Lacquer in Cocktail Bling
Specifications
RRP: $10 / £7.99
Size: 13.5ml
Colors: 100+
Reasons to buy
+
Sophisticated take on pastel
+
Glossy finish
+
Curved brush
Reasons to avoid
-
May not suit very fair skin
This gray-verging-on-lavender shade is a really versatile color that can work day and night, with a high-shine finish and brush to suit all nail sizes for easy application. The glossy finish of this particular gray makes it less muted and one of the best summer nail colors for anyone who prefers a more pared-back nail look. It also makes for a sophisticated take on the pastel nails trend.
10. Collection Spotlight Shine Nail Polish in Lavender Rose
Specifications
RRP: £3.15 (UK only)
Size: 10.5ml
Color: 21
Reasons to buy
+
High shine
+
Big range of colors
+
Vegan friendly
Reasons to avoid
-
Not as long-lasting as other formulas
This soft, dusky pink radiates summer romance. This polish features a smooth, wide brush for easy, mess-free application and a high-shine finish that will work well on fingers and toes. We did find this a slightly thinner formula than others, so you may need three coats to achieve a completely streak-free finish. The finished look also didn't as long-lasting as some other brands we tried, but you can't knock it for this price.
11. Makeup Revolution Ultimate Shine Gel Nail Polish I'm Chilled
Specifications
RRP: £5 (UK only)
Size: 10ml
Color: 6
Reasons to buy
+
Affordable price point
+
High pigment
+
A summer twist on the pastel trend
Brighter pastels are a big trend for 2022 and, teamed with a glossy top coat, provide a summery twist on the more muted pastel shades we saw in spring. Revolution's on-trend pastel shades provide full pigment in one coat (but try two if you want a truly opaque look). While the formula is long-lasting, we found this polish chipped a little more easily than other brands we tried, but with such an easy application process, touch-ups aren't a chore.
12. Rimmel London Super Gel in Soul Session
Specifications
RRP: $9.99 / £5.23
Size: 12ml
Colors: 34
Reasons to buy
+
Long-lasting formula
+
Wide shade range
+
Affordable
Reasons to avoid
-
Doesn't glide on as easily as other brands
Dubbed by the brand as 'a breakthrough in gel nails' this affordable polish is said to offer the effects of a gel polish without the faff of a UV lamp, with up to 14 days of gel color and shine. Soul Session is an easy summer neutral shade that's perfect for everyday wear. You may need an extra coat with this shade, however, as it is a little sheer. And while we wouldn't say the shelf-life of this polish stretches quite to the two-week mark, the effect is long-lasting with surprisingly minimal chips.
13. Mylee Gel Polish in Santorini Rooftops
Specifications
RRP: $10.33 / £7.99
Size: 10ml
Colors: 23
Reasons to buy
+
Vivid color
+
High shine
+
Affordable price point
+
Long-lasting
Reasons to avoid
-
Only works with a UV/LED lamp
For those who have a gel nails kit at home, the MyGel range from Mylee is a great choice for long-lasting, glossy nails. Our shade of choice for summer is the aptly named Santorini Rooftops; a deep and vibrant blue that's perfect for holidays. This striking shade is a great option for fingers and toes, although you will need to cure any MyGel polishes under a UV or LED lamp.

14. Peacci Nail Polish in Wisteria
Specifications
RRP: $12.50 / £10
Size: 10ml
Colors: 10
Reasons to buy
+
Super pigmented
+
Easy to apply
+
Subtle color
+
Glossy finish
Reasons to avoid
-
Less vibrant than other shades
Part of the summer Regency Bloom range from Peacci, Wisteria is a pastel lilac with a frosted shimmer that glistens in the sun. We loved the pretty shade and delicate, glossy finish that makes for a great shade to wear for special occasions such as weddings. The formula is easy to apply and super pigmented, so a few coats provide an opaque finish.
15. ORLY Saturated Nail Polish in Royal Navy
Specifications
RRP: $11 / £11.75
Size: 18ml
Colors: 6
Reasons to buy
+
Glitter finish
+
High-pigment color
+
High shine
+
Long-lasting
A glittery finish isn't just for the festive season - this high-shine sparkling cobalt blue will work just as well on the beach. The finish is subtle enough for this polish not to look garish; a bright blue that sparkles when the light hits it. ORLY polishes have a long-lasting shine and don't wear or chip easily, so they're perfect for durable wear on holidays when there are sea swims and suncream applications to contend with.
16. Zoya Nail Polish in Dacey
Specifications
RRP: $12 / £9.95
Size: 15ml
Colors: 28
Reasons to buy
+
Vibrant shade
+
Great for toes
+
Suits all skin tones
Reasons to avoid
-
Shine fades after a few days
This hot pink shade is one of the most classic summer nail colors, and suits pretty much any skin tone, with a super-glossy finish. Bear in mind though, that this shade looks best on the first few days after application. After that, we did find the finish lost its luster slightly. That aside, The formula is sturdy and lasts well with minimal chips so it's a great choice for a pre-holiday mani or pedi that will go the distance. In fact, this bright shade looks particularly lovely on toes (and even better on the beach)
17. Essie Nail Polish in Feelin' Just Lime
Specifications
RRP: $10 / £7.99
Size: 13.5ml
Colors: 100+
Reasons to buy
+
Long-lasting finish
+
Easy application
+
Wide variety of shades in the range
+
Affordable price point
Bright lime green is not the most traditionally wearable shade, but it is right on trend for summer 2022 and, and suita a surprisingly wide variety of skin tones (although it looks its absolute best on deeper skin) This particular shade from Essie is vibrant and easy to apply with a super glossy finish. We particularly love how it looks on tanned toes.
---
How to pick summer nail colours that flatter your skin tone
If you ever wear a certain color and get a lot of compliments the chances are you're wearing the right shade, but if you aren't sure where to start, nail artist Madeline Poole (opens in new tab)'s tips can help. "First, consider the tone of your skin, meaning the lightness or darkness level. Then look at the warmth or coolness. If you have an undertone of pink or red, nail colors with blues in them are more flattering for your complexion. If your undertone is more neutral, golden, or olive, yellow-based shades with more warmth will look fantastic for you."
There's an easy way to determine if you have warm, cool, or neutral undertones is by turning your palms up towards the sky. Looking at the inside of your wrist, the visible veins will either be blue, green, or a combination of the two. Blue veins mean you have a cool or pink tone to your skin; green veins mean you have a warm or yellow tone to your skin; a combination of blue and green mean you'll most likely have a neutral skin tone.
Inspiring nail looks for summer
1. Baby French polish
Tiny tips with the shiny, neutral base make for an ultra-modern take on this classic style. Take it a step further by adding a small pop of color to the tip with a bright orange or pink to let your nails do the talking. In a rush? Our guide on how to dry nail polish fast can help you hurry things along a bit.
2. Tangerines and hot oranges
"Medium skin can play with hot corals and peaches," says Fox. Try a coral, tangerine, or warm red polish. If you prefer a more subtle look, an orange tip will look great without being overpowering.
3. Tiny accents
Nail art has gone minuscule and designs popping up all over the place are a gorgeous shade of metallic gold and silver. Think clean, fine lines and delicate accents on one nail or across both hands.
4. Vivid red
A bright red on nails never goes out of style. Warm skin tones should go with a yellow/orange-based red, whereas cooler skin tones will suit a blue-based red.
5. Cool greys, lilacs and blues
Fair skin is generally cool in tone and Fox recommends "lilac, blue, and greys" to complement this. Lighter skin tones need summer nail colours with blueish undertones to enhance the skin and elongate fingers for a more elegant look.
6.Deep and dark
Dark nail polish just oozes sophistication but don't think a dark manicure is only for autumn-winter, summer nights are also ideal for this glamour-puss look. To really *nail* this style, opt for a deep plum, berry, or brown shade as straight black can look too harsh.