The 29 best glitter nail designs to add some glitz to your next manicure
Revamp your mani with these seasonal glitter nail designs, from holographic to barely-there styles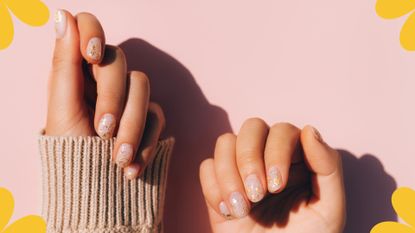 (Image credit: Future/Getty images)
What could be better than glitter nail designs to lift your spirits? Adaptable for any occasion and season, glitter is a timeless classic that can be done in a million different ways.
Whether you like long extensions or prefer to stick to the natural look, there is a glitter nail design out there that will work for your nail's shape and condition. "Glitter nails always seem to make a comeback during autumn and winter," says Laurie Nicoll, Founder of Lacquered + Stripped on Treatwell. But as one of the most popular nail designs of 2022, Nicoll insists that glitter is not only for the party season. "We often get clients asking if glitter will look immature or too Christmassy, but if you opt for a subtle glitter or glitter flakes, it can be a chic statement." This is especially true when combined with other trending looks, such as marble nail designs.
Ombre nails are also a growing trend that can be easily achieved with glitter polishes. "We've had a lot of people asking for a glitter fade recently. This is when a dense glitter fades into a scattered lighter glitter," Nicoll says. "Another popular request is a nude base with subtle glitter or flakes over the color." Clearly, glitter nails are firmly on the map of chic nail looks – these are our favorite ideas to inspire.
29 glitter nail designs to inspire your next manicure
1. All over glitter
Sometimes simple is best. Go for an all-over glitter polish in a neutral silver for a uniform yet eye-catching look that will be perfect for all manner of celebrations.
2. Glitter fade tips
For glitter nail designs with a bit of edge, the faded tip style is ideal. Neutral yet intriguing, this pink nail design is the perfect everyday look. Opt for a glitter shade that complements your base color for a more subtle look, or pick from opposite ends of the color wheel to make a statement.
3. Glitter accents
If you find too much glitter overwhelming, go for glitter accents. Choose a couple of nails to go sparkly with, and add subtle hints on the others. For precise application, consider investing in nail art brushes and get that salon finish from home.
4. Dense glitter polish
"Dense glitter tends to chip more than other glitters. However, if you go for a gel polish it will last much longer than regular polish," says Nicoll. Set with a clear, shiny top coat to seal the sparkles in.
5. Holographic glitter
Holographic polishes catch the light beautifully and contain multiple different shades, perfect for those who can never make their mind up when it comes to nail color. Apply at least two coats of holographic polish to get an opaque look.
6. Halloween inspired glitter
For seasonal glitter nail designs that won't age in the run-up to Christmas, this spiky glitter pattern is ideal. Use black as your base shade and allow it to dry before layering glitter over the top.
7. Square glitter tips
On shorter nails, a square shape with glitter tips works to elongate the fingers whilst keeping the natural look. Try out BIAB nails for a long-lasting polish that will help with growth, too.
8. Glitter nail art
On long nails, painterly nail art is the best way to make the most of your length. To keep long nails healthy, "use cuticle oil twice a day and go for a professional manicure once a month to maintain your cuticles and overall nail health," says Nicoll.
9. Rainbow ombre
Rainbow shades aren't just for the warmer months. Add a splash of color to your fall glitter nail designs by experimenting with rainbow ombre and a glitter overlay. To prevent peeling and to allow the color to peek through, stick to one coat of glitter.
10. Glitter French tips
French tip nails are a classic for a very good reason. Stray from the classic white and try a glittery French tip, for all the appeal of a classic manicure with some added glitz. Use a nail brush dipped in nail polish remover to clean up any rough edges.
11. Matte glitter
If glossy glitter is slightly too much shine for you, try a matte look. Either use matte polishes or invest in a matte top coat to instantly transform any polish you already own into this soft-focus finish.
12. Glitter flecks
Glitter doesn't have to be the standout feature of your manicure. Incorporate flecks of glitter into your favorite designs to add a holiday twist and add some texture. Silver is the perfect neutral glitter shade that will match any color palette.
13. Monochromatic glitter
For a muted manicure, stick to a monochromatic color palette. This white nail design with grey is unique without being overwhelming, making it the perfect all-rounder for any time of year.
14. Solid glitter tips
For a different take on French tips, try half-tip glitter nail designs. Especially good for coffin shapes, this design is easier to achieve than classic French thanks to the straight edge. Allow your base coat to dry and use tape to map out your tip for a quick and easy hack.
15. Transparent glitter
Everyone should have a transparent glitter polish in their kit as they're Ideal for layering or wearing alone. Apply one or two coats onto plain nails to get transparent glitter nail designs that allow the natural nail to peek through.
16. Confetti glitter
For a less refined look, a confetti-style glitter is a gorgeous option. Perfect for parties, the irregular pattern provides a totally unique look on each nail. This style of glitter works best when worn alone rather than layered, so apply straight after your base coat.
17. Neon glitter
Carry the spirit of summer in your nails no matter what season it is with a bright neon color palette. The perfect accent for darker, fall-toned looks, let your nails be the standout feature of your look.
18. Barely-there glitter
The barely-there glitter nail design is impossibly chic whilst also adding a little something extra to your classic manicure. Pick a polish with very fine glitter and add one coat as a topper to achieve this style.
19. Chrome and glitter
Alternate your glitter polish with chrome to get the ultimate shiny mani. We love gold-tone glitter nail designs for Christmas nail designs, but this is a look that will work no matter the season. File the nail bed before applying your base coat to get a bump-free finish.
20. Alternating glitter accents
Can't pick your favorite glitter style? Have them all! Switch up the look on each nail to keep things interesting, but stick to one color palette to keep things cohesive.
21. Motif glitter
Glitter doesn't just have to refer to the classic sparkly look. Try shapes like stars and hearts to create a bigger and better glitter-inspired design. Stick any gems onto wet polish and seal in with a top coat.
22. Accent nail
Dip your toe into the glitter nail designs world with a subtle accent nail. Particularly good for natural nails, this style makes a great nail design for short nails. Apply glitter as a top coat on your nail of choice for a sparkly statement.
23. Alternating glitter
This color palette is perfect for fall but also allows for experimentation. If you want to try matte glitter, dense glitter, and holographic glitter for size, try a different style on each nail for a wonderfully bold look.
24. Neutral glitter
Despite the statement this look makes, it is surprisingly versatile. The neutral color palette and string tape design will suit any nail length and shape and can be easily adjusted to suit your taste. Try using glitter for the string tape element to make the look even shinier.
25. Glitter frame
There are a million different ways that glitter nail designs can be incorporated into your normal look, and this twist on a classic proves that. Whether you go for a French tip pattern or keep it classic, glitter framing will add a subtle edge.
26. Jelly nail glitter
Jelly nails are growing in popularity and we love the soft finish they give. Easily replicated from home, layer a jelly polish with a glitter top coat for a soft yet glitzy look.
27. Chunky holographic
For a bolder take on holographic glitter nail designs, pick a chunkier polish that will show its texture in the light. Different from every angle, holographic polishes look just as good on any nail length and shape.
28. Glitter patterns
Use loose glitter to create your own seasonal shapes and designs, creating a 3D look. Leave without a top coat for a matte look, or seal in with a clear, shiny layer to keep that glitter in place for longer.
29. Black glitter
If you like to stick to dark colors on your nails, a black glitter polish will give just the right amount of sparkle that won't overwhelm the base shade. For an even darker look, add an extra coat of black after your base coat.
Sign up to our free daily email for the latest royal and entertainment news, interesting opinion, expert advice on styling and beauty trends, and no-nonsense guides to the health and wellness questions you want answered.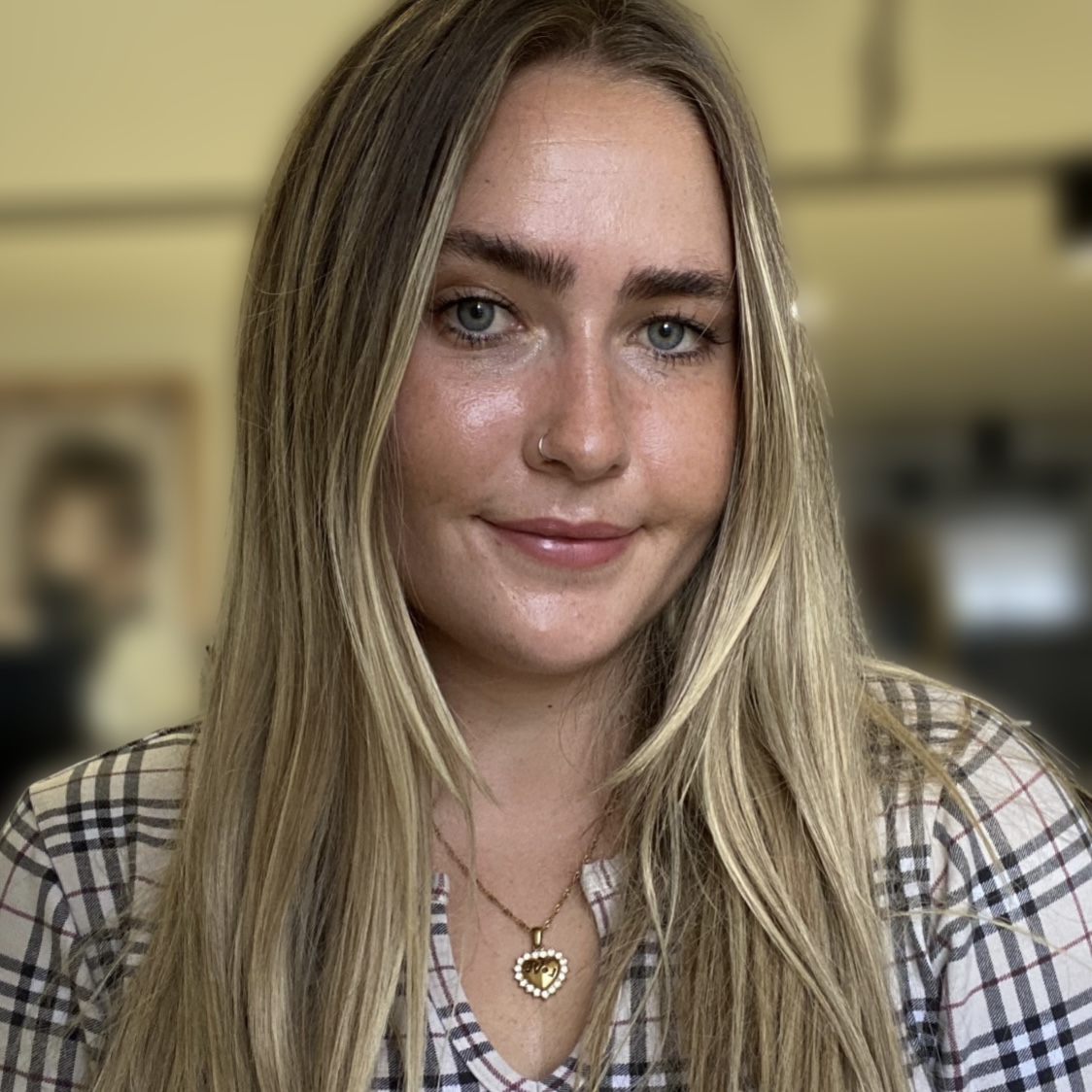 Amelia joined woman&home in 2022 after graduating with an MA in Magazine Journalism from City University and is now a senior writer. She began building her career as a lifestyle journalist after completing a fashion journalism course at the Condé Nast College of Fashion & Design in 2019, writing for a variety of titles including OK! magazine, New! magazine and Notion on topics such as sustainable fashion and entertainment. She specialises in fashion and beauty content, covering everything from product reviews and nail art trends to reporting on fashion weeks and the best-dressed celebrities at red carpet events. With a keen eye for lifestyle trends, she is always on the lookout for the latest products and brands to hit the market.