32 white nail designs to try this season, from simple to arty styles
Minimalist and chic, these inspiring white nail designs are suitable for every occasion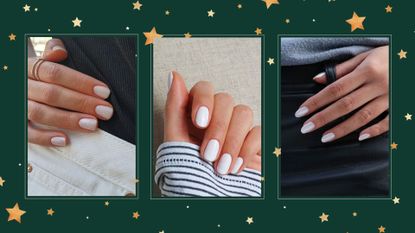 (Image credit: Future/Townhouse)
While certain nail trends come and go, others – like white nail designs – stick around. Popular since the '00s, a classic white manicure looks fresh, clean and perennially chic.
Not solely reserved for the summer months, white nail designs are a key nail trend 2023 has to offer. "Nothing looks quite as fresh as a crisp white mani," says Juanita Huber-Millet, founder of Townhouse, "it's one of the most wearable nail designs that can instantly elevate any outfit." A popular choice in salon, Huber-Millet notes that one of this year's biggest trends has been milky white nails. "Following on from the clean-girl aesthetic, we've seen a rise in demand for this subtle, simple design that merges white with a soft pink to create a new neutral."
For autumn/winter Huber-Millet is expecting to see more white pearl, iridescent and glazed nail looks. "It's a must-try look that's perfect for every occasion – whether it's an intimate soirée, winter wedding, or festive party," she says. Along with glazed nails, we've rounded up 32 white nail designs to inspire your next manicure.
32 white nail designs we love
Simple white nail designs
1. Glazed donut nails
'Glazed-donut nails' are having a moment after supermodel Hailey Bieber posted her shimmery talons on social media. To recreate the look, start with a white base layer before painting a sheer, pearlescent polish on top.
2. Milky white nails
Another top nail trend for 2022, milky nails are a great choice for autumn/winter. Bright yet neutral, this sheer shade always looks fresh. Seek out a semi-opaque white nail polish and apply two thin coats.
3. Classic French manicure
A classic French manicure is perennially chic. For an elegant finish, ask your manicurist for a squoval nail shape with soft, rounded edges.
4. Blank canvas nails
Painted blocks of white polish are a great choice for summer and weddings. Opt for an opaque polish and paint on two to three coats before finishing with a glossy topcoat.
5. White swirls
Swirly nail art, like snowflake nail art, is far easier to do than it looks. All you need is a small, thin brush to paint abstract swirls onto a neutral base.
6. White almond nails
If your natural nails are long, maintain the length with a classy almond shape (aka slightly pointed with rounded sides) and show them off in a bright white polish.
7. Ombre white nails
For a sophisticated spin on a classic French manicure, go for ombre nails using white nail polish. To do this at home, paint on a neutral base before applying a white tip and blending it in with a sponge. Finish with a glossy topcoat.
8. Reverse French manicure
Mix things up with a reverse French manicure, as spotted on myriad A-listers. Try it at home with a thin brush or ask your manicurist to recreate this look – it's likely they'll be well versed in this trend.
Short white nail designs
9. Baby French manicure
As you can tell, we love a French manicure – especially a baby French manicure that's suited to short, square-shaped nails. Ask your manicurist for a super thin white tip painted on top of a neutral base to recreate this subtle look.
10. White and chrome nails
An easy way to dial up a white manicure on short nails is to opt for an accent nail in a standout shade. Why not experiment with a single silver chrome nail, as seen here.
11. Minimalist manicure
A square nail shape is super flattering – especially for short nails. Keep things simple and go for a sheer white polish that can be built up to create a milk bottle color that's minimalist yet chic.
12. Gold foil details
Make a statement with short nails and ask your manicurist for gold foil details on top of a white base. It's the perfect pick for party season and winter weddings.
13. Love letter nails
We're a little bit obsessed with these love letter nails. Perfect valentine's day nails, ask your manicurist to spell out 'love' across your nails in swirly, white handwriting using a fine brush.
14. Fluffy clouds
If you thought short nails were limited to simple white nail designs, think again. Take inspiration from this cloudscape, featuring fluffy white clouds on a neutral base. We'd recommend saving this look for when you're next in the salon.
15. White love hearts
Another great design for Valentine's Day (and all year round), you'll need to invest in a dotting tool to recreate this nail look at home. Simply dab on two white dots before joining them up with two diagonal lines.
16. Dotty details
This minimalist nail art design is really easy to achieve on short nails at home. Simply take a dotting tool and apply a white and black dot at the base of each nail. This little detail will make your nails appear longer, too.
White nail art designs
17. White daisy nail art
How adorable are these white daisy nails? Guaranteed to put a spring in your step, these ditsy flowers can be drawn onto nails using a dotting tool. For best results, we recommend opting for an almond or oval shape.
18. Spooky Halloween nails
Dress up your nails for the spooky season with miniature ghost details. Try this at home using a thin nail brush and a dotting tool (for the eyes), or show this image to your go-to manicurist.
19. White speckled tips
If you're still obsessing over your easter nails, give this subtle speckled French tip a whirl. Suitable for all year round, the black and white dotty tips give a subtle nod to mini eggs.
20. Milky marble nails
Too technical to try at home, we recommend asking an expert to recreate this elegant, marbled manicure with a touch of gold foil. This look works best with almond-shaped nails.
21. Abstract doodle nail art
Turn your nails into a work of art with abstract doodles of faces and shapes. Give this a go at home, using a very fine nail brush, and to make things easier – leave one hand free of nail art.
22. Pressed flower nails
By far the most beautiful nail trend to emerge from last year, pressed flowers on a white or neutral base is a great mani choice for a bride-to-be or wedding guest. If you want to do this DIY, we recommend learning how to do gel nails at home first.
23. White grid nails
White grid nails are a simple nail art design that instantly makes an impact. To do this at home, you'll need a thin brush and a steady hand. Or invest in some press on nails that are already adorned with a similar design.
24. Mix and match nail art
Why stick to one white nail art design when you can experiment with five? Try mixing florals, checks, clouds and swirls to create the ultimate mash-up design.
White nail designs with glitter
25. Chrome French tip
More shimmer, less glitter – this sophisticated French manicure features a layer of chrome dust, set under a clear topcoat. To try this design at home, we recommend opting for a pearlescent topcoat instead of powder, as it will give the same effect.
26. Frosted finish
For a hint of sparkle that's subtle but will still catch the light, try applying a fine glitter polish on top of a milky white base. It's one of our favorite Christmas nail designs for 2022.
27. Full on sparkle
Use a combination of fine and chunky glitter, painted onto a white base, to recreate this look. The trick here is to use a makeup sponge to apply the glitter polish (applying liquid latex to protect the skin surrounding your nails first) for a full-on sparkle.
28. Shining stars
A subtle alternative to glitter, ask your manicurist for gold confetti stars on a milky white base instead. It's festive, fun, and flatters both short and long nails.
29. Glitter ombre nails
Another fun take on ombre nails, use a make sponge to press silver glitter onto a white or neutral base – working from the tips down. Finish with a clear topcoat.
30. Pearls and glitter
More is more, right? Go OTT this season with a French manicure, lots of glitter, and an assortment of pearls. Save this design for your next salon visit.
31. Silver glitter gradient
If a sparkly silver eye is part of your go-to Christmas makeup, complete your whole look with silver frosted nails on top of a white base. Apply glitter just at the base to recreate this nail design.
Glitter waves
After a minimalist glitter nail design? As your manicurist for silver sparkly waves painted in thin lines on top of an opaque white base. To keep it cool, leave some nails bare (without the glitter).
---
Keen to try pearl glazed nails? Customers can book Champagne Pop or Dazzling Disco (two pearly shades) from Townhouse's AW/22 Party Collection at Townhouse Salons from October 5th. From £55 including a manicure.
Sign up to our free daily email for the latest royal and entertainment news, interesting opinion, expert advice on styling and beauty trends, and no-nonsense guides to the health and wellness questions you want answered.
Emma Stoddart is a freelance beauty journalist and self-confessed skincare aficionado with over five years' industry experience. Emma has worked for some of the UK's top women's titles including Net-A-Porter, Stylist and Grazia. Her experience spans online and print as well as producing editorial shoots with some of the industry's biggest artists, including Val Garland. Asides from working with them behind the scenes, she's also had the chance to interview the likes of Patrick Ta, Pat McGrath, and Sam McKnight for all their insider tips and tricks.