Nail trends 2023: the latest shades and designs to have on your radar
These are the best nail trends for summer and beyond, from milky monochromes to futuristic florals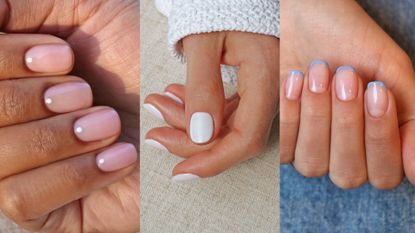 (Image credit: My Townhouse)
woman&home newsletter
Sign up to our free daily email for the latest royal and entertainment news, interesting opinion, expert advice on styling and beauty trends, and no-nonsense guides to the health and wellness questions you want answered.
Thank you for signing up to Woman & Home. You will receive a verification email shortly.
There was a problem. Please refresh the page and try again.
Let's discuss the best nail trends 2023 has to offer. With every season comes new beauty ideas, and many of us are keen to find out what nail trends are incoming this summer so we can plan ahead for our next nail appointment.
We've already seen so many beautiful nail designs emerge this year. White nail designs have become the minimalist look of choice. For the bold, cobalt blue and Barbicore pink are the 'it' colors to try now. And new techniques like BIAB nails, polygel nails and dip powder nails have also came to the fore. Looking ahead to the summer nail designs 2023 has in store, expect to see more metallics, barely-there glazed nails along with neon brights and mermaid nail art .
Other trends taking over this season include embellished nails featuring gems, pearls, and even piercings. Oh, and TikTok's 'clean girl' makeup aesthetic will transcend onto our hands (say hello to healthy and subtle Bio Sculpture nails). Here, we break down the top nail trends to know in 2023, as predicted by the experts. We suggest bookmarking this page so you can save your favorite looks for your next manicure.
Nail trends 2023: top looks to try now
1. Lip Gloss Nails
If you're not already familiar with lip gloss nails, let us introduce you to this need-to-know nail trend that's recently taken over our social media feeds. Spotted on the likes of Jessica Chastain, Hailey Bieber, and Anitta, "this nail trend mimics the shiny sheen finish of lip gloss applied on bare lips or nude lipstick," explains Tinu Bello, celebrity manicurist, and Mylee brand ambassador. "It's all about that glossy topcoat – you want your nails to shine from every angle and sort of look like jelly."
To tap into the trend at home, "start with nails that are buffed, super clean, and immaculately filed into shape," says Bello. For the base color, choose between a sheer milk nails look a la Jessica Chastain, a pearlescent pink like Anitta, or a bright popping hue as seen on Hailey Bieber. "Lastly, and most importantly, apply a few coats of a glossy topcoat for the ultimate lip gloss finish," continues Bello. "This look is stunning for mid to long-length nails but also perfectly suits shorter lengths and shapes," adds Juanita Huber-Millet, Townhouse founder and creative director.
Our beauty editor recommends...
2. Green Nails
Not exactly ground-breaking, green hues have been dominating the nail sphere for some time. And for 2023, this popular shade shows no signs of waning. Not as bold as the Bottega green that reigned supreme in 2022, expect to see more sophisticated shades in sage, pistachio, and forest green. "I love green nail polish as I think there are so many ways you can wear it," says Iram Shelton, professional nail artist, and Max Factor nail ambassador.
For a subtle nod to this nail trend, try a pastel green French tip – "French tips look great on both long and short nails," says Shelton. Another way to wear this color? "Opt for a gradient manicure where you start off with a dark green on one nail and work through to a lovely light green," suggests Shelton, "these designs are especially great during the spring and summer months." As for shades, try Max Factor's Masterpiece Xpress Polish in Feelin' Pine for a cool khaki green, or go brighter with Gucci's Nail Polish in Melinda Green.
Our beauty editor recommends...
3. Metallic Ombre
Their star began rising 2022, and ombre nails show no sign of fading in 2023. "Ombre nails are a style of nail art where a significant color gradient is created," explains Bello. Typically, this involves a lighter shade at the base of the nail which gradually blends into a darker hue towards the tips. "For 2023, it's all about a nude melting into a metallic," says Bello, "particularly watch out for silver – it's set to be super-hot!"
Keen to give this minimalist yet chic nail trend a whirl? "Apply the first shade to the base of your nail and the second shade to the tip," instructs Bello. "Then, blend the two colors with a nail art brush to connect the gradient," she continues. If you don't have a blending brush, this look can be achieved using a sponge, too. Simply apply your base coat and sponge on the metallic shade on the top, focusing just on the base or the tips before finishing with a clear top coat.
Our beauty editor recommends...
4. 'Clean girl' nails
If you're on TikTok, chances are you've heard of the 'clean girl' aesthetic. A major beauty trend, this natural makeup look takes inspiration from the model off-duty vibe, with hydrated, radiant skin and barely-there makeup. Think brushed-up brows, dewy skin, and a healthy outdoorsy flush. And for spring-summer 2023, the experts are predicting that this trend will move on to our nails.
"I think that the 'clean girl' aesthetic is here to stay, with minimal, short, well-groomed nails being at the forefront," says Shelton. Her go-to shade to achieve this look? Max Factor Miracle Pure Nude Rose. "I find this shade compliments all skin tones and can be paired with nail art if that's your style. What I also love about this particular shade is that it can create a beautiful milky look with a few extra coats. It's a winner for me."
Our beauty editor recommends...
5. Joyful tones
"2022 was all about neutrals," says Bello, "we adored those cool beiges, browns, and whites." But for our 2023 nail trends, expect the industry to shift towards bold and uplifting shades. "Rather than an all-over hue, I predict that brights will be used to outline and accent nails, taking a basic manicure to the next level," continues Bello. Think contrasting edges and negative space. The hottest colors to look out for? According to Bello - blue, green, purple, and orange will be the summer nail colors of 2023.
Fancy experimenting with bright colors at home? For a simple take on this fun trend, we suggest painting one accent nail on each hand in a bold, bright hue. Keep the rest of the nails pared back in a muted tone to create contrast. If you're a dab hand with nail art, play around with bold painterly strokes or bright, fluoro French tips in green or orange hues.
Our beauty editor recommends...
6. 3D nail art
"For 2023, 3D nail art is going to be big," says Shelton. "Think diamond-encrusted accents, patterns that replicate your favorite fabrics, as well as stickers, nail jewels, and gemstones," adds Bello. According to both experts, anything goes with this nail trend – just have fun with it. "Previously, we have seen longer nail shapes adopt this style," notes Bello, "but for 2023, the trend will skew towards a shorter nail length, with a square or squoval nail shape."
Any nail shade will work here but Bello recommends contrasting colors, "such as black against silver and gold embellishments for that wow factor." A micro-trend within this trend will be nail jewelry. "This is where piercings or chains are added to the nail tips," explains Shelton, "it works best on longer nails such as acrylic nails; however, I'm going to try this look on my shorter nails – so keep your eyes peeled!"
Our beauty editor recommends...
7. Monochrome manicure
Have you aced how to do gel nails at home in recent years? You're not alone. "Many of us started painting our nails at home during lockdown and have since mastered that professional salon look," says Shelton. One 2023 trend that can look professional without too much skill (or effort) is the monochrome manicure. "Monochrome manis are ideal for people who aren't that confident with nail art," adds Shelton, who notes that A-listers everywhere are rocking simple monochrome nails – "and they look amazing."
So, what is the monochrome manicure, exactly? Essentially, it's a solid color manicure that can be in black and/or white. As with most trends, there are lots of variations, but to keep it simple just opt for block colors of one shade. For summer, experiment with chic white nails, which look great with a tan. "I would always recommend using a base and top coat when doing manicures at home," says Shelton, "this will help boost the longevity of your manicure and will also give you that high shine finish." Noted!
Our beauty editor recommends...
8. Futuristic nude
If you can't give up your go-to nude polish, then prepare for a major upgrade. "Gold overlays and 3D manis will be everywhere in 2023," says Bello. "My favorite technique is to lay down a nude base layer before outlining the edges with metallic polish." Other techniques include metallic French tip nails or half-moons as well as reflective heart and star accents.
"Another interesting way to add understated glam to nude nails is to use foil as an embellishment," says Bello, "foil has become an easy alternative to hand-drawn art." It's also extremely versatile and can be used to create countless nail looks. "You can press different color foils over and around each other to create a camouflage effect, or you can cut them into strips and press them on for a chic stripy finish," continues Bello.
Our beauty editor recommends...
9. Aura nails
"Aura nails will continue to be a popular trend in 2023, thanks to celebrities like Megan Thee Stallion championing the look," says Bello. "A super versatile take on nail art, it allows you to get creative with different colors and patterns that appeal to your own aesthetic," she continues. Traditional aura nail art is carried out in a salon using an airbrush gun. The polish is sprayed onto the centre of the nails (either freehand or using stencils) to create a diffused, air-brushed design.
"Aura nails can be muted or full of rainbow color," says Bello, "and the hazy finish gives an airy, dream-like feel to the manicure." The good news is that, much like watercolor nails, you don't need to go to a salon (or have an airbrush machine) to recreate this look at home. "The key here is to swirl different colors into each other to create a blended finish," adds Bello, who recommends using a dotting tool to place bobs of color onto your nails before use a sponge to blend.
Our beauty editor recommends...
10. Delicate florals
Not exactly new, floral nail art has been gaining traction for quite some time, particularly as a choice of wedding nail design for guests and the bridal party. "This is a trend we'll be seeing more and more of in 2023," notes Shelton, "it's so pretty and can look great as a full nail art look or even just as an accent nail." To keep it fresh, go for classic summer nail colors like soft pastel shades in lemon, lilac, and peach. While it may look fiddly, Shelton assures us that floral nail art is easy to do at home.
Daisy nail art, in particular, is taking off in salons and at home, as it's surprisingly easy to achieve. "All you need is a dotting tool or bobby pin to create the look," says Shelton. "It's very simple: add a dot of polish in the center of the nail, then following the shape of a flower create more dots around the center." And voila! You have a delicate floral nail art design. For special occasions like weddings, we adore the fresh flower trend whereby fresh flowers are pressed onto nails before being sealed with a top coat – the effect is beautiful.
Our beauty editor recommends...
11. Seashell nails
Shimmer shades are having a major comeback this summer. Specifically, seashell shimmer nails. "This nail trend draws inspiration from beach vacations," says KimKim, Lottie London's artist in residence. "The nails are inspired by what the inside of a shell or oyster looks like," she continues. Think pearlescent polishes with a soft sheen that catches the light.
"The secret to the shell finish is to apply a matte topcoat over a silver or pink chrome polish," says KimKim. As people love the glazed finish, this look is the next innovation. In the salon, the pros often use dip powder (or flocking powder) to create the soft shimmer effect – first, they'll apply a base coat before buffing the powder on top.
Our beauty editor recommends...
12. Statement swirls
Nails are set to be bold this season. Expect to see more bright and bold hues that are typically linked to summer. For a fresh take on the bright nail trend, consider trying negative space nails by painting small sections or stripes in your chosen color. "It looks really modern when the color only covers part of the nail," says Charlotte Knight, founder and CEO of Ciate London.
"It's easy to add a bold chunk of color in this way," continues Knight. "No matter the section you want to paint, prep it all with a base coat, and once dry, tape off the section you'd like to paint before applying your bold color to it. For a really sharp look, angle each section the same across your nails for a seamless manicure."
Our beauty editor recommends...
13. Barbicore nails
As you may have guessed by now, bright colors are taking over 2023 (and not just in our wardrobe). "Pink is everywhere right now," says Huber-Millet, "across catwalks, beauty products, and now nails." Fancy experimenting with pink makeup? Turn to the best pink mascaras. As for nails, popping fuchsia shades will reign supreme (thanks to the Barbicore trend) with a glazed finish that was previously limited to a neutral base.
"This year, the cult glazed look is taking on a romantic pink hue," confirms Huber-Millet, who's expecting this nail trend to be extremely popular at London nail salon Townhouse. "This gorgeous nail look works best with a jelly pink or pastel pink base color, finished off with chrome powder for that ultimate glazed shine."
Our beauty editor recommends...
14. Geometric shapes
For 2023, geometric nails are here to stay. Spotted both on and off the runway, bold lines and irregular patterns look perennially cool and suit all sorts of nail shapes, from square to stiletto. One of the most versatile nail trends featured here, you can mix and match various shapes and angles as well as contrasting colors to create a fun nail art effect.
"Metallic tones are really having a moment right now," says Huber-Millet. To add an edge to your geometric nail design, why not experiment with bronze, silver, and gold tones? We love these chic blue nails topped off with black triangles.
Our beauty editor recommends...
15. Micro mani
"Delicate 'micro-manis' will be trending again this year," says Huber-Millet. "From baby French manicures to accents of tiny flowers, minimalist shapes, and dots, this is a nail trend that caters to all." Whether you want to give this a go at home or wait until your next shellac nail appointment – there are so many designs to experiment with.
"It really is one of the chicest nail trends for 2023 and it's perfect for short natural nails," adds Huber-Millet. Our advice? Combine two trends in one and ask for a single flower on each nail, on top of a sheer base. Or, use that dotting tool to create floral, heart, or dotty designs at home.
Our beauty editor recommends...
16. Neon nails
Planning on going to a festival this summer? KimKim is expecting to see colorful and neon shades take over – "bringing the party to your manicure," she says. So as well as experimenting with 90s makeup looks (that are tipped to be everywhere this festival season), experiment with bright talons too.
"Neon greens and fluorescent yellows are classic shades that give you the brightest effect," adds KimKim. Her top trick? "To make your neon polish really pop, apply a white shade underneath."
Our beauty editor recommends...
17. Pixie dust nails
A sophisticated take on classic glitter nail designs, pixie dust nails (also known as fairy dust nails) is a look that's currently trending on TikTok with 177.2 million views and counting. Sparkly, sheer and super pretty, this nail look was made popular by Margot Robbie at the 2023 Golden Globes where her manicurist Tom Bachik, layered Essie's Holo Fx Topcoat on top of shade Hi Maintenance.
On shade Holo, Bachik says "this gave [Margot's] nails just the right amount of sparkle to mimic the sequins in the dress." And it's this level of sparkle (soft yet noticeable) that describes pixie dust nails. To recreate the look at home, apply a base coat – neutral tones and soft pinks work well here – before sprinkling a dusting of glitter on top and sealing with a topcoat, or use a sheer shimmer polish instead.
Our beauty editor recommends...
18. Mermaid nails
Mermaidcore is the latest trend dominating our social media feeds. Infiltrating fashion, beauty and now nails, 'under the sea' appears to be the current dress code for celebrities and fashionistas alike. On nails, we're seeing ocean-inspired hues (think marine blue, turquoise and deep purple) as well as intricate mermaid nail art that spans everything from scales and seashells to metallic accents.
"The options for achieving mermaid nails are endless and can be adapted to you," says Tinu Bello, senior brand ambassador for Mylee and celebrity manicurist. "It can be as simple as a holographic topcoat, or you can bedazzle your nails with seashell nail stickers and jewels."
Our beauty editor recommends...
19. Vanilla French mani
For a slightly more modern take on the classic French manicure, turn your attention to the latest iteration. Coined by celebrity nail artist Zoe Ganzorigt (who's client roster includes Kendall Jenner, Hailey Bieber and Laura Harrier), the 'vanilla French manicure' replaces pale pink and strong white polish with softer, more muted tones (including beige and creams) for a sophisticated nail look.
In keeping with the 'clean girl aesthetic', this nail trend delivers 'your nails but better' results with a realistic finish that looks far more natural than the classic French. To try it at home, copy Ganzorigt and use OPI Put It In Neutral for the base and Funny Bunny for the tips. Or, dial it up with an iridescent topcoat to recreate J-Lo's vanilla chrome mani. "Vanilla chrome is a subtle clean manicure that's perfect for any occasion and is already gaining incredible popularity on TikTok," says Bello.
Our beauty editor recommends...
20. Rainbow nails
Why stop at one shade when you can experiment with five? Ideal for summer, mix up your manicure with a selection of bright, sunny shades. Go for a different hue on each nail or opt for one color palette (like pink) and tap into the gradient nail trend instead (where different shades of one colour are painted across the nails).
We recommend popping hues like bright yellow and violet as well as soft pastels (think bubble-gum pink and baby blue). If you want to get creative, ask your nail artist for rainbow French tips or rainbow nail art instead. This is the ultimate feel-good manicure that will see you through summer and beyond.
Our beauty editor recommends...
21. Denim nails
Denim nails had a major moment back in 2017 and now, thanks to the latest spring/summer fashion trends for 2023, this look is having a resurgence. "Denim manis are very much back in style with the resurgence of double denim fashion," confirms Bello. "It's all about spotlighting the trademark blue of a classic pair of jeans – quite simple but very effective and timeless."
What's great about this nail trend is that you can tailor it to suit you. "You can give yourself denim nail tips, or block denim colour on certain nails, or if you're ambitious and "extra" you can create some denim nail art," continues Bello. To get the look at home you need a strong navy blue polish or a grey-blue tone like Bello's go-to Mylee Day Dreamer Gel Polish, "which is a bit more acid wash."
Our beauty editor recommends...
---
What is the color of the year for 2023?
"The Pantone color of the year is Viva Magenta 18 and we're definitely seeing this in our studios with a variety of bright pinks," says Carmen Tran, senior nail art specialist at Shoreditch Nails. "Our shade The Liverpool Street is the perfect way to get this look at home."
Huber-Millet agrees, "it has to be pink." And not just one shade of pink – it can be hot pink, pale pink, Barbiecore pink or fluorescent pink. "Blush pink nails are the latest trend from Korea," says Huber-Millet, "the aim here is a fresh rosy glow that's super stylish and fun."
What nail shape is trending right now?
While squoval and oval will always be popular, this year almond nail shapes reign supreme. According to the experts, there's been a rise in requests for this chic shape that's been spotted on A-listers everywhere. "This shape is like the nut – pointy at the top with a slightly fuller middle," explains Tran, senior nail art specialist at Shoreditch Nails.
"Almond nails suit many, many people," continues Tran, who adds that it is the most versatile nail shape. Because "although it works well with naturally long nails, this shape can also elongate shorter nails for a more elegant look." We're sold!
Should fingers and toes match?
"There are no rules with this," says Tran. "For some people color is everything and more is more, but we also love a matching moment." If you want your overall look to be pulled together and intentional, then pick the same shade for fingers and toes or choose shades from the same color palette.
In our opinion, it's more modern (and fun) to mix things up and experiment with contrasting colors. For instance, if you love the look of the monochrome nail trend – why not go for black on the toes and white on fingers. You don't have to limit yourself to one shade or one look.
Is the French manicure outdated in 2023?
"Absolutely not," assures Tran, "the French manicure is a classic that will never die." Huber-Millet seconds this, "the French manicure continues to be one of the top requested looks in the salon - especially among brides."
"Each year we see different iterations of this cult classic nail design and for 2023, we're seeing the more traditional French (natural base, white tip) now more than ever," says Tran. The vanilla French manicure (that replaces bright white tips with creamy vanilla) is also set to be in demand.
Sign up to our free daily email for the latest royal and entertainment news, interesting opinion, expert advice on styling and beauty trends, and no-nonsense guides to the health and wellness questions you want answered.
Emma Stoddart is a freelance beauty journalist and self-confessed skincare aficionado with over five years' industry experience. Emma has worked for some of the UK's top women's titles including Net-A-Porter, Stylist and Grazia. Her experience spans online and print as well as producing editorial shoots with some of the industry's biggest artists, including Val Garland. Asides from working with them behind the scenes, she's also had the chance to interview the likes of Patrick Ta, Pat McGrath, and Sam McKnight for all their insider tips and tricks.