Best pink mascaras for a fun, bold (and surprisingly wearable) look
Dial up your lashes with the best pink mascaras on our beauty team's tried-and-tested list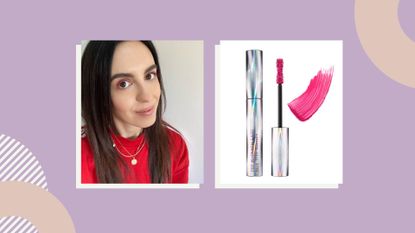 (Image credit: Future/Stephanie Maylor)
Electric eyelashes are having a moment and the best pink mascaras have an undeniable Instagram-worthy appeal. The beauty of this look is that one quick swipe will crank up the cool factor of an everyday makeup look. They are, quite simply, a joy-sparking purchase.
If the best mascara in traditional black is your comfy Monday-to-Friday option, then the best pink mascaras are your fun, weekend alt-buy. However, making the leap from the safety net of inky noir to fluoro fuchsia, Pepto pink, or romantic rose can feel intimidating, but rest assured there are perks to the technicolor trend. "Because of the contrast, colored mascaras can enhance and brighten the color of the eyes, making them appear brighter and wider," explains make-up artist, Lan Nguyen-Grealis (opens in new tab). "Pink mascara suits all eye colors and works particularly well on light lashes," she continues.
Still unsure? Dip a toe in the electro-lash waters by layering pink over your favorite black formula. "Use a spoolie or eyelash brush to layer on the color until you reach the tone that feels right for you to create a more natural, graduated effect," suggests Nguyen-Grealis. With all the complexion-brightening potential of the best pink lipsticks, a rosy lash can also fight fatigue and intensify your eyes.
How we tested the best pink mascaras for this feature
Why you can trust Woman & Home Our expert reviewers spend hours testing and comparing products and services so you can choose the best for you. Find out more about how we test.
To compile this list of the best pink mascaras, I sought out a range of price points, from drugstore options and Amazon finds to high-end, premium offerings. I also tried to tick off as many lash bases as possible – some of the mascaras focus more on volume, others on definition and length.
Every mascara on this list has been worn by me to test the feel of the formula, the staying power (smears and smudges are big no-nos), and of course, how it looks on. I also chose a mixture of wands and brush tips, some bushy and bristly, some thin and plastic, to see how well each packed on the pigment and loaded up a colorful tint.
I played around with the mascaras, seeing how well they applied to my bare, dark lashes as well as layered on top of my regular black mascara to create a more subtle, everyday look. Ready to go for bold? Try on the best pink mascaras and it may well be love at first swipe.
The best pink mascaras, as chosen by our Beauty Editor
1. Pat McGrath Labs Dark Star Colour Blitz Mascara in Pink Mystique
The best pink mascara overall
Specifications
RRP: $32/£28
Shade: A vivid pink
Effect: Volumizing
Extra features: Contoured brush with varying fibres to grab all lashes and push them upwards
Reasons to buy
+
Weighty tube feels luxe
+
Intense color payoff
+
Lifts straight lashes
Reasons to avoid
-
Limited edition so stock up while you can
If you want bold beauty, you go Pat McGrath – no one does high-impact pigment and catwalk-ready color like the megastar MUA. First impressions of this mascara scream 'this is luxe!' The holographic tube is strangely hypnotic and feels weighty in the hand. The hourglass-shaped brush gives you precision at the tip for those annoying inner corner lashes and a generous whack of formula on the rest of the lashes.
I have annoyingly straight lashes but I was impressed at how much this seemed to lift everything upward, despite quite a rich, volumizing formula. The pigment is obviously great, but I found two coats were necessary to wipe out my dark lashes completely. Thanks to the flexible polymers within the mascara, the color stays exactly where you want it. I didn't detect even the teeniest smattering of mascara flecks on my cheek, nor did it imprint on my upper eyelids, as some mascaras do.
2. OCHILIMA 4D Mascara Colorful Fiber Mascara
Best pink mascara for lengthening
Specifications
RRP: $7.49/£5.99
Shade: A deep rose
Effect: Lengthening
Extra features: Formula is enriched with fibers to lengthen lashes
Reasons to buy
+
Precise, slim brush
+
Good pigment for the price
+
Affordable way to try out the pink lash trend
Reasons to avoid
-
Not waterproof as advertised
I wasn't sure what to expect from this Amazon buy. Packaging-wise, it is the sad end of the luxe spectrum compared with Pat McGrath's Colour Blitz Mascara. It's 5ml compared with 9.5ml for a start, and the brush is dinky. However, I can happily report I was pleasantly surprised by the formula. Having such a slim bristle brush meant that I could get right into the base of my lashes to coat them from root to tip, with zero clumps and an impressive amount of lengthening. It is, however, in no way waterproof so don't be lulled into wearing it in the pool or you'll emerge looking like a rather fabulous pink panda.
Consider this your entryway into pink mascara. The pink hue is slightly deeper (atop my natural lashes it looked almost plummy) and because the aim is to act as the best lengthening mascara and provide definition rather than chunky volume, the whole vibe is a lot more subtle, although a second coat did dial up the drama somewhat.
3. Jeffree Star Cosmetics F*ck Proof Mascara in Coral
Best waterproof pink mascara
Specifications
RRP: $23/£22
Shade: Coral
Effect: Lengthening
Extra features: Multi-level plastic brush applicator wraps around each lash for instant length
Reasons to buy
+
Water-, sweat- and smudge-proof
+
Vegan formula
+
Aesthetically-pleasing
Reasons to avoid
-
Requires multiple quotes on dark lashes
As a Beauty Editor, I should know better than to be swayed by gimmicky aesthetics, but I'm not ashamed to say I was completely won over by this at a glance. The magnetic box with a window, the woven tube, and the leather tassel keyring feel super premium (and perhaps a tad unnecessary, but who am I to argue with the creator's vision?)
The brush head is a plastic-molded tip with undulating bristles that gradually taper towards the top, helping to grab onto lashes and wrap them with pigment. I did find that it didn't pile on the formula as much as the fiber brush equivalents on this list, so it did require a few coats to really tint my naturally-dark eyelashes. My top tip would be to load the product onto lashes using the tip of the wand then flick it back horizontally to swipe an even coating of pigment from root to tip.
Like all the best tubing mascaras, this guarantees a smudge-proof, flake-free performance, and it really delivers on this promise. My lashes were just as defined and swathed in salmony pink at the end of the day. To remove you'll just need to add some warm water and gently slide the tubes off your lashes.
4. Soda #Rainbowrave Unicorn Mascara in Pink Clouds
Best pink mascara for volumizing
Specifications
RRP: $7/£6.25
Shade: Millennial pink
Effect: Volumizing
Extra features: Hypoallergenic formulation
Reasons to buy
+
Great price
+
Impressive payoff even on darker lashes
+
Lifts lashes
Reasons to avoid
-
Paler pink shade is harder to pull off
This color pop mascara comes in a rainbow of festival-ready shades, from inky blue to zingy lime. The pink hue is a slightly softer, paler baby pink but my goodness does it show up on black lashes – blondes, you'll be laughing with a one-coat and done application. Weirdly, going lighter on the pink spectrum was a bit more dramatic on me than the more vibrant shades so this might not be the best choice for someone wanting a more low-key pink mascara look.
This is a hypoallergenic, gentle formula so should be a good option of mascara for sensitive eyes or contact lens wearers, and I didn't experience watering whatsoever. It stayed put without flaking or smudging but was removed effortlessly with micellar water. The fiber brush head is tapered, which I found helpful in loading up the color on my lower lashes, and allows you to embrace that chunkier, cool-girl mascara look. Volume is buildable with two to three coats, and the lift was impressive on my sticky-outy lashes.
5. Ciate London Keep An Eye On Coloured Mascara in Be Brave
Best pink mascara for a subtle flutter
Specifications
RRP: $16/£20
Shade: Vibrant pink
Effect: Length and definition
Extra features: Mood-boosting poppy and energising cacao extracts
Reasons to buy
+
Buildable intensity
+
Kind-to-lash formula
+
Can be layered over black mascara
Reasons to avoid
-
Requires multiple coats on dark lashes
-
Lacks lift
This wand is on the short side, but the brush head itself is chunky with fiber bristles that cozied on up to the roots of my lashes. It coated my lashes well but didn't deliver as much lift as other options on this list, so may not be the best pink mascara for straight-lased types.
The color, being a mid-range pink, combined with a fluttery and defined lash effect to create a subtle pink tint. Ciaté says the mascara doubles up as a 'tip topper' and recommends it layered over black mascara for an understated flash of color at the tips. It does build up the intensity with multiple coats. Trust me when I say three layers gives a Barbie-pink flutter, but I think I prefer this as a more pared-back option that delivers a softer, fluffier lash look.
6. Relove by Revolution Volume Pink Mascara
Best budget pink mascara
Specifications
RRP: $2.98/£3
Shade: Salmon pink
Effect: Length and definition
Extra features: N/A
Reasons to buy
+
Absolute bargain
+
Impressive lengthening
+
Great pigment
I'm a big believer that a great mascara need not cost you more than £12. In fact, my favorite mascaras (the ones I should be on commission for since I recommend them so often) can 9 times out of 10 be found in the drugstore. This is a great example. It may not have the bells and whistles of the more expensive options on our list – there's certainly no fancy pants jargon about molded bristles or ultra-fine pigments here – and yet it does the job of tinting lashes pink just as well.
That being said, the brush head is a little disappointing. The wand is slim but the helter-skelter arrangement of teeny-tiny bristles doesn't do much in the way of volumizing. If you're not bothered about full, thick lashes then that won't matter, because the pink product is so pigmented that you only need one or two coats to perfect your flutter. I was most impressed with how much this lengthened my lashes, too – they were tickling my eyebrows by the time I'd finished. One downside: this did take a little bit more effort than the others to remove, but if you're au fait with how to remove waterproof mascara, you won't have problems getting this budge-proof formula off either.
---
How to pull off pink mascara
Let's be real: pink mascara isn't going to be for everyone, and it might not be your go-to choice for the school run, but there are ways to make it work for you. "Pink mascara is a statement look so it's essential to let the color do the talking and keep the rest of the makeup toned down," says Nguyen-Grealis. "Having top and bottom pink lashes may appear dramatic but simply paired with dewy skin and a natural lip it creates a balanced, beautiful makeup look."
This look definitely stands out more if you're naturally fair. "If you have dark lashes then a primer is needed to make the pink pop," says Nguyen-Grealis. If you want to dial up the intensity, then allow the color to dry between layers, and go with two or three coats.
Having worn all of these mascaras for the past few weeks, I have found it's better to go all in with a coordinating flash of pink eyeliner or similar-ish-colored shadow. I tried to contrast the pink mascara against my habitual swipe of black liquid liner but for me, it undermined the intensity of the lashes to the point where the whole thing looked a bit nothing-y.
As Nguyen-Grealis says, "A light wash of pink shadow followed by a stronger fuchsia pink lash makes the look, complemented by natural blush and balmed lips."
Stephanie Maylor is a Beauty Editor working across five national magazine titles, with almost 15 years' experience in the industry. She has written for many brands, including woman&home, Grazia, Now, More!, Fabulous, NW, Woman, Woman's Own, Woman's Weekly, Essentials, Best, Chat, and OK! online.
In 2010 she launched her own beauty blog, which was shortlisted for Best Beauty Blog in the 2011 and 2012 Johnson & Johnson Beauty Journalism Awards. She has interviewed many high profile industry experts and celebrities including Alesha Dixon, Twiggy and Christina Hendricks.