What are polygel nails and can you do them at home?
Trending online, polygel nails are a hot topic – experts explain what you need to know about this nail enhancement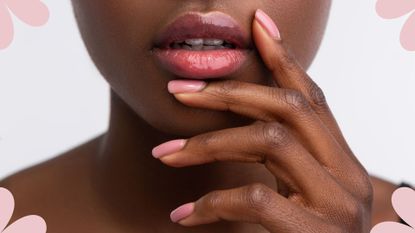 (Image credit: Future/Getty images)
Familiar with polygel nails? If you're active on social media, chances are you've come across this nail enhancement online. Taking TikTok by storm, the term 'polygel nails' has amassed an impressive two billion views on the platform – with many users taking this technique into their own hands.
Polygel nails, like BIAB nails, are tipped to be one of the top 2023 nail trends, and with good reason too. A gel-acrylic hybrid, this manicure combines the benefits of both techniques to create a long-lasting, natural looking finish in your choice of shade, from popping brights to pastel spring nail designs.
Considering booking in for polygel nails at your go-to salon? We've ask nail experts to break down everything you need to know – including what polygel is exactly, how it differs from other treatments like shellac nails and whether you can safely achieve it DIY.
What are polygel nails? The experts explain all
What are polygel nails?
If you find it hard to choose between gel or acrylic nails – we may have just the answer. Enter polygel nails. A hybrid formula, polygel contains acrylic and hard gel – "think of it as taking the best parts of both systems and creating a new system," says Metta Francis, London-based manicurist and founder of mobile nail service Nails by Mets.
Sold in a tube, "polygel has a thick, putty-like consistency that's ready-made," explains Francis. It doesn't need to be mixed up like acrylic, and it doesn't have the same, often offensive, odor or vapors. "It feels much lighter and can look more natural on the nails," she continues, adding that polygel can be used to create nail extensions or to strengthen the natural nails, as an overlay.
How are polygel nails applied?
Prior to application, nails will need be to be prepped - think filing, buffing and cuticle removal. "Then a gel base coat is applied and cured under a LED/UV lamp," says Francis. Now for the main event, polygel. "A bead of polygel is applied onto the nails and then, using a brush dipped in a slip liquid solution, the bead can be manipulated and moved into the desired shape," explains Angel Gaffney, education director at Paint Nails London.
"Unlike acrylic, polygel doesn't dry with air (it has to be cured under a lamp) which means your nail technician has plenty of time to create the perfect shape and thickness," adds Klaudia Sabjan, senior nail technician and manager at Fyre Beauty Lounge, who points out the nails should be as thin as a credit card for natural-looking results.
Can I do polygel nails at home?
While there are several polygel nail kits available online (and myriad TikTok tutorials), the experts all agree that it's best - and safest - to see a professional. "There's a lot of chemistry and product knowledge that needs to be understood and while it may look easy, you do have you be skilled to apply it correctly," says Francis.
"Experts make it look easy but there are many years of training and experience behind them," seconds Sabjan. It's also worth noting that incorrect application can result in potential allergies and damage to your nails. "I would also encourage people to avoid buying cheap kits and LED/UV lamps from online marketplaces where the quality can be questionable and products potentially unsafe," adds Francis.
Does polygel damage your nails?
"Like all nail enhancement services, such as bio sculpture nails, polygel will not damage your nails if applied and removed correctly and carefully by a qualified nail professional," says Francis. "Please refrain from pulling and picking your nail enhancements – even if they start to lift," adds Sabjan, "as this can damage and weaken your natural nails."
How long do polygel nails last?
The experts all agree that polygel nails are extremely durable and can last for several weeks without chipping and peeling. "It is, however, recommended to have maintenance/infill appointments every three weeks – depending on how quickly your nails grow," says Francis. "Generally, they will last anywhere between two to five weeks," notes Sabjan.
How to take off polygel nails
Mastered how to remove gel nails at home? We ask the pros if the same technique can be applied to polygel, and they agreed professional removal is the way to go. "It's best to get these removed by a nail technician who will remove approximately 90% of the product using an e-file or hand filing and then soaking off the last, thin layer," explains Francis. As with most hard-wearing nail treatments, incorrect home removal can weaken your nails at best and cause real damage at worst - so it's better to be safe than sorry.
Emma Stoddart is a freelance beauty journalist and self-confessed skincare aficionado with over five years' industry experience. Emma has worked for some of the UK's top women's titles including Net-A-Porter, Stylist and Grazia. Her experience spans online and print as well as producing editorial shoots with some of the industry's biggest artists, including Val Garland. Asides from working with them behind the scenes, she's also had the chance to interview the likes of Patrick Ta, Pat McGrath, and Sam McKnight for all their insider tips and tricks.