How to do watercolor nails: this season's simple yet chic nail art trend
Watercolor nails are the seasonal manicure you can create in a few simple steps with these expert tips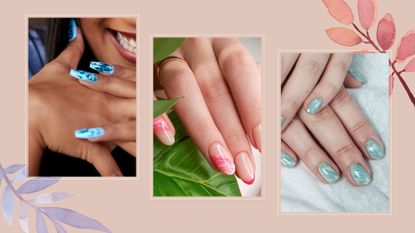 (Image credit: Getty/Future)
Watercolor nails are the latest nail trend that should be on your beauty radar. Bright and colorful yet easy to create at home, this is a style you can wear all season in so many different ways.
The 2023 nail trends prove that vivid and playful tones are here to stay, and we couldn't be happier. Although neutral and clean styles have been growing increasingly popular, spring-summer marks a shift in favor of sunny hues and statement nail art. Luckily, watercolor nails offer the perfect low-maintenance option for those who love trying nail designs but want a look that is simple to achieve from home.
Whether you prefer BIAB nails, polygel nails, or just using regular polish, watercolor nails can work for you. We spoke to the experts to find out the best way to get the style yourself, step-by-step, with products and inspiration for your next manicure.
Watercolor nails, explained by the experts
What are watercolor nails?
"Watercolor nails are exactly that! A watercolor pattern or image drawn onto your nails," says Suzana Salvador, Owner of Adroc Studio. It really is as simple as it sounds, but the results are absolutely beautiful. Another way of imagining watercolor nails is to "think pastel nails, but something a little softer and washed out creating a blurred effect over the nail," says Iram Shelton, Max Factor Nail Ambassador.
If you're looking for a spring nail design that's less obvious than styles like daisy nail art, watercolor nails offer just that. "I think watercolor nails are trending as the colors, shapes, and patterns give a 'blooming' effect which reminds me of blooming flowers in spring," says Salvador. Shelton agrees, adding "They're a hit for spring and summer without looking too loud. They're a great way for minimalists to experiment with color and are achievable at home."
How to do watercolor nails from home, step-by-step
"You can create this effect in different ways," says Shelton. There is no right or wrong way to get this style, and it can be done with any color combination you like. Here's one way to do watercolor nails at home:
Start by applying a base coat: This provides the perfect surface to apply your watercolor design. However, this is not a totally essential step, so you can move straight on to polish if you prefer.
Apply white nail polish: Salvador recommends two coats of this to get an opaque coverage for your base.
Add your chosen colors: "Grab some acrylic paint or nail polish (three colors works best) and water it down in a dish or a bit of tin foil," says Salvador. Select some of your favorite summer nail colors for a seasonal look. You can use paint if you want a true watercolor look, or stick with classic nail polishes if you prefer. In this case, we recommend using clear nail polish as your 'water' to give the polishes a looser finish.
Use a brush to apply the colors: "With a thin paintbrush apply your watered-down color to your nails in a random pattern (the looser the better! Don't try to be too precise) and layer up the colors, overlap them, have fun with it!" says Salvador.
Use a top coat: "Wait for the acrylic to dry and then seal with a glossy top coat," says Salvador. The process is the same for normal nail polish, and we always recommend sealing with a top coat to help your nails last as long as possible.
Our beauty writer recommends...
Another way to create watercolor nails that Shelton recommends is by using a sponge. This is also a great method when creating ombre nails. "Start off by painting your nail white, then, using a sponge applicator, dab lightly over the nail with a color. Remember you don't need a lot of product for this," says Shelton. "Then, finish off with a top coat."
"You can also directly apply the colors to your nail and blend them in together using nail polish remover," says Shelton. "Moving the colors around and allowing them to blend into each other creates the same watercolor effect." We love that watercolor nails can be messy and fluid and still look their best. This means they can be created at home on all nail shapes, no matter your ability.
Which nail polish shades to use for watercolor nails
If you want to know how to do watercolor nails from home and what colors to purchase, the good news is that it's totally up to you! You can use all of your favorite colors in your look, adding as many or as few as you like. However, there are a couple of shades that our experts love.
Iram Shelton recommends...
Our beauty writer recommends...
5 watercolor nails designs we love
1. Accent watercolor nails
This is a perfect way to subtly integrate watercolor nails into a more classic look like French tip nails. Opt for one or two accent nails to add your watercolor design and keep your colors monochromatic. We especially love this look on squoval nails.
2. Blue watercolor nails
If you have acrylic nails or long natural nails like these, you have a lot of space to play with watercolor designs. This bold blue look reminds us of the sea, making it a beautiful summer option. Use three polishes in various shades of blue and mix softly on the nails to get the same look.
3. Watercolor nail art
If you're a fan of statement nail art, you'll love this style. Use a precise nail brush to mix various shades onto your nail in abstract formations to get this look. There's no right or wrong way to do this, so have fun playing around. To get the style with shellac nails, take this photo to your next salon appointment.
4. Marble watercolor nails
If you're a fan of marble nail designs but want something a little softer, this watercolor nail style is the one for you. Using a color of your choice and an off-white, apply polish in squiggly lines and softly mix together before finishing with a shiny top coat.
5. Watercolor ombre nails
Ombre nails are always popular, so this is a great way to update a classic look. Use the sponge technique as recommended by Shelton and add multiple shades to get a true watercolor paint look that is perfectly blended.
Amelia joined woman&home after graduating with an MA in Magazine Journalism from City University in 2022. She specialises in lifestyle journalism and throughout her undergraduate degree she wrote for a variety of student publications, where she developed a love for all things style, beauty and sustainable fashion. She has previously written for titles including OK! Magazine, New! Magazine and Notion before she started her career as a lifestyle journalist with woman&home after completing an internship with the brand.