Daisy nail art is trending for spring '23: here's how to do it at home
The experts break down how to do daisy nail art – plus, get inspired by our favorite looks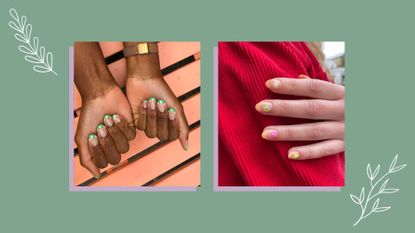 (Image credit: Future/Shoreditch Nails)
Daisy nail art is trending this season, and this popular look shows no sign of waning. Spotted on the likes of Hailey Bieber and Dua Lipa, experts have recently seen a rise in requests for this minimal detail in-salon. And the good news is that it's easy to do freehand, too.
Tipped to be one of the prettiest nail trends 2023 has to offer, expect to see this spring nail design everywhere. "Flowers are in full bloom so why not add some to your mani too," muses Rani Narayan, senior nail artist at Shoreditch Nails. Simple and easy to DIY, "daisy nail art is all about experimenting and having fun with bright contrasting colors," continues Narayan.
Extremely versatile, you can add daisy details to classic French tip nails or you can elevate minimal lip gloss nails with accent florals. Here, the experts break down everything you need to know about daisy nail art, including an easy step-by-step guide to follow at home.
Daisy nail art, explained by the experts
What is daisy nail art?
"Daisy nail art is exactly what it says on the tin," says Tinu Bello, manicurist and Mylee ambassador. "It's the placement of hand-painted daisies, or daisy press on nails, on top of your chosen base color." No one trick pony, there are several ways you can experiment with daisy nail art.
"The simplest and easiest daisy design is made up of dots," notes Narayan, "specifically five white dots and a yellow dot in the center." As well as one lone daisy, you can also play around with "a floral border at the cuticle or tip of your nail as well as a splattering of daisies across the entire nail," adds Bello.
How to do daisy nail art at home, step-by-step
"Dotty daisy nail art can easily be recreated at home," assures Dal Kaur, Dalston team leader and senior nail art specialist at Shoreditch Nails. First, you'll need a selection of polishes and a dotting tool to hand.
Prep is key: Begin by removing any existing polish before filing and buffing your nails. Oval and squoval nails work especially well with minimal nail art.
Apply your chosen base color: "Sheer pinks and neutrals are my go-to's," says Bello.
Get dotting: "Start with the color you want for your petals and add a small amount of polish to your dotting tool (or you can use the end of a bobby pin). Then create a ring of five dots," says Narayan.
Vary the size: "You can make the daisies as big or small as you like - the more polish at the tip of your dotting tool, the bigger your petals will be," says Narayan.
Dot on the center: "Once you've applied the petals, choose a contrasting or complimentary color for the middle as a finishing dot to bring the flower to completion," says Kaur.
Finish with a topcoat: Make sure you give the daisies enough time to dry before applying the topcoat to avoid any smudging," notes Narayan.
If you have a longer nail shape and are after a more realistic daisy design – "you can use a thin nail art brush to drag the dots outwards into more of a petal shape," suggests Bello. "Then use that same brush to add a stripe of green underneath to create a stem and leaves."
Our beauty contributor recommends...
What polish shades do you need for daisy nail art?
For classic daisy nail art, "you'll need the holy trinity – white, yellow, and green," says Bello. You'll also need a base color. "This can be neutral, pink, or a bright color – just make sure that the white, yellow, and green will pop against the base." Of course, you don't have to stick to the classic combo. Follow Narayan's advice and "let your imagination run wild." Think bright summer nail colors, candy pink, and pretty lilac.
Our beauty contributor recommends...
How to update daisy nail art for spring/summer '23
"I love a muted daisy mani," admits Bello. Instead of your typical bright yellows and greens, go for mellow and soft pistachio and custard shades, which make for a special wedding guest nail design if you have any big days coming up. "This looks really beautiful placed on top of milk nails, hitting two trends at once," continues Bello. If you want to make a bolder statement, "bright colors are in this season," says Narayan, "so there's no need to restrict yourself to the classic white daisy look." At Shoreditch Nails, pastel and neon flowers are in demand as summer nail designs 2023.
Our beauty contributor recommends...
5 daisy nail art designs we love
1. Daisy French tips
Go classic with white and yellow daisy nail art painted on top of green French tips. Fun, playful, and perfect for spring – this nail design is guaranteed to get you compliments.
2. Realistic daisy details
If you're a dab hand at nail art, go one step further and use a thin nail brush to elongate the dots for a realistic daisy design, as pictured here.
3. Scattered daisy design
Why stop at one daisy when you can have an entire field of flowers on your nails. Take your cue from this pretty pink design that features a scattering of miniature daisies on every other nail.
4. Pastel daisy French mani
Dial up a classic French manicure for spring with bright tips painted in pretty pastel nail colors. This looks great with some extra length, so if you struggle to grow your own, you may wish to consider trying acrylic nails for statement tips. To top it off, finish with ditsy daisy details in matching shades.
5. Bold blue daisy details
A striking nail design for short nails, make a statement with contrasting blue and pink flowers, painted onto a sheer, barely-there base.
Emma Stoddart is a freelance beauty journalist and self-confessed skincare aficionado with over five years' industry experience. Emma has worked for some of the UK's top women's titles including Net-A-Porter, Stylist and Grazia. Her experience spans online and print as well as producing editorial shoots with some of the industry's biggest artists, including Val Garland. Asides from working with them behind the scenes, she's also had the chance to interview the likes of Patrick Ta, Pat McGrath, and Sam McKnight for all their insider tips and tricks.