'90s makeup is back, and here are the best throwback looks we're still crazy about
What goes around comes around: recreate these iconic '90s makeup looks from everyone's fave pop culture era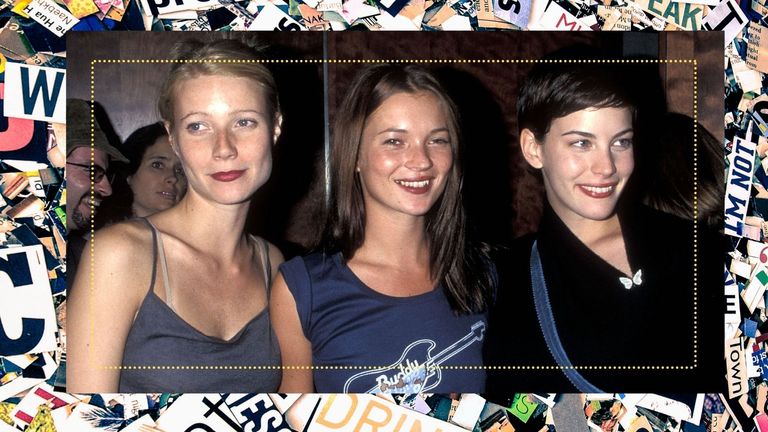 (Image credit: Future/Getty Images)
By Courtney Leiva , Eunice Lucero-Lee published
What is '90s makeup? In a word, complex. Aside from treating us to killer fashion, great albums, and unforgettable pop culture moments, the 1990s was a pivotal decade that brought forth the most iconic beauty looks now considered modern classics in their own right. One look at brown lipstick or a skinny eyebrow is all it takes for an instant rush of nostalgia for the beloved era of grunge and minimalism.
A complete boomerang from the unabashed excess of the years before, the decade brought with it a new form of self-awareness that showed up in the way we presented ourselves: with a new sense of irony evident in stripped-down makeup, darker colors, unfussy hair, and grungy, anti-establishment statements. While the early years gave us a few shining moments of graphic pops of neon and commercial optimism (cheers, Lisa Frank), a booming adult workforce—and global unrest—would also create a new generation of angsty latchkey kids that grew up before images of supermodels, serial killers, and the Seattle music scene right in their living rooms.
That said, much like the comeback of many style essentials during this volatile time (skate sneakers and distressed band tees on one hand, Spice Girl platforms and latex dresses on the other) a lot of '90s makeup trends had a "high-low" appeal. Like a bare face paired with vampy lips or pairing the best foundation with unkempt hair, beauty was also infused with a certain degree of polarity that we collectively embraced.
"There's a time and place for '90s trends," says Claudia Lake, NYC makeup artist and backstage mainstay. "I think the most relevant trend we can apply to today is the grungy eyeliner for a night out on the town—not smeared, but just a black or dark liner along the lower waterline and smudged a little bit under the eye can create a fun rock n' roll look," she adds, although is also quick to say when done correctly, even the frosted lip look, though tricky, can be really cute and hold up to today.
To arm you with some massive throwback beauty inspiration, we've rounded up the most iconic '90s makeup looks we all know and love.
'90s makeup: looks we love
1. Matte skin
The 1990s were undoubtedly the decade of the supermodel, and glamazons Cindy Crawford, Naomi Campbell, and Linda Evangelista were dominating forces on the runway and print scenes. Naturally, beauty trends took on an airbrushed quality to emulate these flawless "Supers": Both matte and powder foundation formulas became must-haves to conceal any and all flaws.
"To me, the biggest '90s makeup trend besides Cindy Crawford's matte foundation was the skinny brow. My favorite is the pastel shadows," Claudia says.
While no makeup-makeup looks are our true Achilles heel, arming ourselves with matte skin was one of our top fave '90s makeup goals; when paired with a bold brow and statement glossy lip, a matte complexion truly created a stunning look evocative of powdered-up glamour and sophistication.
How's that for coming full circle? Cindy's own gorgeous mini-me Kaia Gerber, herself a modern-day super in her own right, also knows a thing or two about the power of a matte face. To create this classic look à la Kaia, choose a product that offers a natural finish. Skip out on the heavy blush and bronzer, and use a translucent setting powder instead.
---
---
2. Skinny brows
The skinny brow walked so that the fluffy brow could run: While it's no secret that today's fuller arches are a rejection of the '90s overtweezed aesthetic, the latter admittedly had its charms. Actress and neo-flower child Drew Barrymore was a popular pop culture fixture fronting Guess campaigns and starring in dark '90s teen flicks, giving her famously skinny brows a ton of mileage with the "seventeen" generation. Her pencil-thin brows, tweezed into rounder, super-slim arches, offered more real estate for her pastel shadows, while also giving room for lips to shine.
To soften up the look for today, Claudia recommends a good brow grooming and strategic eye shadow. "Do comb the brows, add some fun sheer pastel colors to the lid, a brown pencil to rim the eye and make it pop, and mascara for a fun and youthful look."
Today's slim brow has a more decidedly natural, less plucked look, as current pop culture phenom Rihanna demonstrates. Filled in with brow shadow in any sparse spots, it's groomed and feminine with a softer arch.
---
---
3. Grungy eyeliner
Since grungy, occult-inspired accessories were also all the rage in the '90s, it's no surprise that the trend spilled over into eye makeup looks, particularly eyeliner, giving us this sooty, smoked-out, deliberately smudgy vibe as seen on goth beauty Angelina Jolie. Known for her predilection towards darker style and edgy minimalism, she was also a beauty icon for those that eschewed saturated Technicolor for a more moody palette. So crack out your best eyeliner and get drawing.
To pull off this sultry '90s makeup look today, make like avant-garde actress (and goth vampire heroine) Kristin Stewart and pair smudgy kohl eyeliner with a quiet lip and groomed brows. Her two-toned, two-textured version (red and black, sparkly and matte) also provide just the right amount of drama to offset the rest of the nude face.
---
Shiseido Kajal InkArtist Shadow, Liner, Brow
Shown here in Nippon Noir, an inky, sooty black, this kohl liner does a spectacular job at recreating that striking grungy eye. Bonus: It's waterproof, crease-proof, and tear-proof for 12 hours (so you've only got a few precious seconds to play with it like a shadow) and comes in eight fun shades.
---
4. Pastel shadow
Grunge-inspired looks aside, '90s eye makeup looks also extended to those that creatively played with color. Leading lady Cameron Diaz, for example, proved that some eye-catching lilac-taupey shadow (or what we refer to now as Y2K's "griolet" or gray + violet) went a long way, as when blended past the crease, it created a breezy feel that was a sweet backdrop for an otherwise grounded look. Other stars big during the era, like America's sweethearts Meg Ryan, Halle Berry, and Alicia Silverstone and pop crooners Destiny's Child, Britney Spears, and Brandi, were also seen sporting these hues.
Recreate that cool-toned look with an eyeshadow with a grayish undertone, like on Legally Blonde actress Reese Witherspoon. Her look, though more current with updated shimmer, still hints at '90s makeup elements such as brown eyeliner and a frosty lip.
---
Clinique Chubby Stick Shadow Tint for Eyes in Lavish Lilac
This popular shade also hints at the upcoming griolet wave that took over during the late-'90s Y2K trend. The handy formulation made creating a low-effort eye a breeze, as all it takes it swiping the soft, creamy shadow across the lids and blending till oblivion.
---
5. Dark lip liner
One of the trademarks of the well-established chola subculture of Southern Californian Mexican-Americans, dark lip liner found a more mainstream fanbase during the 1990s as models like Naomi Campbell rocked the distinctive look to the hilt.
However, just as in learning how to apply eyeliner, creating "the supermodel lip" look of dark lip liner and clear gloss can be tricky at first for those not used to a graphic lip (or, quite honestly, those blessed with Naomi's features). But, if you simply (and carefully!) line the edges of the lips and fill in with a lighter colored lipstick, you should be set to stun.
'90s breakout star Rosario Dawson flaunts a more contemporary version of the ombré lip, which includes a darker lined contour and a lighter lip color in the center. Shades are usually kept within the same color family for a more seamless look.
"Brown lip liner applied all over the lip and not just the outer edges and a nice gloss can be a fun '90s trend to try. Always keep it simple and classy—and not too literal," Claudia recommends.
---
Urban Decay 24/7 Glide-On Lip Pencil in 1993
As the name suggests, this quintessential medium-brown is the cornerstone of a lot of 1990s-inspired lip looks. Ed's tip: Be sure to use a lip brush to blend your liner and gloss/lipstick, as you'll want your lip to appear seamless and naturally feathered in for a less drawn-on effect.
---
6. Frosted lips
The 1990s also saw a pendulum effect from the overblown look of the Supers to the waifish new guard, spearheaded by Kate Moss (pictured above in a simple yet impactful frosted lip at a Calvin Klein event in 1995). Considered the anti-Super with her (relatively) petite frame and street urchin appeal, she became the decade's poster girl for the "heroine chic" aesthetic. Literally so, as brand Calvin Klein, known for its minimalist designs, was quick to offer up a partnership shortly after, leaving Miss Moss plastered all over billboards and perfume ads the world over and ushering in a new "undone" beauty standard.
Frosted, almost coppery lips are another one of those '90s makeup looks we're still loving today as it dresses up lips in a gorgeous metallic shine, as seen on Spice Girl-turned-beauty-mogul Victoria Beckham. The effect was just the right amount of dressed up, especially when paired with a nearly-bare face—another hallmark of the era.
Of course, frosted lipsticks have evolved for the better since their inception back in their heyday, as the options of today (particularly liquid lipstick) allow you to get that high-watt, foil-like shine without smudging in the process.
---
MAC Frost Lipstick in Icon
The name says it all: This pearlized neutral beige-brown was just as beloved back in the day as it is now. Swipe on and pair with slim brows and not much else for a true throwback that still passes muster today. Ed's note: Be sure to make sure your frosted lip is the focal point of your face. Wearing it with too much makeup can look a bit garish, and of course, draw attention away from your pout.
---
7. Brown lipstick
Brown lipstick was perhaps one of the most significant and telltale attributes of '90s makeup and found itself on puckers across the board. Everyone from underground rockers to preppy socialites-cum-actresses, like Gwyneth Paltrow, dipped their hand in the brown lipstick trend.
Part of the mass appeal of brown lipstick is that it could pretty much get dialed up or down depending on skin tone and preference—not to mention it went hand-in-hand with dark lip liner, another big '90s trend on the list. Whether you were into a darker burgundy brown or toyed with a rich chocolate or a more lighthearted mocha, brownish lip colors reigned supreme and formed the basis around which every look revolved. Revlon's Super Lustrous Lipstick in Rum Raisin continues to be one of the brand's best-selling lipsticks of all time, and it was, naturally, launched during this decade.
Whether it's this low-key versatility or its inherent grit appeal that made it such a hit during the 1990s alternative years, brown lipstick certainly adds some intrigue to a minimalist face. Mid-'90s crossover sensation Penelope Cruz shows how a monochromatic look capped off with matte brown lipstick can make a sexy yet chic statement fit for the red carpet.
---
Axiology Vegan Lipstick in Grounded
If you were lucky enough to have owned a tube of the '90s makeup cult fave lipstick MAC Spice (RIP), you'll love this darker, creamier, lavender-smoked brown, which achieves that quintessential '90s lip to a T. Swipe onto well-moisturized lips to avoid flaking, and pair with your cleanest brown eyeliner... and some ennui.
woman&home thanks Claudia Lake for her time and expertise.
Courtney Leiva is a seasoned lifestyle writer with nine years of experience under her belt. She graduated from The Ramapo College of New Jersey in 2012, and since graduation, she has been actively contributing to major news outlets such as Refinery29, Women's Health, Yahoo! Lifestyle, HelloGiggles, NewBeauty, and more. Courtney initially started off covering beauty news, but as she has grown her career over the years, her health, home, and shopping pieces can now be seen on BuzzFeed, The Daily Beast, and Huffington Post. When she's not writing, Courtney enjoys ranking her favorite ice cream flavors, spending her weekends in HomeGoods, and dreaming up new ways to decorate her house. Follow her on Twitter @CourtneyLeiva and on Instagram @MissCourtneyLeiva.