'90s makeup trends are back—how to master these cool, chic beauty looks
Our expert guide to recreating the iconic, pared-back '90s makeup trends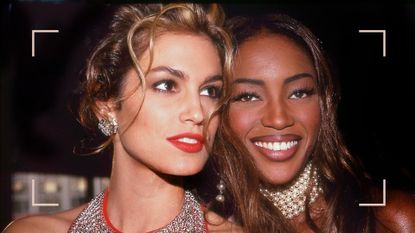 (Image credit: Future/Getty images)
woman&home newsletter
Sign up to our free daily email for the latest royal and entertainment news, interesting opinion, expert advice on styling and beauty trends, and no-nonsense guides to the health and wellness questions you want answered.
Thank you for signing up to . You will receive a verification email shortly.
There was a problem. Please refresh the page and try again.
What is '90s makeup? In a word, cool. Aside from killer fashion, great albums, and iconic pop culture moments, the 1990s was a pivotal decade that brought us many beauty looks now considered modern classics. One look at brown lipstick or a slender brow is all it takes for an instant rush of nostalgia for the beloved era of grunge and minimalism.
A boomerang from the unabashed excess of the years before, the 1990s brought with it stripped-down easy makeup looks, moody tones, unfussy hair, and grungy, anti-establishment statements. Rave culture gave us neon while a generation grew up watching supermodels in Calvin Klein ads juxtaposed with the Seattle grunge scene and Britpop posturing. In beauty, '90s makeup trends generally had a 'high-low' appeal that was a precursor to today's soft glam makeup trend. A bare face paired with vampy berry lips or perfectly-arched eyebrow shapes matched with unkempt hair.
Really, it's unsurprising that naturalistic '90s makeup feels appealing now, as we tire of filtered faux-perfection on our social media feeds. "Quality over quantity pretty much sums up my prediction for trends in 2022," agrees MAC Director of makeup artistry, Terry Barber. "It's going to be all about attitude, whether that's a stripped-back '90s grunginess or luxurious glam. What will prevail is the idea of nonchalance and effortlessness." Amen to that. Here's how to make any '90s makeup trend, from pearly lips to a polished base, hold its own in your modern makeup routine.
'90s makeup trends and how to wear them today
1. Matte skin
(opens in new tab)
'90s makeup trends were undoubtedly influenced by the decade of the supermodel, with glamazons Cindy Crawford, Naomi Campbell, and Linda Evangelista dominating the runway and magazine editorials. Naturally, beauty trends took on an airbrushed quality to emulate these flawless supers: The best foundation for everyone was a mattifying, highly pigmented one, followed by plenty of powder for a unified air of glamour and sophistication.
Make it modern...
While natural makeup looks combining a dewy makeup base with glossy highlights on the skin have dominated for years now, there is something to be said for creating a grown-up and polished matte-leaning look. The secret? These days, the best full coverage foundations often contain light-reflecting elements to give skin flattering juiciness as well as create a totally even canvas. Top with blush or bronze as desired, then swap retro pressed powder for a light, loose translucent formula. Dust on the T-Zone only to nuke shine where you don't want it but leave a glow where you do.
Our beauty editor recommends...
---
2. Skinny brows
(opens in new tab)
The '90s skinny brow walked so that today's fluffy eyebrow lamination look could run: It's no secret that today's fuller arches are a rejection of that over-tweezed aesthetic, but the latter admittedly had its charms. '90s icon Pamela Anderson spearheaded the slender brow trend, tweezing her famous arches into submission to leave more room for her signature smokey eye and glossy lips.
Make it modern...
Step away from the tweezers! Nobody is suggesting a return to the dark, overplucked days of this particular '90s trend. But the new skinny brow offers a flattering eye-opening effect. "Yep, you heard it right, the skinny brow is back!," explains Lauretta Power, National Brow Artist & Head of Artistry at Benefit. "But the '22 version is fuller than the infamous '90s brow and is especially flattering on close-set eyes, with thinner, elongated brows, creating the illusion of wider eyes." Charlize Theron is a perfect example of a defined, modern slender arch.
Our beauty editor recommends...
---
3. Grungy eyeliner
(opens in new tab)
Since grungy, occult-inspired accessories were also all the rage in the '90s, it's no surprise that the trend spilled over into eye makeup looks, particularly the sootiest, sexiest best eyeliner for a deliberately not-been-to-bed vibe. Known for her predilection towards darker style and edgy minimalism, Angelina was a '90s makeup trend icon for anyone who loved a moody beauty palette.
Make it modern...
Trust Thandiwe Newton to give us a sophisticated take on a trend. Knowing how to apply eyeliner that's just the right side of 'up all night' is key. "There's a time and place for '90s trends," says New York makeup artist Claudia Lake. "I think the most relevant trend we can apply to today is grungy eyeliner for a night out on the town—not smeared, but just a black or dark liner along the lower waterline and smudged a little bit under the eye."
Our beauty editor recommends...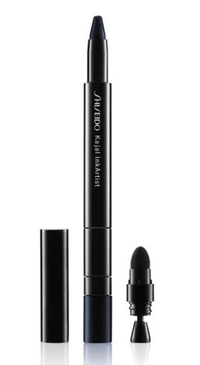 (opens in new tab)
Shiseido Kajal InkArtist | RRP: $25/£23
Shown here in Nippon Noir, an inky, sooty black, this kohl liner does a spectacular job at recreating that striking grungy eye. Bonus: It's waterproof, crease-proof, and tear-proof for 12 hours. You've got a few precious seconds to smudge it just enough, then it'll stick around, exactly where you put it.
---
4. Colorful shadow
(opens in new tab)
Grunge-inspired looks aside, '90s makeup trends also extended to the creative use of color. Supermodel Tyra Banks proves that a little eye-catching frosty green shadow goes a long way, adding a playful feel to an otherwise classic high glamor look. From pastel shades to shimmering finishes, colorful eyeshadow looks were omnipresent on '90s red carpets, in a way not seen since 70s makeup looks.
Make it modern...
In a world of taupes and beiges, how refreshing is it to see Priyanka Chopra rocking this slick pastel blue flash on the red carpet? The secret to wearing colorful shadow in a modern way is keeping it simple. "Pulling off a bold color on the eye is usually about decluttering the details and avoiding the complicated shading," agrees Barber. "A block of one color teamed with a good coat of mascara is usually sufficient to add the drama without resorting to looking clownish."
Our beauty editor recommends...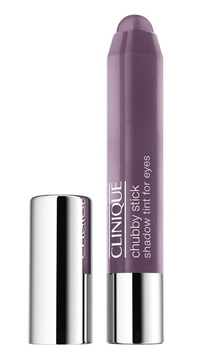 (opens in new tab)
Clinique Chubby Stick Shadow Tint for Eyes in Lavish Lilac | RRP: $23/£18.50
This popular shade also hints at the griolet (grey-violet) wave that we're seeing as part of the Y2K trend. The handy formulation makes creating a low-effort eye a breeze. All it takes is one swipe of the soft, creamy shadow across the lids and quick blend with a finger.
---
5. Visible lip liner
(opens in new tab)
One of the trademarks of the chola subculture of Southern Californian Mexican-Americans, dark lip liner found a more mainstream fanbase during the '90s as Naomi Campbell wore the distinctive look with a glam supermodel twist. This bold contrasting look proved a little trickier for those not used to a graphic lip (or not blessed with Naomi's features) and two-tone lippie and liner is now right up there with skinny eyebrows in the league of most-maligned '90s makeup trends.
Make it modern...
Music icon Beyoncé shows how it's done, wearing a subtle, contemporary take on the ombré lip. When carefully applied, a darker lined contour and a lighter gloss in the center can make lips appear fuller. Shades are blended well and kept within the same color family for a more seamless look. "Brown lip liner applied all over the lip and not just the outer edges and a nice gloss can be a fun '90s trend to try. Always keep it simple and classy—and not too literal," recommends Lake.
Our beauty editor recommends...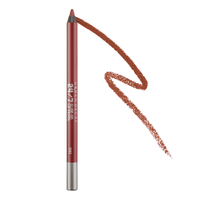 (opens in new tab)
Urban Decay 24/7 Glide-On Lip Pencil in 1993 | RRP: $22/£16
As the name suggests, this quintessential medium-brown is ideal for '90s-inspired lip looks. Ed's tip: Be sure to use a lip brush to blend your liner and gloss or lipstick. You want the join to appear seamless and naturally feathered for a less drawn-on effect.
---
6. Frosted lips
(opens in new tab)
The '90s trend pendulum swung from the ultra-glam Supers to the waifish new guard, spearheaded by Kate Moss. With her diminutive stature and cheeky British appeal, she became the decade's poster girl for minimal beauty such as a simple frosted lip. This pearlized finish was popular for lips and nails throughout the '90s, giving otherwise unadorned features a low-key gleam.
Make it modern...
While ice-white frosting on lips should be left in the past along with the concept of 'heroin-chic', a neutral metallic shimmer is a '90s makeup look that feels great for right now. It dresses up lips in a gorgeous sheen, as seen on Spice Girl-turned-beauty-mogul Victoria Beckham. Of course, frosted lipsticks have evolved for the better since their inception back in their heyday, as the options of today allow you to get that high-watt, foil-like shine without any greyish undertones.
Our beauty editor recommends...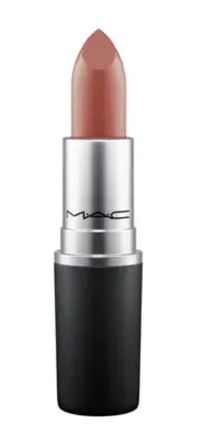 (opens in new tab)
MAC Frost Lipstick in Icon | RRP: $19/£18.50
The name says it all: This pearlized neutral beige-brown was just as beloved back in the day as it is now. Swipe on and pair with not much else for a true throwback that still passes muster today. A layer of gloss on top will double down on shine if that's your thing.
---
7. Brown lipstick
(opens in new tab)
Brown lipstick was perhaps one of the most pervasive '90s makeup trends, presenting on puckers across the board. From underground rockers to preppy socialites-cum-actresses, like Gwyneth Paltrow, everyone dipped into the moody-hued lipstick trend. Part of the mass appeal of brown lipstick is that it can be dialed up or down depending on skin tone and preference. Revlon's Super Lustrous Lipstick in Rum Raisin continues to be one of the brand's best-selling lipsticks of all time, and it was, naturally, launched during this decade.
Make it modern...
Brown lipstick, but make it nude. So many nude lipsticks in modern makeup collections have beige or brown undertones, which makes for a more subtle look than full-on mocha and works beautifully with deep or olive skin tones, as shown here on Penelope Cruz. Fair skin can struggle to pull off brown-toned nudes, but a punchy red with spicy brown undertones can work instead. "Bringing some terracotta into the mix when you're doing a classic red lip gives a much more laid back, '90s street-meets-chic vibe," agrees Barber.
Our beauty editor recommends...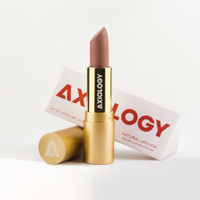 (opens in new tab)
Axiology Vegan Lipstick in Grounded | RRP: $28/£20
If you were lucky enough to have owned a tube of cult '90s lipstick MAC Spice (RIP), you'll love this darker, creamier, lavender-smoked brown, which achieves that quintessential '90s lip to a tee. Swipe onto well-moisturized lips to avoid flaking and pair with your best lip liner in a coordinating hue.
---
woman&home thanks Terry Barber of MAC Cosmetics (opens in new tab), Lauretta Power of Benefit Cosmetics (opens in new tab) and Claudia Lake (opens in new tab) for their time and expertise.
A lifelong creative writer and beautyphile, Eunice Lucero-Lee graduated from De La Salle University in 2002 and was hired a year later to front all beauty coverage for Pink Magazine. A beauty, astrology, and pop culture obsessive and insider for over 18 years, Eunice is an internationally published editor (and now certified astrologer) whose work has been featured in publications such as Cosmopolitan, Esquire, and The Numinous, among many others.
With contributions from