The ultimate home pedicure for when you can't get to the salon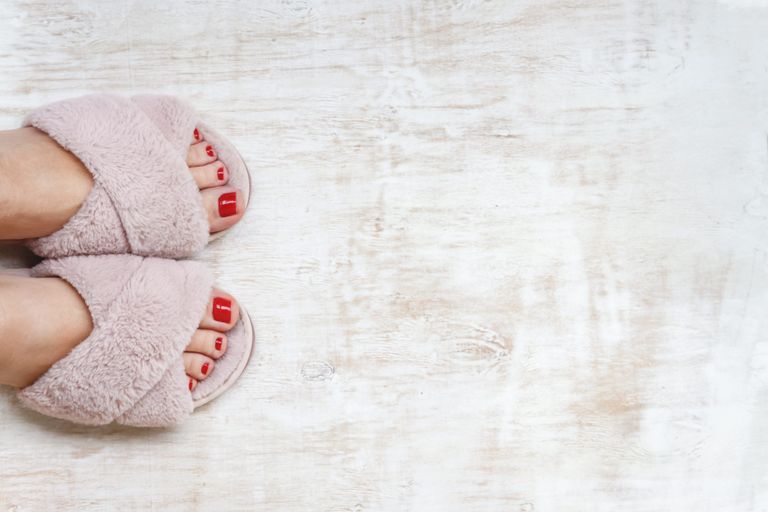 Even at the best of times, feet are hardly the most glamorous of body parts.
And 'the best of times' definitely doesn't include emerging from winter hibernation with no access to a salon and no way of giving them a professional seeing to for who knows how long.
So, now that sandal season is imminent and we've all got a lot more time on our hands, why not dedicate an hour to a spot of home pedicure action? Sorting out neglected toes isn't just a cosmetic endeavour, it's also a chance to check if your feet are in good health and can be a soul-soothing, therapeutic ritual too.
Dry, cracked skin is a common bugbear, and when you consider that the heels and balls of your feet spend all day rubbing back and forth against shoes - or slippers as the case may be - while supporting your entire bodyweight, it's no surprise that hard areas build up pretty fast.
Raggedy cuticles and overgrown nails with the remnants of last year's pedicure are another dead giveaway that your feet are more than a little bit attention starved. But with some TLC and a selection of great tools, all available online, you can get salon calibre nails at home with one eye on Netflix if you fancy.
Your feet may never be your favourite part of your body, but with this step-by-step guide to the ultimate at home pedicure you can show them some much deserved love.
Click through for every tip and product you need - you'll be looking down at your pedi with pride in no time.
Utimate home pedicure prep: Peel
If your pedicure needs aren't urgent, prep one week inadvance with these amazing and, well, icky in equal measure, Footner disposable plastic socks, which do away with dry skin and require zero effort. Simply soak feet in warm water, pop them on for an hour while you watch TV, remove and wait. Within the next week or so a good proportion of the very hardest skin on your foot will disjoin itself, peel and flake away in satisfyingly large pieces. Obviously this wouldn't be an ideal scenario if you were going out and about with your toes on show, but on your own at home? It's just perfect and fascinating to observe. SHOP NOW: Footner Exfoliating Socks, £9.99, Superdrug
Utimate home pedicure step 1: File
Tackle any residual build-up that the peel didn't remove. There's any number of fancy gadgets out there promising to burr away hard skin with minimal effort, but in my opinion nothing's more effective than a good foot file. I'd also go so far as to say the inexpensive, hardcore files you find on Amazon, like this Stainless Steel Number are usually superior to pricier models from more established brands. Always file feet when they're dry, give it some welly but inspect your work every few minutes to ensure you don't go too far. If like me you enjoy filing on the sofa in front of a good TV show, remember to set some newspaper down. You'll be both surprised and gratified to see how much debris you create. SHOP NOW: Stainless Steel Pedicure Foot File, £7.99, Amazon.co.uk
Utimate home pedicure step 2: Clean and clip
Now's the time to remove old polish and create a nice, neat nail shape before any water gets involved. Superdrug's Polish Remover Pot is quick and clean compared to faffing around with cotton wool. Dip toes in one by one, swirl them around a bit and the acetone soaked sponge interior will dissolve polish in seconds. Always cut nails straight across to avoid encouraging ingrown toenails, then file down any rough edges in one direction only. Strong clippers like Tweezerman Precision Grip Toenail Clippers are better than nail scissors for this. It's got sturdy sharp edges and a grippy handle. SHOP NOW: Tweezerman Precision Grip Toenail Clippers, £14.50, John Lewis
Utimate home pedicure step 3: Soak
Now the really relaxing bit can begin, if you're lucky enough to own one of those bubbly foot spas, plug it in and go. If not, fill a basin with almost too hot to handle water, chuck in a handful of aromatic bath salts, or a few drops of oil if that's what you've got, and soak away for at least 15 minutes. I love Dr Teal's Pure Epsom Salts with Menthol and Eucalyptus, which leaves feet minty fresh as well as soothed and soft. SHOP NOW: Dr Teal's Pure Epsom Salts Relax and Relief with Menthol & Eucalyptus, £8.50, Amazon
Utimate home pedicure step 4: Massage
Once you've finished soaking, dry off with a towel, ideally a fluffy one that's been pre-heated on a nearby radiator for extra loveliness, then use a rich cream to give yourself a foot massage. Aveda Foot Relief is everything for tired toes. It lightly exfoliates to smooth, smells like lavender and instantly softens with jojoba. Now follow Spaseekers simple foot massage tips for serious at home spa vibes: 1. Place a small amount of your moisturiser in the palm of your hand, Rub your hands together to distribute the moisturiser. 2. Wrap your hands around your foot, ensuring your thumbs meet in the arch. 3. Apply gentle pressure whilst moving your thumbs outwards in a T motion towards your toes, circling back around and repeating. 4. Move towards your toes, gently squeezing each toe pad, one by one. 5. Turn your foot back over, and use the same T motion as before to work the tops of your foot, starting at the ankle moving towards your toes. SHOP NOW: Aveda Foot Relief Moisturizing Creme, £21.99, Amazon
Utimate home pedicure step 5: Tidy
Trim and tidy cuticles are often the difference between a slick salon quality pedicure, and an obviously DIY job. This Elegant Touch Cuticle Nipper is so sharp, precise and enjoyable to use that it's crucial not to get carried away. Only clip ragged, dry bits of cuticle that are obviously hanging loose around at the bottom or sides of the toenails. SHOP NOW: Elegant Touch Cuticle Nipper, £8.11, Amazon
Utimate home pedicure step 6: Treat
Toenails take the brunt of everything from exercise to impractical footwear and are generally trapped inside socks and shoes so we can't really expect them to look super fresh without any assistance. There is something particularly unlovely about a yellowing toenail, but it's easily fixed. For a true DIY treatment, rub on a dash of lemon juice with a cotton pad. Or, for instant results, you can use an optical brightener like Mava-White, either on it's own or under your polish. SHOP NOW:Mava White Optical Nail Brightener, £10.47, Amazon
Utimate home pedicure step 7: Paint
The final stage, and for many people the fiddliest one. Use toe separators if you have them, or the old wedge of tissues between the toes trick works well too. Take your time with each nail and don't overload them with polish, one dip in the bottle and three licks of the brush for the larger nails is plenty. Don't worry too much about little smudges, they're inevitable on smaller nails and you can easily clean up with a cotton bud dipped in remover later on. A couple of coats of colour should be ample then finish with a clear top coat and let everything dry for 15 minutes before moving or putting flip flops on. Try and wait a couple of hours before wearing socks or shoes if you can, it takes longer than you think for polish to completely dry. Shade wise a bright orange-red is timeless, flattering and cheerful. If you don't already have one in the house, Cienna Rose Double Decker should fit the bill. SHOP NOW: Cienna Rose Enriched Nail Lacquer in Double Decker, £9, Cienna Rose