How to do a home pedicure step-by-step for salon quality results
Perfect your at-home pedicure and put your best feet forward with expert-approved tips, tricks and buys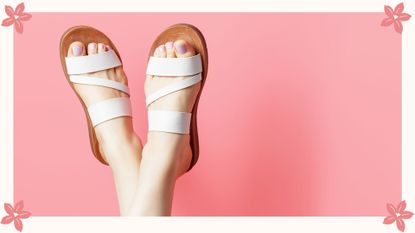 (Image credit: Future/Getty images)
woman&home newsletter
Sign up to our free daily email for the latest royal and entertainment news, interesting opinion, expert advice on styling and beauty trends, and no-nonsense guides to the health and wellness questions you want answered.
Thank you for signing up to . You will receive a verification email shortly.
There was a problem. Please refresh the page and try again.
Perfecting your home pedicure means you can keep your feet baby-soft all year round. No last-minute sandal fear here! Even at the best of times, feet are hardly the most glamorous of body parts—but after months hidden away in socks and boots, it's fair to say now's the time for a bit of tootsie TLC.
Before you start to think about fun pedicure ideas, doing the slightly less glamorous aspects of home pedicure prep will ensure your feet as a whole look presentable. Hard cracked skin, raggedy cuticles, and overgrown nails with the remnants of last year's paint job are all dead giveaways that you've been ignoring all official advice on how often should you get a pedicure. But with some pampering and a selection of great tools you can get salon-caliber nails at home with one eye on Netflix.
Legendary Podiatrist Margaret Dabbs agrees. "You really can achieve outstanding professional treatment results at home. It's simply down to using the right products in the right way to achieve a perfect pedicure. You'll be amazed at the outcome." Perhaps you've already picked a flattering spring nail design and found your new signature scent amongst the best flower fragrance of the season, so why not dedicate an hour to a spot of home pedicure action too?
Sorting out neglected toes isn't just a cosmetic endeavor, it's also a chance to check if your feet are in good health and can be a therapeutic ritual too. Your feet may never be your favorite part of your body, but you can show them some much-deserved love and get a jolt of joy whenever you slip on your best sandals and hit those sunny streets.
Your six-step home pedicure, by the experts
One week before: Soak and peel
All home pedicures should start with mastering how to remove dead skin from feet. When you consider that the heels and balls of your feet spend all day rubbing back and forth against shoes while supporting your entire body weight, it's no surprise that hard areas build up pretty fast. If your home pedicure needs aren't urgent, get a head start with some amazing (and icky) exfoliating socks. ''Not to be confused with moisturizing socks, exfoliating socks contain alpha hydroxy acids which help loosen dead skin,'' explains Footner's expert podiatrist, Dina Gohil.
Begin by soaking your feet for five minutes in warm water. Then, pop on the socks for an hour while you watch TV, remove and rinse. Within the next week or so the very hardest skin on your foot will disjoin itself and peel away in satisfyingly large pieces. Obviously, this isn't ideal if you are planning on going out with your toes on show. But if you have the time to let things take their course, it's fascinating to observe.
Step 1: File your feet
There's any number of fancy gadgets out there promising to buzz away hard skin with minimal effort, but nothing's more effective than giving it some welly with a good old foot file. "Always use on a dry foot," advises podiatrist Dr Bharti Rajput. "When the skin is wet, it tends to become more rubbery. So on a dry foot, you can actually buff the skin down." Margaret Dabbs also advises focusing on the whole foot—not just the dry heels. "Before going down to the heel, look under your toes and use your fingers to detect any ridging under the fourth or fifth toes. If you can see and feel a line of ridging gently use the file to remove this running in the opposite direction to the ridge of skin."
Step 2: Clean and clip
Now's the time to remove any old polish and create a nice, neat nail shape. "The best approach is to cut your toenails straight across and try not to get all the white edge off." advises Dr Rajput. "Leave a bit of the white edge as it is there to protect the area of your nail which is the protective seal of the skin and the nail. If you cut them down too short you can start to get ingrown toenails. In terms of tools, definitely use specialized toenail clippers, then use an emery board to get rid of any sharp edge."
Step 3: Soak and soothe
If you're well-prepared enough to own one of those bubbly foot spas, plug it in and go. If not, fill a basin with hot, chuck in a handful of aromatic bath salts or a few drops of essential oils, and soak away for at least 15 minutes. Dabbs recommends an exfoliating foot scrub for an extra luxe touch. "After soaking, apply a small amount of scrub and rub it in all over the foot concentrating first on the heel and ball of the foot, and then taking it between the toes and to the top of the foot." It may feel like a boujie extra step, but we can vouch that it makes a real difference, leaving feet feeling extra soft and soothed.
Step 4: Massage
Once you've finished soaking, dry off with a towel (ideally a fluffy one that's been pre-heated on a nearby radiator), then massage with your best body cream for dry skin and these tips from Spaseekers (opens in new tab):
Place a small amount of your moisturiser in the palm of your hand, Rub your hands together to distribute the moisturiser.
Wrap your hands around your foot, ensuring your thumbs meet in the arch.
Apply gentle pressure whilst moving your thumbs outwards in a T motion towards your toes, circling back around and repeating.
Move towards your toes, gently squeezing each toe pad, one by one.
Turn your foot back over, and use the same T motion as before to work the tops of your foot, starting at the ankle moving towards your toes.
Step 5: Cuticle and nail care
Trim and tidy cuticles are the difference between a slick salon-quality pedicure and an obviously DIY job, but it's important to do this bit gently and not get carried away. "Pat your feet dry and apply a cuticle softener to the cuticle area," advises Nail Tech Sara Sordillo for Elegant Touch. "Then gently push back the cuticle with a cuticle pusher and cleaner. You can then use nippers to gently cut off the dead skin that has been pushed up."
Toenails take the brunt of everything from exercise to impractical footwear (or both if you haven't read up on the best running shoes for women) so we can't really expect them to look super fresh without any assistance. There is something particularly unlovely about a yellowing toenail, but luckily it's easily fixed with a DIY treatment. Simply soak a cotton pad in lemon juice and give that toenail a good old rub to brighten and fade discoloration. Using a nail buffer will also help lift stubborn stains, and leave the area perfectly prepped for polish.
Step 6: Paint on color
The grand finale of your home pedicure, and for many people the fiddliest bit. Use toe separators—or a wedge of tissue in between each toe—to make it easier to reach those tiny nails. Prep is everything when learning how to paint nails, says Nail artist Iram Shelton. ''Always prep your nails before applying polish because this is your canvas. I would always recommend starting off with a base coat, to prevent nail polish from staining your natural nails."
Take your time with each nail and don't overload with polish—it will go gloopy and take ages to dry. "Paint two thin coats then reapply topcoat every two to three days, your polish will last longer and stay glossy," says Shelton. Let everything dry for at least 30 minutes before moving or putting flip-flops on. Try and wait a couple of hours before wearing socks or shoes if you can, it takes longer than you think for polish to completely dry.
The ultimate home pedicure kit, chosen by our beauty team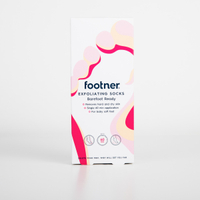 (opens in new tab)
Footner Exfoliating Socks | RRP: $15.25/£9.99
The original and best exfoliating socks. The pre-soak isn't mandatory but does seem to speed up the shedding process for your home pedicure. Remember to make a cup of tea, load up a TV show and nip to the loo before you put the socks on as it's near impossible to walk around once you're wearing them.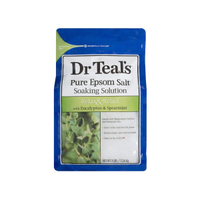 (opens in new tab)
Dr Teal's Pure Epsom Salts| RRP: $4.99/£4.99
These bargain salts are both invigorating and deeply de-stressing, leaving feet feeling fresh as well as soothed and softened. They're available in a few different scents, so take your pick depending on your mood. Chuck a handful in your foot bath (or basin) for an aromatic experience— they're just as lovely in a regular bath too.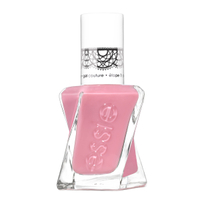 (opens in new tab)
Essie Gel Couture Nail Polish in Bodice Goddess | RRP: $13/£9.99
If bright colors aren't really your thing, this pretty pink shade is just punchy enough to be noticed without making too much of a statement. It sits within Essie's Gel Couture range of ultra-high shine polish that's about as durable as non-gel formulas get.
---
woman&home thanks Margaret Dabbs (opens in new tab) Dina Gohil (opens in new tab), Sara Sordillo (opens in new tab) and Iram Shelton (opens in new tab) for their time and expertise
Rhiannon Derbyshire is the Senior Beauty Editor for Woman & Home and other publications.
She started interning for magazines while working alongside her Fashion Journalism degree. There, she was lured to the beauty desk, seduced by matte lipsticks, posh shampoos and every skincare product imaginable. A first-language Welsh speaker, she can tell you why the best mascaras are always high street, why SPF is a non-negotiable all year round and how to find the exact right red lipstick in two languages.