How to remove dead skin from your feet - no appointment required!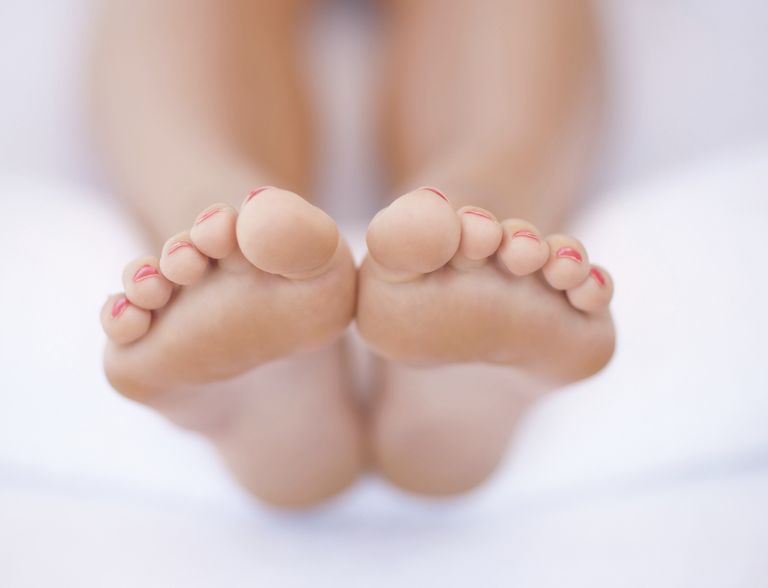 (Image credit: Getty Images/Image Source)
Can't get a pedi? No problem. Here's how to remove dead skin from your feet without stepping foot outside the house...
With the arrival of sandal season, many of us are unveiling our feet for the first time since we squirrelled them away in a pair of boots last winter.
And, on closer inspection, it seems that the dead skin on our feet has been quietly building up while we weren't watching.
From cracked heels to those pesky dry patches on the soles of you feet, dead skin is unsightly at best and painful at worse. It can be aggravated by everything from ill-fitting shoes to running on pavements.
So if you're an avid jogger or lover of heels, you might well have a bigger beauty task on your hands.
Step by step guide: How to remove dead skin from your feet at home
What podiatrist Margaret Dabbs doesn't know about feet and foot problems isn't worth knowing. Her signature Medical Pedicure is a game-changer. Managing to be both relaxing, and transformative on unsexy foot woes like corns, bunions and fungal nails all at once.
If you can't make it into the salon for a pedicure, follow Margaret's step-by-step guide on removing hard skin from your feet from the comfort of your own bathroom. You'll be ready to slip into those Birkenstocks in no time…
Step 1
'All the foot creams in the world won't work the way they are supposed to if you leave the hard skin in place,' explains Margaret. 'So the first step is to use a foot file like the Margaret Dabbs London Professional Foot File.'
'This is used in all the medical pedicures performed at the clinics. It's so good it will not only remove all the hard, dead, dry skin easily but it will also leave the skin even and smooth. You can also use it safely to take off corns and any hard skin from your toes, and the ridge of hard skin that builds up under the little toe.'
Step 2
'Next you need to wet your feet and use a foot scrub, using it between the toes and all over the feet – this will give you fresh new skin.'
Step 3
'Dry the feet carefully, including between the toes, and then finish with a foot lotion. This whole treatment will take you no more than 15-20 minutes but will give you feet which look brand new and make you feel like you are walking on air.'
Still got time to spare? Max out your at home pedicure with a quick slick of nail polish. Colour pop brights like coral and turquoise scream summer, or keep it classic with the perfect nude polish for your skin tone.
To keep your feet in their new tip-top condition, Margaret advises using a foot lotion everyday to recreate to prevent new hard skin from building up. 'Use the foot file and foot scrub once or twice a week too for feet you can reveal at any time.' Sandals – we're coming for you!
Amazing products to help you get rid of the dead skin on your feet
Flexitol Intense Overnight Foot Cream
An intense treatment for a quick-fix or stubborn build-up. Slather on before bed, top with socks and let it work it's magic while you snooze.
The big reveal in the morning won't disappoint – look forward to considerably softer, smoother feet. Not bad for a night's work!
SHOP NOW: Flexitol Intense Overnight Foot Cream, £6.99, Boots
No time for a file, scrub and soak? These socks do all the hard graft for you, removing hard skin and cracked heels in one application.
While the initial application is just 60 minutes long, the process itself takes a little longer from start to finish.
You'll notice little to no difference for the first few days, until suddenly your feet start to shed like little snakes.
Gross enough to scare your partner but strangely satisfying, feet are baby soft by the time it's finished.
SHOP NOW: Footner Exfoliating Socks, £9.99, Boots
Margaret Dabbs London Pure Feet Cracked Heel Treatment Balm
This is everything you'd want from a foot cream – thick, moisturising and hardworking.
Toeing the line between health and beauty, oregano and Manuka tree oils have brilliant anti-viral and anti-bacterial benefits.
Working to prevent inflammation and infection in cracked or split skin. Salyclic acid exfoliates away dead skin cells, while cocoa and shea butters nourish and smooth.
SHOP NOW: Margaret Dabbs London Pure Feet Cracked Heel Treatment Balm, £18
Soap & Glory The Heel Deal Foot File
Mechanical foot files just don't have the same satisfaction as manual, letting you really work into areas of particularly hard skin.
This bargain file is worth every penny. Use the textured side for rough skin, the skinny file for getting in-between your toes and the flat side for a final buff.
SHOP NOW: Soap & Glory The Heel Deal Foot File, £9.90, Boots
The Body Shop Peppermint Reviving Pumice Foot Scrub
Designed for busy feet that are on the go all day, the best bit about this foot scrub is the refreshing peppermint scent, leaving your toes tingling and sweaty feet refreshed.
Chunky volcanic rock granules get into the nitty gritty, dislodging dead skin cells and buffing away build-up left behind after filing.
SHOP NOW: The Body Shop Peppermint Reviving Pumice Foot Scrub, £7.50
Jess Beech is an experienced fashion and beauty editor, with more than eight years experience in the publishing industry. She has written for woman&home, GoodtoKnow, Now, Woman, Woman's Weekly, Woman's Own and Chat, and is currently Deputy Fashion & Beauty Editor at Future PLC.
She caught the magazine bug during a stint as Fashion Editor of her university newspaper alongside her English degree, and hasn't looked back since. As for the fashion bug, that came as part and parcel of growing up in the 90s, but the less said about that the better!
Jess' average day in the office is spent researching the latest fashion trends, chatting to industry tastemakers and scouring the internet to bring you this season's must-buy pieces - as well as advice on how to wear them. Weekends are equally fashion-focused, and Jess has been known to visit no less than five Zara stores in a single day in search of the perfect occasion dress.
The only thing that comes close to a buzz of finally tracking down that much-coveted dress is the joy of discovering a new beauty wonder product or hero ingredient. A beauty obsessive, Jess has tried everything from cryotherapy to chemical peels (minus the Samantha in Sex and The City-worthy redness) and interviewed experts including Jo Malone and Trinny Woodall.