How to remove dead skin from your feet: a step-by-step guide
Follow our pro tips to remove dead skin from feet for softer, smoother soles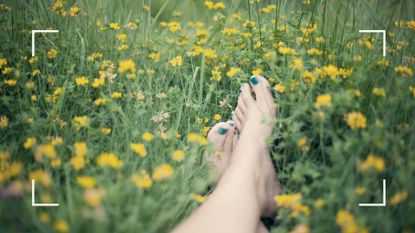 (Image credit: Getty)
While an in-salon pedicure is a great way to remove dead skin from feet, there are plenty of at-home alternatives that work well, too—from pro-level foot files to exfoliating scrubs.
And with sandal season almost upon us, a foot MOT is a sensible idea before getting onto the fun stuff like pretty pedicure ideas. "The skin on our feet is subjected to unique stresses compared with the skin on the rest of our body," says Dr Sophie Shotter, aesthetic doctor. "Because we wear footwear for the majority of our time, our feet often experience repeated friction," continues Shotter. This repeated friction can lead to hard skin, calluses or corns. Other factors, like ill-fitting shoes or running on pavements, can also add to this pressure.
"As hard skin accumulates, particularly on our heels, a thick waxy layer develops," says Shotter, "this layer lacks the flexibility of living skin and so with time, it can begin to crack." To help prevent cracking and other key foot problems, look to our edit of the best products to remove dead skin from feet, as well as expert top tips and tricks.
How to remove dead skin from feet step-by-step
Podiatrist Margaret Dabbs is the beauty industry's ultimate foot guru and her signature Medical Pedicure is a total game-changer. If you can't make it to the salon, a home pedicure is also very effective, starting with Margaret's step-by-step guide on removing hard skin from your feet:
Step 1: Use a foot file
"All the foot cream in the world won't work if you leave the hard, dry skin in place," says Dabbs, "so the first step is to use a foot file." Top tip? "Use the foot file before a bath or shower, when the skin is dry," says Dabbs. This is so you can see the dry areas that would otherwise be masked by water.
There are many foot files on the market, but Dabbs recommends her own. "It really is the Rolls Royce of foot files," she says. "Not only does it remove all the hard, dead, dry skin easily, but it will also leave the skin even and smooth to the touch. You can use it to safely take off corns and hard skin from your toes including the ridge of skin that builds up under the little toe."
Step 2: Soak your feet
For a spa-like pampering routine at home, "regularly soak your feet in warm water to soften the skin," says Shotter. We recommend doing this after foot filing, before applying moisturizer. Soaking will clean the skin while reducing inflammation and boosting circulation. You can also use a physical scrub at this step to help slough away the build-up that's left behind from filing your feet, many of the best body exfoliators can also be used on the feet.
Step 3: Treat the skin
"Carefully dry the feet, including in-between the toes, and finish with a foot lotion," advises Dabbs. "This will help relieve and repair dry, cracked heels as well as itchy, inflamed skin." Taking no longer than 15-20 minutes, this will leave you with baby soft skin and feet that feel brand new.
Got time to spare? Max out your at-home pedicure with a slick of nail polish. Go for bold brights like yellow and turquoise, or keep it classic with the perfect summer nail colors like hot pink and coral. To keep your feet in tip-top condition, Dabbs advises using a foot lotion every day to prevent new hard skin from building up. "Once or twice a week, use the foot file and foot scrub." Sandals—we're coming for you!
The best products to remove dead skin from your feet, chosen by our beauty editor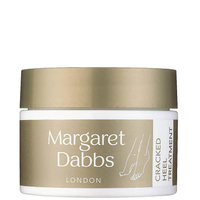 (opens in new tab)
Margaret Dabbs London Pure Cracked Heel Treatment Balm | RRP: $24/£18
A hardworking foot cream designed to heal cracked heels, this nourishing formula combines oregano and manuka tree oils (chosen for their antibacterial and antifungal benefits) with exfoliating salicylic acid to remove dead skin cells.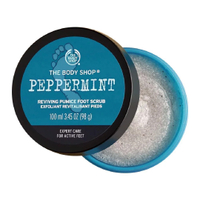 (opens in new tab)
The Body Shop Peppermint Reviving Pumice Foot Scrub | RRP: $14/£9.50
Blended with chunky volcanic rock granules, this foot scrub effectively dislodges dead skin cells and buffs away build-up that's left behind after filing feet. We love the refreshing peppermint scent that leaves skin feeling refreshed.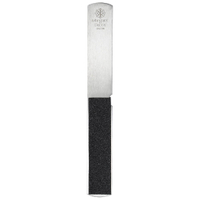 (opens in new tab)
Margaret Dabbs London Professional Foot File +2 Replacement Pads | RRP: $34/£26
Arguably the best foot file in the 'biz, this professional at-home tool eliminates hard skin and callouses without causing any skin irritation. Concentrate on the heels and the balls of the feet for super-smooth soles.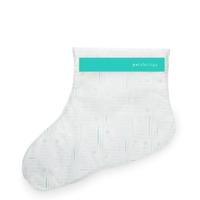 (opens in new tab)
Patchology PoshPeel PediCure | RRP: $20/£20
No time for a file, scrub and soak? These socks do all the graft for you, removing hard skin and exfoliating rough patches with a blend of AHA and BHA acids. Simply pour the ingredients into the socks and slip them on for an hour. Over the next few days, your feet will start to shed, revealing baby soft skin.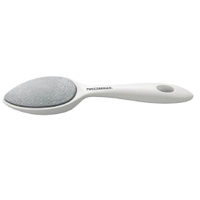 (opens in new tab)
Tweezerman Sole Smoother Antibacterial Callus Stone | RRP: $20/£18
Keep calluses at bay with this pro-level foot file that features a long handle to tackle those hard-to-reach areas (like between the toes) as well as a coarse side to exfoliate rough spots and the smooth side for a final buff. It's also crafted with silver to help protect skin from germs and bacteria.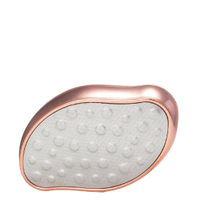 (opens in new tab)
NAILS.INC Tootsie Tamer | RRP: $10/£10
This ergonomically designed foot file fits perfectly in the palm of your hand to effortlessly buff away dead skin cells for smoother soles. It's the perfect tool for a DIY home pedicure (opens in new tab).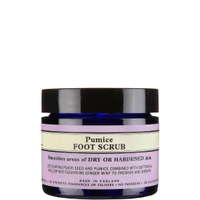 (opens in new tab)
Neal's Yard Pumice Foot Scrub | RRP: £15 (UK only)
This refreshing scrub from Neal's Yard is designed to be used with warm water to gently slough away dead skin cells for smoother soles. Formulated with ginger mint essential oil, it's also super refreshing, providing that fresh foot feeling.
---
woman&home thanks Dr Sophie Shotter (opens in new tab) and Margaret Dabbs (opens in new tab) for their time and expertise.
Jess Beech is an experienced fashion and beauty editor, with more than eight years experience in the publishing industry. She has written for woman&home, GoodtoKnow, Now, Woman, Woman's Weekly, Woman's Own and Chat, and is a former Deputy Fashion & Beauty Editor at Future PLC. A beauty obsessive, Jess has tried everything from cryotherapy to chemical peels (minus the Samantha in Sex and The City-worthy redness) and interviewed experts including Jo Malone and Trinny Woodall.