The best nail strengtheners for healthier, longer nails at every budget
Our beauty team selects the best nail strengtheners that make weak, brittle nails a thing of the past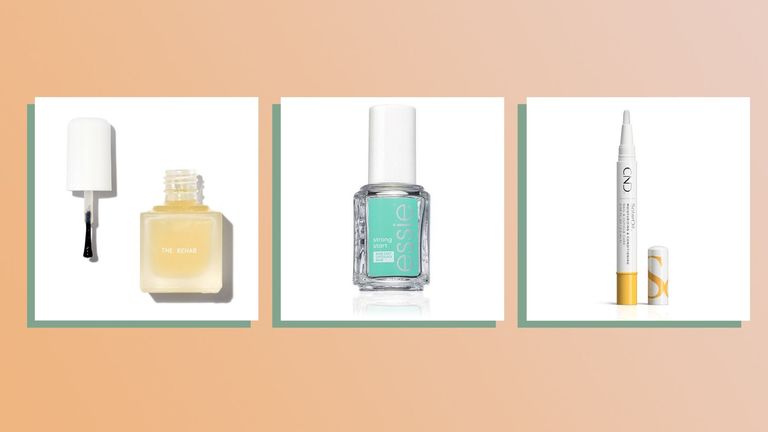 (Image credit: Future)
The best nail strengthener is one that tackles dryness, brittleness, and weakness. If you're a nail biter, have a bad habit of picking off your polish, or wear acrylics, chances are you're dealing with weakened nails that need a bit of love. Thankfully, all hope is not lost—nail strengtheners can be easily incorporated into your routine to restore healthy digits.
Nail strengtheners offer various forms of nail care and are designed to combat different issues. Whether you're looking to lengthen short nails, hydrate dry nails, or fix peeling nails, there exists a solution for you. And while they may lack the fun factor of nail designs like cute summer nail colors or jazzy pedicure ideas, these treatments will ensure any nail designs you choose will apply smoothly and last the distance.
These formulas are enriched with oils, vitamins, and other nourishing ingredients that can transform your nails with consistent use. Ready to bring your nails back to life? Take a look at our tried and tested list of the best nail strengthener options below.
How to pick the best nail strengthener for you
Consider the ingredients: Using the right ingredients is key to yielding optimal results. Founder of SpaRitual Shel Pink says that effective ingredients to look for in the best nail strengthener include bamboo extract, hemp oil, and algae to strengthen the integrity of the nail plate, protect damaged nails, and improve the condition of the nail. According to hair, skin, and nail expert Marie Burke, biotin is another hero ingredient that can help restore your nails. "Biotin, also known as B-complex vitamin, promotes growth and actively aids the metabolism in the production of those protein-building amino acids, which are essential for healthy nail growth and strengthening," she says.
Consider your nail issue: Different nail issues require different protocols. For example, Pink says that if you're planning to repair damaged nails that are splitting, dry, or peeling, a 14-day regimen is recommended "to stimulate healthy nail growth and add resilience and integrity to the nail plate". It's also a good idea to take a look at your overall nail-care routine. "Healthy nails begin with healthy cuticles, and incorporating a cuticle oil or cuticle serum into your nail ritual is a good place to begin to improve the health of the nails to resolve splitting, peeling, and overall weakness of nails," says Pink. "Using a cuticle oil or cuticle serum with a blend of key effective ingredients like jojoba oil, sunflower oil, ashwaganda, jojoba esters, and jojoba protein will help to resolve nail issues and help to prevent them," she says.
The best nail strengtheners, chosen by our beauty team
1. Essie Strong Start Nail Treatment
Best nail strengthener overall
Specifications
RRP: $10/£8.99
Best for: Damaged nails
Ingredient callouts: Biotin
Reasons to buy
+
Reinforces weak nails
+
Affordable
+
Even application
+
Can be used as a base coat
If you've taken off your gel or acrylic manicure only to find your natural nails are in bad shape, go for Essie's Strong Start Nail Treatment. It's earned the title of our favorite nail strengthening product because it goes on smoothly, restores brittle nails, and has an attractive price tag to boot.
Using biotin as its hero ingredient, this pick prevents breakage and chipping all while hardening the nails. The best part? We found it effortless to incorporate into our routine as it can be used as a base coat or as a standalone treatment. Simply swipe on two coats if you're using it alone, or one coat paired with two coats of your favorite polish if you choose to use it with color. Et voilà—beautifully healthy nails.
2. OPI Nail Envy
Best luxury nail strengthener
Specifications
RRP: $17/£22
Best for: Manicure-ready nails
Ingredient callouts: Hydrolyzed wheat protein, calcium
Reasons to buy
+
Available in four neutral shades
+
Can be used as a base coat
+
Supports healthy nails
If you're looking to strengthen your nails but don't want to take a break from polish, this pick from OPI is a serious winner. Unlike any other strengthener on our list, this one is available in four neutral shades so that you can treat your nails and work on your spring nail designs at the same time.
Upon testing, we loved the fast-drying formula which is enriched with hydrolyzed wheat protein and calcium to promote harder, healthier nails. Like our best overall pick from Essie, this, too, can be used as a base coat or worn alone. The color lasted easily as well as anything else we've used, all the while treating and strengthening. Use this and enviable nails will be in your future.
3. Nail-Aid Biotin Ultimate Strength
Best budget nail strengthener
Specifications
RRP: $4/£9.99
Best for: Weak nails
Ingredient callouts: Biotin
Reasons to buy
+
Strengthens torn nails
+
Plant-based, 20-free clean formula
+
Fast-acting
We get it. You want healthy nails but don't want to spend a fortune. This pick from Nail-Aid proves you don't have to sacrifice your wallet in the name of strengthening your digits. It's under $5/£10 but boasts a hefty dose of biotin to fix torn nails, promote nail resilience, and (finally) put an end to peeling. It's also free of 20 harmful ingredients including parabens and formaldehyde and doesn't contain anything animal-derived.
When testing, we found that although it didn't deliver magic overnight, it worked quicker than most nail strengtheners, and with consistent use made our broken nails a thing of the past. One negative was that the formula is prone to chipping. To minimize this risk make sure you're applying the product onto clean, dry nails and reapply every three days.
4. Nail Tek Nail Recovery Kit
Best nail strengthener kit
Specifications
RRP: $20/£19
Best for: Repairing acrylic damage, moisturizing cuticles
Ingredient callouts: Apricot kernel oil, sweet almond oil
Reasons to buy
+
Conditions cuticles
+
Improves peeling
+
Fills ridges
Serious about your nail-care game? This kit from Nail Tek has everything you need for healthier nails from start to finish. It comes with a ridge filler (which smooths and makes for better manicures), a strengthener (to improve the look of peeling nails), and cuticle oil (for softening and conditioning the cuticles).
Nail novices will appreciate how easy the kit is to use, how quickly the formulas dry, and how healthy nails look when new growth comes in. We found that for the best results and to make the formula more resistant to chipping, it was best to supplement using this nail-strengthening routine by wearing gloves when doing things like washing the dishes, scrubbing the floors, and giving the dog a bath.
5. CND Essentials Solar Oil Care Pen
Best portable nail strengthener
Specifications
RRP: $13/£9.90
Best for: On-the-go application, hangnails
Ingredient callouts: Vitamin E
Reasons to buy
+
Convenient pen applicator
+
Conditions nails
+
Hydrating, restoring formula
Reasons to avoid
-
Product runs out quickly
Traveling soon? With the CND Essentials Solar Oil Care Pen you can give your nails the royal treatment while you're on the go. Its slim profile makes it easy to tote in your purse, duffel bag, or makeup case while its cherry-scented, vitamin E-enriched formula is perfect for conditioning and restoring hydration to nails that need it. If you're prone to hangnails, we found this especially good for treating and preventing them, which is a good thing to note since hangnails can weaken the skin around your nails.
Overall, our nail beds felt soft and nourished after using this pen. Two things to consider: you'll need a generous amount of product to cover both hands, which will likely result in going through the pen quicker than, say, a bottle. Also, since it's in pen form, you won't be able to tell when you're running low until you've run out of product, so you may want to stock up to ensure you always have the treatment on hand.
6. Nailtopia Sea Strength Nail Treatment
Best nail strengthener for dry nails
Specifications
RRP: $10 (US only)
Best for: Dry, cracked nails
Ingredient callouts: Vitamin B, C and D
Reasons to buy
+
Superfood-infused formula
+
Cruelty-free
+
Easy to apply
+
Deeply moisturizes
Just like within your skincare routine, your nails need proper moisture to look and feel their best. Cue this treatment from Nailtopia, which uses vitamins B, C, and D to condition, nourish, and hydrate. The superfood formula also features sea kelp, which is naturally high in iodine and is known to strengthen nail bonds and restore flimsy nails.
We found the medley of ingredients also helped to prevent yellowing and encourage growth. If you have a case of cracked nails in addition to them being dehydrated, the brand recommends applying two coats of the treatment to help smooth out the nail's surface (just let the first coat dry before applying the second as it can go a little tacky if you don't).
7. Le Mini Macaron Paris Roc
Best nail strengthener for peeling nails
Specifications
RRP: $12/£11
Best for: Softening brittle nails
Ingredient callouts: Alpha hydroxy acids
Reasons to buy
+
Multi-use treatment, base coat, top coat
+
Shiny finish
+
9-free formula
If daily tasks like taking out the trash and opening a can of tomato sauce are difficult for you, just know that stronger nails can be (quite literally) at your fingertips thanks to this pick from Le Mini Macaron. It's made with skincare acid alpha hydroxy acid (AHA) to provide smoothness to brittle, peeling, rough surfaces.
We are real fans of this product for its versatility—it can be used as a one-and-done treatment or as a base coat or top coat, so as long as you're not using it with gel polish. It did take a little longer than some others to set completely, so might not be for those seeking out how to dry nail polish fast. And, the formula goes on transparent and has a glossy finish which gave our nails a more polished look.
8. Sally Hansen Maximum Growth Nail
Best nail strengthener for growth
Specifications
RRP: $7/£6
Best for: Lengthening short nails
Ingredient callouts: Hydrolyzed silk, triple proteins
Reasons to buy
+
Results shown in one week
+
Strengthens weak nails
+
Prevents breakage and splitting
Short, stubby nails got you feeling down? Say no more. Sally Hansen's Maximum Growth Nail treatment is perfect for nail biters and long-nail-lovers alike. If you're the type to rely on reviews, you'll appreciate the fact that this pick has nearly 600 5-star ratings on Ulta.
For us, we found this an excellent product with an astonishingly low price tag considering the nail-boosting results it yields, which is enough for us to add it to our cart again. We did find it a thicker texture than some others, but what's impressive is that despite its robust formula, it dries impressively quickly and really protects the nails from breaking or splitting.
9. Tenoverten The Rehab
Best base coat nail strengthener
Specifications
RRP: $18 (US only)
Best for: Prolonging nail polish wear
Ingredient callouts: Vitamin E, horsetail leaf extract
Reasons to buy
+
Vegan, formaldehyde-free formula
+
Prevents cracking
+
Fills ridges
Reasons to avoid
-
Not as widely available as others
Nothing wrecks a manicure more than unsightly ridges and cracked nails. That's where this nail strengthener from Tenoverten comes in—it's aptly named "The Rehab" because it does just that: gets nails back to their best. It treated and restored our nails to perfection, filling in ridges using a unique combination of horsetail leaf extract and vitamin E to get the job done. It's also free of ingredients that can weaken nails like dibutyl phthalate (DBP), toluene, and formaldehyde, and prolongs the wear of any nail polish when used as a base coat.
10. Cote Nail Strengthener Base and Top Coat
Best top coat nail strengthener
Specifications
RRP: $21 (US only)
Best for: Prolonging polish wear
Ingredient callouts: Calcium pantothenate, coffee extract
Reasons to buy
+
Prevents splitting and peeling
+
Strengthens natural nails
+
Comes in a travel size
Reasons to avoid
-
Pricier than most others on the list
Your manicure is only as good as the health of your nails, which is why the folks at Cote developed a formula that delivers the longevity of a base and top coat with the nail-boosting properties of a nail treatment in mind. It's the priciest pick on our list, though it's available in a travel size if you're not willing to spend the $21.
Either way, when testing we found the price tag was well worth it, particularly if you're looking for a quality strengthener that boasts a cleaner formula. It's made without the major toxins and allergens you often find inside nail product formulas, including formaldehyde, dibutyl phthalate (DBP), and parabens. As for the results it yields, we were extremely impressed by its ability to heal peeling nails, impart a gorgeous shine, and turn any nail polish into an anti-chip formula.
---
woman&home thanks Shel Pink and Marie Burke for their time and expertise
Michelle Rostamian is a Los Angeles-based beauty writer with 10 years of experience in the beauty industry. She began her career as a publicist, content writer, and social media manager, representing beauty brands and industry professionals. Currently, she is an editor and writer on all things makeup, beauty, skincare, and lifestyle. Michelle graduated from the University of California, Los Angeles with a B.A. in Communications. She has bylines at Cosmopolitan, Elle, Marie Claire, Allure, The Zoe Report, HelloGiggles, Yahoo, Byrdie, Well+Good, Reviewed, Women's Health, Runner's World, The Girlfriend, and more.