How to keep your fingernails healthy and strong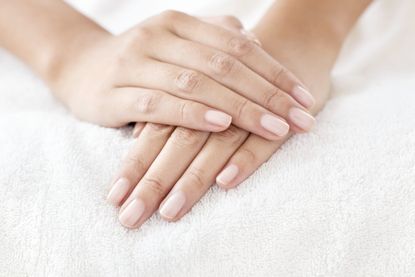 (Image credit: Getty Images/Science Photo Libra)
Whether you're a self-confessed manicure addict or a nervous nibbler, chances are lockdown has made a change to your nails.
For the former, it's likely to be for the best, with a break from gels (opens in new tab) or acrylics (opens in new tab) rewarding you with strong, long and most-importantly healthy nails. Or, for the later, you may be now suffering from newly weak, flaking ones.
With the government yet to confirm when nail salons (opens in new tab) will be able to reopen, we've enlisted the help of the experts to help you take care of your nails from home…
What are the key signs of healthy nails?
First things first, how can you tell if you have healthy nails? According to Mavala's nail expert Lynn Gray, these are the positive signs to look out for…
Nails feel firm yet flexible
Nails can absorb normal shocks without splitting or chipping
The surface is smooth with a subtle sheen
No flaking or peeling at the tip
What are the key signs of unhealthy nails?
On the flip side, you may have noticed that your nails have started to develop tell-tale signals of poor health in recent months. These include…
Nails easily split or break
Irregularities in the surface of the nail
Ridges or bumps
Nails are dull, with no sheen
What causes nails to become soft and weak?
There are many reasons why nails can become damaged (opens in new tab), weak and brittle, from chores to diet.
"Try to avoid submerging your nails too often and for too long," advises Georgina Walker, Jessica Nail Expert. "Regular long baths, household cleaning and washing up without gloves can all cause peeling as moisture penetrates into the nail fibres. Once there, it expands and lifts the fibres, leading to flaking, peeling and weakening of the nails."
How you file your nails can make a difference too. "File in one direction only," says Georgina. "Keep your file on one side of the nail and move to the other side in one stroke – no backwards and forwards in a sawing motion."
It almost goes without saying, but biting your nails, and using them as tools to open cans is a bad idea too.
How can I harden my nails?
As for the rumour that nails need to be bare to breathe, Georgia is quick to dismiss this as a beauty myth. In fact, she recommends keeping "nails covered with a basecoat and polish. They work like a shield to prevent against breakage or stripping."
"Applying a treatment base coat every other day to build up layers and add strength will harden nails too," says Georgina. "After seven days, remove using nail polish remover and repeat the treatment. Continue this for a maximum of six to eight weeks only, to avoid over-treating the nail. Once the desired results have been achieved, you can move on to a normal base coat for on-going maintenance."
If your nails are dry, they're likely to flake like pastry. A really simple way to harden nails and improve their all-round health is by applying cuticle oil every day. Keep one in your handbag, in your car or on your bedside table – wherever will remind you to use it.
"Applying an oil will not only helps soften the cuticle but also help nails grow by providing nourishing nutrients," says Georgina.
Don't forget - just like your hair benefits from regular trims, filing or clipping the ends of your nails will help keep them strong.
What should I eat to strengthen my nails?
During times of stress, our body prioritises our vital organs, leaving 'non essential' things like hair, skin and nails at the bottom of the pecking order. That being said, sticking to a healthy diet can help to improve the state of your nails.
"Food rich in vitamins, calcium and minerals will certainly help nails grow," says Lynn. "You should be able to find the correct amount in a balanced diet, without supplements."
If your diet is good but your nails are still lacking, Lynn recommends looking to up your levels of the following vitamins…
A - strengthens nails and helps their growth
B - helps prevent and fight skin and nail diseases
C - strengthens resistance against infection
D - permits the body to utilise calcium and benefit from the suns rays
E - plays an important role as an anti- oxidant inside the cells.
How do you use toothpaste to make your nails grow?
Unfortunately, there's little truth in the beauty myth that slathering toothpaste on your nails will help them grow. Instead of wasting your toothpaste, invest your money in a targeted hardener with nail-specific research behind it.
What can I do about discoloured nails?
Nails can become yellow for a variety of reasons. Sometimes, it can be a sign of underlying health conditions, so if it's a persistent problem, check with your GP. In most cases, it's simply caused by using dark nail polishes without a base coat.
"Nails can easily become stained if you don't use a base coat, particularly if wearing a deep shade or green polish," says Lynn. "By using a base coat you create a barrier between your nail and the polish, preventing a change in shade."
If your nails are aleady stained, don't worry. "Lightly buff the nails and use a scrub, this might be enough to shift the staining," says Lynn. "If it's still prominent, use a whitener polish to create an optical illusion until the staining has grown out."
Best products for healthy nails
Everything you need to get your nails in tip-top condition, ready to try this summer's most-popular nail colours (opens in new tab)...
Sally Hansen Vitamin E Nail & Cuticle Oil
Nourishing Vitamin E is the hero ingredient here, giving dry, brittle nails the TLC they need.
Take the time to massage it in too. It'll boost circulation, rewarding you with longer, stronger nails.
SHOP NOW: Sally Hansen Vitamin E Nail & Cuticle Oil, £6.95, Boots (opens in new tab)
OPI Nail Envy Nail Strengthener in Bubble Bath
If you hate the look of 'bare nails', you'll love the tinted version of everyone's favourite nail strengthener.
The pretty pink shade adds a hint of colour, while the polish gets to work rehydrating weak, damaged nails. After the initial application, apply one coat every other day for best results.
SHOP NOW: OPI Nail Envy Nail Strengthener in Bubble Bath, £18, Boots (opens in new tab)
SHOP NOW: OPI Nail Envy Nail Strengthener in Bubble Bath, £18, Look Fantastic (opens in new tab)
Mavala Scientifique K+ Nail Hardener
Packed full of keratin (the protein nails are made from) this hardener helps to make nails more resistant to breaking. Especially helpful if you spend your days typing!
SHOP NOW: Mavala Scientifique K+ Nail Hardener, £16.50, John Lewis (opens in new tab)
Jessica Peeling Nails Treatment Kit
A 3-step treatment for nails on the brink. First up, fuse pastry-like flaking layers back together with the base coat for peeling nails.
Next, seal in with the high gloss top coat for an extra layer of protection. Finish off with a dot of cuticle oil on each nail, rehydrating the skin and promoting healthy growth.
SHOP NOW: Jessica Peeling Nails Treatment Kit, £15.95, Feel Unique (opens in new tab)
Margaret Dabbs London Crystal Nail File
A gentle but effective alternative to abrasive emery boards, crystal files are great for brittle nails.
Use in the same way you would a normal file, following Georgina's top tips above.
SHOP NOW: Margaret Dabbs London Crystal Nail File, £12 (opens in new tab)
Hopefully we'll all have lovely healthy nails after this!
Jess Beech is an experienced fashion and beauty editor, with more than eight years experience in the publishing industry. She has written for woman&home, GoodtoKnow, Now, Woman, Woman's Weekly, Woman's Own and Chat, and is a former Deputy Fashion & Beauty Editor at Future PLC. A beauty obsessive, Jess has tried everything from cryotherapy to chemical peels (minus the Samantha in Sex and The City-worthy redness) and interviewed experts including Jo Malone and Trinny Woodall.