JLo's floral spring nails are giving us major mani inspiration
We're going to our nail salon ASAP after seeing these beauties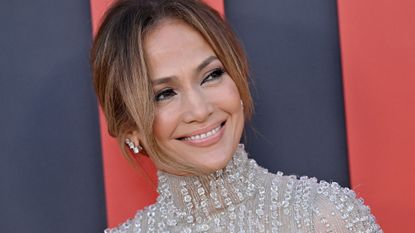 (Image credit: Getty Images)
Jennifer Lopez's newest spring manicure is majorly inspiring us to head to the nearest nail salon.
Tom Bachik, who is well-known for being JLo's go-to manicurist, is nothing short of a nail genius. He's the mastermind behind the trendy "lip gloss" nails, and always ensures that his celebrity manicures are up-to-date and trendy, including JLo's.
Recently, Tom posted a picture of JLo's newest fresh nail designs to his Instagram, and it's a spring dream in the form of a manicure. After a generous clear coat to give the nails a polished look, he used bright oranges, yellows, and pinks to paint floral patterns on the actress' nails.
The nails, which are definitely on trend, hit somewhere between a '70s and '90s pattern - proving that floral prints from the decades of yore aren't going anywhere.
"Spring Queen 🌷🌼💗 @jlo #nailsbytombachik," Tom captioned his post.
As a more sophisticated spin on the daisy nail art trend, one of the great things about this mani is that the floral designs can be customized to your color preferences - so even though Jennifer is exhibiting some warmer tones for her mani, you could choose to go down a cooler-hued route, mixing in blues, greens, and purples to your spring floral mani.
JLo's nails were also kept short and filed into a short, oval shape (a squoval nail shape, if you will), keeping them at a fairly natural place. This could also be adjusted for preference, though - if you're a person who prefers longer nails or more of a square shape, go for it!
One of the cool things about this manicure from Tom, in particular, is that, although the flowers appear to be delicately painted directly onto the nail, they're actually small dried flowers.
Between milk nails, jelly-texture manis, and one of JLo's other recent nail triumphs, the "micro-french" nails, there are a plethora of nail designs to choose from for spring and summer 2023 - and we can mostly thank Tom Bachik for these trends.
He doesn't just focus on JLo, though - he also does regular manicures for Selena Gomez, Michelle Williams, Suki Waterhouse of Daisy Jones & The Six, and more. So, needless to say, if you ever need nail inspiration, his Instagram account can serve as a guide - because the looks he creates are gold in our book.
Madeline Merinuk is woman&home's US lifestyle news writer. She covers celebrity, entertainment, fashion, and beauty news but is also obsessed with internet trends - you can find her reciting trending TikTok sounds out loud at any given time.
After winning multiple student journalism awards for her investigative work, she graduated from Hofstra University in 2021 with a B.A. in Journalism. After graduating, she worked at today.com, the digital site for the Today Show, where she wrote pop culture news and interviewed big-name personalities like Emily Ratajkowski, Haley Lu Richardson, Emma Corrin, and more.
Her personal interests, in no particular order, are: cheese, Joni Mitchell, reading, hot yoga, traveling, having multiple chapsticks in every handbag at all times, and dancing to ABBA songs as if she were in the Mamma Mia movies.