How to use face primer so your foundation lasts all day
Confused about how to use face primer? We've got you covered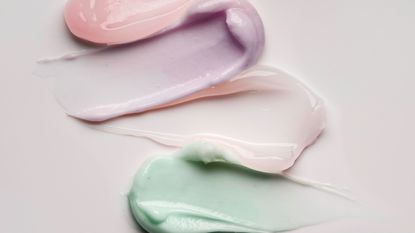 You've probably heard of it before. But do you really, truly know how to use face primer? Primer is one of those funny products with high recognition but limited understanding, like the Large Hadron Collider of beauty. This confusion comes down to a few factors. Firstly, outside of professional make-up artist's kits, primer is relatively new to the scene. This is particularly true when you compare it to much-loved staples like the best foundation.
Another reason primers haven't permeated the mainstream is what I will call "not another product" fatigue. Which is exactly as it sounds, a pretty justified exhaustion with being told to use yet another layer of make-up in order to achieve quote-unquote perfection.
Should I use a primer?
If you approach beauty with an as-low-maintenance-as-possible-please attitude and you're still getting to grips with how to apply foundation, then primer may not be for you. But if you like wearing make-up, enjoy trying new products and want your base to work a bit harder it's definitely worth learning how to use face primer. "I always use a primer as I do find make-up stays on longer and skin looks so flawless," confirms A-List make-up artist Zoë Taylor.
Primers have been around in one form or another for decades. They were originally used by make-up artists for film, TV and photoshoots. "I would use it by the litre in my work," explains iconic make-up artist Laura Mercier. "At the time, it was a professional, milky, oil-based product and the furthest thing you can imagine from the light, comfortable primers we make now. That original heavy primer was used by professionals because it would grab the make-up and hold it in place forever under hot lights."
It's no wonder professionals are drawn to face primers. These mostly liquid formulations are designed to help base make-up along in so many different ways. Some smooth, some colour-correct, some add glow. Many of them hydrate and the majority make foundation last longer. "Primer really evens the skin texture and prepares it for make-up," agrees Laura Mercier. "It makes your make-up look even and professional, and ensures that it's going to stay on."
Around the early 2010s make-up brands, including Laura Mercier's own, began launching face primers for us to use at home and these days just about every brand has a primer – and just about every face can find one to suit their needs.
How do I choose the right one?
The great thing about primer is they're so varied there truly is one for everyone.In the early days, the majority were of the mattifying and pore-blurring variety. They were great at gripping make-up but not so much for glow. Now brands have twigged that we need a very good reason to use yet another product, so we get primers that offer skincare benefits.
For dry skin types, look for water-based formulas. Ingredients like hyaluronic acid and natural hydrators such as aloe leaf juice will plump and quench. If you're oil-prone, try primers with a thicker, drier feel. Minerals like silica and pearlite will control oil, while silicones temporarily "fill" pores for a smooth texture.
No matter what your skin type is, an illuminating finish is never a bad thing. This is particularly true if you find highlighters too sparkly, or are naturally on the oily side and illuminating products look too shiny on top of your make-up. Pick a primer with soft-focus particles and you'll simply get a very subtle radiance emanating through your base as if it's all your own.
How do I apply primer?
Easy. This is your bridging step between skincare and make-up so make it the first thing you do after cleansing and moisturising. Most primers are very happy to be spread on with hands. Simply smooth a layer over your entire face, press it in and leave to set for a minute without rubbing. This helps hugely if the formula is silicone based, as giving it time to set will prevent the formula separating into little beads on your skin.
If you're working with a looser, more serum-like primer you could trymixing a drop in with your moisturiser to cut down on waiting time between layers. It's also worth remembering that primers don't have to be worn with other make-up. Many, particularly radiant formulas, do a great job of enhancing skin all on their own – great if you fancy a mostly make-up-free day.
Ready to give face primer a try?
6 of the best face primers to smooth, de-shine, hydrate and illuminate
Avon Mark. Magix Face Perfector Primer, £9.69, Amazon.co.uk
A refreshing gel that partially sinks in like a plumping serum and forms a dewy layer under make-up.
BECCA Zero No Pigment Virtual Foundation, £29, Cultbeauty.co.uk
Ignore the name, this isn't really a foundation. It's a silky, transparent balm with hydrating ingredients and soft-focus powders. These little particles absorb excess oil and give skin a luminous "Old Hollywood" style sheen that looks beautiful underneath, or instead of, base.
View Laura Mercier Pure Canvas Primer Perfecting, £32, Lookfantastic.com
Laura Mercier's reformulated primer range is a great example of how varied this product has become. All five are silicone free and tackle specific issues as well as gripping onto make-up. I love Blurring, which creates a smooth matte layer, absorbs oil and nourishes with microalgae, and Perfecting, a silky and hydrating formula with pollution-busting antioxidants.
Benefit The Porefessional Matte Rescue, £25.50 Johnlewis.com
A powerful mattifying gel with diamond powder to blur imperfections. Follow with make-up, which will apply super-smoothly and last twice as long on your T-zone.
View Smashbox Photo Finish Minimize Pores Primer, £28
The original primer brand's product, in a special variety for uneven skin texture. It feels a little tacky at first, but dries velvety matte in ten minutes, smoothing over pores, absorbing oil and creating a hospitable base for make-up.
Pur4-in-1 Colour Correcting Primer Redness Reducer, £24, marksandspencer.com
Have you got a colour that doesn't seem "natural" in your complexion? Fight fire with fire. Pur's collection of CC primers are very effective at neutralising tone issues, using the opposing shade on the colour wheel. This green variant dials down flushing or mild rosacea, while smoothing skin texture into the bargain.
Beauty Editor, womanandhome.com
As woman&home's Beauty Channel Editor, Fiona Mckim has tried more products than she's had hot dinners and nothing makes her happier than raving about brilliant finds on womanandhome.com or her instagram grid (@fionamckim if you like hair experiments and cute shih-tzus). Fiona joined woman&home as Assistant Beauty Editor in 2013 under industry legend Jo GB, who taught her everything she needed to know (learn about ingredients and employ extreme cynicism). She has since covered every corner of the industry, from interviewing dermatologists and celebrities to reporting backstage at Fashion Week and judging the w&h Beauty Awards.