How to get rid of frown lines without botox, according to our beauty editor
Want to know how to get rid of frown lines, for good? These are the products that really work.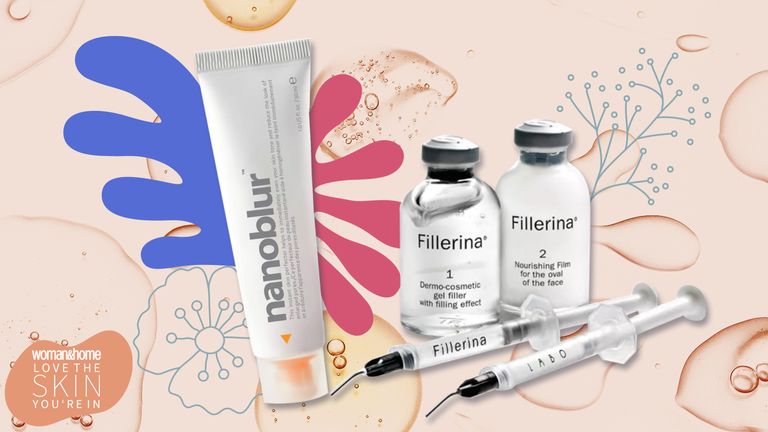 (Image credit: Future)
Beauty heroes to help you smooth, fill and prevent frown lines - we think they're better than botox!
The best beauty advent calendars are bursting with amazing anti-aging products to try – from serums to eye creams. But it's true that when it comes to our skin, not all wrinkles are created equal. While a smattering of crow's feet around the eyes can be quite charming and a sign of a life filled with laughter, frown lines (or 'number 11s' as you might know them) are not quite as welcome for most of us.
Frown lines can appear as two deep furrows nestled between the eyebrows or horizontal lines straight across the forehead. They develop as a result of the thinning skin around this area, sun damage and with movements of the muscles on your face. It's a bit of a myth that excessive frowning or stern expressions cause these wrinkles, you may well have developed yours from laughing, but they can make you look grumpier than you feel inside and nobody wants that - so how to get rid of frown lines?
Are you feeling tempted by Botox or injectable fillers to get rid of frown lines? When administered with care and attention by experts, these solutions can be very effective. If you are thinking about going down that route, always ensure you visit a qualified medical professional, and have a thorough consultation beforehand. But if you're not looking to take a step into the world of injectables and would prefer to stick with topical products, there are some brilliantly effective beauty breakthroughs in this area.
How to get rid of frown lines
Firstly, consider your overall health
There are lots of things that contribute to frown lines, and as with everything in our body, they are affected by our overall health and wellbeing.
It's of course important to remember that a lot of the make-up (pardon the pun), of your skin is determined by your genetics, and there's only so much you can do to change how it looks.
But there are things you can do to help it look its best, and therefore to reduce the appearance of any pesky frown lines. As with all things to do with our skin, harmful UV rays can make the problem worse. The rays break down the collagen and elastin in your skin, increasing frown lines, so use as much SPF as possible and stay out of the sun as much as you can.
Similarly, stress and smoking can contribute to lines on your face, due to the repeated tension that both activities can cause. The tobacco in cigarettes can also cause frown lines due to the fact that it narrows your blood vessels, which in turn allows less oxygen to reach the skin.
Products our Beauty Editor recommends
From stick-on patches that smooth to targeted serums that plump and fill, a primer that blurs for a soft-focus effect and a brilliant at home light-emitting device that can re-boot collagen and elastin production, we've rounded up our top products to get rid of frown lines with your skincare routine, so you can pick the right one for you.
Simply click through to turn that frown upside down (or should we say make it vanish entirely!)
Fillerina Dermo-Cosmetic Filler Treatment Grade 3
RRP: £99 (for 14 doses)
We know what you're thinking - we said no needles, right? Despite appearances this cult 'filler' is actually a topical skincare serum, containing a super-potent blend of six hyaluronic acids (the skin plumping molecule which holds over 1000 times its weight in water) which you administer through this targeted, non invasive applicator. So you're literally filling in lines. You can buy Fillerina in 3 'grades' and you should see results in a fortnight - we say if you're already seeing deep furrows, skip straight to 3.
Realine Beauty Frown Line Patches
RRP: £28 for 30 patches
The beauty industry's answer to those old Hollywood forehead taping tricks, Realine's Frown Line Patches fight forehead lines and creases with no more than a diamond of hypoallergenic sticky film. Pull your skin taut, pop on a patch and turn in for the night while your muscles undergo 'retraining' for a smoother appearance.
Iluminage Skin Rejuvenating Pillowcase
RRP: £50
They say prevention is better than cure, and if you have ever woken up with a face that can only be described as 'crumpled' then you'll know night-time damage prevention is key to beating frown lines. This silky pillowcase from Illuminage not only looks and feels fabulous, it also prevents all that night time creasing, so effectively future-proofs your face. It also helps with a little bit of the cure too, as it's embedded with copper oxide fibres, which release ions as you sleep to boost skin's natural renewal. Sweet dreams indeed.
Indeed Labs Nanoblur
RRP: £19.99
The product that launched a thousand copycats, but Nanoblur is still the original and best skin-smoothing solution by our standards. Not to be confused with a primer, this velvety liquid can be smoothed on top of make-up, under it or be mixed with moisturiser to give skin an instantly soft-focus, smooth, plumped appearance. Yes it's a quick fix, so it won't make frown lines actually disappear, but they will certainly disappear to the eyes of your beholders, which is surely the next best thing?
LightStim Wrinkle LED light therapy device
RRP: £249
If frown lines are seriously bothering you and you're willing to invest some money and time to give them the heave-ho, then this is the way to do it. LightStim uses a combination of LED lights to send signals to your skin to produce more collagen and elastin for a plumping effect.
It only needs to be used for a few minutes each night, it's not painful (relaxing and warm, actually) and most importantly, is backed up by clinical trials where 100% of participants saw an improvement in their lines after 8 weeks of use. An investment, but one that could well be worth making.
As woman&home's Beauty Channel Editor, Fiona Mckim has tried more beauty products than she's had hot dinners and nothing makes her happier than raving about a brilliant find on womanandhome.com or her instagram grid (@fionamckim if you like hair experiments and cute shih-tzus)

Fiona joined woman&home as Assistant Beauty Editor in 2013, working under industry legend Jo GB, who taught her everything she needed to know (clue: learn about ingredients and employ extreme cynicism).
In a previous life, Fiona studied journalism back home in bonnie Scotland and honed her skills as a features writer at publications including Junior and Prima Baby, with a brief and terrifying stint on the showbiz pages of a tabloid newspaper in between. She's a skincare fanatic who can't resist adding an extra step to her routine, adores fragrance, has fun with makeup and never turns down the chance to test a new hair tool. Basically, she loves it all.

When not slathering herself in self tan or peering at a tiny ingredients list on a moisturiser, you'll probably find Fiona enjoying something to do with food - cooking it, eating it, cajoling her friends into trekking across London to try a hyped pop-up in a dirty car park.
Come to think of it, the hot dinners and beauty products are probably about even.