How to achieve siren eyes, the makeup technique for a sultry, feline gaze
Try the siren eyes make-up technique with our step-by-step tutorial and top product picks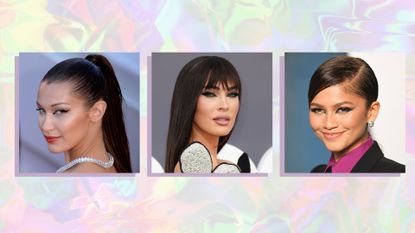 (Image credit: Future/Getty images)
What are siren eyes? It's a question being asked by millions of people around the world. So far, #sireneyes has racked up more than 686 million views on TikTok. And while we're not always 100% on board with viral beauty hacks (henna freckles anyone?) this sultry trend is definitely worth your time.
Siren eyes are a little more dramatic than the traditional smoky eye, which has a sooty, hazy energy. Imagine a Venn diagram - cat eye flick in one circle, smoky eye in the other - the siren eye would fall in that central region, taking the best bits of both eyeliner looks. There's a swoosh of inky black liner winged up to the heavens and extended down on the inner corner of the eye with an equally sharp point. Then, a final flourish of the best mascara creates that elongated gaze.
It's giving Egyptian queen via '90s supermodel. As award-winning make-up artist, Lan Nguyen-Grealis says, "Siren eyes have a Cleopatra vibe to them. It's the combination of graphic, sharp lines with neutral tones that deliver a look that is beautiful, sexy but also delicate." If you know how to apply eyeliner, you're off to a great start. If not, that's fine too. We've got the pro tips and tricks you need to create this fierce look. Sirens at the ready!
What is the siren eyes trend?
Dark, dramatic, and beguiling, the siren eyes trend marries graphic eyeliner with a soft, ethereal blend of eyeshadow to create a smudgy-sharp feline eye. "It's essentially a winged eyeliner look that stretches and elongates the eyes on both the inner and outer corners to create a lifted look," explains Nguyen-Grealis. "The difference with siren eyes is down to how clean and precise it needs to be." Another key difference with siren eyes as opposed to other eyeshadow looks such as doe eyes, is the contrast of colors. You want a light base to pop against a sooty black liner to create intensity.
If you've struggled with the perfectly angled flick of a cat eye in the past, the good news is that siren eyes can be executed to suit any eye shape. "While almond-shaped eyes lend themselves particularly well to this lifted, feline look, it's a trend that works for everyone," says Lan. "You just have to follow your own lash line to guide you."
How to do siren eyes
As with most beauty trends that suddenly ascend in popularity on social media, siren eyes is actually a look that make-up artists have been deftly creating for years. Nguyen-Grealis is an expert. Here she shares her step by step process for siren eyes.
"Start with a little concealer to even out any discolouration on the eyelids and under the brows. This helps to shape the eyes in a neutral colour base.
Map out your line with eyeshadow first, using a dark colour to shade in the socket, outer corner of the eye and under the lower lash line starting halfway along and moving to the outer eye.
Add a black shadow along the upper lash line and stretch up and out to create your wing. The trick to getting a defined line is to use tape or a piece of card with a straight edge to place against the outer eye at an angle.
Once you're happy with your flick, apply gel or liquid liner on top. Draw along the lash line, starting at the inner corner of the eye, then winging out following your line of eyeshadow. Connect the flick back to your lashes to create a black winged 'V' shape.
Clean up any smudges with a cotton bud dipped in concealer. This will help to make the flick even sharper.
Finally apply mascara, concentrating on the outer lashes to enhance the lifted effect. For extra drama add false lashes but be sure to trim if necessary so they don't draw the eye down."
How do you do siren eyes with hooded lids?
When applying makeup for hooded eyes, it's important to always look straight ahead in the mirror as you apply your eyeliner so the colour doesn't get lost in the fold. Keep your eyeliner long and thin, drawing it as close to the lash line as possible then angle your wing up to the tail of your eyebrow to lift the eye. "Don't forget about the inner corner of the eye either," advises Lan. "This will help shape the eye without the eyeliner getting lost."
The best make-up to create siren eyes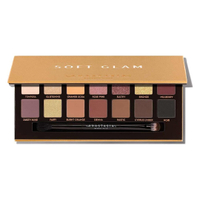 Anastasia Beverly Hills Soft Glam Eyeshadow Palette | RRP: $45/£46
This isn't cheap but it's a glittering (and matte and satin) example of getting what you pay for. The color payoff is impressive, especially that sooty charcoal shade. It's probably the most wearable – and covetable – shade selection we've encountered in a palette.
---
Stephanie Maylor is a Beauty Editor working across five national magazine titles, with almost 15 years' experience in the industry. She has written for many brands, including woman&home, Grazia, Now, More!, Fabulous, NW, Woman, Woman's Own, Woman's Weekly, Essentials, Best, Chat, and OK! online.
In 2010 she launched her own beauty blog, which was shortlisted for Best Beauty Blog in the 2011 and 2012 Johnson & Johnson Beauty Journalism Awards. She has interviewed many high profile industry experts and celebrities including Alesha Dixon, Twiggy and Christina Hendricks.