How to apply mascara for the best results, according to makeup artists
We asked two makeup pros to break down how to apply mascara – so even complete beginners can master the art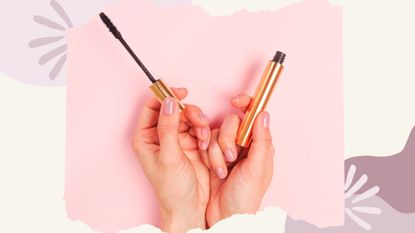 (Image credit: Future/Getty images)
Finding your all-time favorite mascara is one thing. Your next priority? Mastering how to apply mascara so that it looks perfect every single time.
Sure, it requires a bit of practice for those who haven't worn mascara before, or who find the process a little tricky – but clumped lashes and printing mascara on the skin are totally avoidable. Plus, even the most seasoned makeup wearer is probably curious to learn if they can make their mascara look even better.
That's why, along with our years of experience testing the very best mascara buys, we've tapped into the expertise of two professional makeup artists to get their top tips for mascara application that's worthy of a makeup commercial. Our guide breaks down how to apply mascara for the best results so that you can enjoy lush-looking lashes every time.
How to apply mascara: your step-by-step guide
1. Curl your eyelashes
Before you even pick up your mascara-of-choice, be it one of the best volumizing mascaras or your favorite natural-looking mascara, start by curling your (clean) lashes using an eyelash curler. "I always curl first!" explains Aimee Connolly (opens in new tab), makeup artist and founder of Sculpted by Aimee. "Make sure when curling, you're doing this a few times; most of the volume comes from the base, after all."
When using the tool, don't squeeze your eyelash curler too hard – slight pressure will be enough for a nice lift. As well as a couple of clamps at the roots, makeup artist and podcast host Rose Gallagher (opens in new tab) adds that: "You also want to curl the top of the lashes. If you curl them twice, let's say you hold that curler at the very base of the lashes and then maybe halfway up the lashes, by adding two 'kinks' you're literally creating a curl shape as opposed to one kink – which, if you've got straight lashes, is just going to send them in a different direction rather than curl them."
Our beauty editor recommends...
2. Remove excess product from the wand
This mascara tip applies to any product, whether you're using the best lengthening mascara or one of the best mascaras for short lashes. Nine times out of 10, any mascara brush type will be loaded with far more product than you need when you first pull it out of the tube, especially for that first coat.
"When you pull the wand out of the mascara, I would always scoop some of the excess back into the tube," Gallagher explains. "So much comes out and even just giving it a little scrape gives you much more control over how quickly you build volume. It just gives you back the reassurance of doing it at your own pace." Connolly adds that allowing the mascara to dry for just a second can help to prevent clumping.
Our beauty editor recommends...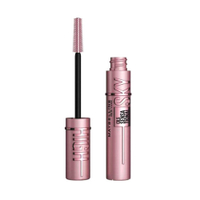 (opens in new tab)
Maybelline Sky High Mascara | RRP: $12.99/£12
A viral social media favorite, this mascara is particularly brilliant for building length with a tapered brush that catches all your lashes (our Maybelline Sky High Mascara review has all the intel)
3. Tilt your head back slightly
This tip is a must if you often print the mascara brush or your still-wet lashes onto your eye socket (frustrating!). "When you do your top lashes, I would tilt your head backward because the lashes will be further away from your head that way," Gallagher advises. Because you're increasing the space between your lashes and lid, you're less likely to get any mascara where it's not wanted.
4. Zig-zag
Now for the fun bit! Both our makeup artists recommend a tried and true method for applying mascara that involves gently wiggling or "zig-zagging" the wand. In our opinion, it's a key step in learning how to apply mascara well.
"For the perfect lash, make sure you always start by placing the wand at the base of your upper lashes," Connolly explains. "Move the wand back and forth in a gentle zig-zag, coating the base of your lashes for the best volume. Then pull the wand upward, coating the rest of your lashes. This way you get extra volume."
"The more you get familiar with that motion – zig-zag, drag, up – you might want to do that in the inner third of the eye, the middle third of the eye, and the outer third of the eye," Gallagher advises. Apply your first coat, then repeat this step until you're happy with the results. "I always go over the whole lashes a few more times to ensure each individual lash is coated," Connolly adds.
5. Apply to your bottom lashes
"If you're doing your bottom lashes, do the opposite [of your top lashes] and tilt your head forwards," says Gallagher. "That will take your lashes further away from your face on the bottom and, again, means you can get right in there, doing exactly the same zig-zag and drag, and you are less likely to get any printing on your face."
As your bottom lashes are shorter and sparser than your top lashes, you may also find it beneficial to use what's left on the brush to apply mascara on bottom lashes, rather than re-coating, for a bit more control. Alternatively, one of the best tubing mascaras will lend itself to bottom lashes, as they are so smudge-proof (and make things easier when the time comes to nail how to remove mascara)
You may even find that you prefer the look of just a little mascara on your top lashes and want to skip bottom lashes altogether – the choice is ultimately yours. By practicing these steps and with a little experimentation, you'll learn how to apply mascara for a look that you love.
Lucy is a UK-based beauty journalist who has written for the likes of Marie Claire, Cosmopolitan, OK!, Women's Health and more, as well as contributing to woman&home. Her work covers everything from expert skin and haircare tips to the latest product launches and the show-stopping beauty looks spotted backstage at London Fashion Week. During her career she's interviewed some seriously famous faces, from Little Mix to Drag Race royalty The Vivienne, as well as chatting to the industry's leading hairdressers, dermatologists and make-up artists.